A house does not truly become a home until it reflects the unique character and personality of the family that inhabits it. Here at the Mitchell Construction Group, that concept informs every architectural design and every construction project we undertake.
One beautiful example of how we go about transforming a house into a home is a renovation project we recently completed in Walpole, MA for the Buchanan family, working closely with Walpole-based landscape company, NatureWorks. Transplanted from Hawaii to Massachusetts, the Buchanans hoped to replicate the paradise they had lived in and create the highly personal character and style for their new home that was lacking in the house they bought.
"Our goal for this renovation project was to beautify the entire outside of our home, create an oasis in our backyard and add a relaxing front porch to chill out with our family," said Somer Buchanan.
To help them achieve the home of their dreams we listened closely to what they wanted to accomplish. They shared their vision of the features and amenities that would transform their house into a stylish home with the perfect outdoor living and entertainment space they could enjoy for years with their children and grandchildren.
The project entailed a complete renovation of the exterior, coupled with extensive landscaping. We replaced all the siding, trim, shutters, and exterior lighting to dramatically freshen up the entire look of the house. In addition, we added a new covered front porch to help draw attention to a brand new high-end front door that replaced the old one. To complete the transformative statement as you approached the house, round custom columns, new garage doors, and a custom trellis over the garage were also added.
Around back, the transformation was even more dramatic. A unique two-story, multi-level deck was constructed to hold an entire lounge area, an outdoor kitchen, and a dining space with a custom pergola. The kitchen area featured a beautiful stone base and granite countertops surrounding a built-in grill, along with a built-in trash receptacle and mini refrigerator.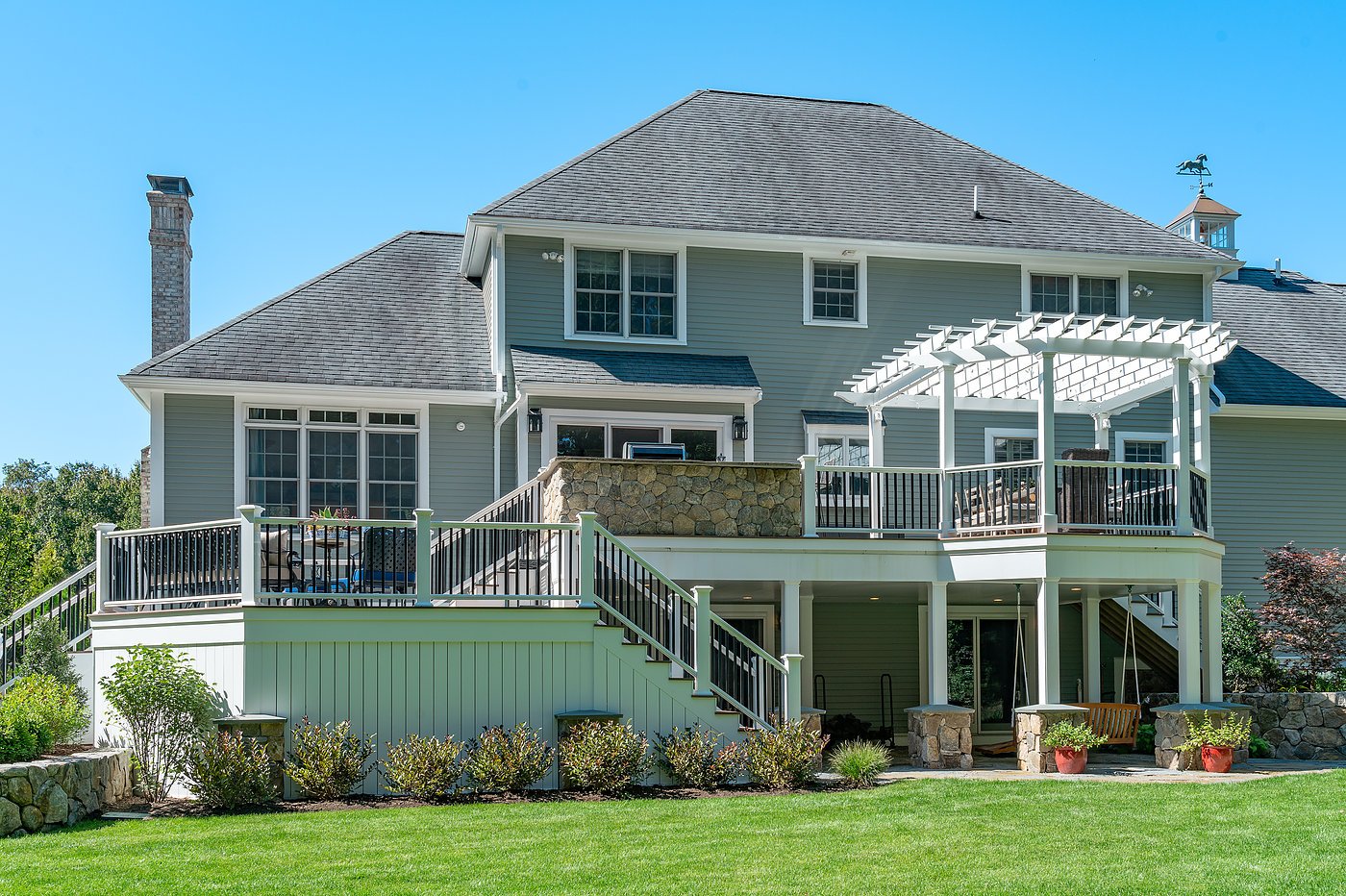 Because the deck was two stories it enabled the design of a weatherproof, covered seating area underneath that could be opened up to the walk-out basement and utilized in all weather, with a gaming area, porch swing, and a beautiful view of the new pool, fire pit, and hot tub. Attractive lighting was designed into all of the stairs on the deck to provide plenty of light during evening entertainment. A black custom baluster system was also incorporated into the design and provides a sophisticated contrast to the high-end white posts and railings.
"Our new home renovation was a lifesaver during Covid! With so much time at home, we feel like we live at a resort 24/7. With all our beautiful outdoor space, we've had countless outdoor meals, gatherings and simple relaxing moments that are forever enjoyed," Somer Buchanan added.
Attention to details
With lots of moving parts and a wide variety of construction and landscaping tasks that had to be coordinated, this project had lots of opportunities to run off the rails, disrupting schedules and adding unexpected expenses. This is where a disciplined, proven approach to project management plays a critical role. Careful planning and a ruthless focus on every detail enabled our collaborative team to stay on track, identifying issues before they became problems.
For example, the proximity of the septic system to the front porch required working with the town to obtain the proper permits and design a unique foundation to support the porch without disturbing the septic system. Also, the stone base and granite countertops of the custom outdoor kitchen made it necessary to provide structural support to handle the added weight.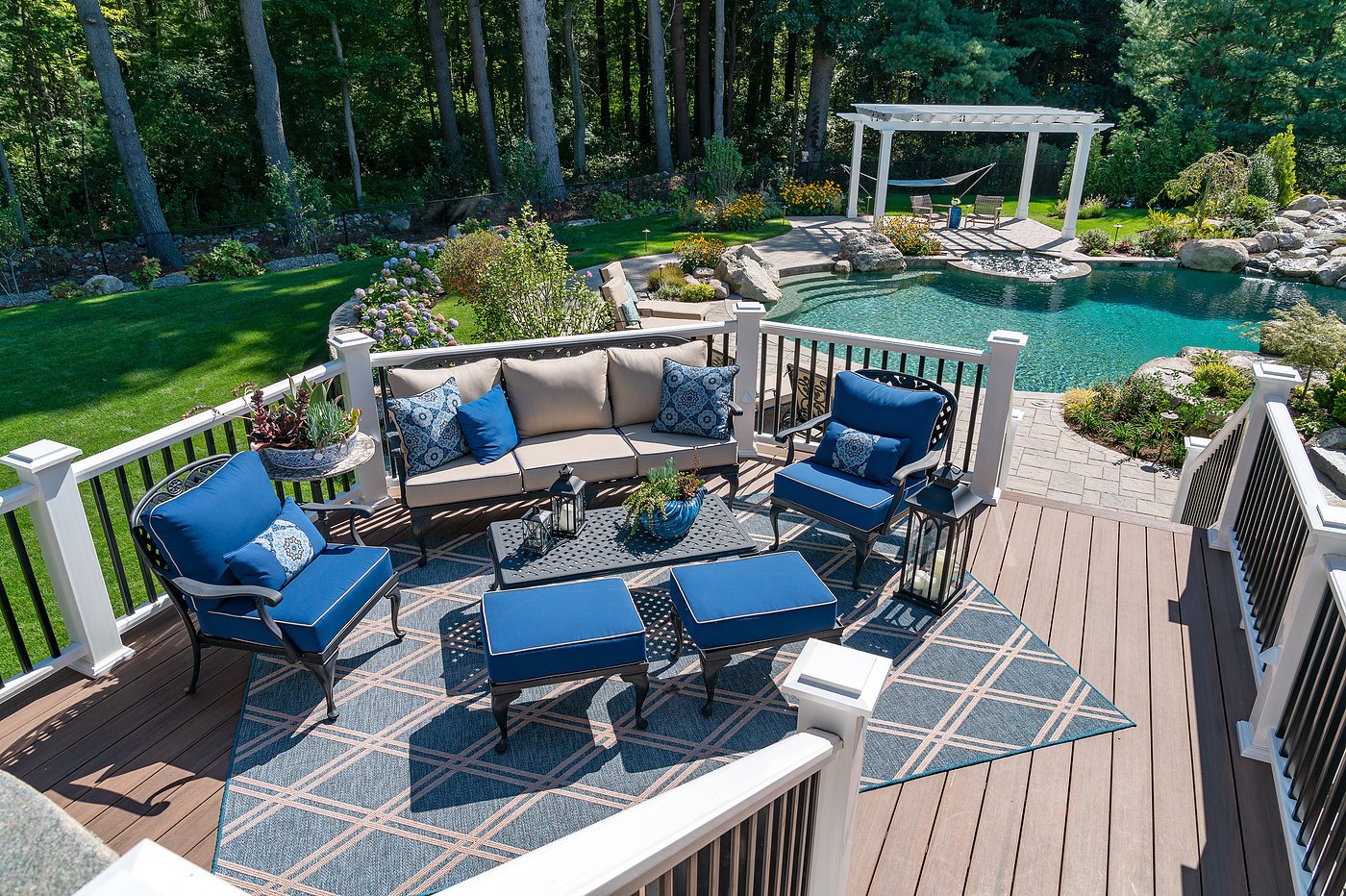 Mindful that the Buchanans were looking for a home that not only expressed their personal tastes, but would last for decades, our team carefully selected low maintenance materials that are attractive, environmentally-friendly, and engineered to last. To that end, we utilized cellular PVC trim, manufactured Azek decking, and composite railings – all designed to outlast traditional wood with minimal maintenance.
To complement the redesigned home, NatureWorks significantly improved the grounds around the house. With design assistance provided by Westwood, MA-based landscape architectural firm, Dana Shock & Associates, NatureWorks constructed new gardens and shrub beds, transplanted specimen trees, and added hardscape features.
Perhaps the most personal aspect of this renovation project was the inclusion of a gentle, bubbling fountain the Buchanans brought back with them from Hawaii, dramatically set off in a secluded Asian-inspired garden area, overlooked by their upper deck dining area. For Somerset Buchanan, this made the transformation complete, bringing their island experience to the family's new Massachusetts home.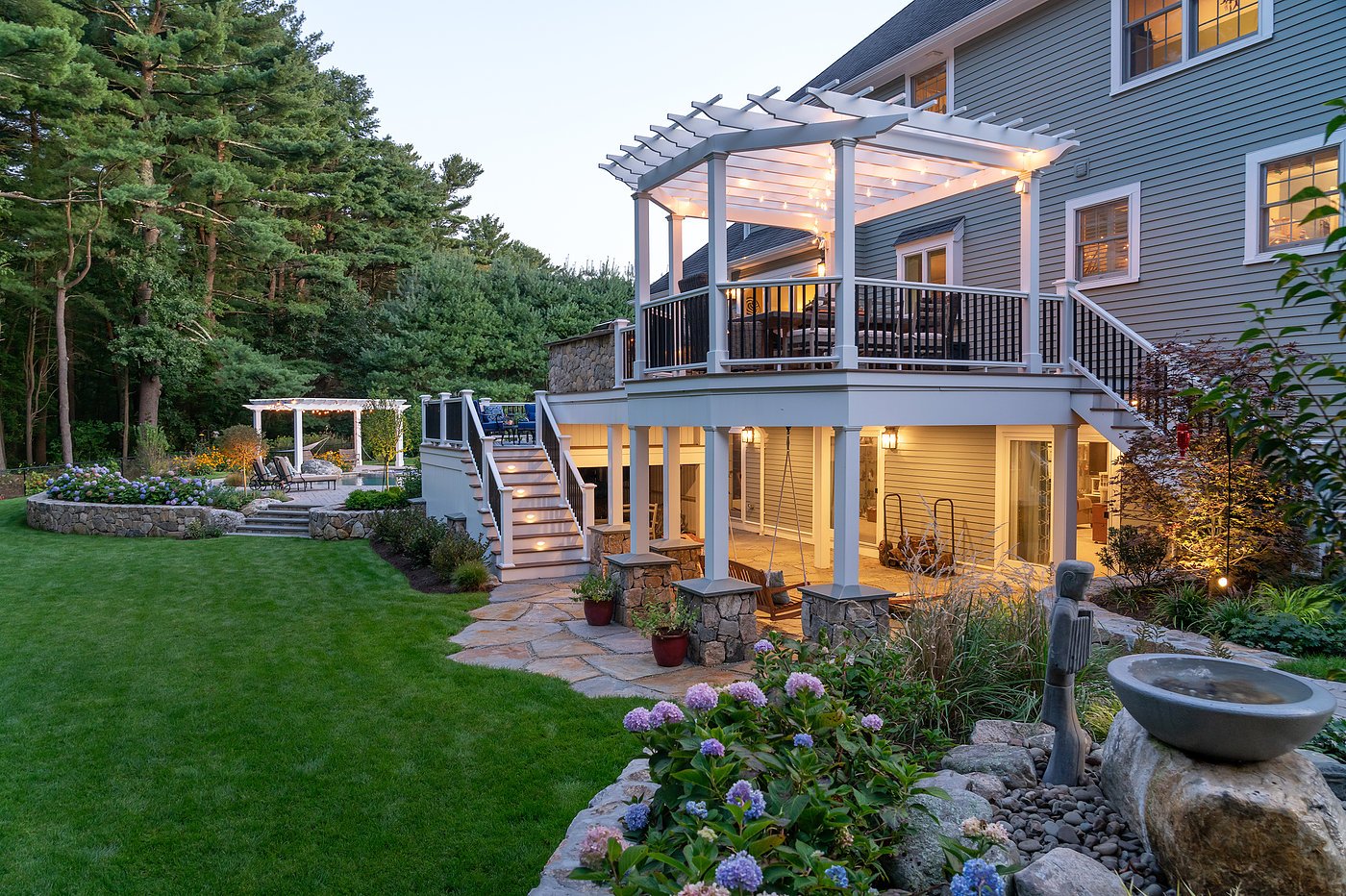 All's well that ends well
We're happy to report that the Buchanan's love the transformation. Our mission here at Mitchell Construction Group is to ensure that the client experience not only meets, but exceeds, their expectations. Our goal is to turn each and every one of them into enthusiastic representatives of our firm, eager to refer us to others.
Apparently, it's working. But don't take our word for it – here's what Somerset Buchanan had to say:
"The best thing about this entire experience was the stellar team that Mitchell provided…and how they were developing this beautiful gift that I have here at my home. I cannot tell you how much I'd recommend this outstanding team. The next time we're ready to invest in another beautiful project, you know I'll be calling Mitchell Construction"
See the image gallery for this project by clicking this link.
To learn more about the home renovation process, please read our eBook, "The Homeowner's Guide to Creating the Dream Home You'll Love." And if you are ready to speak about your next renovation, please schedule a home renovation discovery session.