The term "transitional design" is popping up with increasing frequency in architectural and home design circles. It actually originated decades ago, but over the years, the meaning has grown fuzzier and today it can be confusing to some.
It first gained widespread visibility in the 1960s and 70s after modernism ran its course in furnishings and architecture and consumers were looking for something different. Here in New England — with a history stretching back to the 17th century — colonial, classical, and traditional design enjoyed overwhelming popularity while contemporary aesthetics were favored more in other parts of the country, especially the western half. Transitional design came about as a way to bridge the gap between them all, enabling homeowners to pick and choose the features and looks they liked best. So what exactly is it?
What is transitional design style?
In short, transitional homes incorporate classic design with a contemporary twist, combining elements of both to create a seamless design harmony. The result is an architectural style that boasts clean lines, slightly elegant or contemporary features, and mostly neutral colors, to create a light and warm environment. Transitional home design enables the homeowner to break the rules and personalize their home with touches such as traditional crown molding with modern furniture. It provides the freedom to embrace a more contemporary edge that blends seamlessly with traditional features.
Most transitional designs take their primary cues from contemporary style, incorporating clean lines and minimalism into the overall look. There's usually a limited use of flashy ornamentation and fancy details that might typically be found in elegant, traditional architecture.
Perhaps the best way to understand transitional design is to view examples of it from two different perspectives: contemporary and traditional. What makes transitional design so appealing is its ability to easily integrate elements from a number of different aesthetics. Because transitional borrows so much from contemporary design it can be difficult to distinguish the two. Traditional influences are a little easier to identify – their more classical lines and formal elements act as interesting contrasts to the cleaner, simpler transitional aesthetic.
Let's take a look at examples of both influences using two of the most popular renovation projects: bathrooms and kitchens.
Transitional vs. contemporary design
Bathrooms
A transitional bathroom might feature a shower that has large wall tiles with a subtle texture and not much grout, and simple personal care product niches to give it a clean, minimal look that many would identify as contemporary – yet the floor tile is a penny round which could be used in traditional design as well. Clean lines and soothing colors: transitional leaning toward contemporary.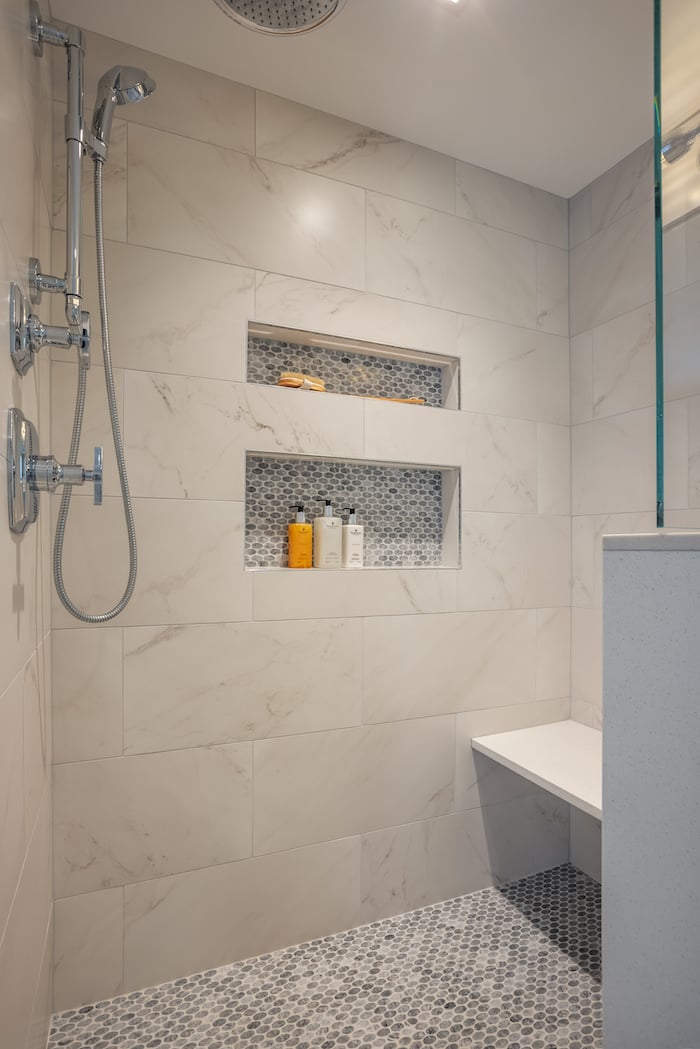 This master bath is a classic example of design blending: is it transitional or straight-up contemporary? It could be argued either way, although the ultra-clean, straight lines, slab vanity cabinet doors, simple pull hardware, and extra-thick countertop lean more toward the contemporary. However, the faucets, classic Carrera floor tiles, and plantation shutters seem to say transitional – but using ultra-large tiles give it that contemporary touch.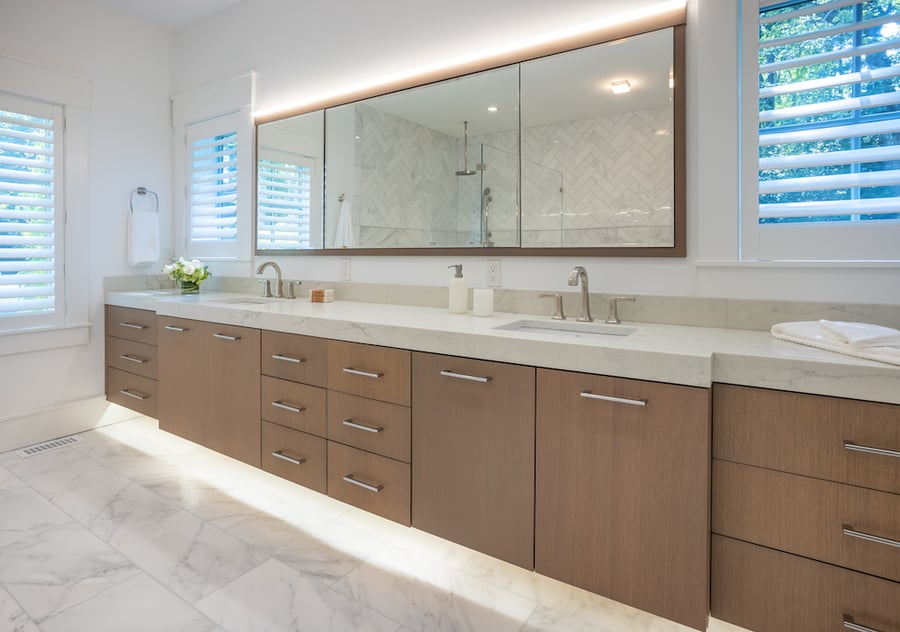 Kitchens
In this example, popular contemporary elements such as simple, oversized, rounded spigots; futuristic pendant lights; and clean, recessed ceiling lighting blend beautifully with more classic shaker cabinetry and warm hardwood flooring. This perfectly integrated space has an updated feel leaning towards contemporary.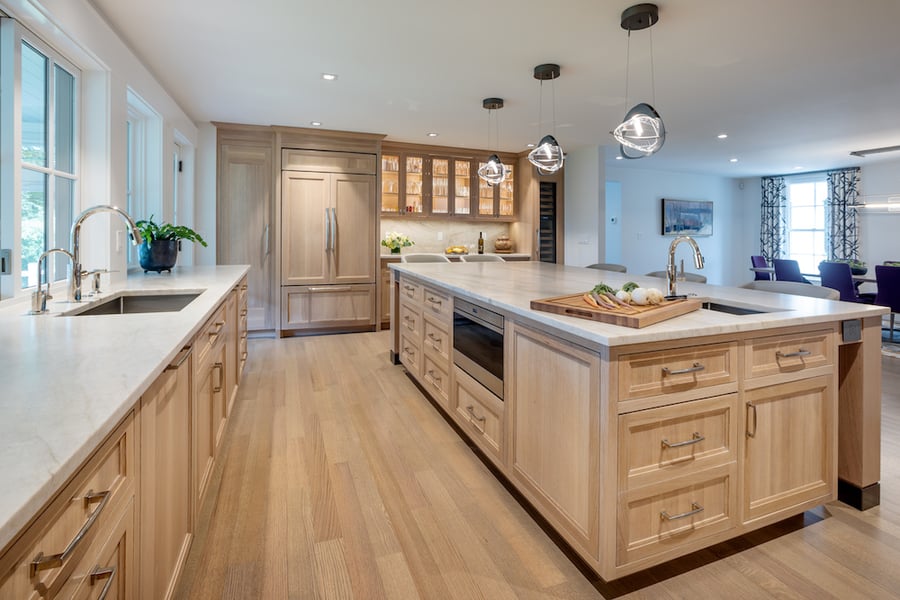 Here's a more subtly blended design example that features classic inset construction, shaker doors with a clean edge profile and inside edge detail. The glass cabinets light up, yet the absence of mullions and simple pull hardware give it a more contemporary feel. Notice that the light marble counter runs up the backsplash with no grout lines. The overall effect of clean lines throughout with soothing colors is classic transitional.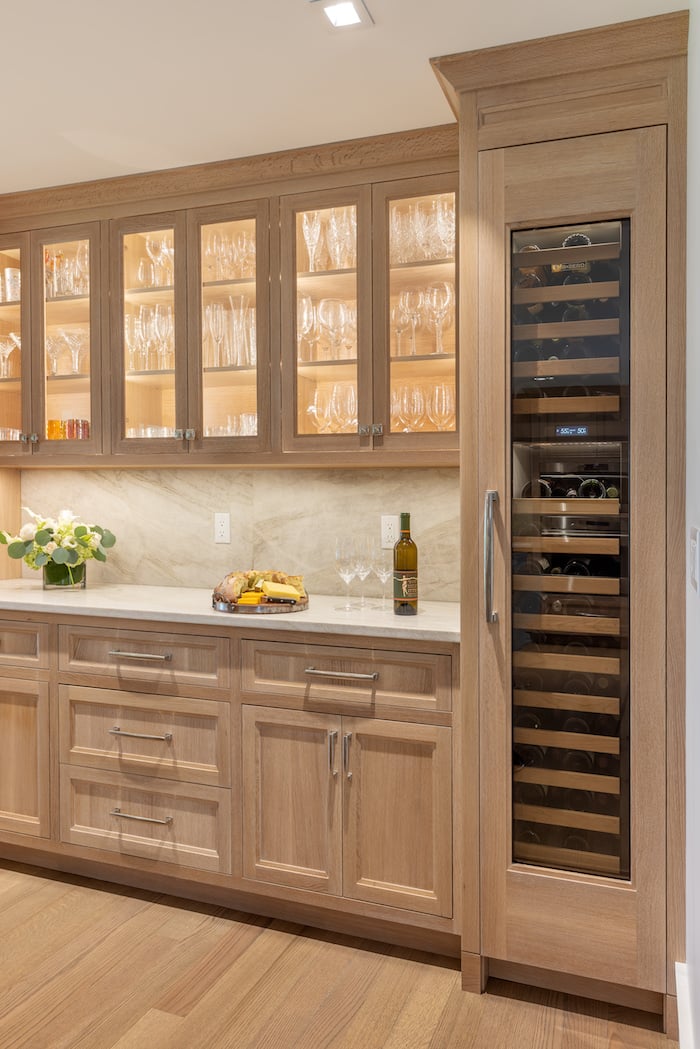 Transitional vs. traditional design
Bathrooms
This transitional bathroom design with an emphasis on traditional elements creates a more elegant atmosphere. The dark wood cabinetry, hardwood flooring, crown molding, recessed hardwood vanity lighting enclosure, and restrained plumbing hardware all contribute to a formal feel to this space.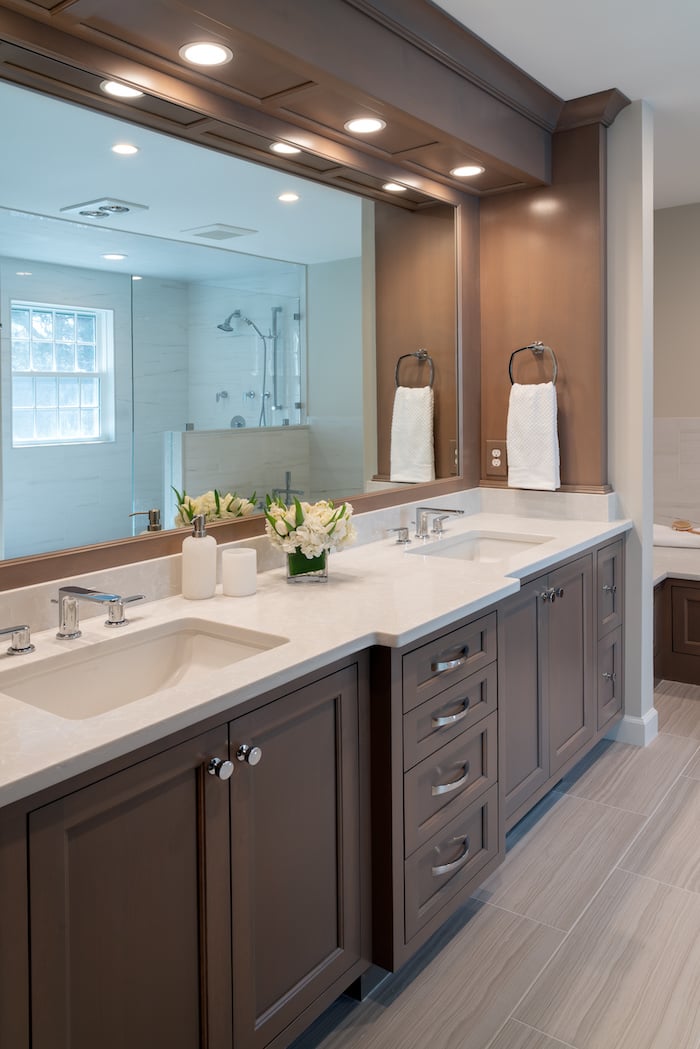 In this example, we see a lot of elements at work for a deceptively sophisticated design. The ship lap wall paneling and molding hint at traditional while the plumbing and drop-in sink bowl with curves make an even greater traditional statement, yet it sits on black granite with straight edges. The vanity is full overlay with a shaker door and open underneath with legs – a farmhouse design look with classic clean lines. The overall look is transitional, yet when you pull apart each element, they can fall into several design categories.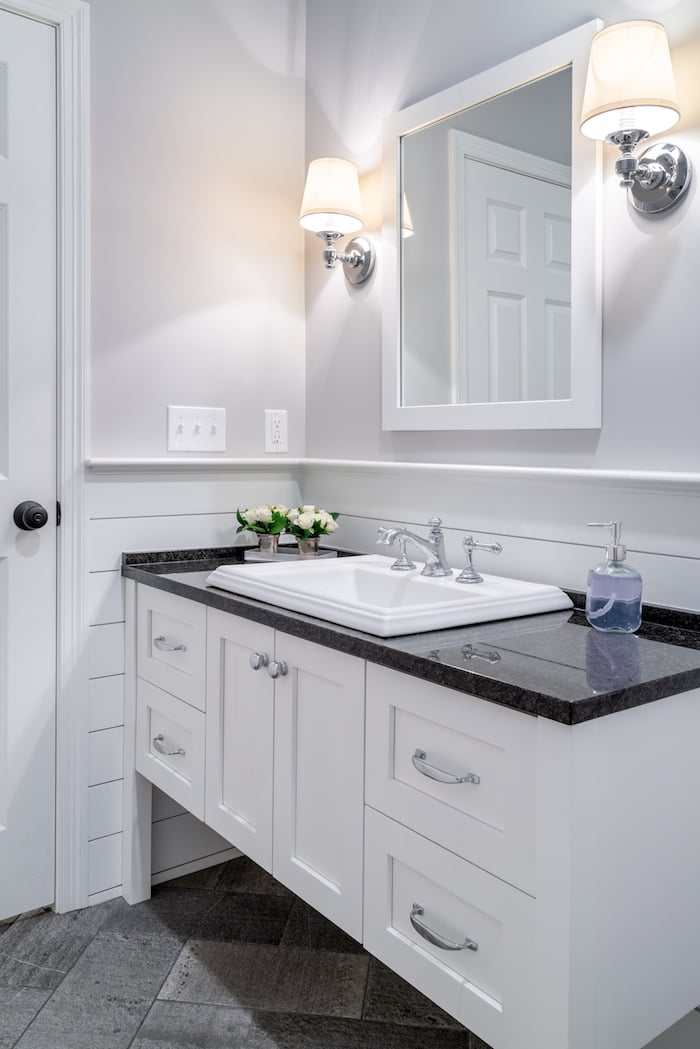 Kitchens
Transitional kitchen design is popular because kitchens are a popular room in which to mix styles; in this example, it's transitional leaning toward traditional. The clean, crisp, bright white cabinets with shaker cabinet doors can go in almost any direction. But the stacked cabinet with the lighted glass gives it a more traditional feel, accentuated by the classic curved hood. However, the stainless steel appliances and granite countertop act as a counterpoint to the traditional curved lines of the hood. The overlook effect is a beautifully integrated, transitional design style that is uniquely this homeowner's.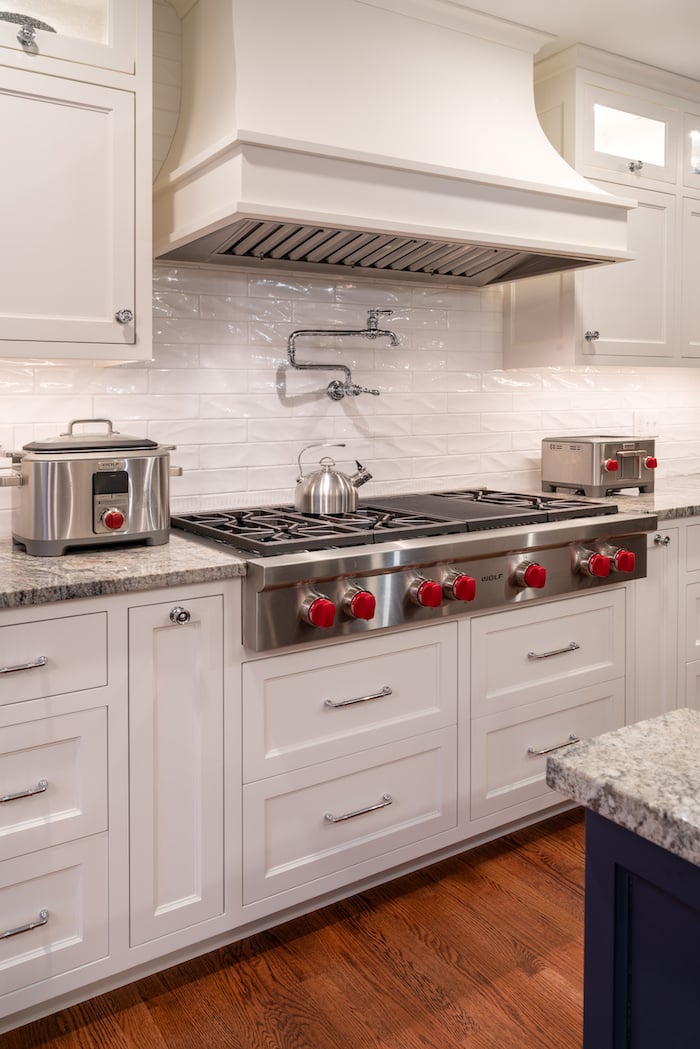 In this kitchen example, there's an even more distinct turn in a traditional direction. Note the classic ship lap in the ceiling and the crown molding, which telegraph a traditional look. There are curvy details throughout that reinforce the traditional feel: the Kohler faucets, pendant lights, and other touches. Even the stools lean toward the traditional. Yet the overall look is clean, bright, and simple in many ways, which boost the transitional effect.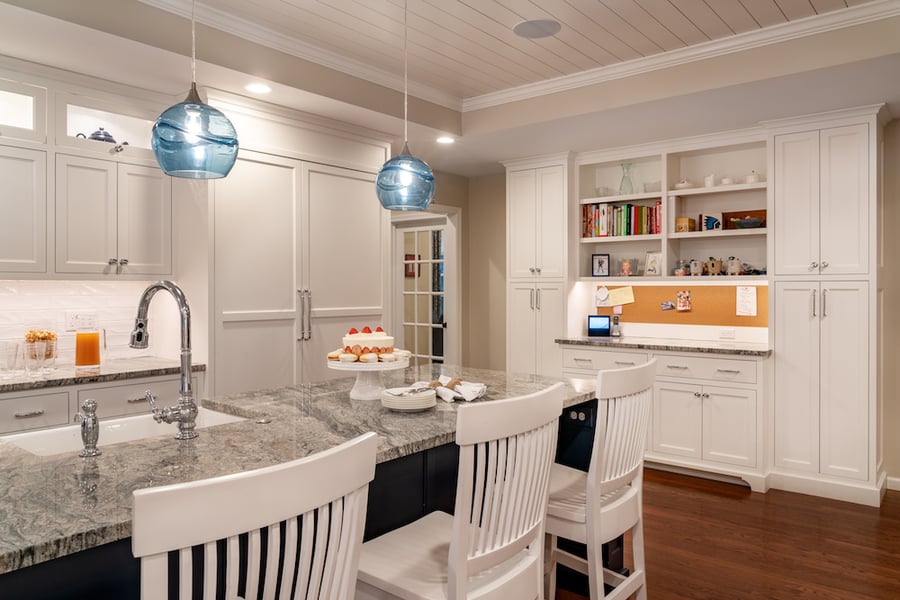 The irresistible allure of transitional design
Still growing in popularity, transitional design pays homage to both contemporary and traditional home styles. For a design/build firm like ours, it enables us to create unique environments that have an element of surprise. For a homeowner embarking on a renovation project to breathe fresh life into a room or an entire house, it enables them to transform their space blending tasteful, restrained elements of whatever suits them — traditional or contemporary. The effect? A pleasing look that's fresh, familiar, and custom-tailored to the homeowner.
Working with a professional design/build team such as the Mitchell Construction Group offers the freedom to be experimental in this approach. Homeowners who work with a designer and opt for a transitional look can be sure they'll create a one-of-a-kind space that reflects uniqueness and expresses their personality. By bringing together a combination of design styles, homeowners can renovate or remodel their home in a playful yet sophisticated way.
To learn more about the home renovation design process, please read our eBook, "Expert Design Tips to Improve Your Home's Form and Function." And if you are ready to speak about your next renovation, please schedule a home renovation discovery session.