When seeking inspiration for your remodeling project, you may look through hundreds of photos online and in design magazines. One aspect that often gets overlooked — but is always right there in the most inspiring photos — is lighting design.
What do you need to think about when considering lighting as an aspect of your overall design during a home renovation? You might be surprised. There is a science to residential lighting design. The type of lighting and the purpose need consideration for how the light will impact the overall space.
That's why it's always a good idea to seek the advice of a lighting specialist or an interior designer who has experience with lighting. When we approach a project, our designers are highly skilled. Still, we will also consult a lighting specialist to bring the homeowner the best results for complex lighting projects.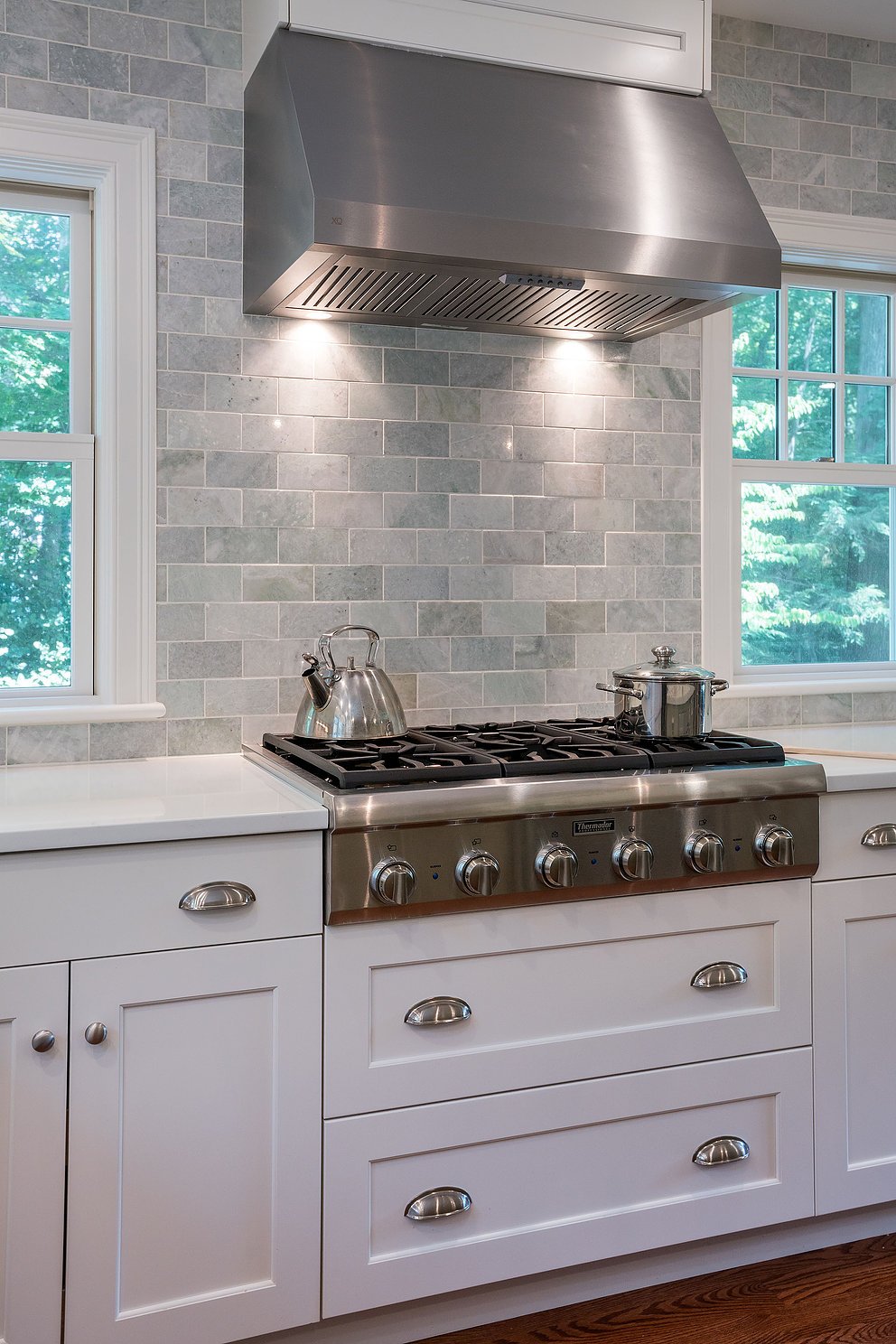 Home lighting design at its best is a blend of function and aesthetics. The proper lighting can help you accomplish household tasks, and it can set the ambiance for a room or the entire home. For all these reasons and more, don't forget lighting design when thinking through your next home renovation project.
What are the 4 types of lighting?
Lighting does not all come from one source, and you don't put lights up in your home for just one purpose. Different types of lighting are used for various purposes. They are almost always used in combination for the optimal lighting design. The four types of residential lighting are:
1. Ambient lighting
This is lighting that helps you to see what's around you. Ambient lighting is general illumination of a space.
2. Task lighting
Examples include under cabinet lighting in a kitchen, a desk lamp, or pendant lamps above a sink or an island. Task light provides increased light to perform a task safely and efficiently.
3. Accent lighting
These lights are typically brighter and used to call attention to a focal point in the room, like artwork or any item with pride of place in your home.
4. Natural light
Windows and skylights that bring the sunlight into your home. Light tubes from the roof are another way to bring natural light into spaces where natural light is otherwise unavailable.
Lighting fixture types
Form and function in lighting interiors can be accomplished using a variety of lighting fixtures. Here are the main types of fixtures you will be using in your home renovation.
Surface mounted fixtures
This would be a ceiling mounted fixture that is not recessed. A surface mounted fixture can vary from the evocative to the functional. You might choose a light for the center of a room that reminds you of a frosted ceiling fixture at your grandparent's house. Or it might be a fluorescent fixture attached to the ceiling in a workspace.
Recessed fixtures
Recessed fixtures can help to illuminate larger areas, like in a kitchen, or can be directional to accent a work of art hanging in a foyer or hallway.
Suspended fixtures
You might think right away of chandeliers and pendant lights. Track lighting is also an example of a suspended fixture.
Wall-mounted fixtures
A wall sconce can illuminate a hallway while providing some visual interest. This can be a place to experiment with a style (think mid-century modern or arts and crafts) that you want to express throughout the home.
Furniture-mounted fixtures
These can be used to accent what is inside a cabinet or on a bookshelf or illuminate the area around the cabinet.
Freestanding
If there is an area of a room where a bit more lighting is needed, a floor lamp may solve the problem while providing one more opportunity to show off your design style.
Accessory lighting
Table lamps and reading lamps can direct light where needed for a conversation on the living room couch or catching up on a book before bedtime.
Home lighting design examples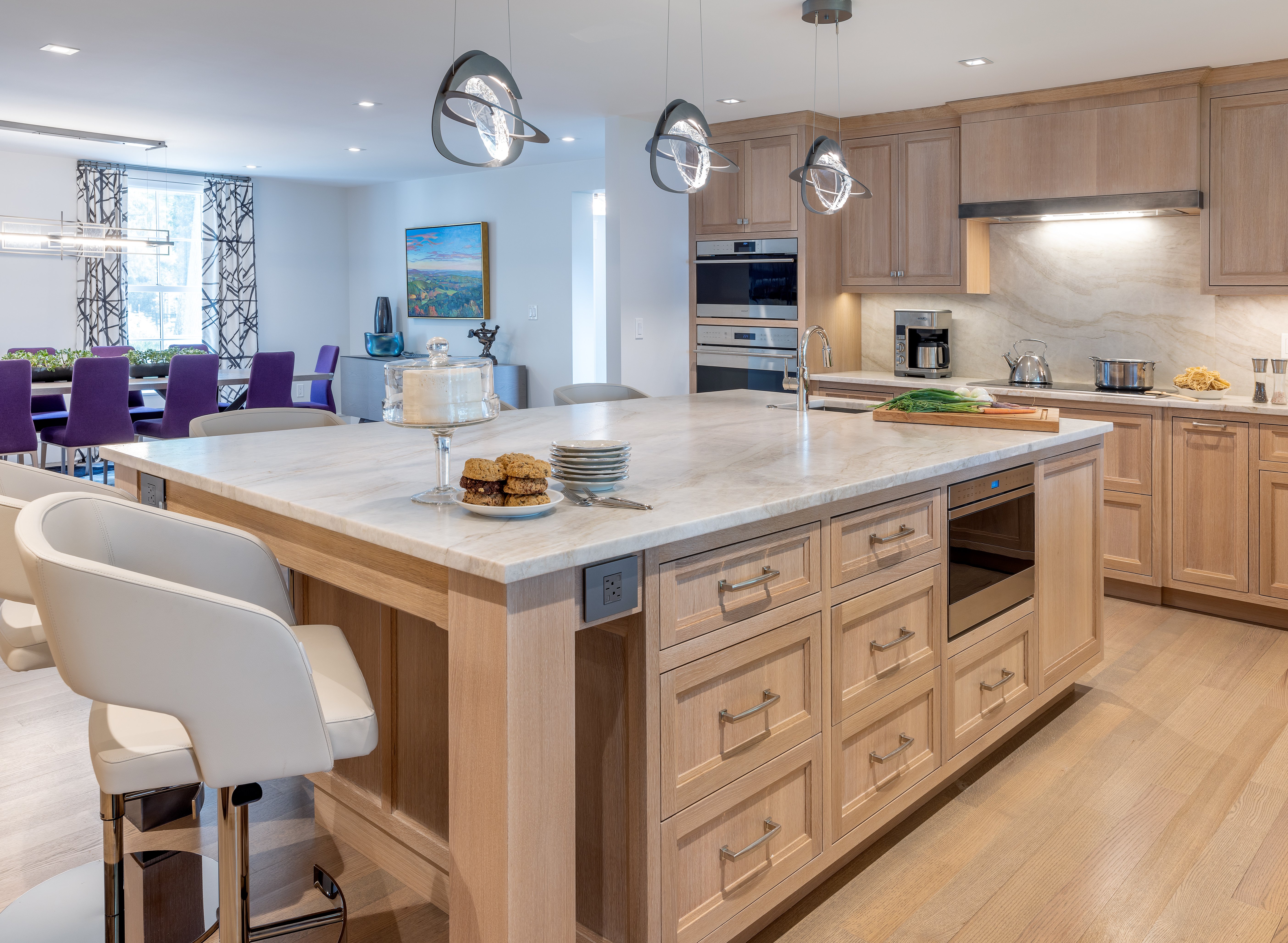 Lighting design for kitchens always requires special attention. This design makes excellent use of natural light, ambient recessed lighting, and task lighting above the stove, work surfaces, plus pendants above the island that blend function and aesthetics beautifully.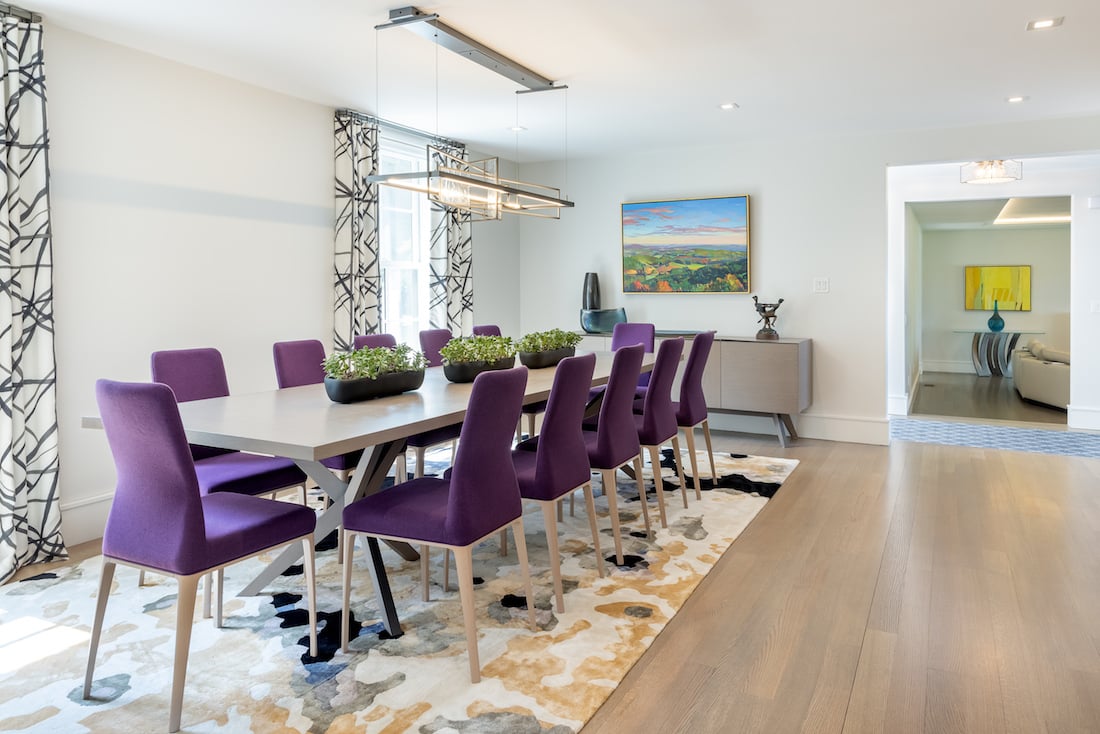 This colorful dining room has natural lighting along with a decorative chandelier on a dimmer to adjust the level of light.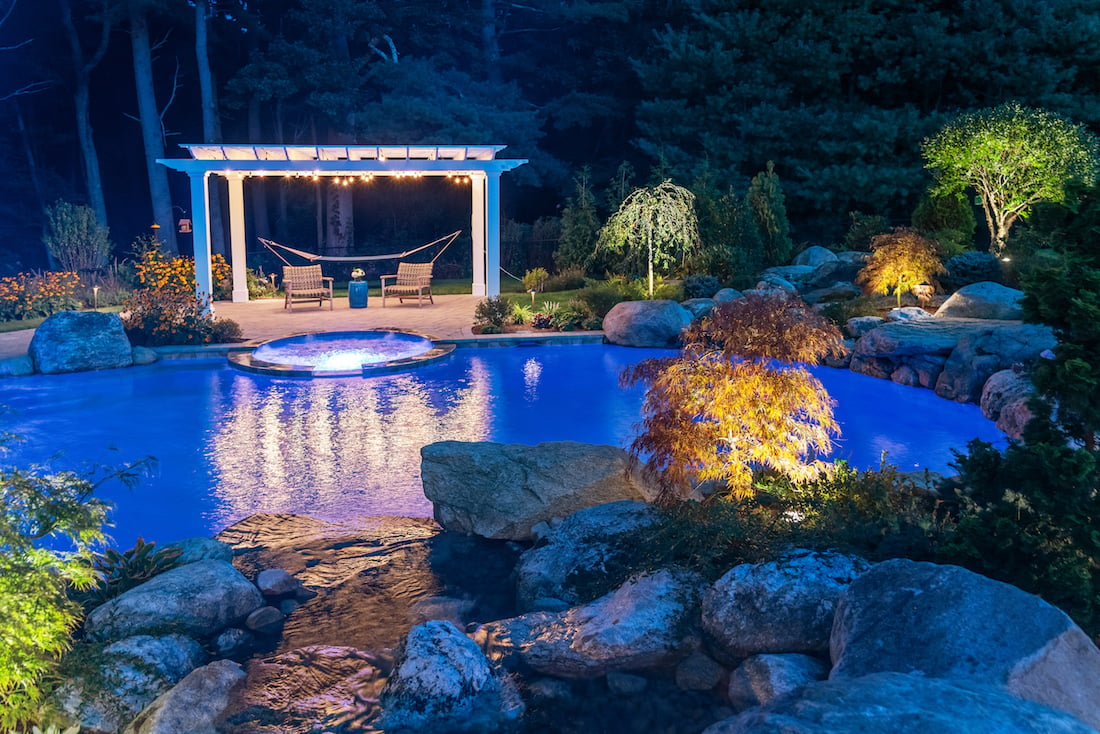 Lighting design done right can turn home into an oasis. This outdoor space utilizes lighting styles and sources to accent the landscape, create an atmosphere of celebration under the pergola, and light the way for a refreshing night time swim.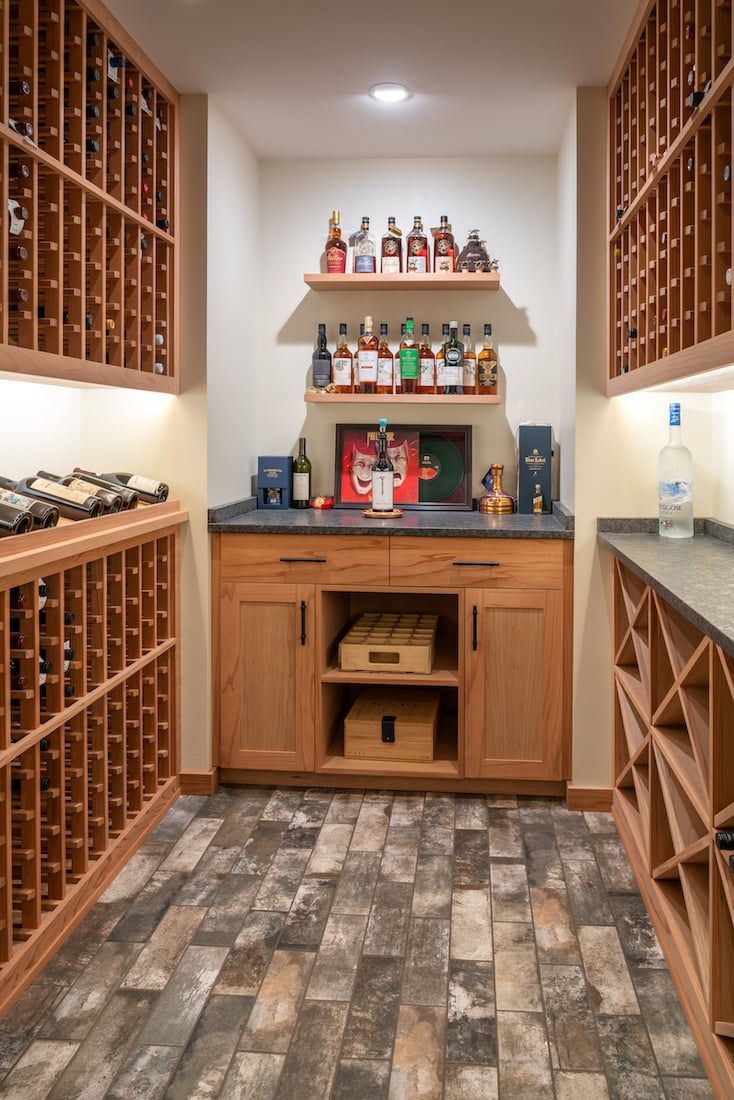 This wine nook has examples of under cabinet lights that act as accent light to highlight the wine, but also task lighting to read labels, with overhead recessed lighting to round out the space.
This kitchen shows off the combined impact of natural light from a large window above the sink, accent lighting in the high cabinets to display items, task lighting above the sink, and pendants over the island on a dimmer, so they can function as ambient or task lighting.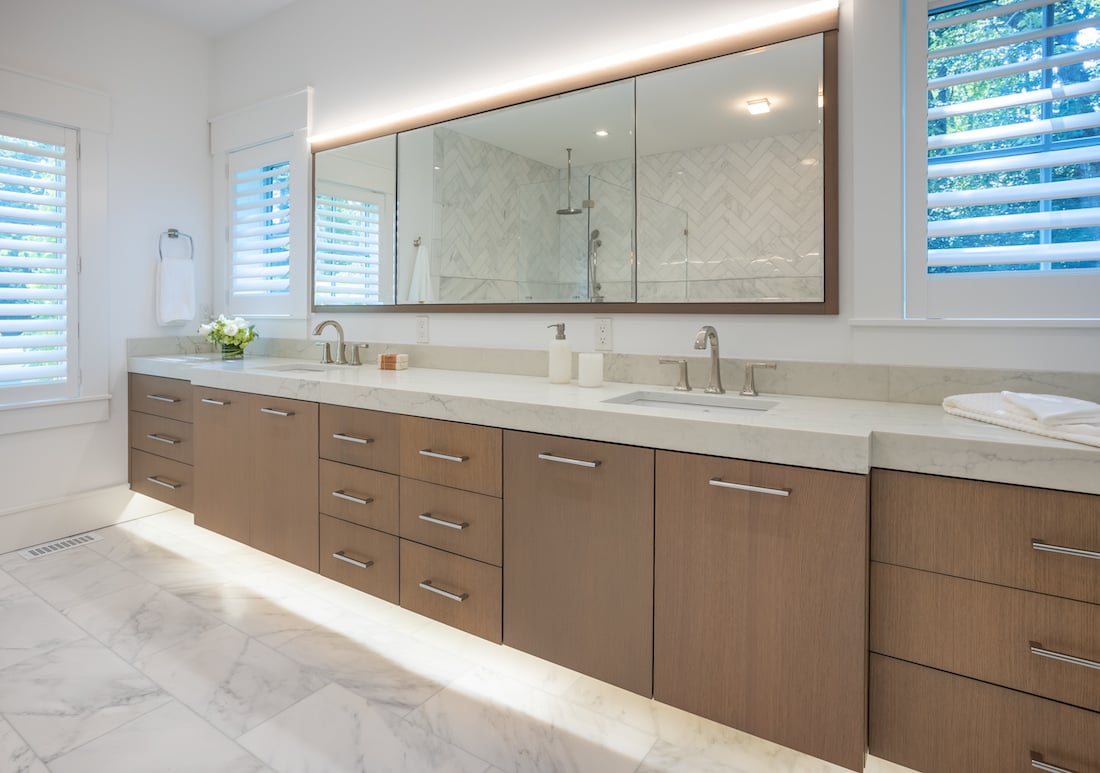 A wall hung vanity with under cabinet lighting can function as accent or ambient light, but it's also wayfinding, like an elaborate nightlight. Above the mirror is task lighting for your morning and evening ablutions.
Good lighting design makes all things visible
It is not hyperbole to say that lighting is the most important element of design. You can have the most well-proportioned space, the most beautiful cabinets, the most pleasing site lines; but if you don't get the lighting right, you will not get the full impact and enjoyment of those other elements.
Why should you prioritize lighting design in your next home remodeling project? Because it makes all the difference in the world.
To learn more about the home renovation design process, please read our eBook, "Expert Design Tips to Improve Your Home's Form and Function." And if you are ready to speak about your next renovation, please schedule a home renovation discovery session.