While the phrase "plumbing trends" may not set your heart to fluttering, the end results of a kitchen or bath remodeling project often highlight the exciting results of those trends. These are the elements that cause you to love the space and enjoy spending time there.
So what is happening these days in kitchen and bathroom design — especially in the area of plumbing fixtures and finishes? We are getting way beyond water on/water off basics, as smart technology adds comfort and versatility to kitchen and bath designs in ways both beautiful and unexpected. Here are just a few reasons why the phrase "plumbing trends" is truly exciting.
Plumbing trends in the bathroom
Whether you are moving into a home built some time ago, or you are ready to revamp the primary bathroom or guest bath in the home you've been living in, there are some pretty interesting trends to be aware of.
For instance, the aging jacuzzi tub that takes up half the space in your bathroom? It is going away in many bathroom renovations. The question becomes, "to tub, or not to tub?" If you love both a shower and a bath, many homeowners are creating a spa-like, spacious shower, along with a freestanding tub. When done with an eye for proportion and detail, the results are nothing short of spectacular.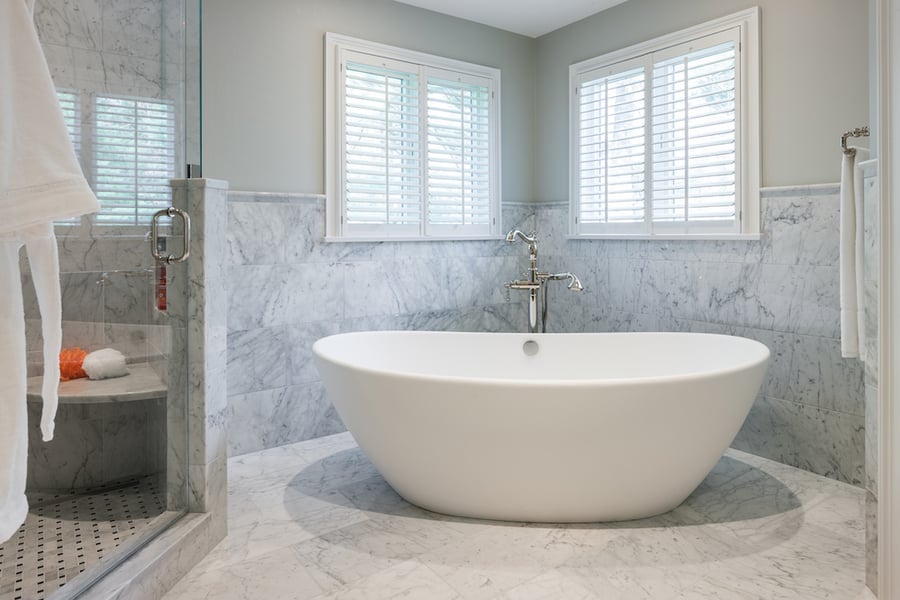 Removing the jacuzzi tub makes room for an incredible shower along with this relaxing freestanding tub.
Discerning homeowners are also going well beyond the basics when it comes to the toilet for their newly renovated bathroom. Spa toilets with bidet settings, heated seats, and personalized settings for more than one user are becoming more and more popular.
A 3' x 3' shower pan accessed with an aluminum frame door does not cut it anymore. A big trend in shower renovations is to accommodate the needs of two users in one space by doubling the number of shower heads, benches, and soap and shampoo niches. You can add body jets and a rain head. You can even get a bluetooth enabled shower head with speakers so you can sing karaoke in the shower without getting your phone wet.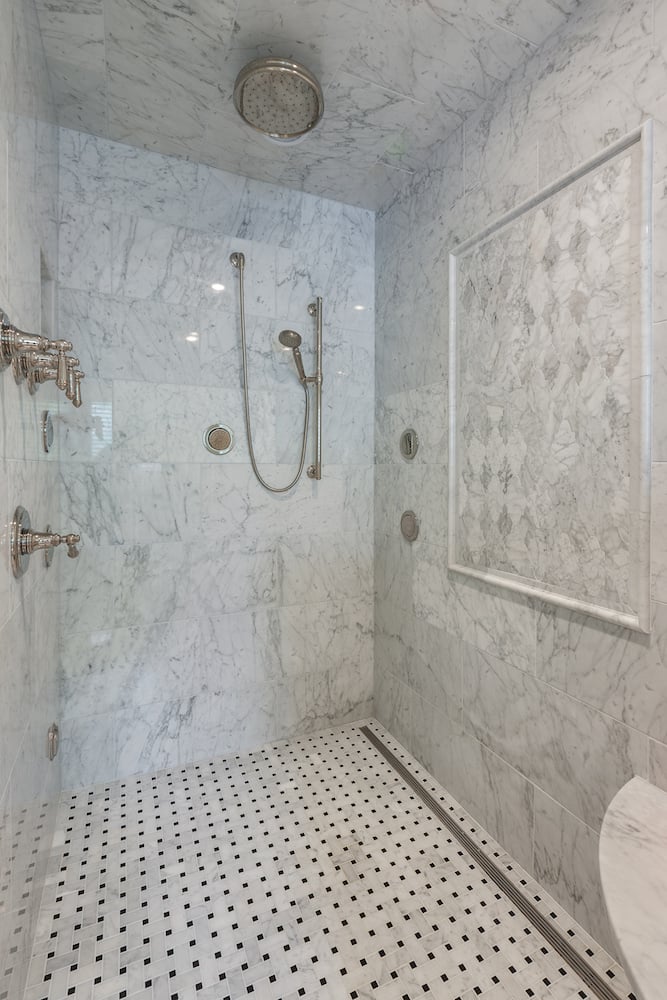 A shower built for two users, plus body jets, handheld shower, rainhead, and linear drain.
Have you heard of a hydrorail? It's the next generation handheld shower head that allows for levels of pressure from gentle rain head to high pressure. You can use it as a standard shower head or handheld to provide targeted relief to sore muscles. The hydrorail gives you all of the above.
What about finishes for these upscale fixtures? One of the big trends in plumbing fixtures right now — for both bathrooms and kitchens — is what designers call the "farmhouse look." These are fixtures with a matte black finish that contrast with bright, crisp whites of sinks, toilets, and bathtubs. The fixtures, as you can see below, become a real work of art against the color and clean lines of lightly stained or natural wood cabinetry. Oil rubbed bronze and satin brass are also popular finish choices, with brushed nickel still in the mix, though less popular than it was a few years ago.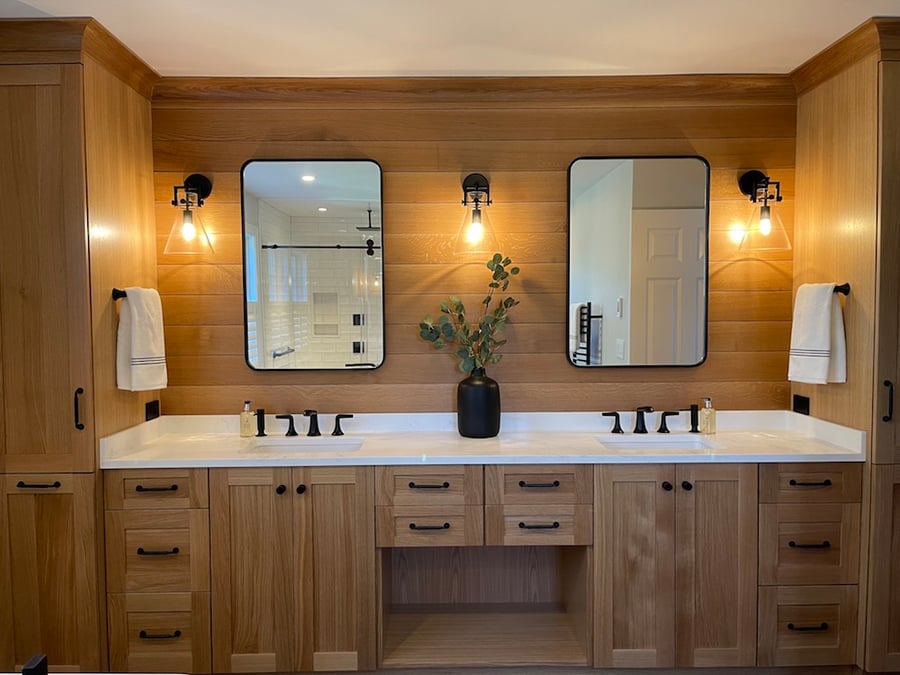 In the above example, the farmhouse look showcases the contrast between the bright white countertop, natural wood cabinets, and – in the mirror's reflection – you can see more stunning contrast between the white shower tile work and the matte black fixtures.
Plumbing trends in the kitchen
No conversation about plumbing industry trends is complete without a look into kitchen design.
Islands have more and more become the centerpiece of kitchen design as kitchens become the number one gathering spot for family and friends in the home. Locating a sink in the island is nothing new, but designers are taking the form and functionality of a standard kitchen sink and creating a space where cooking doesn't mean you are cut off from social interaction.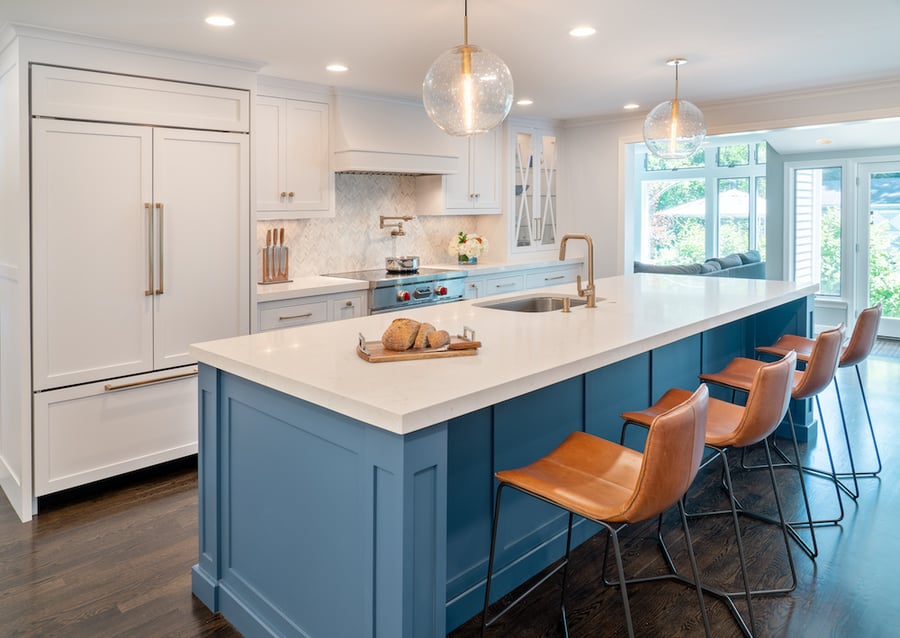 A kitchen island with plenty of room for food prep and remaining a part of the conversation.
It starts with a main sink and dishwasher, where the host/cook can get tasks done while still interacting with family and guests. From there, you can add many features to create a multi-functional food prep and clean up area.
Along with touchless faucets, kitchen plumbing trends include dedicated hot water faucets and/or a filtered cold water faucet. Many homeowners renovating a kitchen also insist on a pot filler when they've gone to the trouble of installing a commercial-grade range.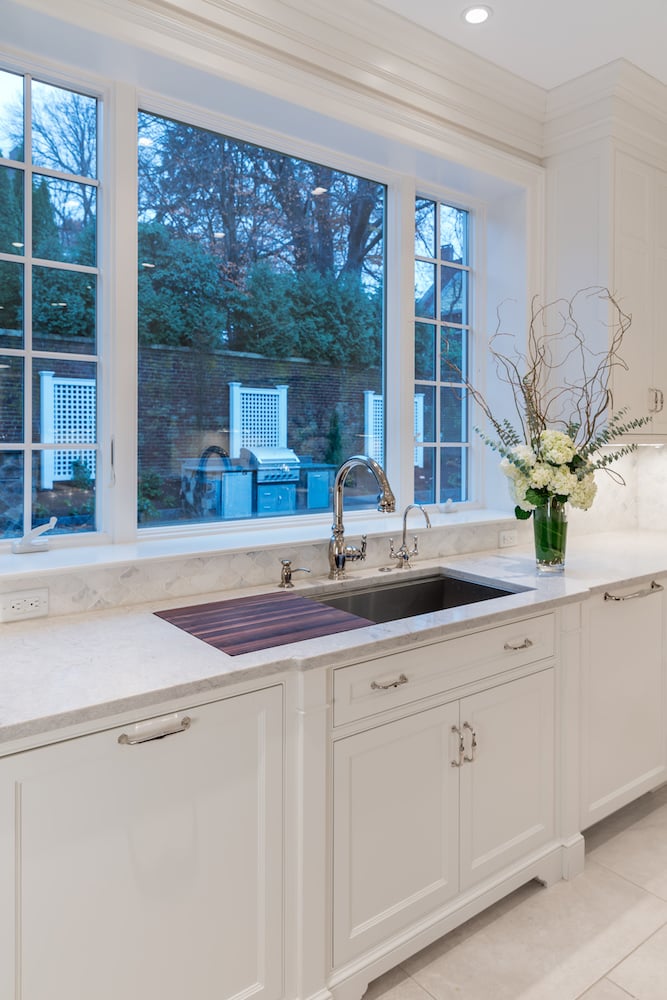 Here, the homeowners chose an extra large undermount sink. There is a cutting board that slides across and can be swapped out for a colander for easy rinsing as you prep.
Kitchen sink styles and placement are getting more and more creative. Trends range from apron farm-style sinks to extra-large sinks with dual faucets so two people can work at the same time.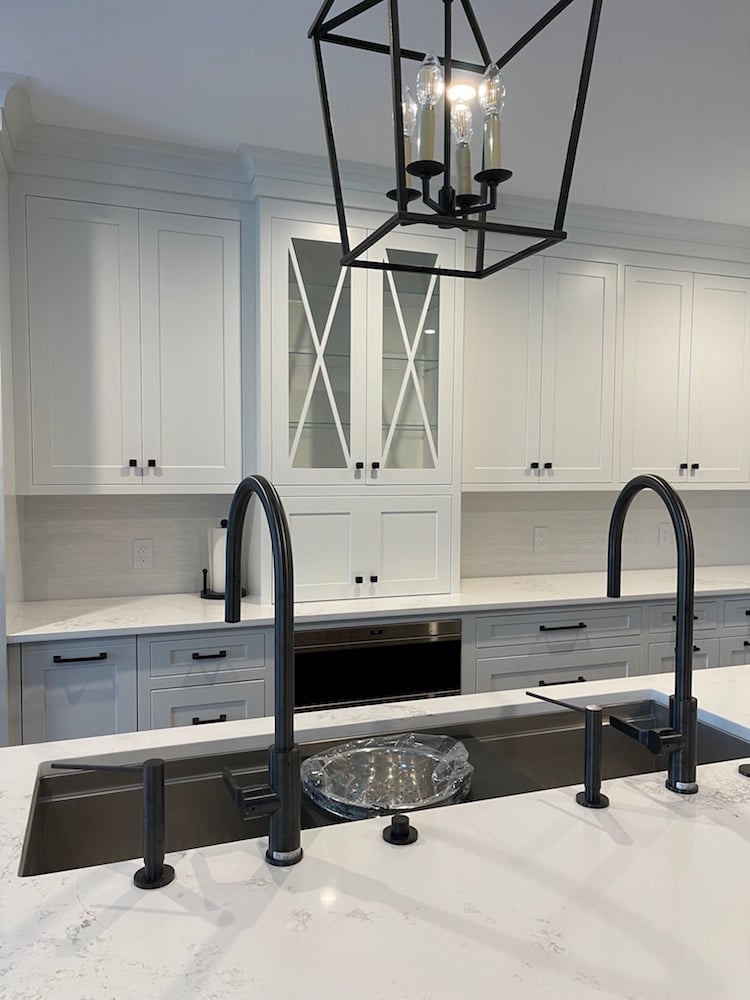 This sink is a 50" wide undermount with double faucets.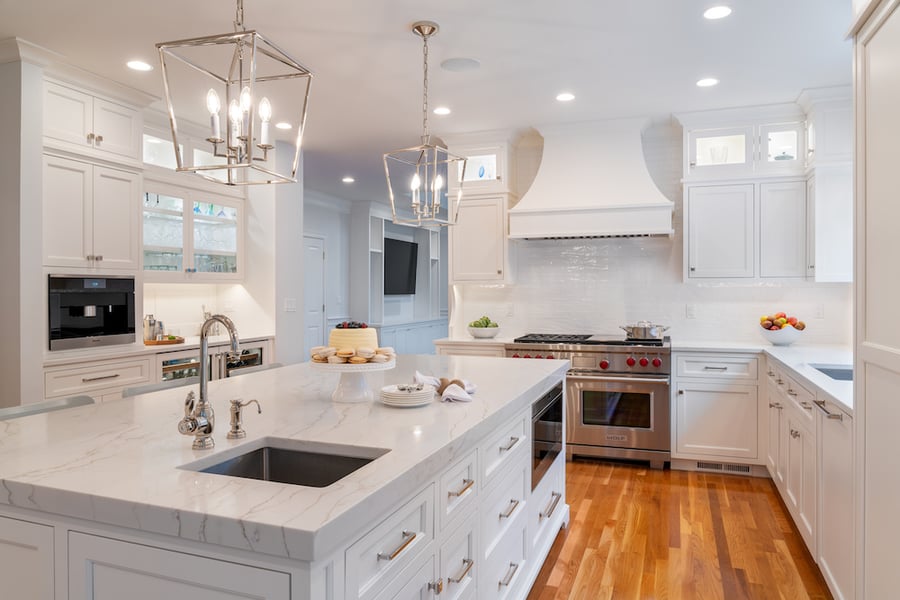 This prep sink was set at the end of the island to maximize counter space for prep, buffet-style serving, and plenty of space to sit at bar stools for breakfast or a quick bite any time.
Trends in smart tech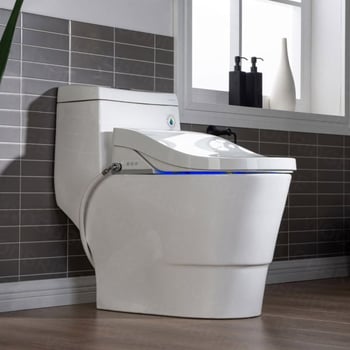 It may sound a bit strange to think of kitchen and bath plumbing as part of the digital revolution. But make no mistake, smart technology is very much at home in the kitchen and bathroom.
Smart showers feature a variety of technologies not offered by standard showers. For example, the temperature can be precisely controlled, either from a digital panel or an app. The shower can be turned on and off via an app or even by voice. The water spray can also be easily adjusted at the touch of a button.
And those spa toilets mentioned above? They also come with features like automatic flushing, overflow protection, foot warmers, emergency flush capabilities in a power outage, self-cleaning, and remote control for all of the above. An example is shown in this image - a Woodbridge bidet toilet.
And just like the bluetooth-enabled shower head, a smart toilet can play your favorite music, or keep you up to date on that true crime podcast you are obsessed with. If you can think of a convenient feature for a toilet, you can probably find one with that feature.
A new day for kitchen and bath plumbing
Today's plumbing trends are nothing short of exciting. Gone are the days when manually turning on hot and cold water, then draining it away was all you could expect from your kitchen and bathroom plumbing. Beauty, ease of use, multi-functionality, and more are the new expectations.
There are so many new plumbing technologies and trends to be aware of. By learning all you can about these trends, you'll know what is possible, the features that matter to you, and get the most out of your kitchen or bathroom renovation.
To learn more about the home renovation design process, please read our eBook, "Expert Design Tips to Improve Your Home's Form and Function." And if you are ready to speak about your next renovation, please schedule a home renovation discovery session.