How much help do you really need to pick out the right cabinets for your kitchen, bath, laundry room, or other areas of your home where renovation will involve cabinetry? Can't you just take a few measurements, choose the cabinets, and get on with the renovation?
It turns out, there are a lot of decisions to make regarding materials and performance of different kinds of cabinets. There is also the fundamental choice between custom, semi-custom and stock cabinets. You have benefits and tradeoffs to consider, especially when you are devoting so much time, energy, and financial resources into making this renovation as good as it can be.
Starting with online research can be very helpful. Houzz and Pinterest help you clarify the end results you are looking for. This research can help you understand different species of wood, finishes, veneers, paint, and stains.
Then, the choices can get overwhelming. Do you prefer raised panel or flat panel doors? What is a frameless full overlay, and should you choose that for your cabinetry? There are so many options out there, and with cabinet lead times taking longer than ever, it is wise for homeowners to do their research and find a design expert to help make the right choices for your situation.
What are Stock, Semi-Custom and Custom Cabinets?
Before making style choices, your primary decision is between the three main manufacturing methods. There are reasons you might choose any one of these three options, depending on the project. Here is a quick explainer about each:
Stock
These are ready-made, mass-produced cabinets that can be shipped quickly (barring supply chain issues) when ordered. They come in standard sizes and have a limited range of options in terms of stain, paint color, and door styles.
Semi-Custom
As the name implies, this is a step between stock and custom cabinets. These are cabinets that are manufactured at a location likely not local to you, but with a wider range of options for customization than are available in standard stock cabinets. These cabinets are constructed once the order is made, so lead times are longer than with stock cabinets.
Custom
Custom cabinets tend to be local craftspeople who build and install what they make. Since they are local, your builder will likely have a relationship with them. There will be no shipping fees as with the other options, and as remodeling proceeds, they will be able to more easily adapt to any unforeseen circumstances — issues that get uncovered during demolition and remodeling.
How to Decide on the Right Cabinet Type for Your Renovation
With these three options, which is the right one for the renovation happening in your home? There are pros and cons with each (see graph below) but here are a few considerations that you may not have thought about. You want a design partner who will listen, understand the challenges you are trying to address with the renovation, and help you plan each space with the cabinets that will meet the need and fit your budget.
Reasons to Choose Custom Cabinets
We recommend choosing custom cabinetry, especially for a kitchen renovation, for a number of reasons.
First, you will have the cabinets completed to your specifications, not the limits of what a far-away manufacturer will make available to you. Beyond this, your builder will have a relationship with the local cabinet companies. As issues arise, changes can be made more easily than when pre-ordering semi-custom or stock cabinets.
There are many levels of custom cabinet makers, from lower end to higher end. In the market here in New England, a typical cost per linear foot is $1,200, but some custom shops can be much higher. While custom cabinets will have a "sticker price" that is likely above what you would pay especially for stock cabinetry, remember that there will be no shipping costs to add, and you won't be hiring an installation team, as the custom shop will do the installation themselves. These factors make custom cabinetry competitive in price with semi-custom.
On occasion, that custom cabinet relationship can even save the day when another cabinet choice was made. We had a project where a specific shade of green was chosen for a semi-custom kitchen island. About a week after we had completed the project, one of the kids spilled nail polish remover down the side of the island cabinet. When we contacted the manufacturer to get some paint to match, they said, "sorry, that's been discontinued." So we brought in a custom shop to repaint the cabinet.
Reasons to Choose Semi-Custom Cabinets
For smaller projects like a laundry room, semi-custom can fit the bill nicely. Semi-custom shops have much better finish capacity than stock cabinet manufacturers. The semi-custom manufacturer will have dedicated spray booths and state-of-the-art equipment which deliver a high quality end product. As long as no problems arise, semi-custom cabinets can fill a need in your renovation project.
Reasons to Choose Stock Cabinets
If all you need is a straightforward box, a stock cabinet might make the most sense. If you are fitting out a short- or long-term rental property, stock can be the smart choice.
Pros and Cons of Custom, Semi-Custom, and Stock Cabinetry

Examples of Custom and Semi-Custom Cabinet Installations
1. For this vanity, we extended the legs and used a Shaker door style with white oak and a clear finish for a sleek, clean look.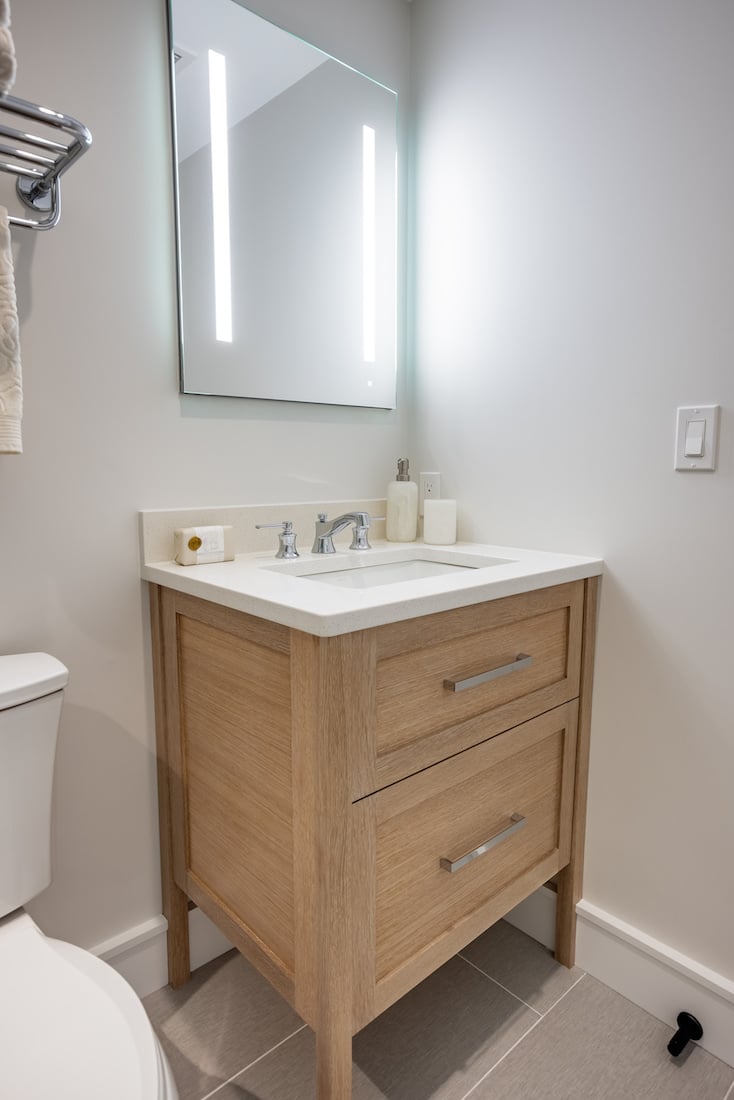 2. This is a custom piece with a slab door and full overlay.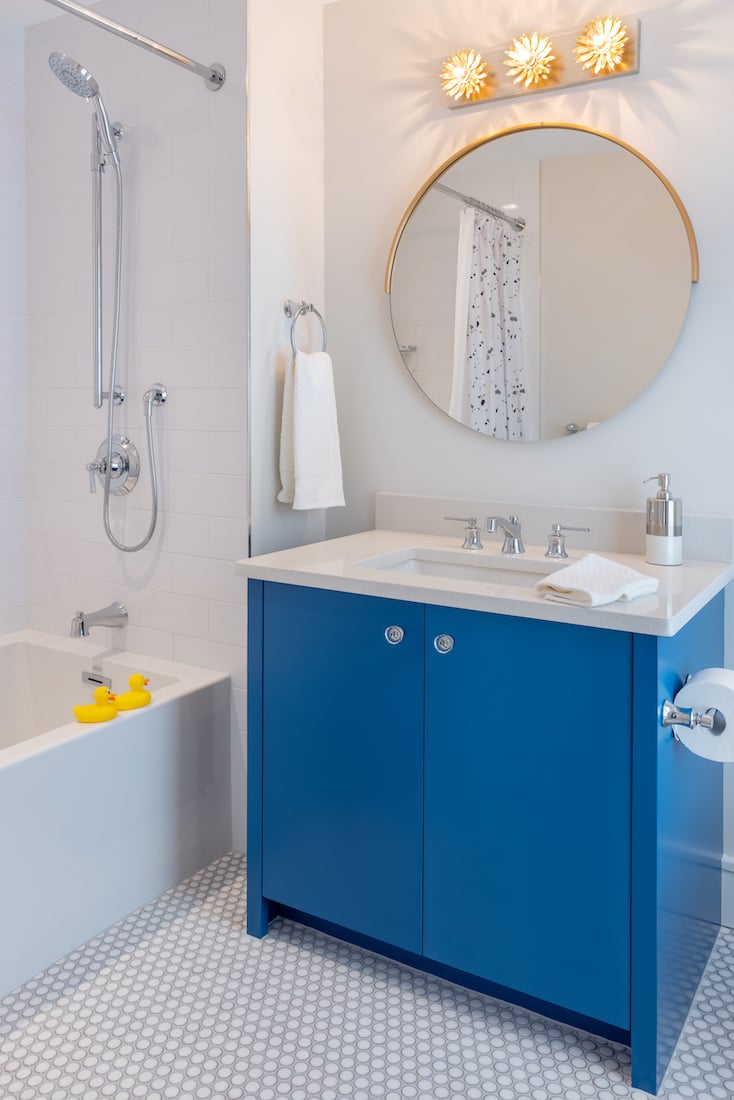 3. This white oak stained Shaker panel is custom, but you also could use a semi-custom cabinet maker for this style and location.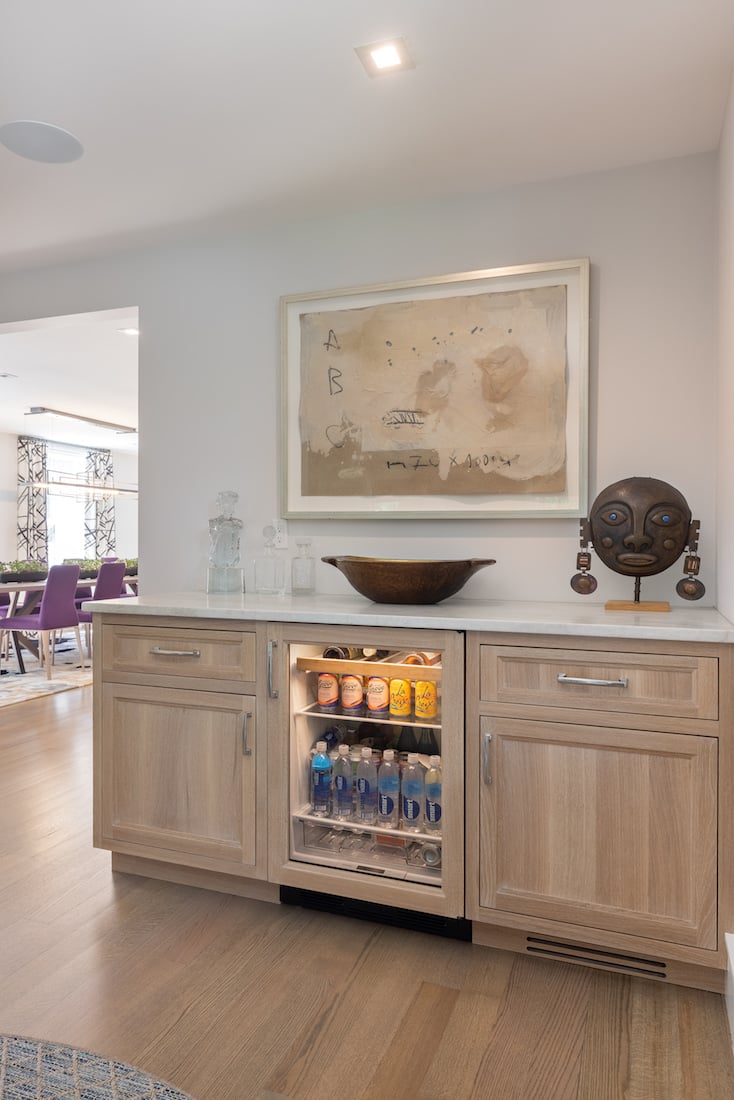 4. This is a custom kitchen with metal band around the range hood to meet the homeowner's desired aesthetic. A semi-custom manufacturer would not be able to accommodate a modification like the metal band.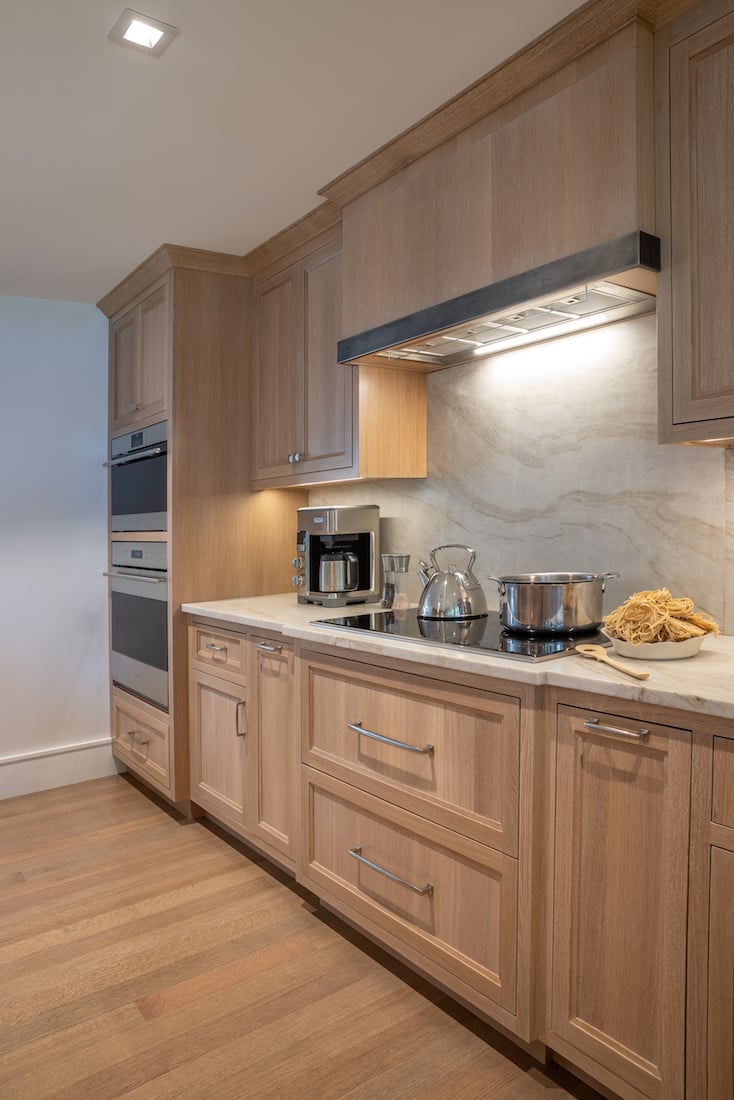 5. Custom living room cabinetry to house stereo and home theater equipment.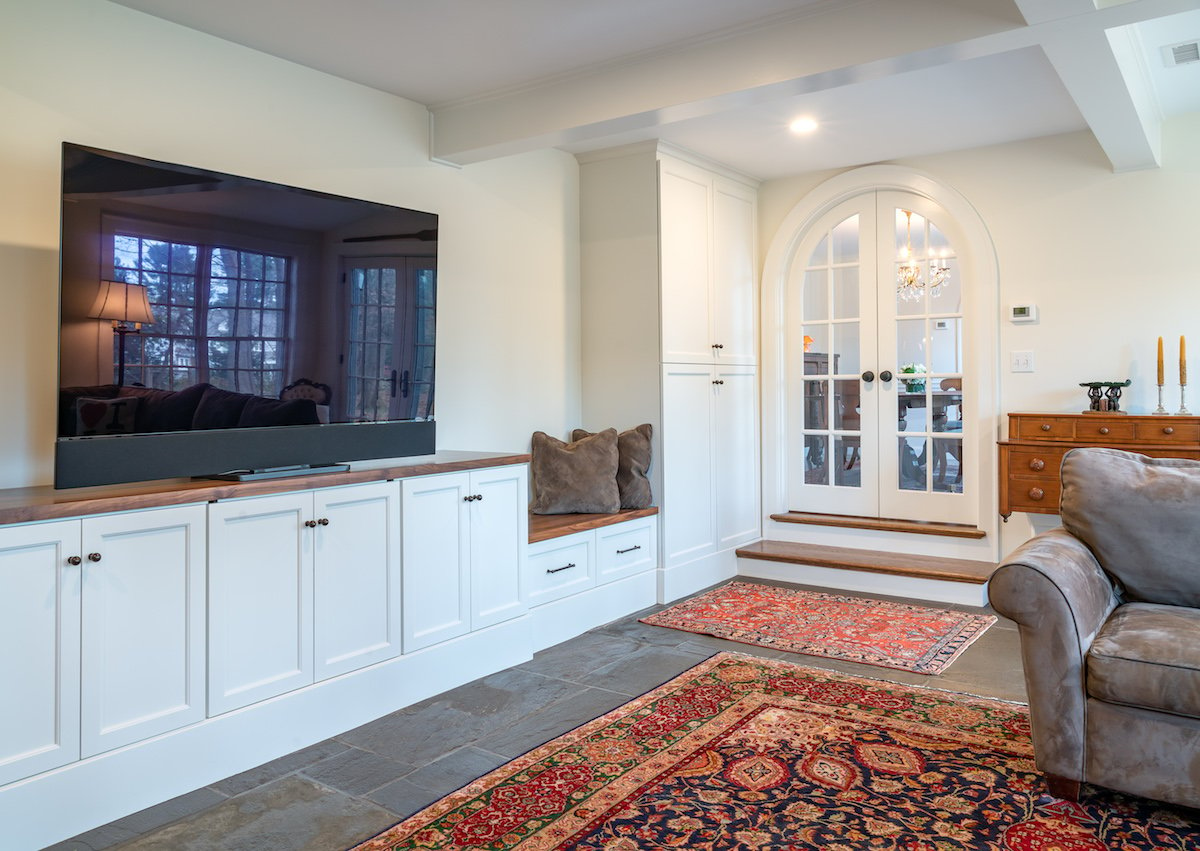 Getting the Most from Your Cabinet Builder
As you can see, there are many variables when it comes to choosing the right cabinet manufacturer. Having the right partner working with you can make all the difference.
Working with a design-build team that has direct relationships with custom cabinet builders and has the option to use semi-custom when it fits your needs provides you with the best of both worlds. Because there are so many cabinet manufacturing options, design styles, and functionality differences, a well-qualified design team will help you manage those choices.
The flow of the whole process and the often hidden details in cabinet construction and installation can make or break any renovation. A good design partner will guide you to the best results for your renovation project.
Mitchell Construction has designers who are specialists at creating the unique and beautiful cabinet design. Schedule a home renovation discovery session to learn how cabinet design can enable you and your family to enjoy your home for many years to come.
To learn more about the home renovation design process, please read our eBook, "Expert Design Tips to Improve Your Home's Form and Function."