One of the fundamental truths about life is that we're all growing older. For many of us, the question that will arise as we age is, "Where will I be able to live?"
Fortunately, improved standards of living and advances in healthcare have made it easier to live longer, more productive, and active lives as we grow older. As a result, the concept of "aging in place" has grown in popularity.
Simply put, aging in place can be defined as a strategy to stay in your current home instead of moving into an assisted living or nursing facility as you grow older. This often requires modifications in the home and making accommodations for daily living that enable you to safely and comfortably function at home instead moving to a senior facility.
Aging in place is not just an emotional decision – it's often a financial one as well. According to studies by the insurance industry and the US Department of Health and Human Services, professional assistance outside of the home, such as moving to a private nursing home or an assisted living facility, can cost as much as $50-100,000 per year. Perhaps that's why over 80 percent of adults over 50 prefer to remain at home, according to an AARP survey.
Aging in place by design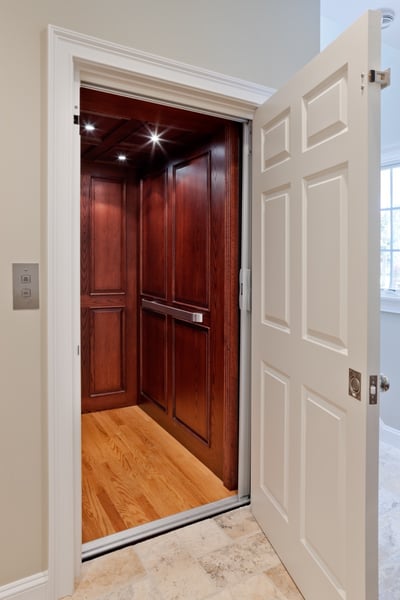 There's no question that there are a number of aging-in-place benefits. We all do better in familiar surroundings. There is an incredible amount of support that can be derived from a variety of sources – family, friends, neighbors, faith communities, familiar hometown services, and much more. What makes it all work is the ability to develop an effective plan, modify your home, and establish a supportive network that you can count on.
As a design/build firm that has extensive experience in renovating and remodeling homes to accommodate multiple generations under one roof, we have some proven aging-in-place design processes that can significantly improve your ability to stay at home as you grow older. Our design team carefully considers the best ways to enable homeowners to transition smoothly between the three fundamental stages of aging: "go-go, slow-go, and no-go."
The cornerstone of an effective aging-in-place strategy is something called "universal design." This is a design approach that accommodates individuals, young and old, with a broad range of capabilities so that they are all able use spaces and features the same way. Done well, thoughtfully-executed universal design features are often not readily apparent to the casual eye, yet they enable everyone, regardless of age or capability, to easily navigate and function.
Here are 10 key concepts of universal design thant enable aging in place:
Universal design strives to improve the original design concept by making it more inclusive
Universally-designed products can have a high aesthetic value – it's not just about functionality
Universal design is much more than just a new design trend – it is an approach that can be applied to any design style or trend
Universal design does not aim to replace the design of products targeted at specific markets
Universal design is not a synonym for compliance with accessible design standards – it provides easily useable functionality for everyone
Universal design benefits a wide range of individuals and ages – not just seniors and individuals with disabilities
Universal design can be utilized by any designer, not just specialists
Universal design should be integrated throughout the design process
Universal design is not just "one size fits all"
A universally-designed product is the goal: Universal design is the process
Let's take a look at several examples of universal design principles at work that fit the needs of individuals of all ages, capabilities while also enabling aging in place:
This bathroom features seamless flooring that enables a person to easily move from sink to toilet to shower without the risk of tripping or mis-stepping over a threshold. A lower vanity and angled mirror accommodates wheelchair-bound individuals The comfort-height toilet is slightly higher than a conventional one to enable easier standing and sitting as well as easier transitioning from a wheelchair.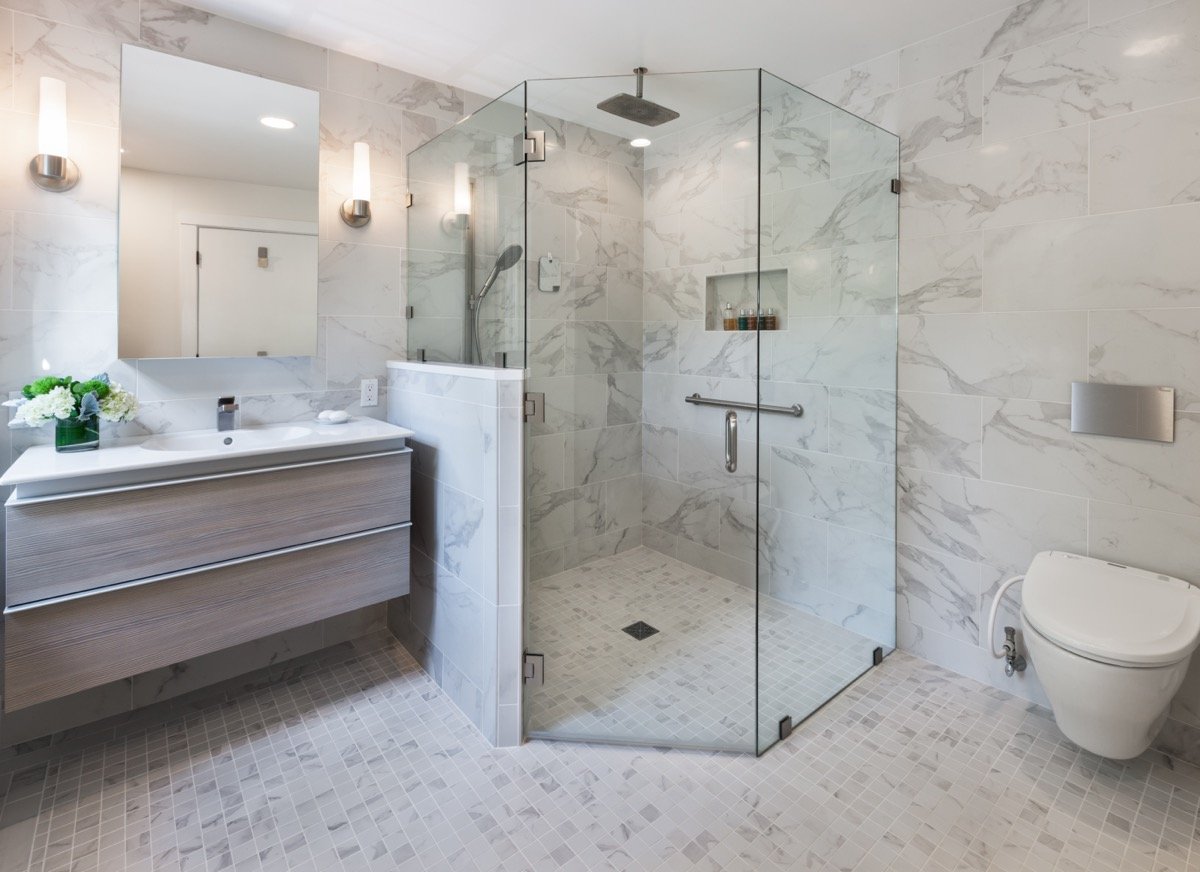 Note the open shower area and adjacent toilet separated by a narrow glass panel for maximum mobility. A toilet paper hanger doubles as a grab handle for added safety. A large window and multiple light fixtures maximizes available light for improved visibility.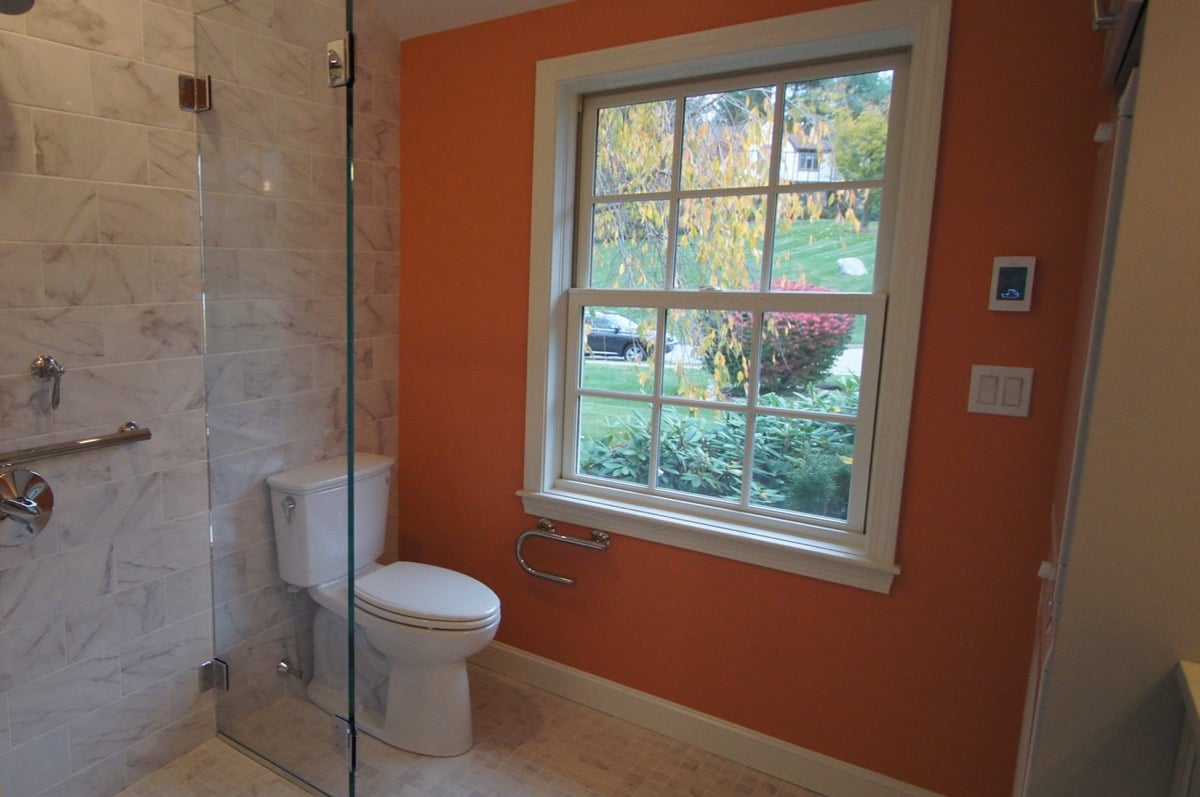 This universal-design living space features easy access from outdoors with a wide exterior door, single-level thresholds, lower bookshelves, and hardwood flooring to accommodate wheelchairs.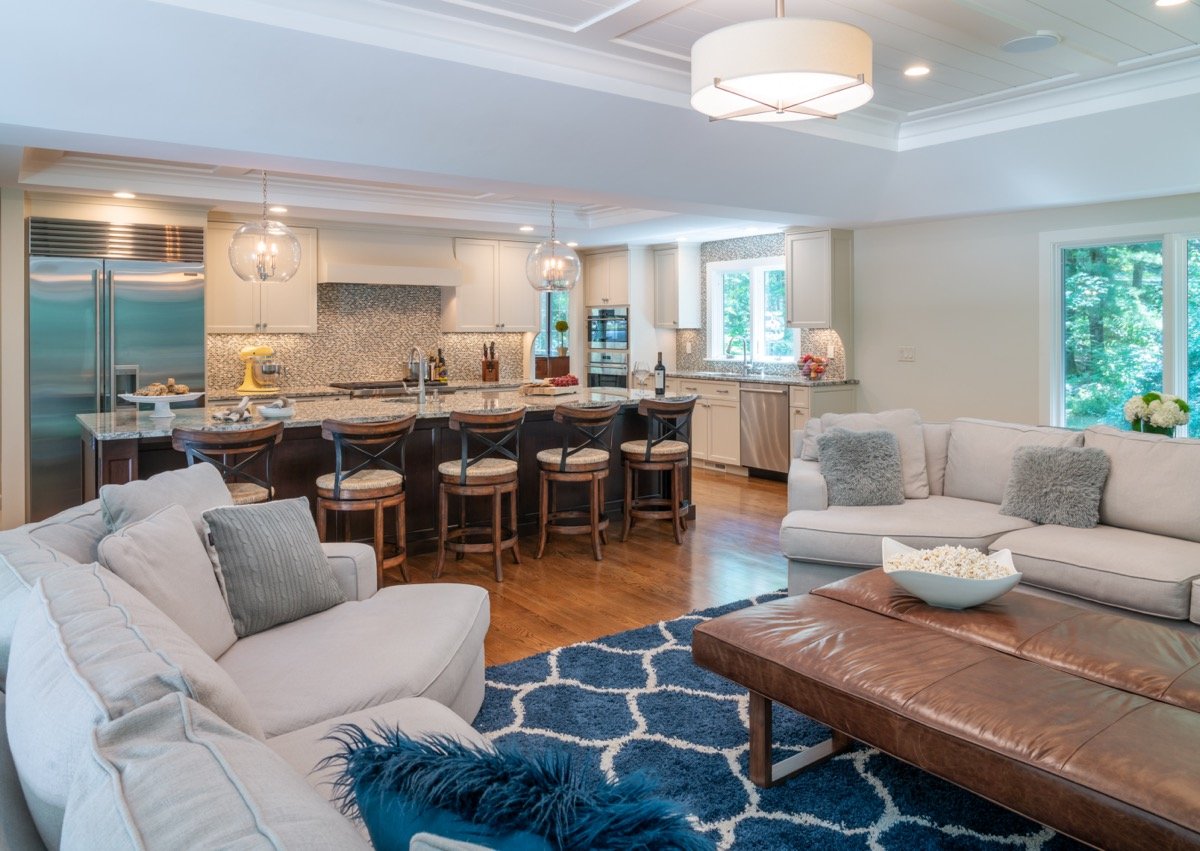 A versatile universal kitchen design can include dropdown cabinets as well as lowered counters and sinks with open space beneath for easy wheelchair access. Plenty of general and under-cabinet area lighting provides improved visibility for maximum efficiency and safety.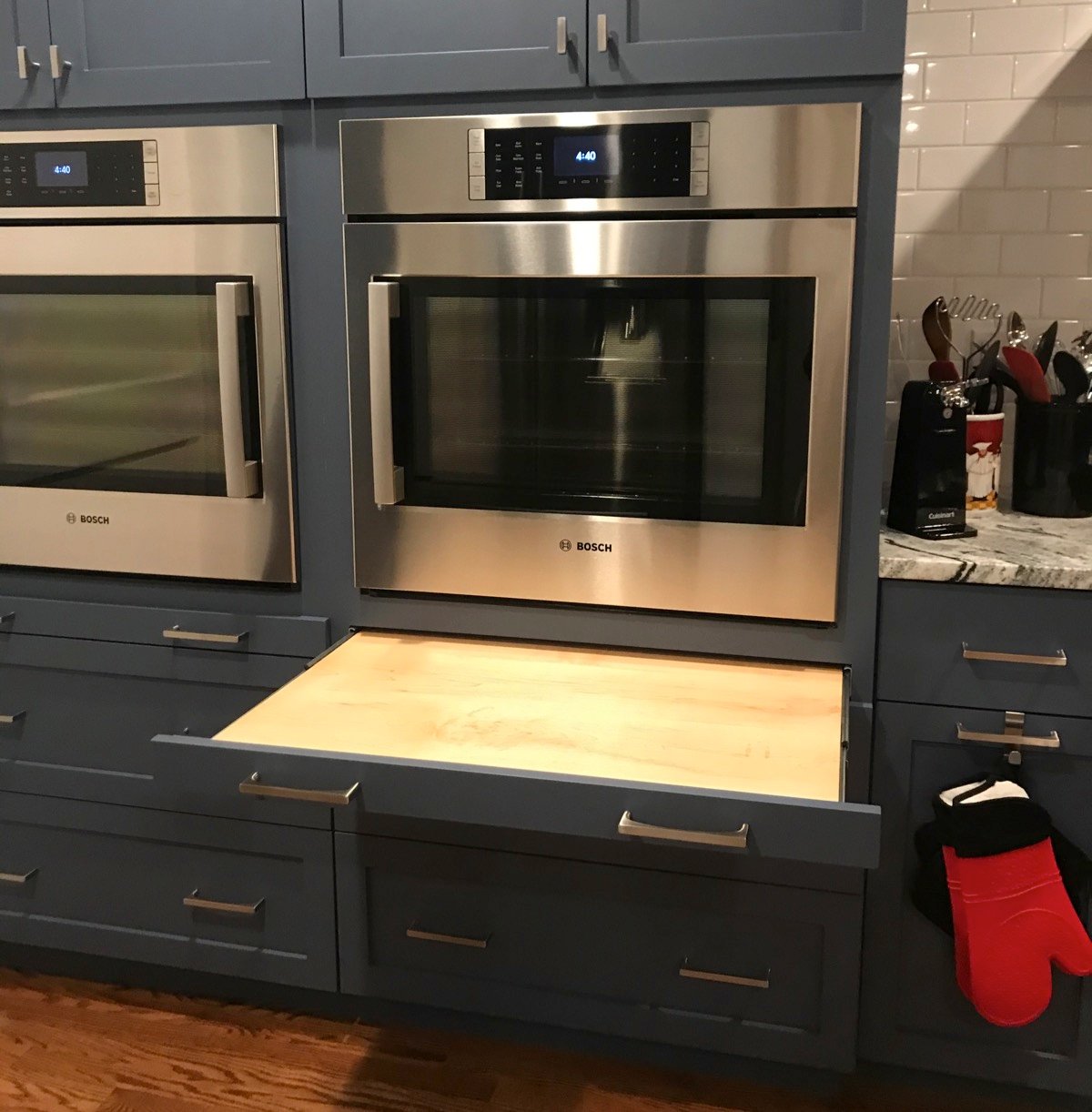 Lots of lower drawer and counter space as well as side-by-side microwaves and a convenient pull-out food preparation surface offer easy access for wheelchair use.
The financial benefits of aging in place
Everyone prefers to stay in a home they love. Living at home can add to your quality of life because most people find comfort in their own surroundings and want to maintain their independence and familiarity. Staying connected to one's own community with familiar neighbors, local friends, religious organizations, and established medical providers can provide a significant amount of social support and joy. In your own home, you can make everyday choices that we can take for granted when we're younger, such as choice and level of activities, meal preferences, décor, and pet ownership – things you may have little or no control over in a senior living facility.
But beyond these personal and sometimes intangible benefits of aging in place are some very concrete financial ones. For example, senior-friendly remodeling projects can start around $10,000 and run as much as $100,000 or more, depending on the size and scope of the renovation project. But visiting caregiver services and the average monthly cost of assisted living averages around $4,500 per month and more depending on location. That expense can quickly add up and surpass the cost of aging-in-place renovations without adding value to your home. In short, moving into an assisted living facility or nursing home is an expense, while an aging-in-place strategy that includes home modifications such as the universal design approach discussed here is an investment that adds real value to your home and your life.
Mitchell Construction has designers who are aging-in-place specialists. Schedule a home renovation discovery session to learn how universal design can enable you and your family to enjoy your home and your independence for years to come.
To learn more about the home renovation design process, please read our eBook, "Expert Design Tips to Improve Your Home's Form and Function."