Home renovation and remodeling projects come in all shapes and sizes, but except for the very simplest, virtually all of them require structural and aesthetic changes. Some homeowners, however, don't give much thought to that. Instead they might think, for example, "I'm building an addition, therefor I need a builder." So they look for a general contractor who will tell them what they want to hear, give them a good price, and they're off and running. This may work occasionally, but often problems begin to pop up because a contractor's primary skillset is construction and their ability to visualize and design may be limited. That's why it's important to look for a complete design/build team.
A design/build team provides seamless integration of all the elements that make up a renovation project: design, engineering, architectural design, and construction. If the homeowner has not hired an architect to draw up plans, a traditional general contractor may hire one to provide the plans or simply use a draftsperson to turn the contractor's concepts into blueprints. Either way, plans are often handed off to the contractor without taking into account the actual "buildability" of them – can what has been designed meet zoning and building codes and be constructed safely and cost-efficiently?
Integrating all the skill sets needed for a successful renovation project into a single team produces exponentially greater value. No design is put on paper and no plan finalized without each team member reviewing and approving it. When a plan comes out of a design/build team, you know it can be done.
Okay, but what exactly does a great design/build team look like?
The three key components of a design/build team
A seamless, "concept to completion" renovation/remodeling project requires three fundamental components: an architect, an interior designer, and a builder. All three possess individual yet complementary skill sets that enable areas of expertise to come into play at every stage of the project, significantly reducing risk, misunderstandings, missteps, delays, and cost overruns.
Some might argue that an architect and interior designer are redundant and only one is really necessary. And while, yes, there might be some overlap, they are separate professions with different training, skill sets, and experiences. While an architect may have years of experience in exterior design, local building ordinances, and big-picture items, interior designers tend to be savvier in design trends, color schemes, flooring, finishes, furnishings, and other interior elements. You'll likely need both for a successful home rebuild, remodel, or renovation.
A builder, of course, knows how to build. By collaborating early on with the architect and the designer, the builder will be able to provide input into the feasibility of construction and offer suggestions that can save time, money, and materials. By the time the project reaches the rendering stage for presentation, the experts have been collaborating on and vetting the design, so the homeowner can feel confident in knowing that it can be done successfully, on time and on budget.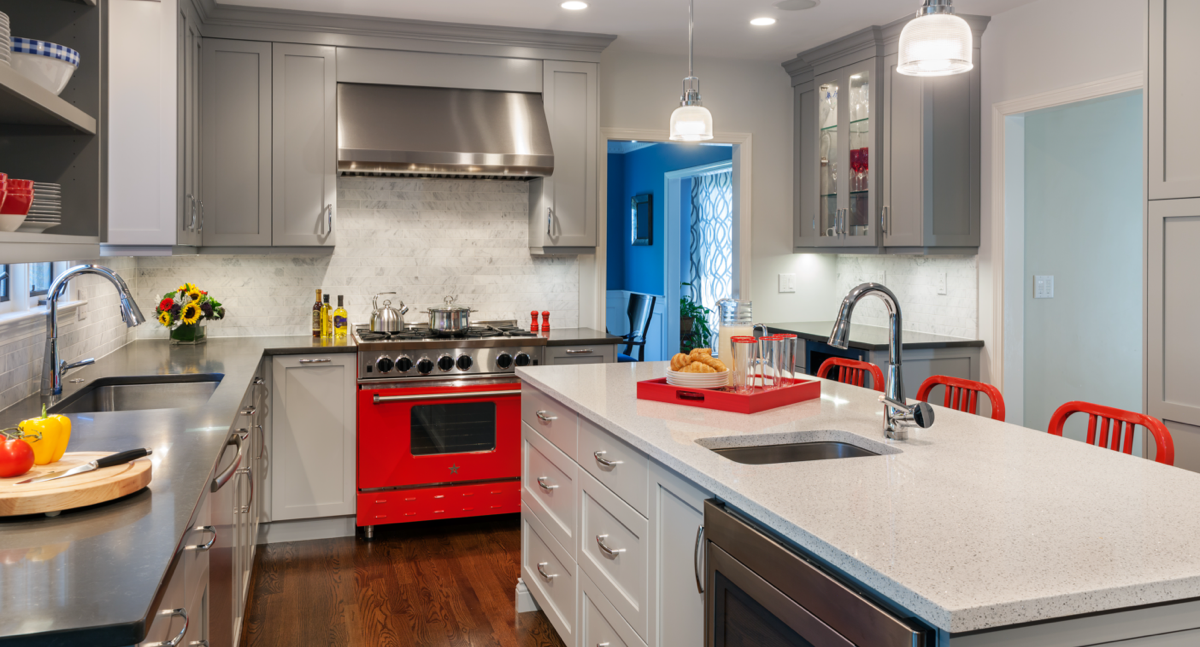 The 5 C's: How to evaluate and validate a design/build team
There are any number of construction firms out there that consider themselves design/build teams, but they are in name only. Some might present themselves as an integrated team when one or more members are actually hired outside contractors. Others might task someone within their company to fill a role that they might have some talent for, but for which they are not trained and credentialed. Still others are simply incompatible and just don't get along well. Their differing views on how things should be done result in squabbles, delays, and frustration.
So, what are the characteristics of a really good design/build team? An outstanding one possesses "the 5 C's":
Credentials - Each key member of the team is a qualified and credentialed professional in their discipline. Their training, expertise and experience enables them to perform with the highest degree of confidence and success – they've been there and done that.
Culture - Every team member is on the same page and committed to successfully completing your project beyond your expectations. Care and quality go into everything they do – whether it's writing a clear and concise email to bring you up to speed on your project, ensuring that the right materials are bought at the right price, or installing a cabinet. Whatever they're doing, it's done right the first time. These common cultural values are what build trust and a good client/contractor relationship.
Cohesion - Because everyone on the team is a true professional and committed to the same cause, there is a certain cohesion that permeates everything. Recommendations are commonsense and appropriate for what you're trying to accomplish. Every phase of your project transitions to the next seamlessly and efficiently, with no confusion or misunderstanding about what's going to happen next. Everything fits together the way it's supposed to.
Consistency - This goes hand-in-hand with cohesion because a good design/build team fires on all cylinders. Team members are familiar with each other and how they work, so there is a consistency to everything they do. Past experience and lessons learned enable team members to focus entirely on what's necessary, appropriate, and effective to produce consistent, positive results.
Competency - All the other C's work together to create a rock-solid competency that is impossible to match. A traditional contractor – as good as they might be at construction – possesses a singular skillset that requires them to find outside help for other areas of the project.
Not so with a great design/build team. Their unique combination of interrelated skills provides a comprehensive competency that brings extraordinary value to your renovation/remodeling project. The integrated nature of the team just makes them plain good at everything.
As the old saying goes, "Good help is hard to find." But using the 5 C's to evaluate a potential project partner will go a long way in helping choose one with confidence. For years we've been using the design/build model and a proven process for producing successful home renovation projects with remarkable consistency and reliability. We'd love the opportunity to do the same for you.
To learn more about the home renovation design process, please read our eBook, "Expert Design Tips to Improve Your Home's Form and Function." And if you are ready to speak about your next renovation, please schedule a home renovation discovery session.