Choosing cabinets for your remodel or new custom home can be so much fun. You are deciding on an overall style – raised panel, craftsman, slab, or shaker – just to name a few. You are deciding whether to use paint or stain, and what color will work best with all the other elements of the space. But before choosing what looks attractive on the surface, it is valuable to understand how different grades of cabinets are constructed.
If you've ever wondered how cabinets are built, here is a look behind the door at what good cabinets are made of, and how to decide on what construction and materials choices are best for your home.
Basic Cabinet Components
Door - Before we go behind the door, there is a lot going on with the door itself. Most often, it will have a center panel and a frame comprised of rails and stiles. A slab door will just be the panel itself without a frame.
As you can see in the image below, a door can be placed on the front of a cabinet in three ways; an inset, partial overlay, and full overlay.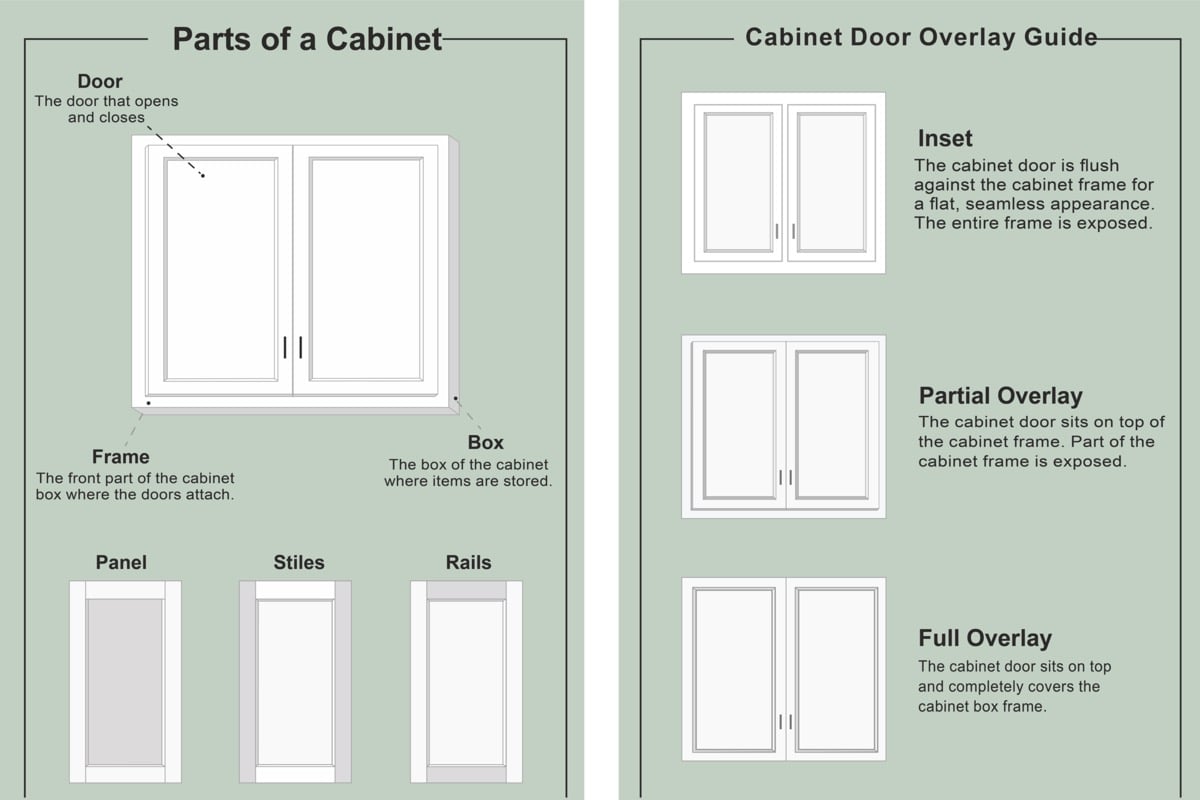 Box - Behind the door and beneath the exterior finish wood is the box, which is the "foundation" of a good cabinet. A standard/semi-custom and custom box would be all plywood, while a production box might be made with another engineered wood material.
Cabinet Construction –Frameless vs. Framed/Inset
On the front of the cabinet, there is another choice to make, between frameless or framed construction. If you are considering between "traditional" and "contemporary" designs, this is a piece of that puzzle. There are pros and cons to each, so it's good to have a sense of what you are getting with either choice.
Frameless: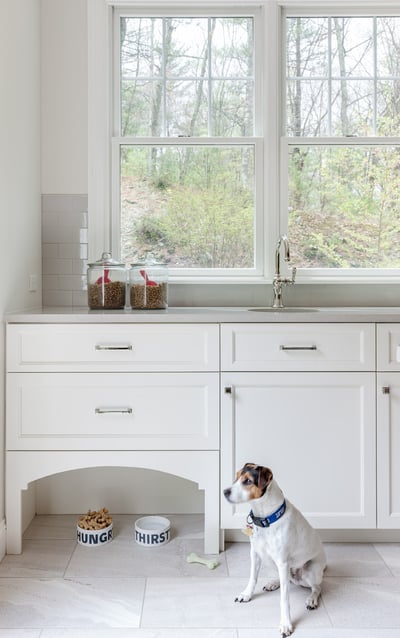 With a frameless cabinet, the box front does not have added rails and stiles to form a frame around the cabinet. The cabinet door covers the box and serves as the de facto frame. These are sometimes known as "European" cabinets because frameless is the standard in Europe. This construction method has become popular with American homeowners who want a contemporary cabinet design. The image to the right shows frameless cabinets.
Advantages of Frameless Cabinetry
You'll have more storage space. Because there is no face frame around the cabinet openings, it is easier to store large appliances like food processors, juicers, or blenders.
Frameless cabinets provide a contemporary, smooth look because the edges of doors and drawers butt nearly flush, creating a clean, uninterrupted line.
You can choose to leave doors off and paint the interior of the cabinets to create open shelving.
Drawers in frameless cabinets are slightly larger because of the space saved by not having a face frame attached to the front.
Doors can easily be removed for cleaning without using tools. All you have to do is push the quick release button on the back of each door hinge.
Flush exterior sides are standard on every frameless cabinet. With framed cabinets, this would be an upgrade
Frameless cabinets won't have a center stile coming down in the middle of two cabinet doors. This means easier access to the dishes or that bulky Instapot.
Disadvantages of Frameless Cabinets
Hinges can be unreliable especially if the cabinets are made of medium-density fiberboard MDF instead of hardwood. If you've had to tinker with hinges to keep them adjusted and doors symmetrical, you have experienced this disadvantage first hand.
Frameless cabinets tend to be less hard-wearing than framed cabinets because the cabinet door is hinged directly to the cabinet box. In framed cabinets, hinges are attached to the solid wood cabinet face.
If walls are not perfectly plumb and floors not perfectly level – as is the case in many older homes in New England – getting frameless cabinets to fit properly can be a challenge. Door and hinge adjustments will be necessary to get the cabinets aligned just right.
Because there is no frame, the cabinets have less horizontal strength. Less horizontal strength means frameless cabinets are not well suited for wider cabinets. The weight of items stored inside can actually warp the cabinet.
Frameless cabinets can be more costly than framed because of specialized equipment required for construction.
Framed Cabinetry
Just as the name suggests, framed cabinets have what is called a face frame that is attached to and covers the front of the cabinet box. These are the more traditional choice here in the US, and are often called the "American" style of cabinet. Having the frame gives you the option for inset, partial overlay, or a full overlay cabinet door. The following image shows framed cabinets.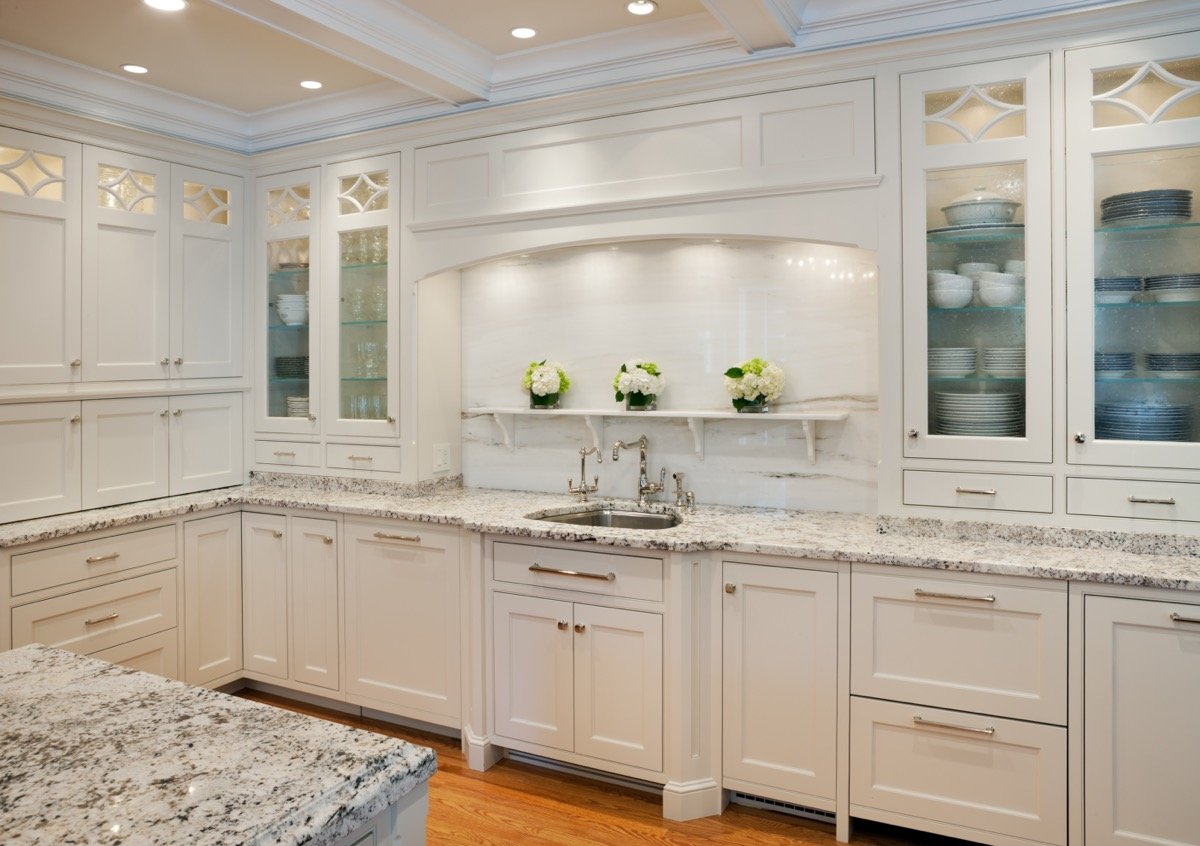 Advantages of Framed Cabinetry
Framed cabinets have been around for generations, and they will continue to be built for many more. They have stood the test of time.
They create a classic, familiar look. US homeowners have come to appreciate seeing wood when we open the cabinet door.
Framed cabinets are very sturdy. The frame provides a flat, strong area to hang the cabinet doors. Hinges are solidly attached to the hardwood face frame.
The frame prevents the cabinet from getting "out of square." If the cabinet does not stay square, i.e., keep its 90-degree angles sharp and true, doors will stick and drawers may not open properly.
When compared to frameless cabinets, framed cabinets provide more size and modification options.
Since framed cabinets can accept any type of door and drawer front, they offer plenty of style flexibility.
In partial overlay, the face frame can be seen between the doors and drawers.
In full overlay, the doors and drawer fronts cover the frame completely. You only see it when you open the doors and drawers. Full overlay can be used in both traditional and transitional styles.
In inset, the doors and drawers fit inside the face frame. When you look at a run of cabinets, the doors, drawers and face frame form a smooth, flat surface.
Disadvantages of Framed Cabinets
The frame forms a slight "lip" that can be considered an obstacle. If you want to be able to slide your plates out of the cabinet without lifting them, then you will not like the "lip". A good custom cabinet maker can remove the lip to create a smooth surface at the bottom of the cabinet.
Drawers have 1-1/2" less interior space than the drawers in a frameless cabinet because of the frame.
The custom cabinet makers we work with tend to stick with the framed cabinet method for b both durability and versatility.
Cabinet Material Options
Does it matter what your cabinets are made of? Absolutely! The cabinet box itself can be made from a number of different engineered wood materials. What you see when you look at finished cabinets are the face frames and doors. There are several material options for those visible aspects of the cabinet as well.
Box Construction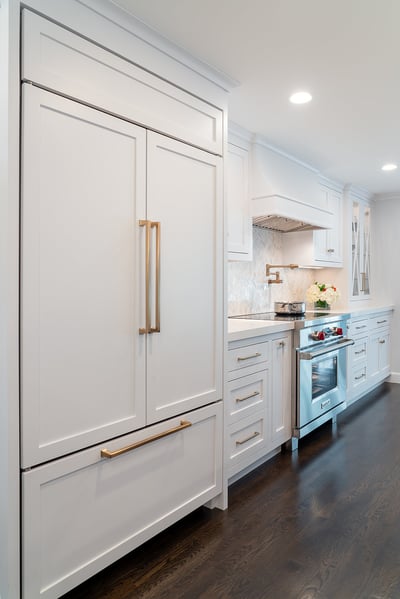 One of the most common materials in cabinet construction is plywood, which is built up of layers of thinly sliced wood slabs (known as flitches), layered in opposing directions and bonded together with adhesive. This is a more durable choice than the fiberboard options we'll cover below. It's the strongest of these materials, making it the best choice for cabinet boxes, drawer floors, shelves, and frames. There are different grades of plywood, so it is worth asking about the grade used in cabinets under consideration.
Another box material option is high-density fiberboard (HDF). This wood fiber material is mixed with resin and glue to create a board with higher density than solid wood or plywood, but with a lower price tag. HDF does not hold nails or screws well, and is susceptible to water damage.
Another engineered product, medium-density fiberboard (MDF) is less dense than HDF since it is made using less pressure. It is often used as a substrate for cabinet surface layers like veneer and laminate. It can also be used as drawer and shelving material for mass production cabinets. It is less durable than HDF.
Cabinet Face Frame and Door Materials
Beyond the plywood box, what are the most common cabinet materials for doors and face frames? The preferred choice from a custom cabinet maker's perspective is solid wood. It is more expensive but also more durable than the other choices. Solid wood is one of the most popular materials for kitchen cabinets because of its natural beauty, strength, durability, longevity, and versatility.
For some cost savings you might choose wood veneer, which is less expensive than solid wood and has a good appearance, but can be susceptible to water damage.
A material you may not be as familiar with is thermofoil. Thermofoil cabinets are constructed with a foil-like material vacuum sealed with heat over MDF. High gloss thermofoil in particular creates a shiny and reflective surface that makes your kitchen look bigger and brighter. Thermofoil is prone to peeling away from the MDF and can be difficult to paint.
Laminate is generally a step up from thermofoil. Laminate is made with a resin combined with a paper featuring the desired design, color, or pattern, pressed together with heat. Similar to veneer, it affixes to plywood or other fiberboard on the cabinet body. The quality of the laminate will affect its price, strength, and tendency to peel from the core component. Choose high-pressure laminate (HPL) for a stronger and longer lasting surface than low-pressure laminate. PET laminate in particular features a thermoplastic polymer laminated to substrate, like MDF, that has a stronger heat seal with special adhesive and a beautiful transparent, reflective glossy surface.
Choosing the Right Cabinet Construction
If you have experienced the frustrations of some of the lower cost materials, it may be a good time to upgrade to a higher level of semi-custom or custom cabinets, made from durable and timelessly beautiful materials. Other materials have their place, but for areas like your kitchen and bath, high-quality materials will stand up well to day-to-day use.
Mitchell Construction has designers who are specialists at creating the unique and beautiful cabinet design for any room in your home. Schedule a home renovation discovery session to learn how cabinet design can enable you and your family to enjoy your home for many years to come.
To learn more about the home renovation design process, please read our eBook, "Expert Design Tips to Improve Your Home's Form and Function."