Mudrooms and laundry rooms are not the first areas most people think about when it comes to home renovation. But these spaces should not be overlooked. A well-designed mudroom helps not only to hide clutter, but can become a place of beauty and nostalgia, where hanging coats and mittens remind you of jumping in leaves or building a snowman last winter.
And laundry rooms can become much more than a hallway by the garage or upstairs that happens to be where a washer and dryer fit. When considering renovation, most people are thinking kitchens and bathrooms — or a big addition that adds some much needed living space.
But don't forget about other spots where a lot of living and household work takes place. In your next renovation, include a new mudroom and laundry room to help keep an attractive, well-organized home.
With all that in mind, here are 13 beautiful mudroom and laundry designs that showcase classic style and clever organization.
Mudroom Designs
The mudroom is often the family entryway to the house — the front door is for guests and the UPS delivery person. A well-designed mudroom will be functional without looking messy. There will be a place for everything, and it will be a place where the aesthetics of the home are on full display. Here are a few ideas of what your mudroom can look like with some forethought and smart design.
Storage and convenience — that's what homeowners are looking for in a renovated mudroom. Cubbies are a perfect way to organize outerwear for each family member. Cupboards above and drawers below provide out-of-the way space for boots, scarves, and maybe even a few holiday decorations.



A mudroom doesn't have to be closed off from the rest of the home. With the right design and organization, the family entryway blends right into the flow of your household.


Designing for this space presents some unique challenges. In the photo below, you see the garage access is in the foyer. Instead of boots and coats piling up by the door, this design creates a homey, comfortable, decluttered space for family and guests alike to transition from outdoors to indoors.


There is more than one way to craft a cubby. In the design seen below, cubbies with doors were installed to create a clean, colonial, clutter-free look.



In this mudroom area, there was ample room on both sides of the exterior door for twice the storage. When you open the cubby doors, there is ample room for seasonal clothing and anything else that needs to be kept out of the way.





The mudroom can also function as a communication hub.

While you are heading outside, or getting in and out of shoes and coats, a blackboard or corkboard can serve as a spot to post chores or make sure everyone knows about dinner at Grandma's next Sunday. Open storage below the bench means boots are tucked away, but easily accessible.




Having things tucked away doesn't mean creating an impersonal space. The insides of these doors are the perfect place to keep school agendas easy to find, for kids to express themselves, for parents to leave notes, or display other personal touches.




The mudroom can be placed in the hall by the back door. This creates a convenient space for cubbies and a bench to eliminate clutter in an area that has sightlines to other parts of the home.




Just like a kitchen can feature open shelving to display your favorite dishes, a mudroom can be a place to let your family's personality shine. The design also features a pleasant contrast by combining bright white paint and a rich stain on the bench.


Space can be underutilized in a side or back entry like the one below. By creating storage on one side and a full bench on the other, the whole gang can get bundled up for the Thanksgiving touch football game at the same time.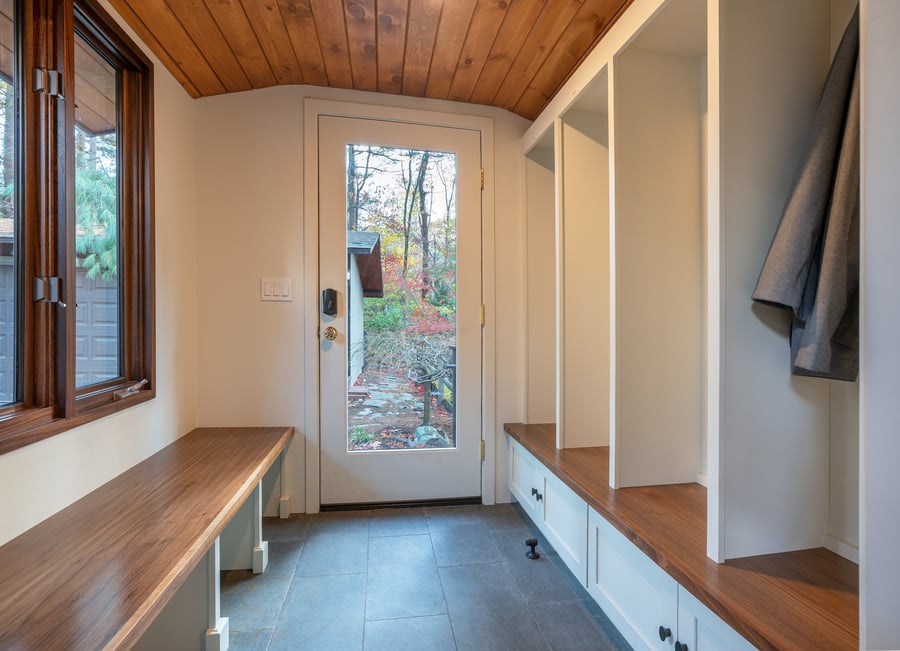 Laundry Room Designs
Gone are the days when laundry rooms are an afterthought, placed in high traffic areas where you can do laundry or walk by, but not both. A laundry room renovation can be an opportunity to create a bright, clean environment with room to multi-task.
11. When space is at a premium, bathrooms and laundry rooms might need to share space. With cleaver design, the two can blend together seamlessly.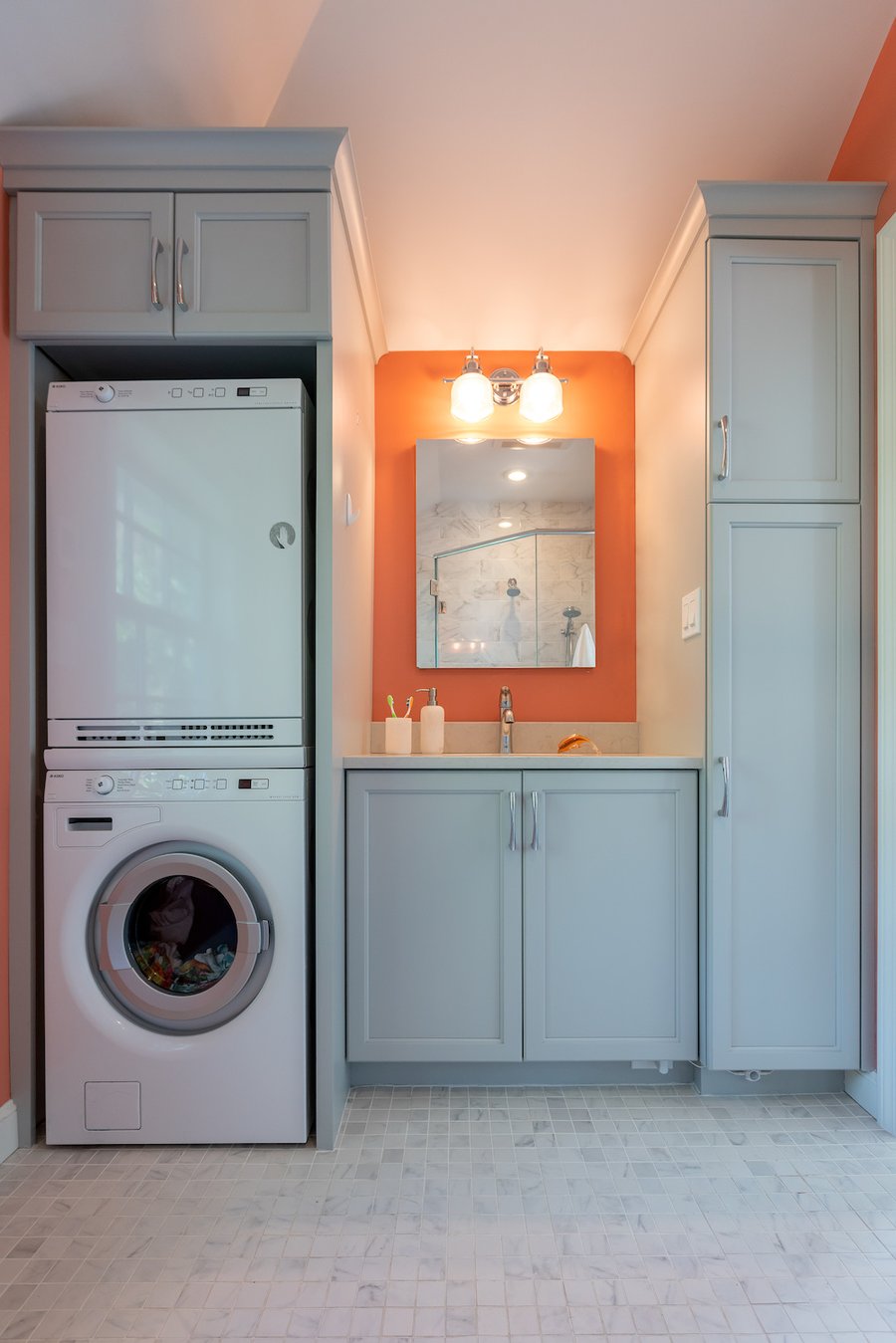 12. When you have more space, the possibilities really expand. A laundry room can serve as a place to wash and fold, but can also serve as a craft space, or even a homework area.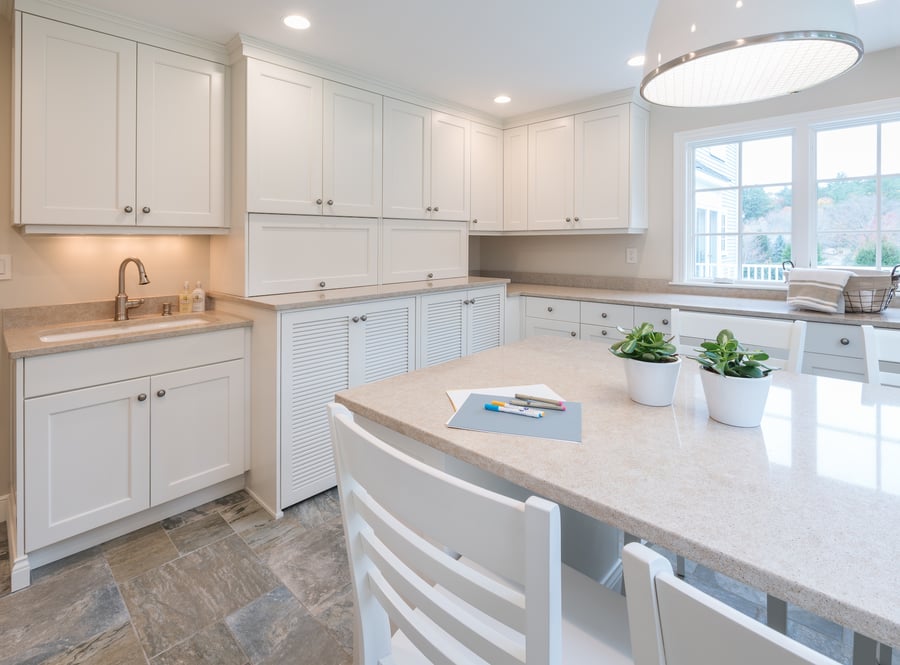 13. Why settle for a tiny work surface and limited storage when you can create a laundry room like this? Multiple countertops on several levels, plenty of sunlight, a light color palette, along with ample storage make this laundry room a study in form and function.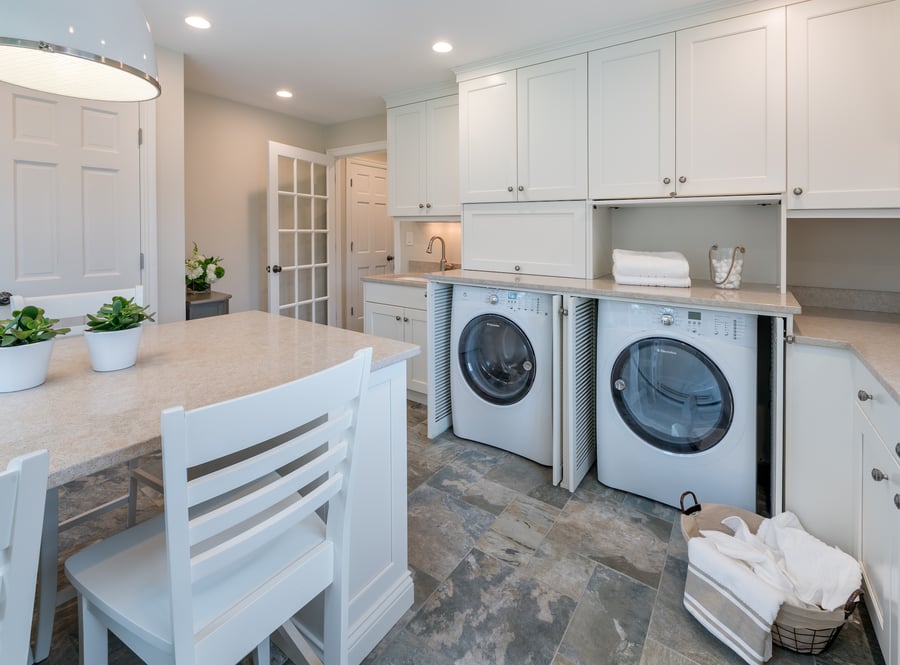 Don't Miss an Opportunity
Neglecting the mudroom or laundry room in a renovation can be a missed opportunity. These areas of your home may not always be top of mind, but when they are well-organized and designed, it makes all the difference in the world. So, maybe it's time to move the laundry up from the basement to the second floor. Or maybe it's time to find a solution to the tangle of boots and coats cluttered near the garage or back door. You know these rooms are crying out for attention. While these spaces may not be the initial catalyst, be sure to include them in your next renovation project.
To learn more about the home renovation design process, please read our eBook, "Expert Design Tips to Improve Your Home's Form and Function." And if you are ready to speak about your next renovation, please schedule a home renovation discovery session.