Technology has changed everything, including our homes. Just think about it — not long ago, locking your doors at night meant going through the house and physically checking all the locks. Managing the temperature meant going to the thermostat and nudging it up or down — then doing the same thing an hour later when another family member (we're looking at you, Dad) had come by and done the opposite.
Smart home technology examples are everywhere. It can change literally every aspect of how you manage your home, from door locks to plumbing leaks. You can always make changes to tech in your home one gadget at a time, but if you are looking at a home renovation or building a new custom home, consider adding smart tech to the list of upgrades.
Home security and beyond
Smart tech for your home is about security, yes, but it is so much more. There is the cost savings and environmental impact of energy conservation. You can even detect a plumbing leak before it turns into an expensive restoration project. Use technology to ensure the home is safe and accessible as you or other family members age. Did the kids arrive home from school ok? You can get the alert and watch them enter the house with your doorbell camera. Smart tech won't actually do their homework for them, but they can ask Alexa and get a good head start.
The point is, technology is a powerful tool you should consider when planning a renovation or building your new custom home.
Top 10 smart home trends
As we renovate homes for our clients, we are building a repertoire of smart home technology examples that homeowners find incredibly helpful. From your handheld or wearable device to your smart speaker or a wall-mounted touchscreen, you can manage nearly every function in your home. Here are 10 tech trends we are most enthusiastic about.
1. Entertainment
Gaming isn't just for the kids anymore, and it is getting more and more immersive. Your media room can be geared up for truly immersive experiences as part of a full entertainment system for the home.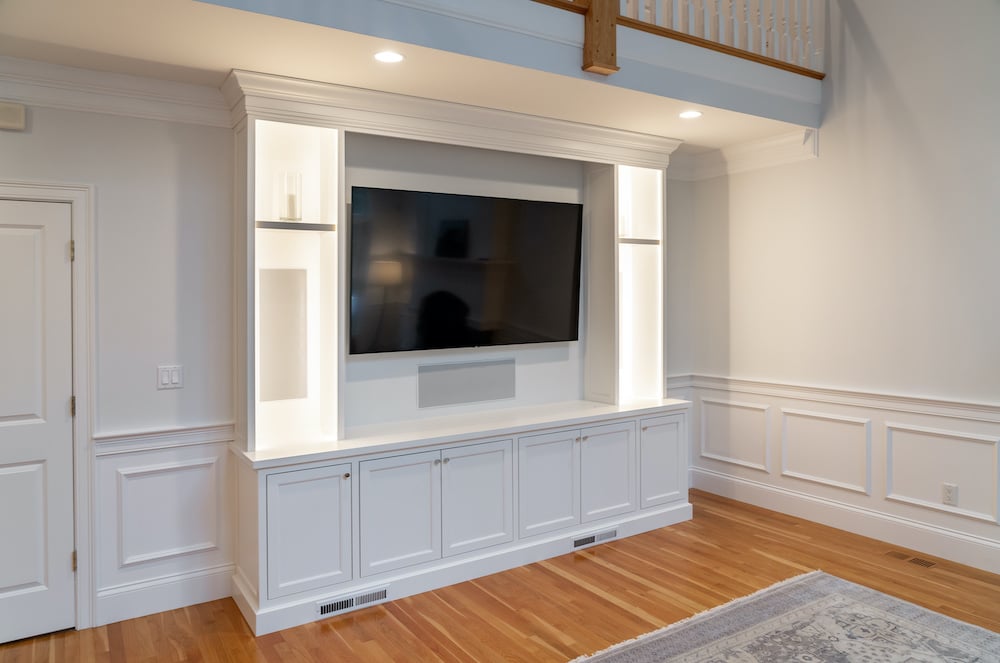 Home theater complete with voice-activated controls
2. Lighting
Lighting sets a mood or prepares you for the task at hand. Smart lighting is programmable. That means you can have a setting called "Date Night" with lighting set accordingly (and sound system set to Marvin Gaye.) The setting for "Cooking" can have the kitchen lighting programmed for optimal meal preparation. When you are away for longer stretches of time, you can program lights to go on and off as if you were home.
3. Smart security
Security is what you might think of first when it comes to smart home trends. This is more than programmed lights and cameras connected to your phone, but that is a great start. This can include cameras, motion detectors, remote door locks, even smoke detectors that send alerts to your handheld device.
4. Accessibility and safety
Aging in place is becoming a priority for more people. Smart technology can help. This goes way beyond wearable monitors that let first responders know when you fall. These can now be video devices that enable calls to medical professionals. There are also electronic pill dispensers that remind you when to take your medications. If you have older family members living with you, you can install motion sensors throughout the house to send out an alert in case of a fall.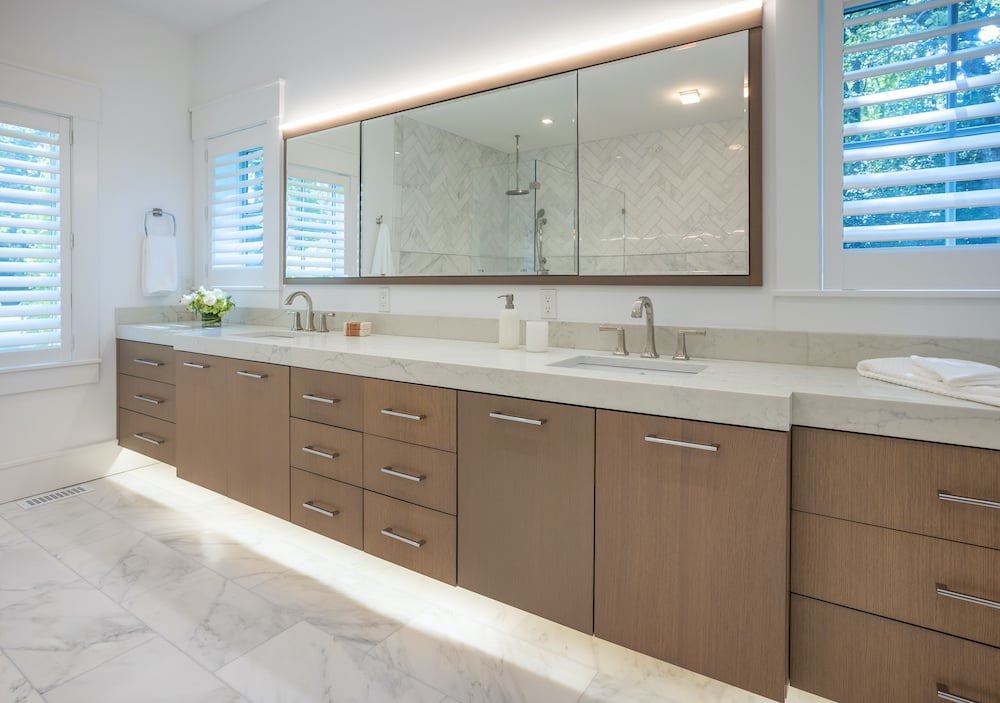 The vanity has lighting underneath that activates when anyone enters. Greater safety as there is no need to fumble for a light switch at night.
5. Heating and cooling
Today's heated floors are so much more affordable than they were years ago. Technology makes elements like these a consideration for any renovation, and temperature control will be part of your smart thermostat.
6. Smart solar
Another area where affordability and performance are making great strides is in solar technology. This includes not just the panels themselves, but battery systems that keep the electricity on in case the grid goes down.
7. Bathroom tech
There is even smart technology for the bathroom. Lately, we've been installing Kohler Konnect, which is a shower operated by touchscreen or even voice commands. You can change the lighting, play music, or adjust the temperature. You can also have a smart toilet installed that can clean itself and keep the seat warm for you.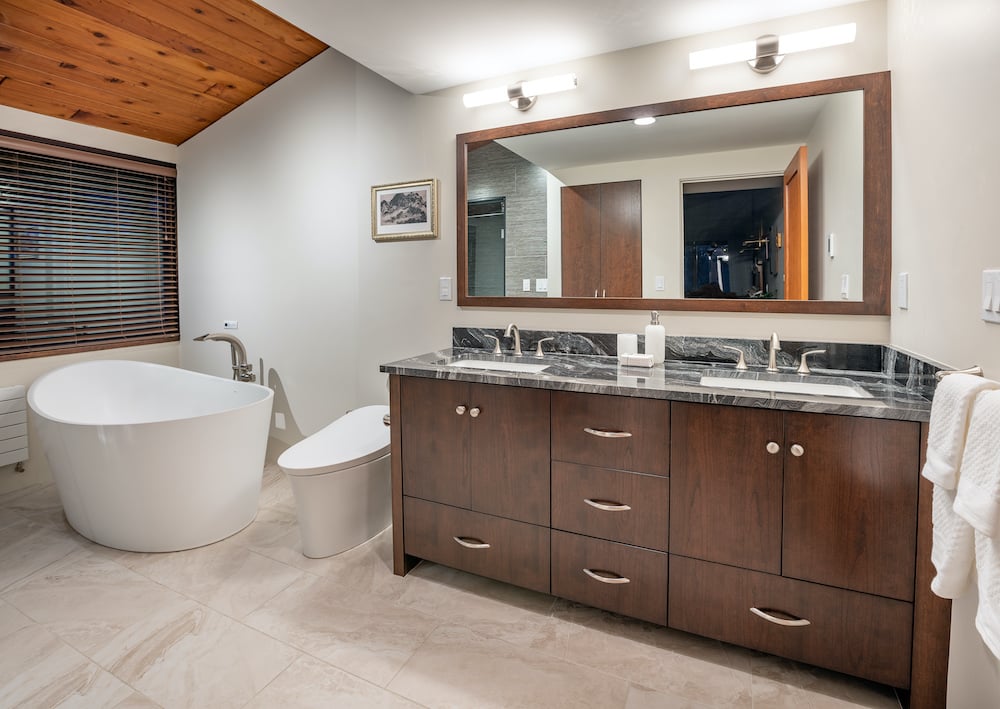 This smart toilet fits right into the decor and ambiance of a recent bathroom renovation.
8. Smart appliances
Getting low on eggs and milk? Your refrigerator can now remind you to stock up. Smart ovens can be programmed from anywhere so a dish can be cooked perfectly for when you arrive home and are ready for dinner.
9. Smart roof
Massachusetts winters can be brutal. To prevent ice dams, heating elements are placed under shingles — and turn on only when sleet, freezing rain, or snow are in the forecast.
10. The smallest details
Technology is always expanding to solve challenges in the home you didn't even know you had. There are smart blinds that open or close based on the time of day and orientation of the sun. They can be set to close for privacy in the evening. And what about a vacuum laundry chute? Think of a super-sized central vacuum system set up to take laundry straight to the laundry room.
As you can see, there are a multiplicity of ways to integrate smart technology into your home. Smart technology for the home is reliable and intuitive to use. When you consider a home renovation or building a custom home, a knowledgeable design/build company can help you understand the options and choose the suite of technologies that are right for you and your family.
To learn more about the home renovation design process, please read our eBook, "Expert Design Tips to Improve Your Home's Form and Function." And if you are ready to speak about your next renovation, please schedule a home renovation discovery session.