If your home has an unfinished basement, you're sitting on a gold mine of additional living space, flexible entertainment and relaxation options, more efficient storage, and added value when it comes time to sell. Think of it this way: do you really need all that space to store tools, old clothes, luggage, and holiday decorations?
Regardless of how you remodel your basement, it's an investment that almost always makes sense. The big question is, what will you use it for? Some of the most popular ideas include:
family room
home theater
organized storage area
exercise space
home gym
home office
extra bedroom
wine cellar
kitchenette
guest bathroom
laundry room
mudroom for basement level entryways
Start by taking a close look at your current basement space
To minimize any potential problems with your finished basement, it's critical that you look closely at any factors that could have a negative impact on your remodeled space. Is moisture a concern? There's general humidity as well as ground water seepage and potential for flooding to consider. How well is your basement wired and insulated? Are there windows and what kind of outside access do you have, if any, besides a bulkhead?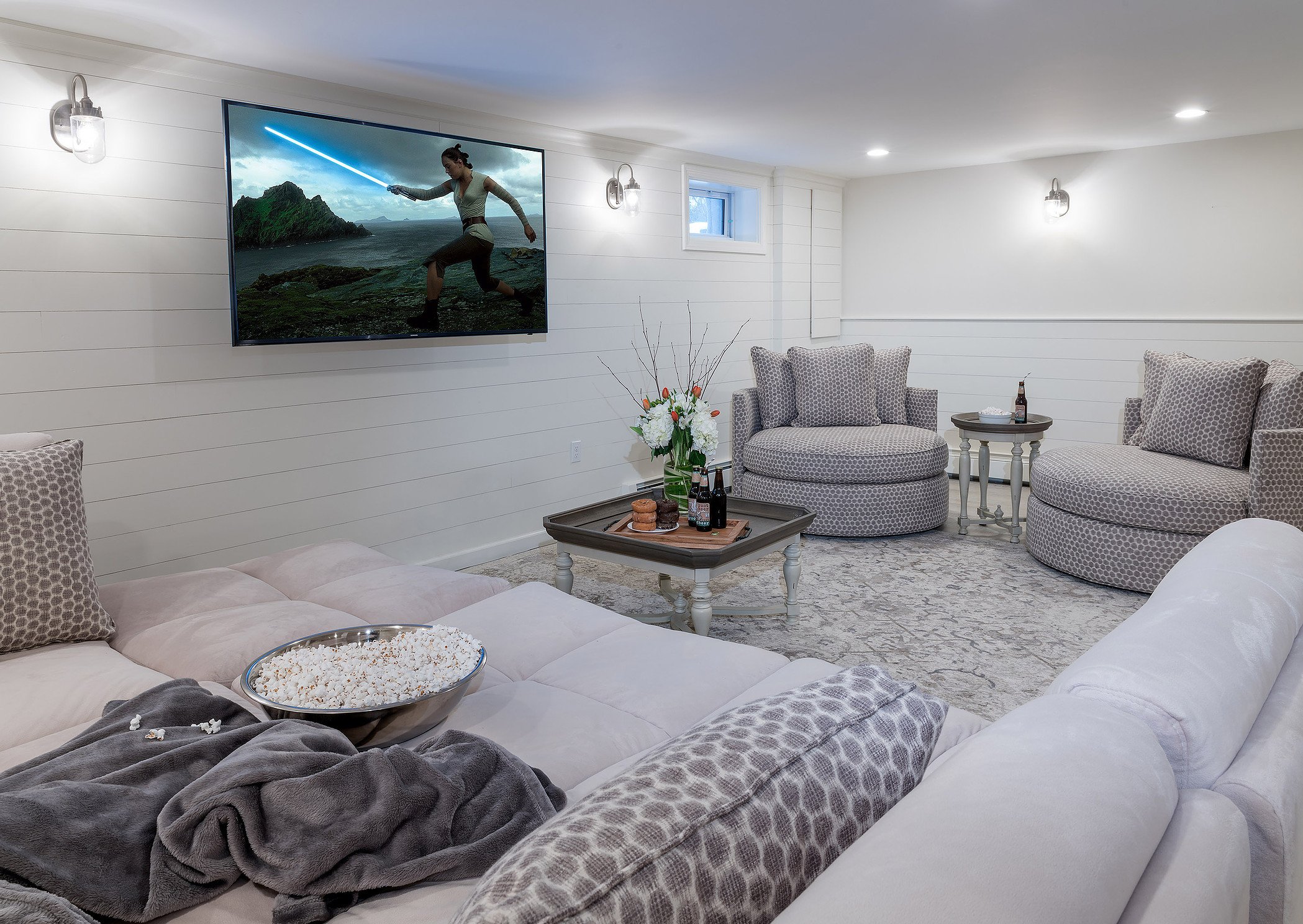 Other important basement renovation factors to consider include:
Heating and ventilation
Appropriate flooring materials
Mechanical room elements: furnace, hot water tank, electrical panel
Structural weight-bearing accommodations
Once you have answers to the previous questions and the factors listed above, you'll begin to get a clearer picture of what can be done to the space you have available to achieve your goals for all that untapped potential.
To help jumpstart some ideas about improving your unfinished or outdated basement space, let's consider four general categories of usage and the specific spaces that can be created to fulfill them:
Relaxation and entertainment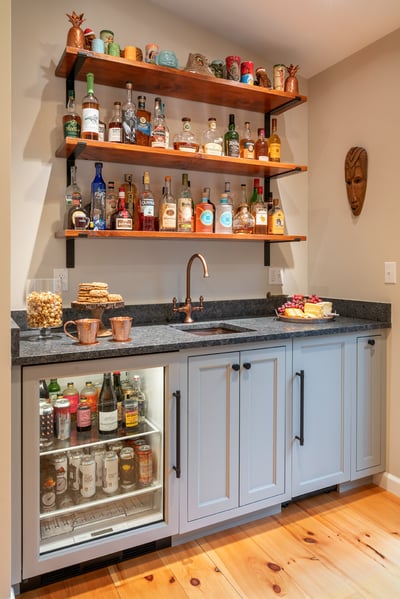 Many families like to outfit their space for fun. That means building out a family room that enables everyone to spread out and do their own thing, whether it's reading, playing video games, watching TV, or taking part in "family fun night" activities. If your family has small children, consider creating safe play space that can be transitioned easily to something more suitable for teens and young adults as they get older.
For more serious entertainment, home theaters have become very popular, with theater-style seating and ultra-large, hi-definition, flat-screen TVs; high-end audio systems; even movie projection systems.
Health and wellness
More and more people are embracing exercise and staying fit as a way to stay healthy and happy well into their senior years. A remodeled basement is the perfect place to create a comfortable space for yoga, Tai-chi, exercise and weight-lifting equipment – even a sauna. Modern innovations in plumbing and wastewater management systems enable homeowners to add a bathroom with a shower for the comfort, convenience, and wellbeing of guests and family members – especially if you add an extra bedroom or two to your renovated basement.
Productivity and efficiency
Working from home is no longer an option, but a necessity, for many people. The basement is ideal for building a home office that enables you to get away from the hustle and bustle of your home's main floor.
Productivity isn't just for office work. An improved, more efficient laundry room can make doing laundry a little faster and easier with dedicated space for storing, treating, and folding clothing and other items. And for basement-level entries, a spacious mudroom gives your family space for shedding muddy shoes, wet outerwear, and smelly sports gear without bringing the mess into your home.
Basement storage
Bring some order and efficiency to your storage space by creating the room and systems that will help you store and keep track of things you don't use every day, such as holiday decorations, seasonal clothing and equipment, cleaning supplies, and household records. Racks, shelving, bins, closets and cabinets are all good options.
For those with a taste for the finer things, wine cellars have become popular for basement remodels. They can range from the simple to the sophisticated, with temperature and humidity controls to properly store as few as a couple of dozen bottles to hundreds.
These are just a few ways you can turn your under-utilized basement into valuable, flexible living space. It's like adding a functional third floor and as much as 30 percent more usable square footage to your home with less cost and disruption than an addition. No matter how large or small your basement is, there are design options that can improve the space to be so much more enjoyable.
To learn more about the home renovation design process, please read our eBook, "Expert Design Tips to Improve Your Home's Form and Function." And if you are ready to speak about your next renovation, please schedule a home renovation discovery session.