Many home interior designers would agree that the master bedroom is simply the largest and most desirable bedroom in a home and is typically where the head of the household sleeps.

Not all master bedrooms are created equal. Sometimes, a real estate listing will claim that a home has a master bedroom, which means it is larger but does not have an attached bathroom. Larger rooms for the head of the household became more and more popular in the mid-to-late-1900s.

A master suite will have everything a master bedroom has and more. The accepted definition of a master suite is a large bedroom with a private en suite bathroom (accessed directly from the bedroom) and perhaps other amenities. Architects occasionally refer to these spaces as "owner's suites."

Now let's take a look at the most recent ideas when rethinking your master suite experience.
Considering the modern master suite
Today, just about anything goes for a master suite. Limited only by their imagination and budget, many homeowners are now including features that, even just a few years ago, would not have been on their radar screen, including:
Exercise area
Home office
Furnished sitting area
Sewing/craft area
His & her walk-in closets with ottomans, storage islands, custom shelving and seating
Wet and dry bars
Spa-like bathrooms with walk-in and two-person showers, free –standing tubs, his & her sinks and linen storage closets, and master vanities
Private commode space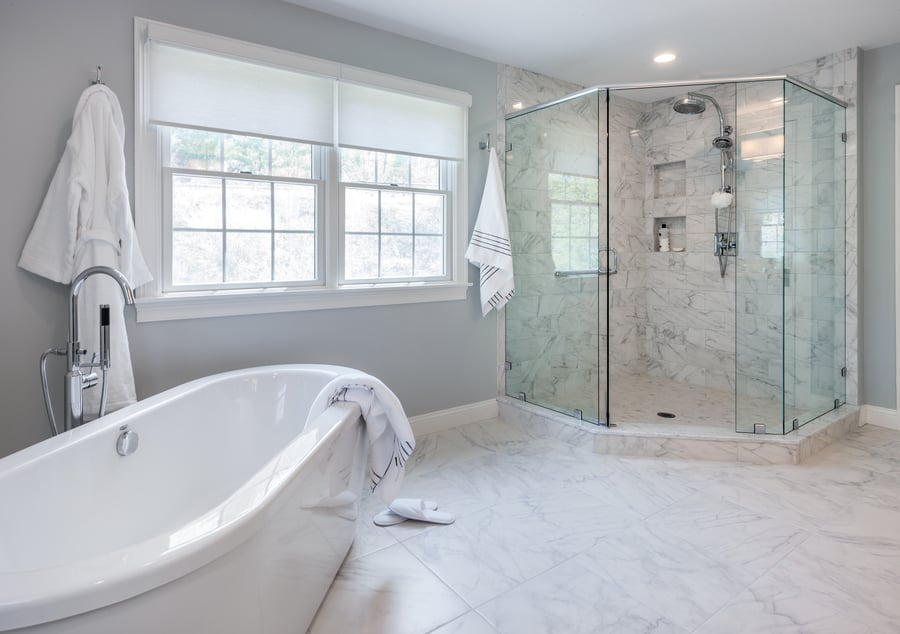 Master suites now often include tubs and large showers
with multiple shower heads, seating, body jets, and even steam.
With the trend toward larger suburban homes averaging a whopping 2700 square feet – almost twice that of a house built in the 1970's – accommodating a master suite in a newer home may not be a major issue. But for smaller houses, finding the space to remodel a master bedroom into something more desirable may be a real challenge.
Getting creative with space
If you own an older home in New England, there's a good chance it might be either a ranch or a Cape Cod-style house – two of the most popular styles here, especially in Massachusetts. But with an average of just 1200-1500 square feet to work with, it can be tough to fit in a master suite. Fear not, though, there are cost-effective ways to repurpose or add on space.
Many homeowners add a two-car garage with a master suite above connecting it to the second floor. It's a great way to improve your quality-of-life if you plan to stay in the home longer as well as add a lot of value for home resale.
If your home already has an attached garage that has unused space above the car bays, that area can be finished into a large bedroom and the former smaller bedroom on the second floor adjacent to the garage can be repurposed into a sitting area, home office, or dressing space.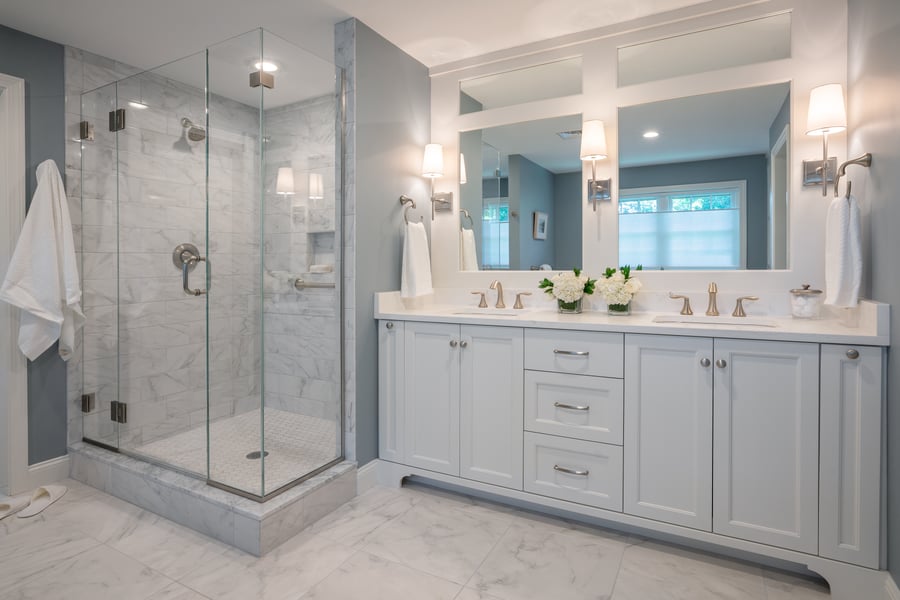 Repurposing existing second floor space
and build out over a garage to take advantage of unused space to create a master suite
First-floor master suites are becoming increasingly popular as homeowners age and are looking to stay in their current homes as long as possible while minimizing mobility concerns. This may be easier with a two-story home that offers more solutions. Carving out space for a master suite in a typical ranch-style house may require a little creative thinking, but there's more usable space than you might think, if you're willing to move things around. For example, many have dining rooms that go unused, as well as under-used living rooms, especially if there's a finished basement.
That being said, consider combining the living and dining space into a smaller, but more open single room that can have dining and entertainment spaces defined with furnishings. If you're an older homeowner with children who have moved out, think about redesigning the existing bedrooms into a master suite and a single, smaller bedroom to accommodate the occasional visiting family members. You may also be in a position to build on a cost-effective addition that would provide any needed extra space for master suite amenities that could add considerable resale value to your home as well as improved quality-of-life.
Keep in mind that a master suite doesn't have to involve large amounts of space. It's the quality of the space that matters. For example, you can squeeze a lot of value and amenities into a smaller master bath by utilizing such conveniences as tall linen storage cabinets to take advantage of available height. Also a useful vanity/make-up area can be created in an unused corner and larger, higher windows can add natural light and airiness to create the illusion of more space.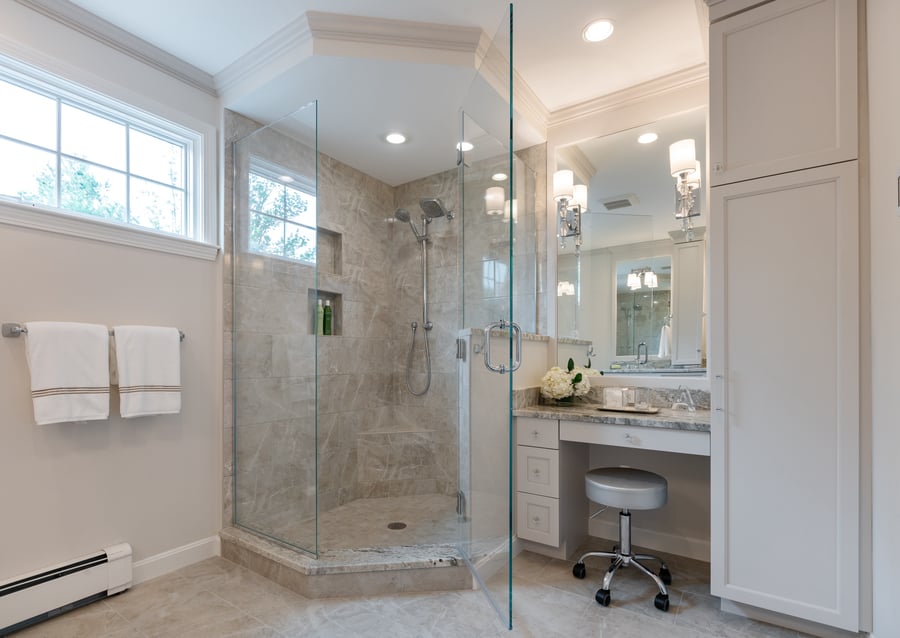 Master bathrooms can be small in size, but big on amenities, such as a space-efficient-corner shower
with corner bench, flexible handheld sprayer, and built-in niches.
Getting the master suite of your dreams
They say "home is where the heart is," and the heart of most homes is the master suite. It's where you start and end your day. For many it provides a welcome respite from the day's activities and stress. Your master suite should be a haven where you can retreat for some calm and peace-of-mind.
If you already have a master suite, think about the shortcomings, quirks, and missing features you'd like to fix. Can you do all that in the existing space? Make a list of the features and amenities you want, starting with must-haves and ending with would-love-to-haves. Then, with your available space and budget in mind, talk with a trusted contractor about how you can most cost-efficiently accommodate your list. If the available space doesn't quite work, what's the best way to acquire additional space?
Your home is one of the biggest investments you'll make in your life, so make the most of it. Whether you're struggling with an existing suite design that just doesn't measure up, or you're looking to take that next big step and create a master suite for the first time, make sure you're able to get the most out of it with your available resources. Done right, with the right contractor, it's a decision you won't regret.
To learn more about the home renovation design process, please read our eBook, "Expert Design Tips to Improve Your Home's Form and Function." And if you are ready to speak about your next renovation, please schedule a home renovation discovery session.