The role of an interior designer is more than just helping clients pick materials and colors. As a key member of the Mitchell design/build team, our interior designer's role is multifaceted, including managing the interior aesthetics of your project, consulting on building code compliance issues, determining appropriate use and safety of materials, and other matters related to the form and function of your interior space.
When do you need home interior design?
Any time an interior space is significantly altered or affected, it's a good idea to have the services of an experienced interior designer. Whether it's a kitchen, home office, or an entire house, an interior designer can provide invaluable assistance in selecting the right materials, fixtures, finishes, and other myriad elements that make up an interior.
The value of home interior design
A good interior designer can screen design ideas and products first, based on your preferences and taste, to weed out the definite "no's" and narrow your choices to the most appropriate. This will help significantly reduce stress and indecision – many homeowners are overwhelmed by the number of choices that must be made in any home remodeling project. A Mitchell interior designer will guide you through the entire process to help you get what you want and need and just not something to settle for.
The home interior design process
The Mitchell design process starts with an analysis of the homeowner's needs, wants, wishes, lifestyle, and tastes. Working with the architectural designer, we then develop an initial comprehensive layout that aligns with the profile resulting from that analysis. Once you approve the design, our interior designer begins gathering samples, focusing choices, and guiding you in the decision-making process for an experience that is as stress-free and enjoyable as possible.
How home interior design works with other design/build team services
Interior design involves everything you see and touch in a room. While your Mitchell interior designer is primarily concerned with the aesthetics, they also know that how a room "feels" is affected by the architectural design and construction. That's why our designers work closely with the other members of our integrated design/build team. Together, they ensure that every aspect and element of a project works together efficiently and harmoniously.
About Mitchell's home interior design team
We have multiple interior designers working together in one office for greater efficiency, organization, and transparency. All of our interior designers have the education, training, and certifications necessary for their role. They keep up with the latest interior design trends, materials, and products to be sure you get the best possible results for your project.
To learn more about ways to improve the look and functionality of your home, download our FREE eBook, Expert Design Tips to Improve Your Home's Form and Function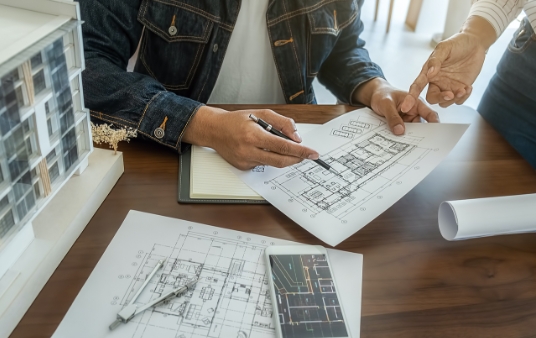 Learn About Our Other Integrated Services
Your Dream. Built to Last
Proven process. Professional people. Beautiful results—on time and on budget.
Home renovation discovery CALL
Schedule your call with one of our renovation experts to share your goals and learn what sets Mitchell Construction Group apart from others.