When you're considering a major project such as building, renovating, or remodeling a home you're getting ready to make a substantial investment that will affect your life and happiness. This requires careful consideration and the right home builder, someone capable of transforming your dreams and ideas into reality.
Your builder should be a trusted partner and advisor whose main goal is to successfully complete your project, on time and on budget. What's more, it's best to select a design-build firm that takes an integrated approach to architecture, interior design and build and guides homeowners through the entire process to make it predictable, enjoyable and fun.
The value of a home builder
At Mitchell Construction Group, we have a well-defined, proven, and predictable process that produces successful projects exceeding most client's expectations. A reputable, qualified builder employs good craftspeople who take pride in their work and it shows in everything they do. A positive, transparent approach, experienced planning, clear communications, and quality work result in happy clients and long-term relationships.
How a home builder works with other design/build team services
As a key member of the production team, a Mitchell home builder is involved in every project right from the start, collaborating with our designers and architects to ensure that project plans are reasonable, accurate, cost-efficient, and executable. The build team includes project planning and procurement to ensure the craftspeople are on the jobsite when they need to be and all of the supplies and materials are ordered with enough lead time to ensure no work is delayed and the team has whatever they need to get the job done. By working with a set of detailed plans, the project leader is the focal point for communication with the client. Regular meetings and proactive communication ensures you can predict when different aspects of the project will be completed so you can be excited about the progress while managing your daily life.
About Mitchell's home builder team
Our team is composed of highly skilled and experienced craftsmen with long histories in the construction industry, including senior members skilled in building cabinetry and finishing work. Their unmatched expertise and depth of experience means there is almost no problem or issue they haven't encountered and successfully resolved, helping them and our clients avoid trouble and delays.
To learn more about our proven construction and renovation process, download our FREE eBook, Mitchell Construction's Secrets to Beautifully Remodeled Homes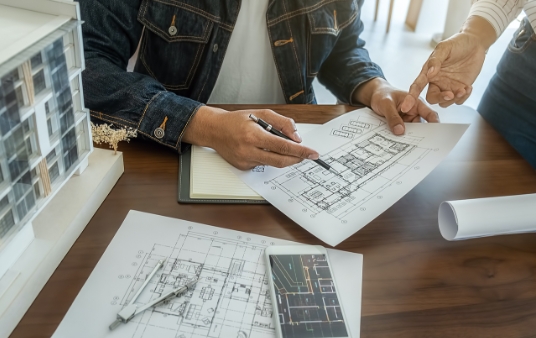 Learn About Our Other Integrated Services
Your Dream. Built to Last
Proven process. Professional people. Beautiful results—on time and on budget.
Home renovation discovery CALL
Schedule your call with one of our renovation experts to share your goals and learn what sets Mitchell Construction Group apart from others.