When you invest in building, remodeling, or renovating your home it's important that your project is done right, right from the start. If you're adding an addition or making improvements to your home's current layout, an architect can provide the creativity, expertise, and experience needed to both visualize the space and ensure that the design will sail through the permitting process and construction. Save time, money, and prevent potential headaches by working with your own personal architect at Mitchell Construction Group.
The value of a good architect
Whether you're adding a sunroom, home office, or a two-story addition to your home, a good architect offers the skill and creativity to bring your ideas to life and make your new space seem like it's been a part of your home forever. A Mitchell architect takes personal pride in making sure every client loves their design and that the finished project exceeds their expectations.
The architect's role in a home renovation
Unlike a hammer-and-nails general contractor who may provide a basic plan and construction, an architect, as part of a design/build team, carefully considers every layer of your project, including:
Analyzing structural components
Determining HVAC system needs to fully provide for the new space
Calculating necessary insulation values to minimize energy loss and maximize comfort
Ensuring building code compliance
How architectural design works with other design/build team services
The architect, as part of the Mitchell design/build team, works with interior design to provide the plans and schematics that enable the build team to efficiently and successfully complete your project. The architect ensures that all the details are correct and accounted for – from framing and insulation to ductwork, plumbing, and electrical systems, etc.
The collaborative design/build approach provides the client with all the necessary services and skills through a single, fully-integrated team. This ensures that your project is streamlined, efficient, and cost-effective.
About Mitchell's home architectural design team
We strive to give clients as much of their needs, wants, and wishes as possible. The team approach that seamlessly integrates architectural and interior design, construction, and project management enables us to coordinate and collaborate on projects for better results and a better experience for you, the client.
To learn more about our proven process for renovation and remodeling projects, download our FREE Homeowner's Guide to Creating the Dream Home You'll Love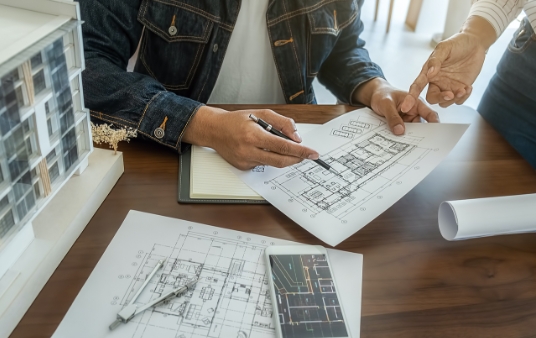 Learn About Our Other Integrated Services
Your Dream. Built to Last
Proven process. Professional people. Beautiful results—on time and on budget.
Home renovation discovery CALL
Schedule your call with one of our renovation experts to share your goals and learn what sets Mitchell Construction Group apart from others.