A recent study by the Pew Research Center has revealed that growing numbers of buyers are looking for homes that will accommodate more than just a single family. Shifting demographics, longer lifespans, economic climate and increasing ethnic diversity are all contributing factors to the rise of multigenerational households throughout the country. According to the research, approximately 19 percent of the US population now lives in multigenerational households.
Floorplans and features for everyone – universal design
Central to addressing the need to accommodate multiple age groups, abilities, and preferences is a design concept known by the simple, aptly-descriptive term, "universal design" (UD). Coined by architect Ronald Mace, universal design is the concept of designing all products, buildings, and the built environment in general to be aesthetic and usable to the greatest extent possible by everyone, regardless of their age, ability, or status in life. It is a rejection of the notion that things be designed for the "average" person. Done well, universal design seamlessly and effortlessly accommodates everyone without looking like a nursing home, hospital, or daycare facility.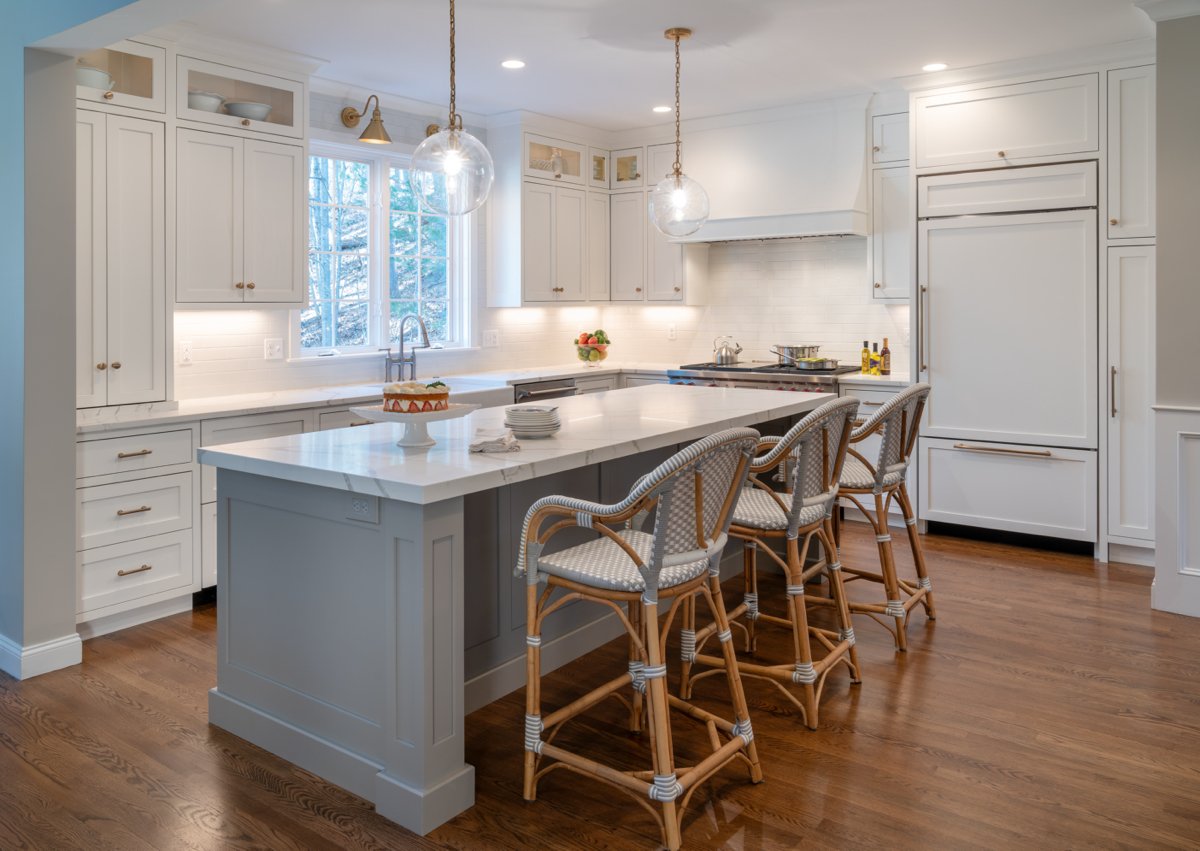 Here are some examples of UD architectural features:
Stepless entry into the home
36 inch wide doorways
Lever door handles
42 or 48 inch wide hallways
Five foot turning radius throughout the home to accommodate a wheelchair
Countertops at different heights for seated and standing individuals
Higher wall outlets so a person can reach them easier from a seated as well as standing position
Flexible, open, connected spaces so there is plenty of room to move around and reposition furniture as needed
Even, non-slip floor surfaces to avoid slipping and tripping hazards
Some universal design considerations are relatively minor and easy to include in even modest renovation/remodeling projects. Ergonomic door handles, grab bars, task lighting, rounded edges, contrasting colors, and other modest improvements can make a big difference in how well people can see, navigate, and function in a multigenerational home.
As a related side note, it's important to point out that while many buildings are "ADA (Americans with Disabilities Act) compliant" that does not mean they have employed universal design features. A building can be designed to accommodate someone with disabilities, but that does not necessarily provide them with EQUAL access. Here's an example: a post office's main entrance features a short set of stairs in the front of the building, which precludes use by a wheelchair-bound patron. Instead, they have to go to the side of the building and use a long ramp up to a side door. Under the law, they have been accommodated – they can enter the building through a separate entrance. Universal design's answer to this would be different: a single, ground-level, curb-less entry that both an able-bodied person AND a wheelchair user would be able to use.
As a design/build firm that embraces universal design as an efficient, effective approach to multigenerational remodeling, we use ADA guidelines as a starting point and then design improvements to ensure seamless, equal, easy functionality for all.
Taking aging into account in a home renovation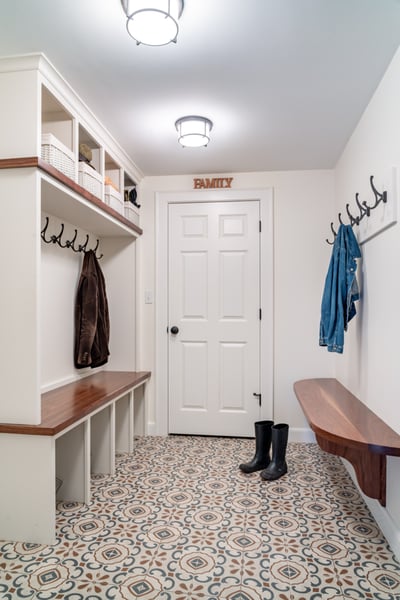 Some homeowners are faced with a slightly more complex situation in which they're anticipating remodeling their home for their own retirement and then – perhaps suddenly – they're faced with elderly parents moving in with them. Fortunately, universal design can accommodate both sets of circumstances without a hitch because both lifestyles have the same goals: enabling the occupants to live in their home safely, independently, and comfortably, regardless of age, income, or ability level. It even takes into account young children living in the same home as their grandparents.
Benefits of a universal design, multigenerational renovation project:
Renovating a home is a one-time cost
Living in a universally-designed home reduces accidents
Keeping your financial investment of home ownership
Financial reward for good design is higher future value of your home
Socially, people live longer, happier, healthier lives when they are in familiar surroundings with people they know
Of course, technology can play a big role in helping make life easier for retirees determined to "age in place" in a house they love and seniors living in a multigenerational home. Smart features including wireless controls and digital assistants such as Alexa and Siri can help manage heating, cooling, and security systems, enabling individuals to adjust conditions and their environment with the touch of a button and simple voice commands.
Internet of Things (IoT) connectivity can help remind aging homeowners and their live-in parents to check food in the oven and turn off burners, restock the refrigerator, help them take their medicines, and electronically adjust their beds and sleeping conditions for optimal rest.
Kitchens and Bathrooms: Frontlines for Aging
Kitchens and bathrooms are the two rooms that hold the key for living at home into and throughout your senior years. Without the ability to successfully navigate these two critical rooms, independent living at home is beyond reach.
Bathrooms are where people are most vulnerable. Wet and slippery floors, hard surfaces, and electrical outlets all pose significant risk of injury to the weak and unstable. There are, however, a number of universal-design modifications and adjustments that can be made to even basic room designs that can make any bathroom experience easier and more enjoyable, such as:
Stepless-entry shower
Handheld shower sprayer with a hose
Wall-mounted grab bars enabling added support around toilets, tubs, and showers
Corner shelves in the shower that double as a grab bar
Task and safety lighting, heated flooring, and adjustable mirrors for users in a wheelchair.
Doors that recess for wheelchair access
Touchless faucets or ones that can be operated with a fist in case of severe arthritis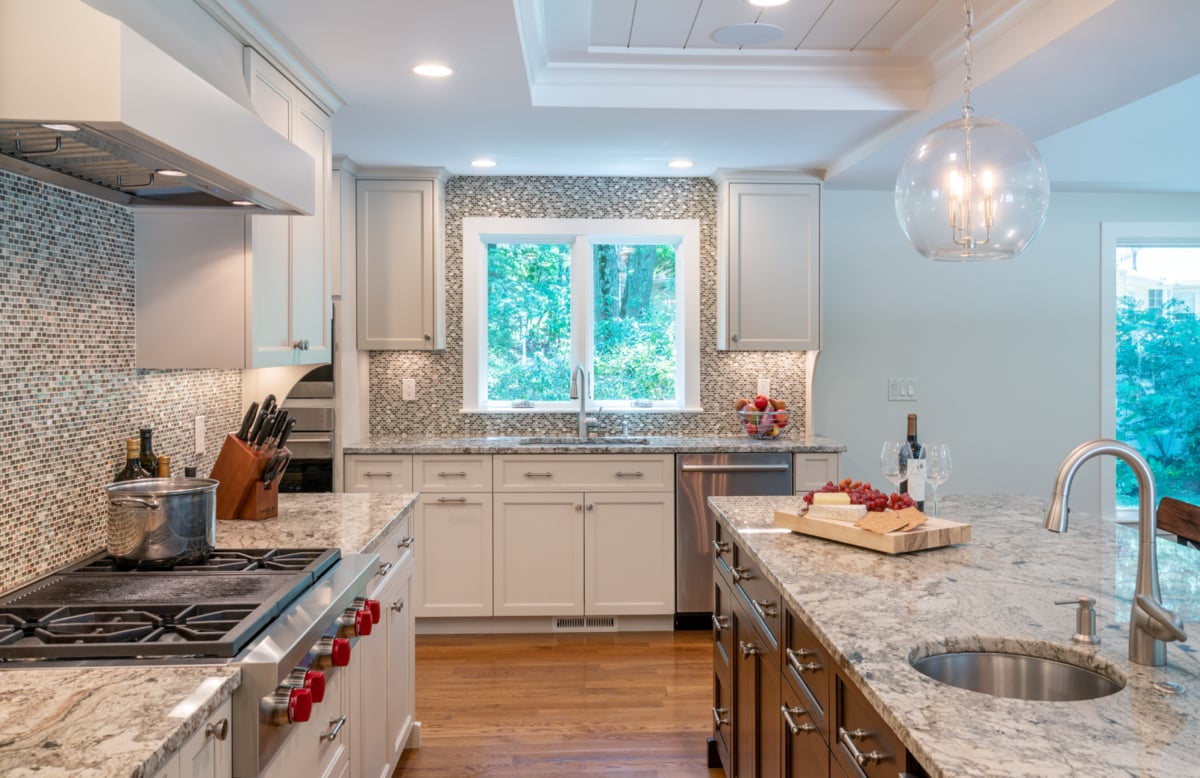 Likewise, kitchens pose a number of challenges for the aging and infirm. Here are some ideas to make your kitchen more flexible, versatile, and useful so that occupants of all ages and abilities can function independently:
Wider spaces to accommodate walkers and wheelchairs
Appliances at levels that are comfortable for standing or sitting in a wheelchair.
Microwave drawer, to position the appliance at a lower level for storage and operation
Wall oven at the proper height for standing or sitting, with a shelf that pulls out under the oven. Side-by-side ovens for easier access
French-door refrigerator for easier opening and more convenient storage
Flexible seating at table height for food prep and dining
Touch sensor faucets
Everything within reach: dish storage and countertop appliances at seating height, counters that can be raised and lowered
Wall cabinet/shelf units controlled electronically to come out and down for easier access
Angled sink faces to accommodate wheelchair use
These are just some of the many innovative ideas that can be used to remodel bathrooms and kitchens for multigenerational use, many with attractive design options to "disguise" their enhanced usefulness for challenged individuals.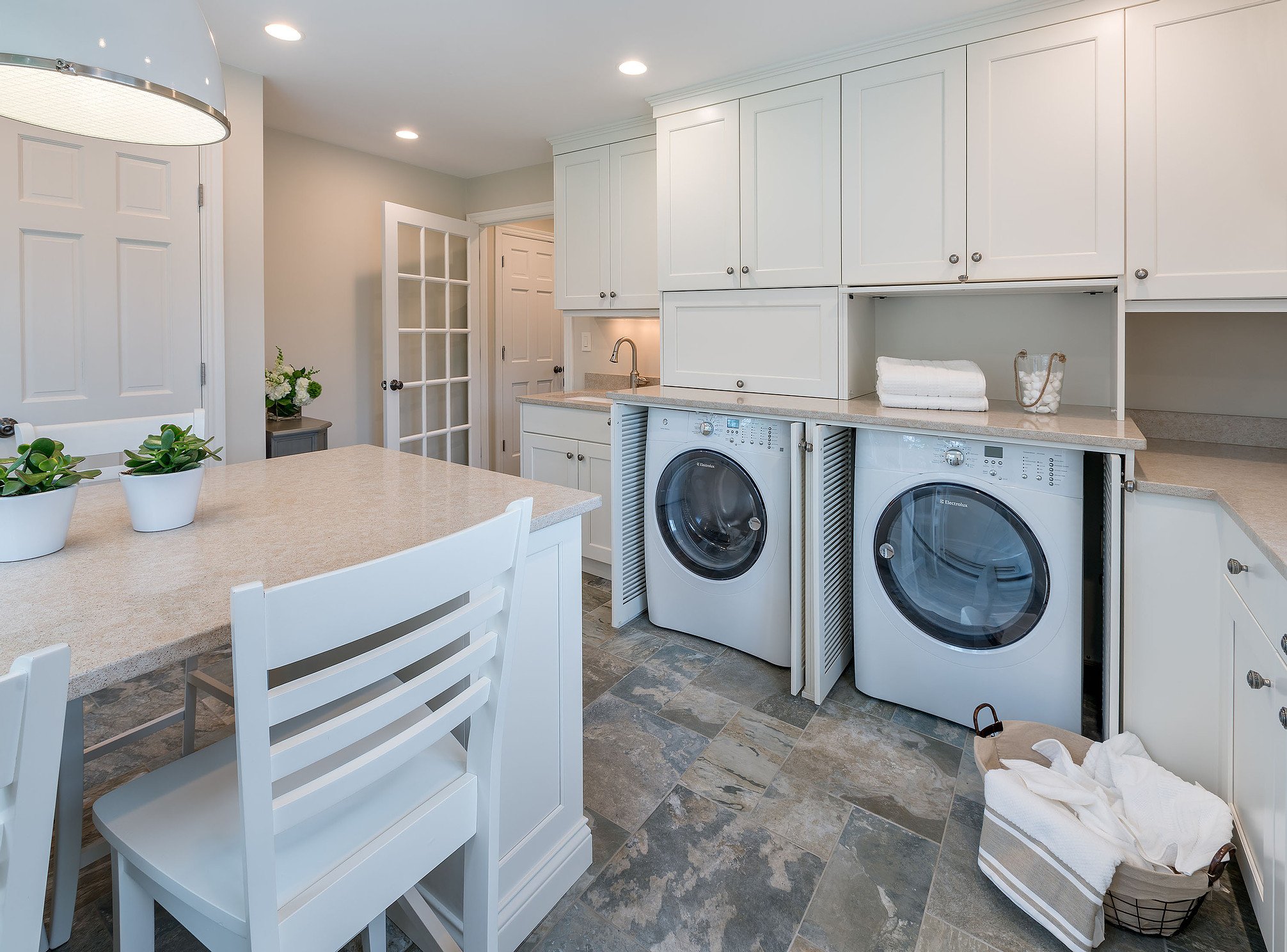 Multigenerational remodeling: making the cost-efficiency case
To some homeowners, many of the multigenerational accommodation modifications outlined here can sound extravagant: adjustable cabinets and counters, extra-wide halls and doorways, smart features. A closer examination of the costs and benefits tell a different story.
The concept of aging in place is growing in popularity with retirees in an era when people are staying healthy and active well into later life. With the cost a semi-private nursing home room averaging $255 per day, out-of-pocket expenses can run as much as $93,000 and higher annually. That's not a one-time expense, that's per year.
The average cost nationally to renovate a three-bedroom home is roughly between $50-100,000. Of course, costs can vary widely depending on the home, design, materials and products selected, as well as any unique factors that may affect the project.
The difference between the open-ended nursing home expense and the one-time universal-design remodeling investment is obvious. The first is an asset-draining liability, the second is an investment in the future that adds value and multigenerational quality-of-life to a home you love. And you have the ability to recover a significant portion – if not all – of that investment in the resale value of your home. Which option sounds better to you?
To learn more about the home renovation design process, please read our eBook, "Expert Design Tips to Improve Your Home's Form and Function." And if you are ready to speak about your next renovation, please schedule a home renovation discovery session.