If there was one thing the pandemic was good for, it was helping homeowners discover every poor design element and floor plan weakness in their homes. As people spent more and more time at home, they began to realize how much wasted or inefficient space they had and many decided to do something about it.
6 popular renovation projects to improve functionality
Regardless of home size, style, and location, there are half a dozen fundamental home renovation projects that have gained popularity as homeowners and their families struggled with inefficient and poorly designed floor plans. With parents and children working, studying, playing, and eating at home 24/7, entryways, kitchens, laundry rooms, and other key activity areas all became focal points for remodeling.
As an experienced design/build construction firm, we counsel clients to start with an empty shell and imagine the space they have to work with as a blank slate that they can fill in to best meet their wants and needs. What's not working? Why? Where should something really go to work better?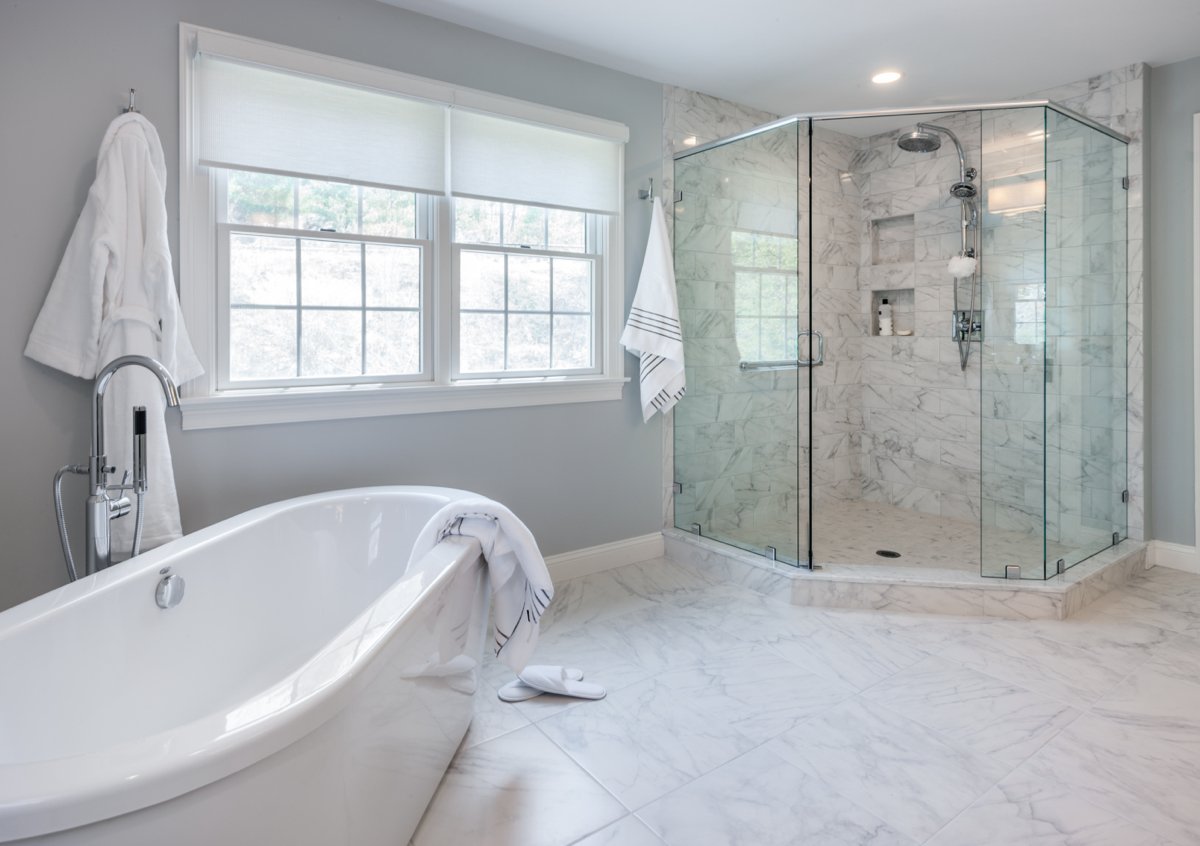 Let's take a closer look at six of the most popular remodeling and renovation projects and see how some homeowners are improving the functionality and usefulness or these spaces:
Laundry rooms - Many laundry areas are simply spaces where builders stuck a washer and dryer almost as an afterthought: in a spare bathroom, the basement, a hallway closet, even the garage. As families grow and parents get older, these arrangements become increasingly inefficient and tiresome as laundry gets lugged up and down stairs and piles of dirty clothes grow out of control in awkward spaces.
Depending on the size of the family, homeowners want more functionality in the laundry room, such as counters and sinks, an ironing board, storage and more. Many want laundry rooms on the first floor or the second floor where the bedrooms are. If you are aging in place and looking for first-floor living, you may want it on the first floor near the bedroom.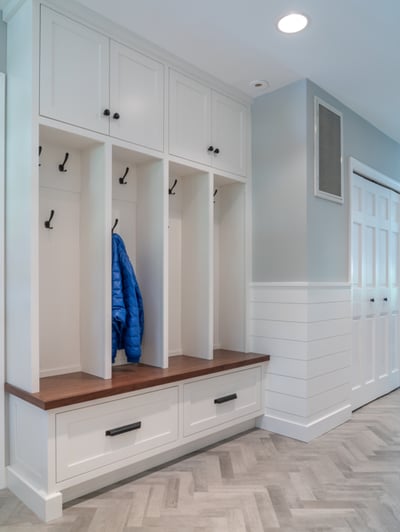 Solution - A client had an inefficient master bedroom suite with an oversized, step-down bathroom but lacked adequate laundry space. We streamlined the overall room design to one level, reduced the size of the bathroom and turned the extra, previously-wasted space into an efficient laundry room.
Mudrooms - Many homes have inadequate entryways that open directly into high-traffic areas such as kitchens, creating messy clutter with muddy boots, wet coats, and other items brought in from the outside. Mudrooms add a versatile, transitional area that enables family members to shed outerwear and store sports equipment and other gear.
Solution - A client had an entryway problem compounded by a washer and dryer in a hall closet right by the side door. Utilizing the existing hallway and an adjacent screened porch, we turned that space into a more efficient mudroom with storage and created a large laundry/crafts room, adding multiple functionality to previously inefficient and wasted space.
Basements - Many homeowners want to renovate their basement because it is often untapped potential living space. Basements are typically underutilized and sometimes wasted space that can be converted relatively easily into a variety of functional, high-use rooms such as exercise rooms, home offices, craft and entertainment rooms, and, of course, improved storage space. It's like adding an addition without having to do concrete work.
Solution - A family already had a partially finished basement under their garage where the previous owner had created a reinforced music room that suffered from bad moisture problems and mold. We repurposed the space for the new homeowner as an entertainment room with a couch, widescreen TV, and a bar. A guest bedroom, bathroom, and shower were also added, along with office and workout areas and lots of storage. As a result, nearly 30 percent more usable living space was added to the home.
Outside living space - Many homes feature a standard deck or patio with some ho-hum outdoor furniture. Often these spaces are underutilized for a good part of the year because they don't offer much in the way of versatility or interest. Fortunately, there are a number of ways to generate excitement and attract family and friends outdoors for entertainment and relaxation.
Solution - We had a client saddled with a virtually unusable deck that was taking up space without adding to the family's quality of life. We were able to add the wow factor by creating an oasis featuring an outside kitchen, dining area, and patio, enabling the family to gain significant usable space, functionality, and fun.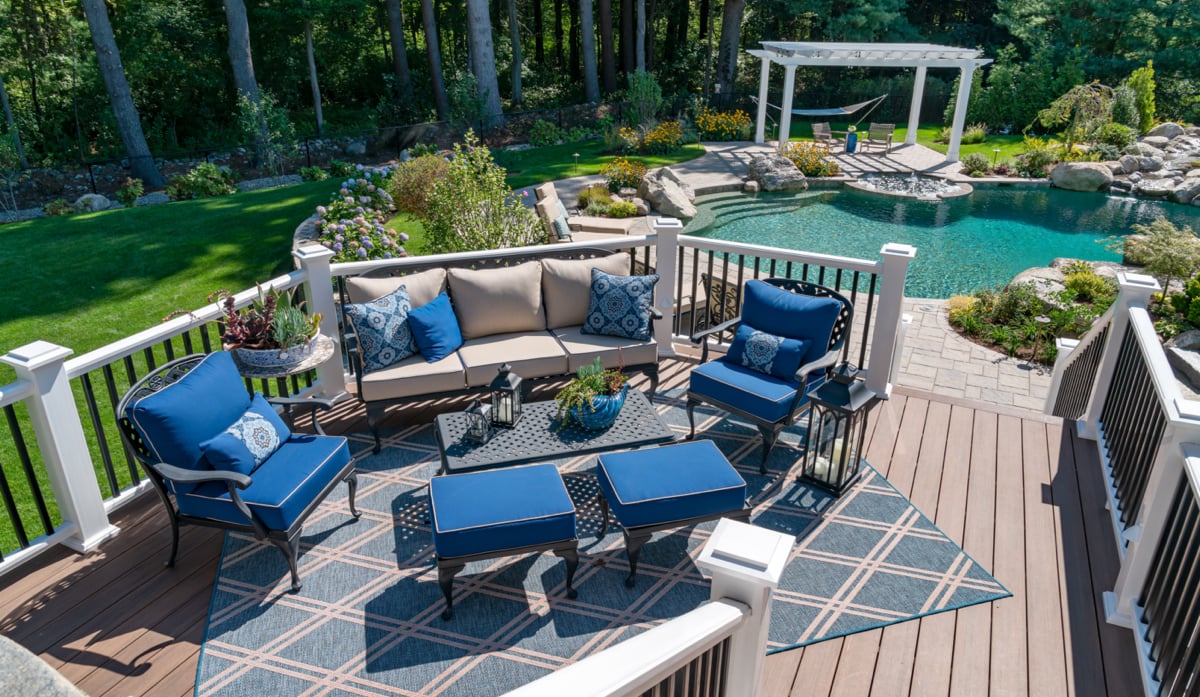 Kitchens - Perhaps the most popular of all renovation projects, kitchens provide a remarkable opportunity to add all kinds of functionality and usefulness to this most central of all rooms in the home. No longer restricted to the domain of cooking, the kitchen now offers families space for home and office work, entertaining, and more.
Solution - One homeowner had several restrictive, but interesting spaces, including a cramped, step-up galley kitchen, an attached greenhouse, and a bathroom that featured some potentially hazardous elements.
Our solution was to include an addition, opening the kitchen up to the rest of the home and to the outside. The property sits on several acres of scenic woods and the design was centered around bringing the outside in by incorporating finishes in earth tones and adding an abundance of windows. The functionality and flow was vastly improved by the addition of a large peninsula with generous counter space for food preparation and entertaining. The inclusion of open, glass, and closed cabinets provided ample storage while lending to the airy feel of the space. The bathroom was redesigned to be universally accessible and improve the safety of the homeowners, winning an award for universal design.
Bedrooms - Master bedrooms are a popular renovation choice, especially for aging homeowners planning to age in place and looking to move to or expand their bedroom space on the first floor. More storage and room to get ready are both prime motivators for bedroom makeovers and turning bedrooms into suites. Unfortunately, many master suites are designed merely to dazzle and feature inefficient -- or worse, useless – space.
Solution - One homeowner had a master bedroom with a bonus, largely unusable room that could only be accessed by walking through the bedroom. By moving the master bedroom into that unused space and reconfiguring the bathroom, the previous master bedroom space became an additional bedroom. The homeowner gained a larger master bedroom and bathroom and one additional, readily-accessible bedroom in the home.
Renovating with a purpose
With everyone spending more time at home these days, we're all becoming keenly aware of the design flaws in our houses and more irritated by the ones we already know about it. Today, it's all about maximizing efficiency and squeezing the most utility and value out of the places we live in. If you've got under-utilized or inefficient space in your home that you'd like to remedy, give us a call. We'll show you how to make the most of your home and ways to add functional square footage and improve the quality of your daily life.
To learn more about the home renovation design process, please read our eBook, "Expert Design Tips to Improve Your Home's Form and Function." And if you are ready to speak about your next renovation, please schedule a home renovation discovery session.