Remodeling a kitchen is a lot more than just new cabinets and appliances and a different color scheme. Effectively renovating a kitchen for more functional efficiency requires a design/build team that understands room ergonomics and how it can provide enhanced functionality that's easy and just plain fun to use because every feature and element is exactly where it should be.
Kitchen design is all about analyzing how a family uses the kitchen to determine its strengths and weaknesses. That means looking closely at the way individuals move through the kitchen to perform certain tasks, mapping out the daily traffic patterns to reduce unnecessary movement and make things more efficient. Only then can a designer begin to lay out a floor plan and determine placement of key features such as cabinets, work areas, appliances, and storage. This kind of disciplined approach to kitchen design is what's needed to truly transform a kitchen and not just make some changes.
Dysfunction: the root cause for renovation
Many homeowners are surprised to learn that behind the urge to remodel a kitchen lies a cause that goes unrecognized: dysfunction. Family members may not realize how much they struggle with an inefficient or outdated kitchen. They learn to live with inadequate or poorly-located storage, lack of counter space, and appliances placed where they shouldn't be. Families get so used to living with this dysfunction that it becomes normalized and they have trouble imagining the best way to fix it. Without professional design help they may not realize that the issue goes far beyond a simple remodeling to a fundamental change in how the kitchen functions and fits into the flow of the rest of the home.
Here's a great example from one of our own clients:
The original kitchen in a 1930's Cape style house was severely outdated, lacked storage, and had a poor layout that hindered its flow and the owners' ability to perform everyday tasks such as cook, bake, and eat. It desperately needed to be re-designed to bring it aesthetically up to date as well as vastly improve its functionality and flow to enable the family to enjoy a better quality of life.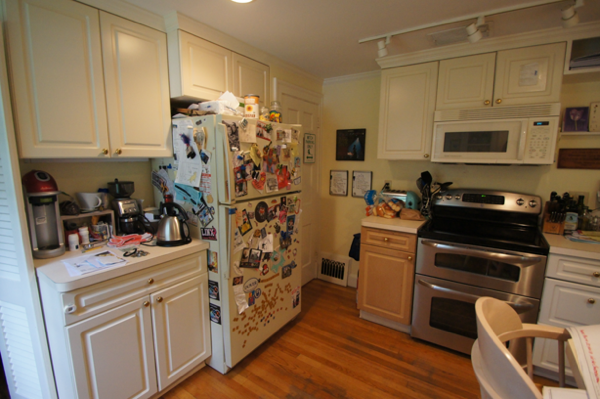 Before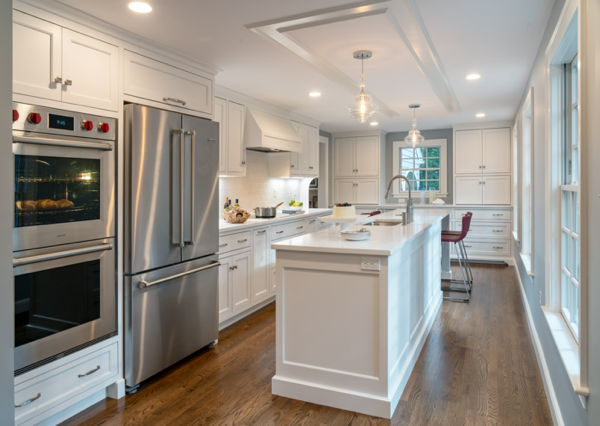 After
Our new design removed the existing kitchen as well as a small bathroom and large storage area and expanded the kitchen into the large space once taken up by the old bathroom and storage room. This enabled the kitchen footprint to be increased substantially with a more sensible layout that is easy to work in. A powder room was located in the old kitchen area so that the first floor bathroom was not lost and significantly-improved storage space placed throughout the new kitchen eliminated the need for the original large storage area. All new appliances, cabinetry, an expansive island that includes a dining leaf, and a large storage and command center were all integrated into the design to make life significantly easier for the family.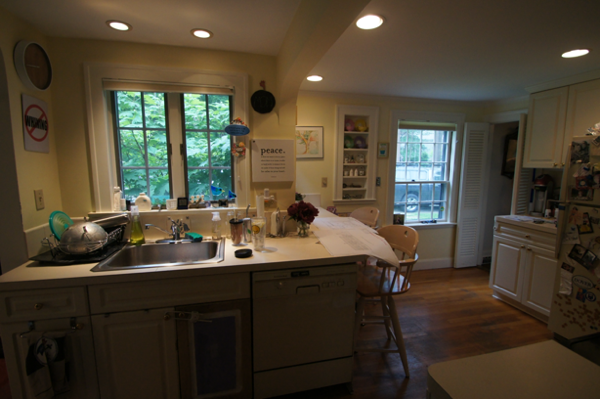 Before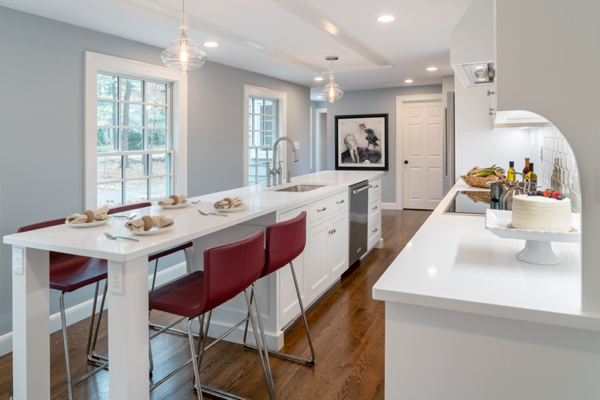 After
The homeowner chose to work with us because we were the first firm to actually listen to their wants and needs, preserving the charm of the original home while substantially improving its functionality and versatility. This project succeeded in virtually eliminating the kitchen's dysfunction, turning it into the home's hub and a place where the owners now entertain family and host holidays with pride.
Our ability to not only meet but exceed the project goals for this client stem from a proven 7-step process we've developed for renovation and remodeling projects:
Interview the homeowners to understand their project requirements and expectations
Carefully assess their current layout and ideas from an objective, professional perspective to provide appropriate solutions based on their actual needs, not necessarily what they think they need
Develop an initial floor plan with options to take into account budgetary needs and any anticipated issues
Review the floor plan with the owners in context with the rest of the home and how it works – sometimes the physical space of the kitchen does not need to be changed
Hone the design for organization and functionality, focusing on significantly improving the family's kitchen experience and lifestyle. Design is iterative and benefits from experimenting with options to ensure optimal performance of the improved space
Itemize what goes where with the homeowner to ensure all appliances and features are properly placed to enhance work and traffic flow
Confirm design integrity with the rest of the home – does it fit and function well with other parts of the house?
This process has enabled our firm to achieve an unmatched rate of success with projects large and small and establish a reputation for delivering outstanding results for our clients. That's why other contractors refer to our distinctive kitchen designs and ability to deliver enhanced functionality simply as "Mitchell Kitchens." Our approach requires a team of professionals with the creativity and time to provide thoughtful, appropriate solutions for transforming your kitchen into one you'll absolutely love.
To learn more about the home renovation design process, please read our eBook, "Expert Design Tips to Improve Your Home's Form and Function." And if you are ready to speak about your next renovation, please schedule a home renovation discovery session.