When considering updates and additions to your current porches and patios, you are looking for space to enjoy your home's fresh air and views. Well-proportioned, well-conceived porches and patios can become a bridge to the outdoors and provide added living space.
The pandemic has caused people to reevaluate how they spend time at home and especially how they can maximize the use of outdoor spaces. Creating comfortable and enjoyable areas, like an expanded front porch, outdoor kitchen, or fire pit, fill the need for extending their living space to the outdoors.
Having a porch and patio that meets your needs takes careful planning. For example, you may have an existing porch that is not as large as you need. Perhaps your family loves to grill, but the grill is in a location that feels like a mile and several flights of stairs away from the kitchen. A careful design and renovation will address all these issues.
With the right design ideas for your outdoor space and the proper craftsmanship to bring those ideas to life, you can create a porch and patio area that helps you enjoy the outdoors, expand your living space, and your seasonal enjoyment of that space.
Porch and Patio Design Ideas
Front Porches
For a long time, front porches were mostly decorative — they were too small to use for spending time in your front yard. Now homeowners see the front porch as an extension of their entryway, a place for comfortable seating, an area to say hello to neighbors.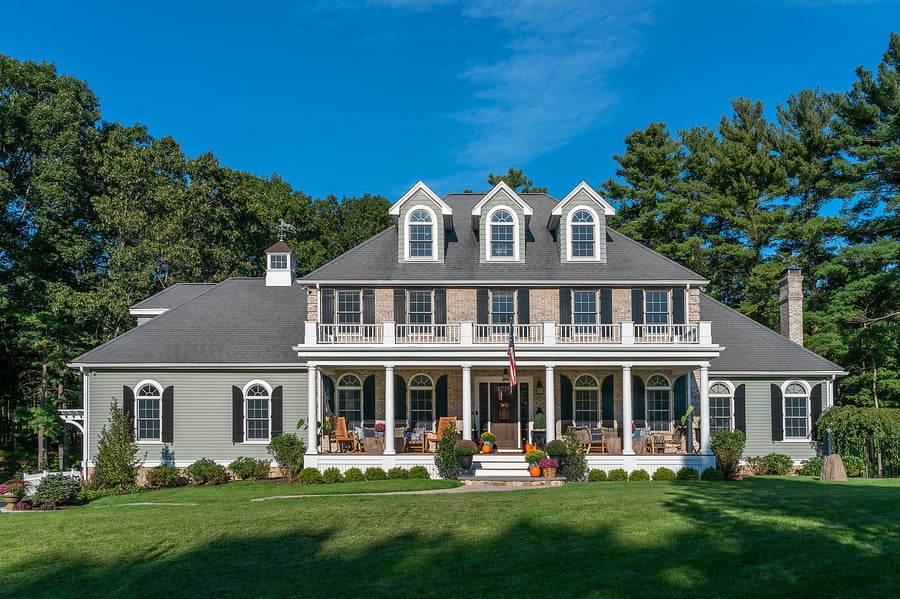 A stately front porch with the feel of a veranda
A well-designed front porch gives character and added curb appeal to the home with features like a gabled entry and craftsman-style posts with a masonry base. Front porches offer nostalgia, and they can bring back fond memories of spending time with extended family "out on the veranda."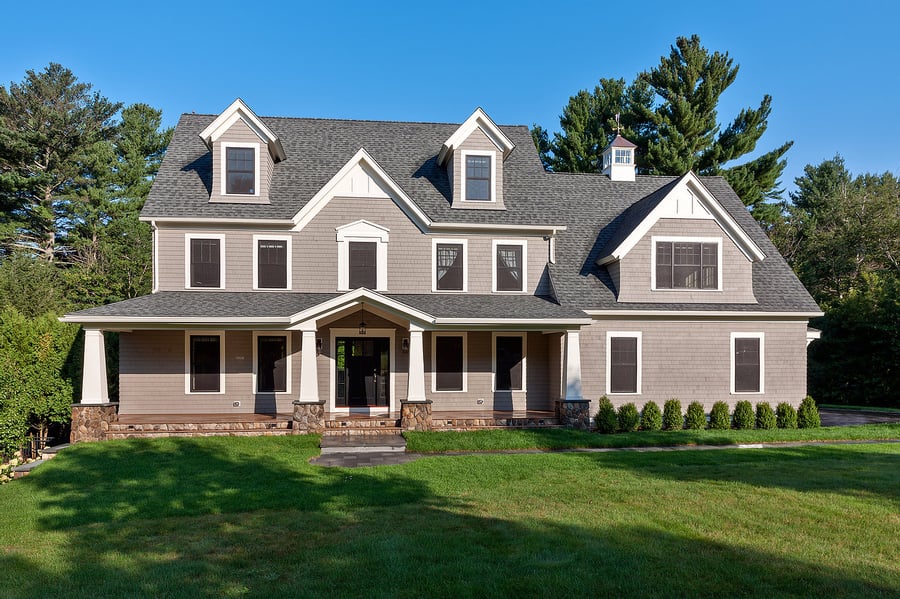 A Craftsman style front porch adds gravitas to the home
Rear Porch Patio and Deck
If you've got a view of rolling hills or a body of water, you can maximize the enjoyment of those views with a rear porch with a deck on top. These are the perfect spaces to have a morning cup of coffee, get some work done on your laptop, or entertain while maximizing the enjoyment of more of your property.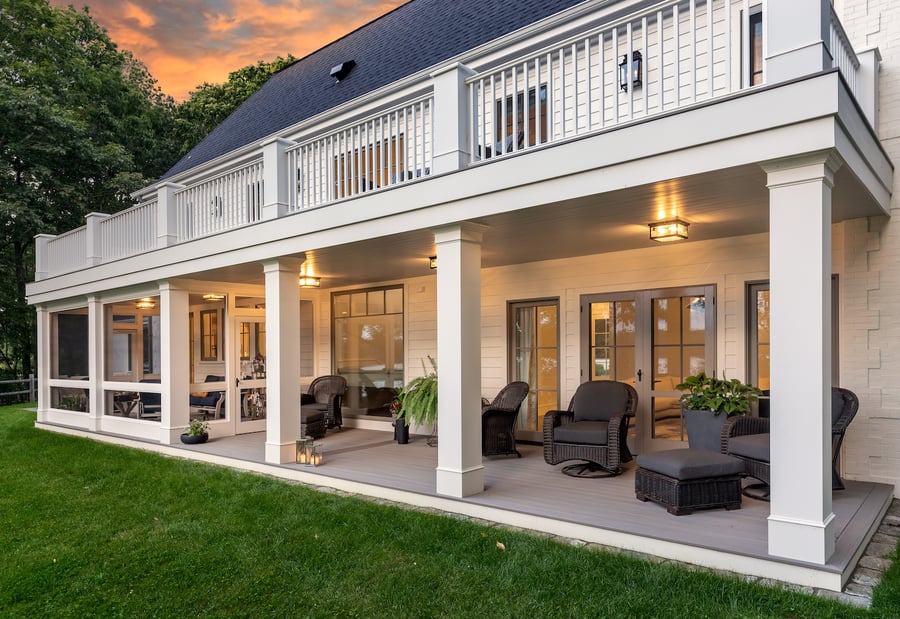 A visually seamless space with three zones: a deck above, an open patio and an enclosed porch
The Outdoor Kitchen
Outdoor cooking has come a long way with grilling stations and full outdoor kitchens that rival the amenities of an indoor kitchen. Attention is paid not just to the grilling area but to outdoor seating for al fresco dining. Then you can create a space for dining under the patio, beneath a beautiful pergola, or even a colorful canvas rain fly.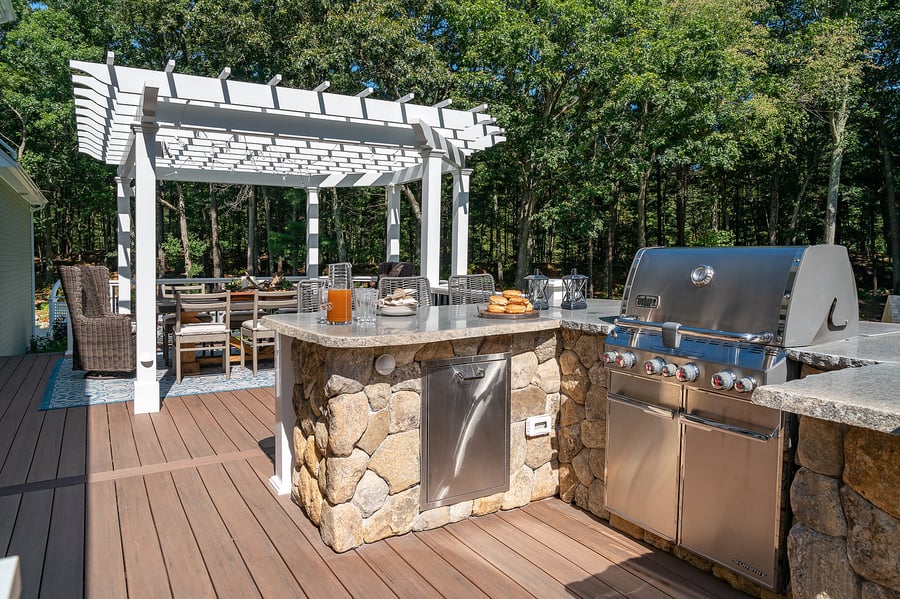 A beautiful space for cooking and entertaining under the pergola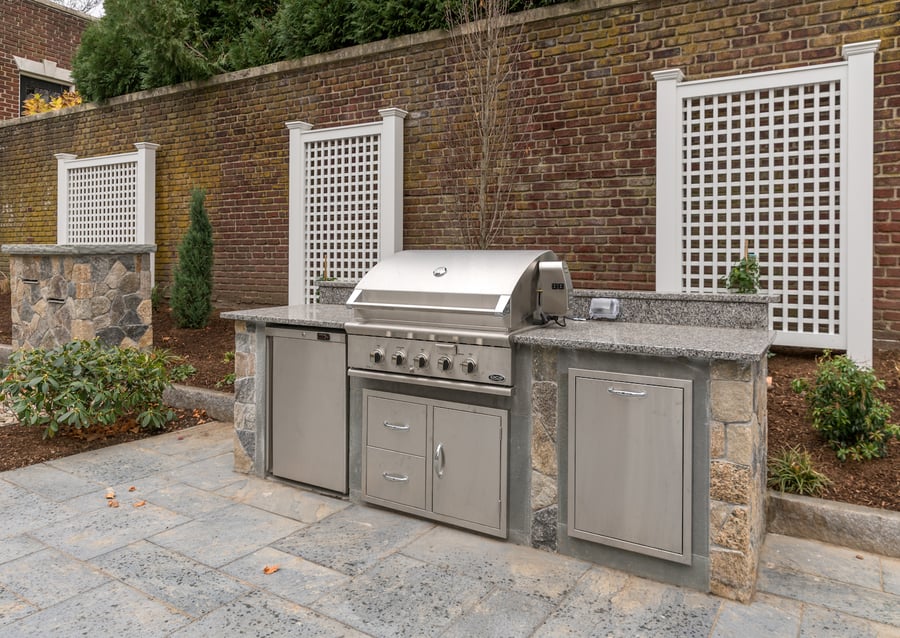 The tall fence creates privacy in town, with a state-of-the-art grilling center
Fire Pits
The fire pit feature has become very popular recently. These spaces can range from a simple metal ring with some Adirondack chairs to a permanent fixture of stone or other masonry material with seating to match. These days, that campfire experience can be as close as your backyard.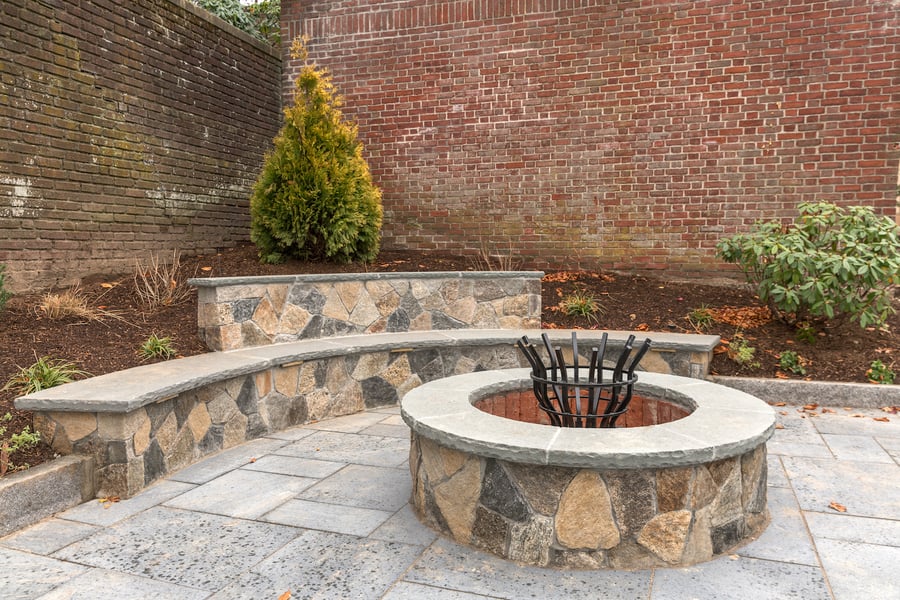 The fire pit includes plenty of bench seating for cool autumn and spring evenings
Decisions That Add to Your Outdoor Joy
To bring these exciting design ideas to reality, homeowners have many choices. For example, will your space be covered or uncovered — or is there ample room for both? Will you enclose part or all the porch with windows or screens? It's great to have an outdoor space where bugs can't get to you, and you can enjoy the fresh air through three seasons. You can also choose folding glass doors that create an intuitive flow from indoor to outdoor living.
In a patio or porch renovation, you will also be making decisions about materials. Will you add skylights to the roof to get every bit of sunlight possible? For uncovered patios, will you use a combination of stone and pavers? For decking and rails, should you use natural rot-resistant wood, pressure-treated lumber, or composite materials? Pressure-treated wood is relatively inexpensive, but continual maintenance is required. What countertop material is best for an outdoor kitchen? A good design/build firm will guide you through these choices to get the best results possible.
Before any of these decisions are made, your builder will submit plans to your local zoning board. With a patio or porch renovation, you will likely be adding impervious surfaces to the landscape. Many municipalities have rigorous requirements for stormwater runoff. The good news is that landscape features like rain gardens often become a focal point rather than a sightline to avoid. The important thing is to make sure your project has the appropriate approvals before construction begins.
Making the Most of Your Porch and Patio
There is so much promise and possibility just on the other side of your front and back doors. Enjoying the outside of your home is becoming more and more important as work, entertainment, and relaxation all take place at home.
With the experience of the right design/build company, you can create a beautiful porch and patio space that add living space, enhance the value of your home, and enhance the time you spend outside.
To learn more about the home renovation design process, please read our eBook, "Expert Design Tips to Improve Your Home's Form and Function." And if you are ready to speak about your next renovation, please schedule a home renovation discovery session.