If you're like most homeowners, home maintenance chores such as painting, replacing gutters, and making deck repairs are way down on your list of fun things to do. Fortunately, there are now a wide range of low-maintenance building products available to help ease the burden of upkeep on your home.
While there is no such thing as a completely maintenance-free house, using properly-installed low-maintenance products can add years, even decades, to how long you can go without having to repair or replace items such as roofing shingles, trim, gutters, and siding.
The term "low maintenance," however, is highly subjective and can have a different meaning for different people. For example, a "lifetime guarantee" for a particular product may cover the average estimated lifetime of that product, which may mean it might need to be replaced in only a couple of years – not the length of your lifetime. And every building product in your house is part of a larger, integrated system – how those products collectively work together and are affected by use, the environment, and age all influence the amount of maintenance your home will require.
What does low-maintenance mean?
As you consider building materials for your new construction, house renovation, or remodeling project you can imagine a home where you never have to repaint, replace the siding, or put on a new roof. New materials developed with advanced technology have enabled manufacturers to create products that are virtually impervious to weather, warping, ageing and other damage.
For example, one highly-popular new material used in building products is a hybrid polyvinyl chloride (PVC) called cellular PVC which is a synthetic wood featuring most of the qualities of real wood with none of its maintenance requirements. It can be cut, sanded, fastened, and painted just like wood, but a coat of paint will last much longer on cellular PVC than on real wood.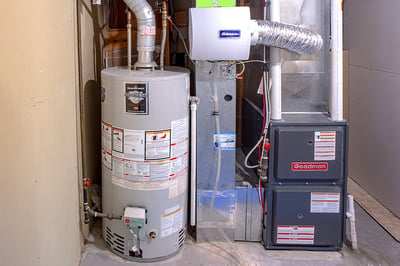 Many homeowners see the goal of achieving a maintenance-free home as a way to eliminate the cost of product replacement, especially for mechanical systems such as heating and plumbing. But even the minimal cost of regular maintenance can help you avoid the more substantial expense of early replacement. In fact, many top-of-the-line products, properly and regularly maintained, can last virtually forever. So instead of chasing the dream of a completely maintenance-free home, consider the low cost of a low-maintenance strategy as money well-spent.
Craftsmanship affects longevity
Buying the highest quality building materials featuring the latest manufacturing technologies won't mean a thing if they are not properly installed. Even simple, traditional wood trim will last for decades if it is correctly prepped and installed. Likewise, if the significant added expense of buying top quality, low-maintenance materials and having experienced craftspeople correctly install them is giving you pause, remember that the money you spend upfront for these products will add years, even decades, to the life your house and improve your quality of life in it.
Our favorite low-maintenance building materials
As informed homeowners who often do their own homework when choosing the materials used in their projects, many of our clients see the value of investing in high-quality, low-maintenance products and weatherproof building materials. As a result, we often get asked about our favorite low-maintenance building materials, so we thought we'd share them in this post.
However, because there are so many to choose from, we'll focus on our favorites in several main product categories and provide some selection and cost-reducing tips as well:
Roofing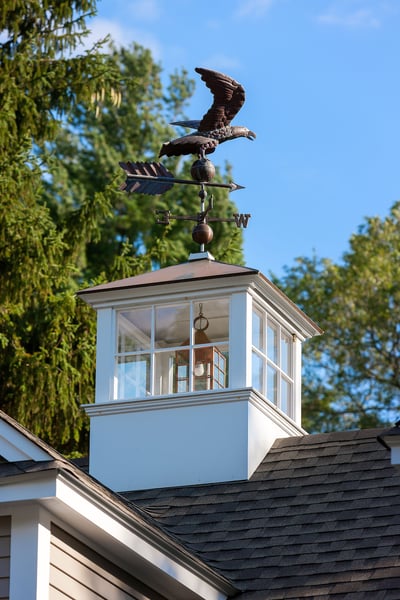 We prefer to use architectural asphalt shingles such as Certainteed Landmark shingles with a 30-year life expectancy which, for many homeowners, is a one-time investment. Here in New England metal roofs are popular because they easily shed snow and stand up well to harsh weather conditions. While they can be expensive, they last virtually forever and come in a variety of materials, designs, and colors. Some popular metal roofs include galvanized steel, aluminum, and copper. Copper is the most expensive at around $20 per square foot, while asphalt shingles are a modest $4 per square foot.
Siding
Traditional siding materials such as wood clapboard, cedar shingles, and even copper are still popular but all wood products require some level of maintenance to protect from rot and insect damage. Proper preparation and installation can make a big difference in how long they last.
For low maintenance siding we recommend both conventional vinyl siding as well as the more advanced fiber cement products such as HardiePlanks that come pre-finished and are almost indestructible. If you prefer real wood siding, then consider SBC Cedar Products which are pre-finished and come with their 25 year warranty. Brick is a traditional, expensive, low-maintenance siding material that will last for the life of the house of your dreams, but the mortar that holds them together will not and often needs some repair at some point.
Trim
Many homes are built with wood trim, usually pine, which is susceptible to rot. If pine trim is not painted on all six sides before installing it, each of the open sides will wick up water. If that same wood is used where the gutter is attached, water can wick through and cause rot. We prefer cellular PVC trim boards to avoid this common problem. Cellular PVC comes in a wide variety of shapes, sizes, and styles; it's paintable, cost effective, and cannot rot.
Windows and Doors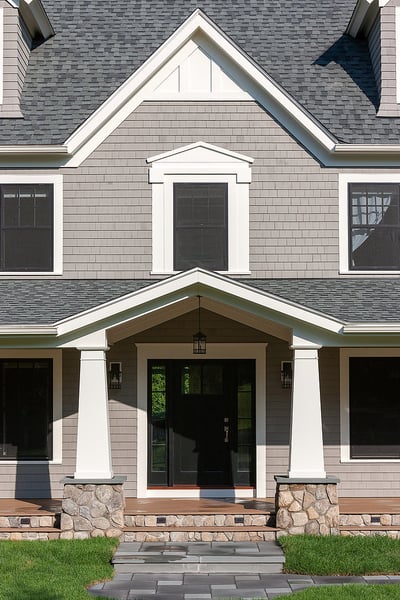 There are many brands and options to choose from. Vinyl clad and fiberglass exteriors provide the longest life – we prefer Anderson and Marvin windows, as well as Anderson and ThermaTru doors. There are many wood door options but unless you have an overhang to block inclement weather, wood doors require more maintenance.
Decking and Railing
Decks, stairs, and railings are three high-use features in many homes that take a beating from use and exposure. Traditional pressure-treated wood decks can be relatively inexpensive to construct but require almost constant maintenance such as refinishing and plank replacement or repair due to twisting, warping, and popping. For all these reasons, we recommend a cellular PVC deck board and railing such as Azek and Intex which have the look and handling of wood with the durability and longevity of PVC without getting hot during the summer months.
Other natural options include dense tropical woods such as Ipe and mahogany which naturally resist insects and rot. However, they are more expensive and still require refinishing every few years unless you prefer the silvery grey look of wood that is allowed to age to a patina.
Wrought iron and sleek cable railing systems are other good options that are also more expensive and need some maintenance – steel cable systems require a powder coating to be maintained to prevent corrosion.
Gutters
Gutters are an effective solution for controlling roof water run-off which can damage landscaping near the house and cause foundation damage. Typical aluminum gutters used on most houses, properly installed and maintained, should last 30 to 40 years. Tasks such as routinely cleaning out leaf debris can be considerably reduced and even eliminated with add-on covers that allow water to flow into gutters while keeping debris out. Gutter caps are available in a wide range of materials, designs, and products such as Leafguard. Some are available with a heated cable under the cover so snow melts instead of accumulating on top of it.
Interior Products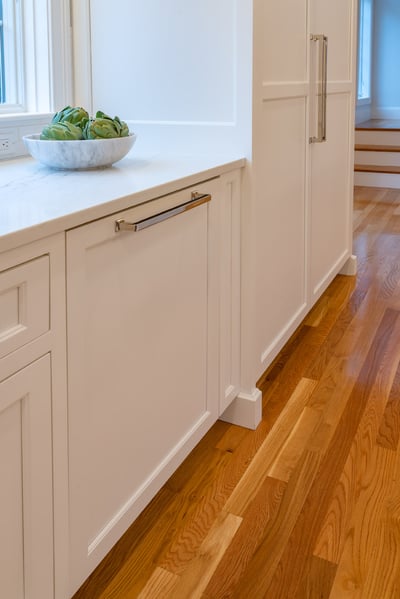 While mechanical systems generally bear the brunt of wear and tear (faucets are the most-used feature in kitchens and low-quality ones wear out quickly), flooring is right up there as one of the most abused products in most homes. Modern vinyl plank flooring is a sturdy, popular alternative to hardwood floors, with the look and feel of wood but the abuse-resistance and low-maintenance of vinyl. Tile is another generally low-maintenance product but is prone to cracking from sharp blows, requiring replacement. Also, the grout between tiles needs regular cleaning to avoid mildew and staining.
Cabinets are another heavily-used kitchen item and only as good as the hardware used to install and operate them. Cheap, flimsy hinges and latches will quickly fail and poor finishes will chip, stain, fade, and wear off, leaving cabinets looking sad and worn. Buy the best quality you can afford and have it installed properly to avoid components loosening, sagging, and becoming misaligned.
If your home includes a fireplace or fuel-burning stove, regular maintenance such as combustion element and chimney cleaning to maintain efficiency and safety will go a long way in prolonging its life and minimizing long-term expense. Consider investing in a gas or pellet stove to reduce emissions and increase efficiency. If you have a traditional fireplace, a variety of inserts are available to increase heat production and distribution, reduce fuel waste, and lower overall costs.
Craftsmanship matters
It bears repeating: craftsmanship matters. High quality products installed poorly will perform poorly. However, superior craftsmanship can enable lesser quality products to perform better. When work is done improperly, corners are cut, and "just okay" becomes acceptable, everything suffers and wears out more quickly. A poorly-hung door will drag across the floor and scrape against the jam, causing unnecessary wear and tear resulting in unnecessary expense.
A low-maintenance strategy requires everything to be properly and carefully installed to maximize performance and longevity. There is no substitute for done well. Anyone willing to pay for quality materials should be willing to pay for quality craftsmanship. It's that simple.
In the need of home maintenance that uses the best low maintenance building materials and the best craftsmanship to install it? Contact us today to schedule a complete home maintenance inspection and assessment to identify any potential problems and recommend effective, cost-efficient solutions that can save you unnecessary added expense down the road. To learn more about home maintenance, please download our FREE eBook - Home Maintenance: This is How Professionals Do It.