Regular, professional home maintenance can save you significant time, money, and headaches. Whether you need windows installed, gutters repaired or replaced, a new roof, or some other home maintenance project done safely and efficiently, having professionals assist you with regular home maintenance is a great way to avoid expensive frustrations down the line.
How do you select a home maintenance company?
There are many handymen who can handle replacing a broken door or damaged trim, caulk a window or fix a leak. But comprehensive home maintenance from Mitchell Construction streamlines the process with one trusted, comprehensive resource. A professional, full-service team with the skilled professionals, versatility, and depth of resources that can handle any and all of your home maintenance needs –structural, mechanical, or electrical — with just one call.
The value of a home maintenance company
The right home maintenance team adds peace of mind to make your home as comfortable and reliable as possible – you know that whatever your maintenance and repair problem is, your trusted team has what's needed to get it fixed right away. At Mitchell Construction, we're able to look at every problem through a broader lens to determine and remedy the root cause of the issue, regardless of what it is — not just identify and fix the visible symptoms of that underlying problem.
The home maintenance process
Proper home maintenance is not a "one and done" process that only fixes problems as they occur. At Mitchell, we take a proactive, year-round approach to head off trouble before it occurs, fixing little problems before they become big ones. That's why we develop individual home maintenance plans for each client and conduct seasonal reviews of all relevant systems and elements in your home. This enables us to take cost-efficient corrective action to ensure that your home always functions at peak performance.
About Mitchell's home maintenance program


Our home maintenance program takes into account the unique characteristics and history of a house and specifically schedules the most appropriate assessments and maintenance tasks. For example, an older home may need more attention focused on structural elements such as the roof, siding, and trim to check for rot, insect damage, or other weak spots that could develop leaks or other problems that could lead to more extensive and expensive damage. Scheduling regular home maintenance checkups and periodic, preventative care goes a long way in protecting your home.
To learn more about the benefits of professional home maintenance service, see Home Maintenance: This is how professionals do it.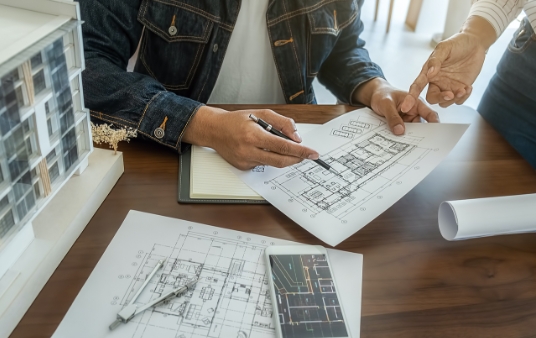 Learn About Our Other Integrated Services
Your Dream. Built to Last
Proven process. Professional people. Beautiful results—on time and on budget.