During what feels like a bygone era, a home office was a nice thing to have, not a necessity. A LOT has changed in a few short years, making remodeling for a home office a top priority in many households. In that bygone era, your family would disperse on weekday mornings, you and your partner heading off for the morning commute to work, and the kids heading to one, two, or even three different schools depending on their age range.
The ways we live and work took a dramatic shift in 2020, when companies learned that productivity fares just fine when people work from home. These days, maybe you have the option of going into work or working from home — and maybe you've opted to work from home exclusively. Your partner probably has similar options.
Which means you need office space. The what, where, and how of that space are questions that are begging for answers. Welcome to the evolution of the home office!
Home Office Trends
Here are some trends in home office space, now that remote and hybrid work are the rule rather than the exception.
Home buyers are looking for homes with dedicated office spaces — it's not just you. Home office space not only improves the quality of life for you and your family, it is a sought-after feature for home buyers.


Creating office space in shared rooms — Sometimes a space designated solely as an office is not practical. Or maybe there is a dedicated office space, but more than one person needs to use it. This is where a good designer with space planning experience can be of tremendous help. Flexibility is key in furnishing a home office. Coffee tables that convert to workstations offer multi-functionality in a multi-use space. Built-in cabinets for storage organize the clutter whether you are using the space as an office, as a reading nook, or a quiet conversation. Desks that convert for either standing or sitting are becoming more popular so you don't feel stuck in one position all day.


Space planning for video conferencing — Working from home does not mean you are cut off from work colleagues. Video conferencing makes collaboration across distance more feasible, but people are finding they need to dedicate space for that function. You want a setting that is free from distractions like other humans, pets, and clutter.
Where Will We Find Space for a Home Office?
You've been making do for over two years now, moving from the kitchen, to the living room, to the bedroom — out for a few hours at a coffee shop — and then back home again. You'd love to find one place to work, but where will this new space come from?
Whatever size home you have, you have options. Of course, converting basement space has a lot of potential as long as it stays dry in wet New England weather. Attic space is also a possibility. Consider converting the sitting area in your primary suite into a more separated office space. In the main living space, are there rooms that are not often used? More and more homeowners are converting formal living rooms into a home office.
If none of that works, there are even more creative options — maybe there is a large closet that could be transformed. Maybe you want to move the laundry room upstairs and convert that main floor laundry into work space. Install a Murphy bed into a guest room, and there you have your office.
Important Considerations in Home Office Design
What are the critical components of a home office? The precise formula and layout will be specific to your situation, but here are a few home office design ideas to keep in mind:
Storage for books, hard copy files, and office supplies
Desk space for multiple computer screens
Printer and paper storage
A conference table for laying out ideas
Comfortable seating
Natural light
Extra seating or couch
A separate entrance for clients
Built-in bookcases
AV/stereo equipment with built-in speakers
Small refrigerator, especially if the office is far from the kitchen
Recessed tv screen/monitor for conference calls
Examples
Whether you are looking to create space for a corporate job, a study room, or command center for keeping the family organized, there is a space and a design for that. See the descriptions below each example.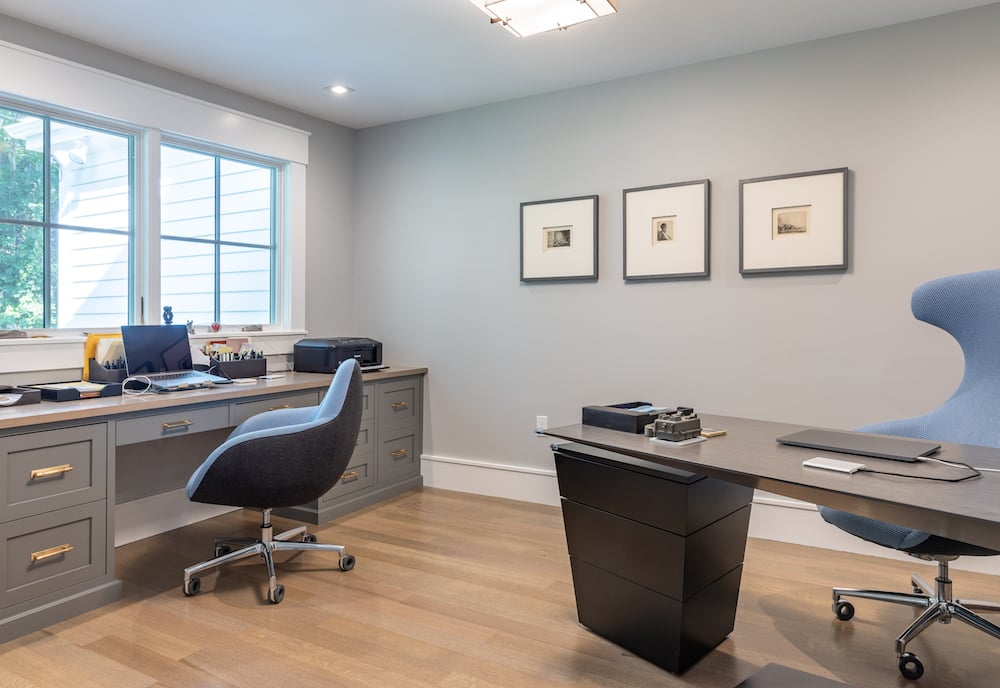 His and her office – she wanted a built in with file drawers and he wanted to keep his modern free-standing desk. It works beautifully as they co-exist in this shared office.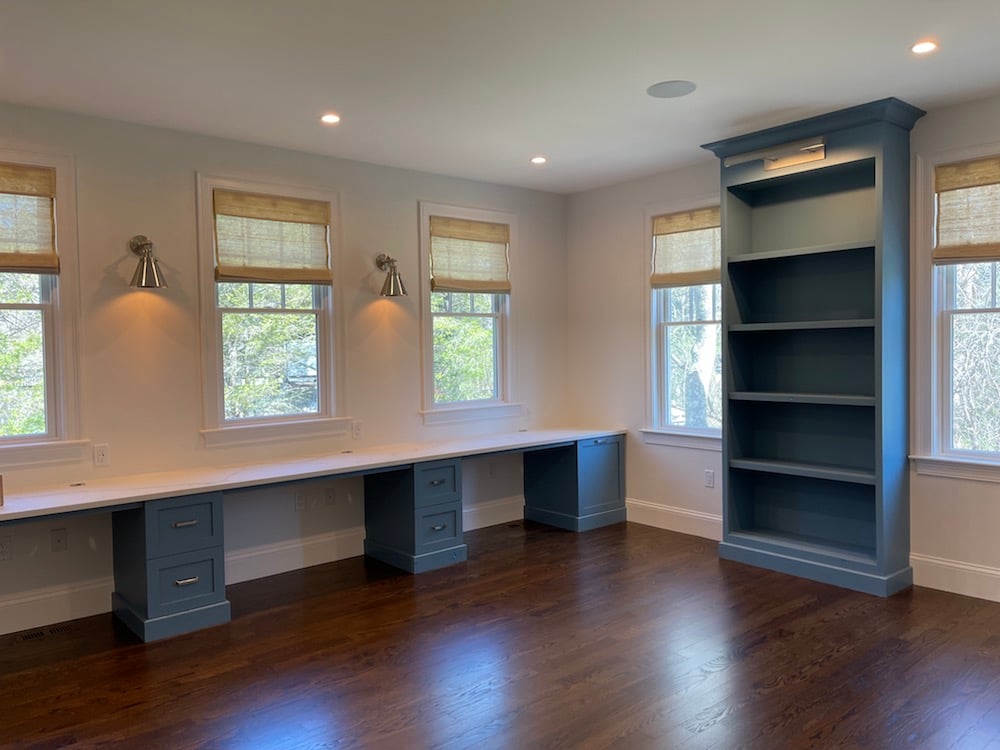 Above is a homework room with file drawers for each station and a pull out for the printer and printer paper. The space has lots of light and room for a reading sofa and comfy chairs.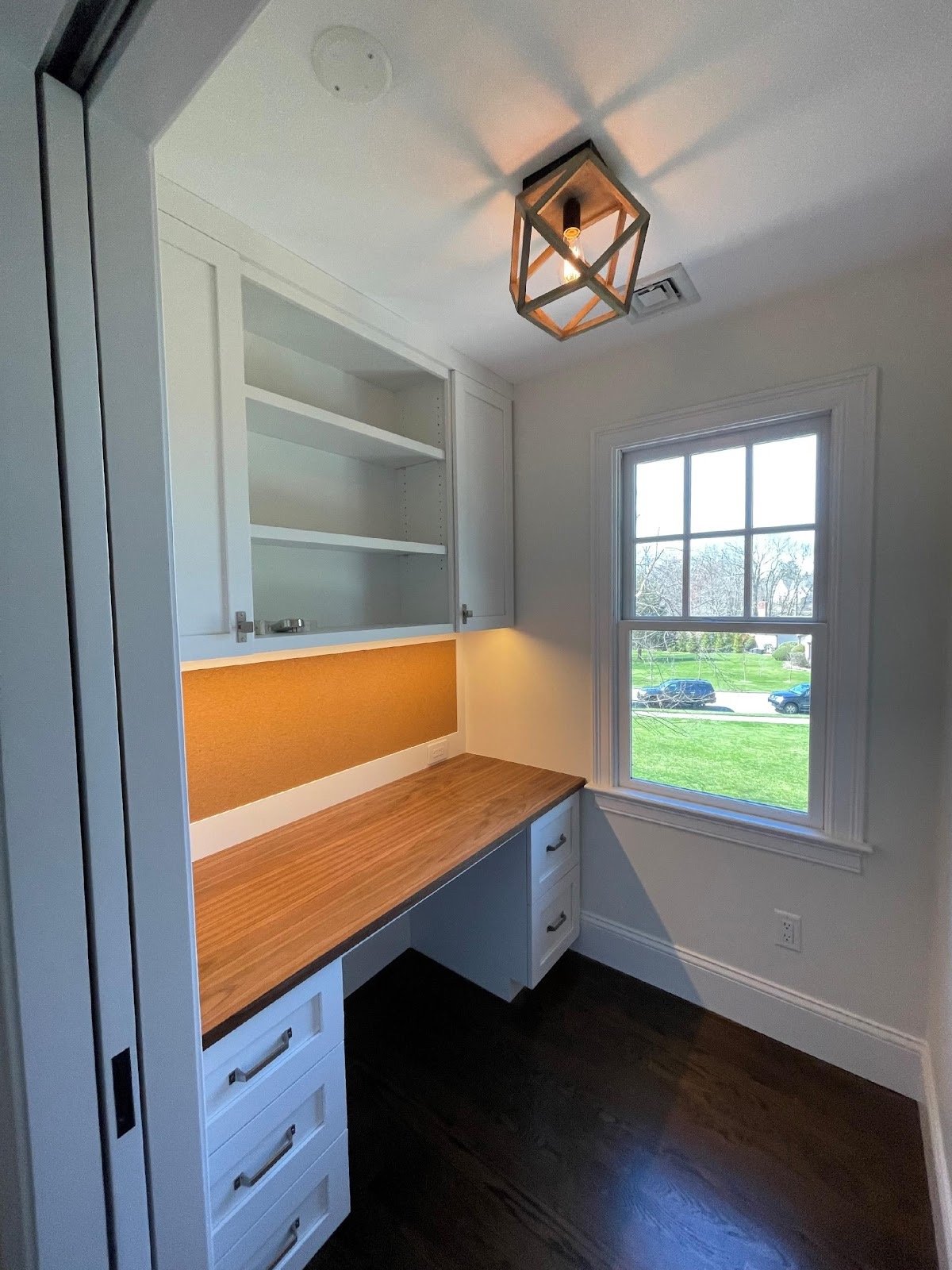 This former laundry was transformed into a command center for a busy mom, complete with a bulletin board above the desk. The French pocket door lets light in and saves space.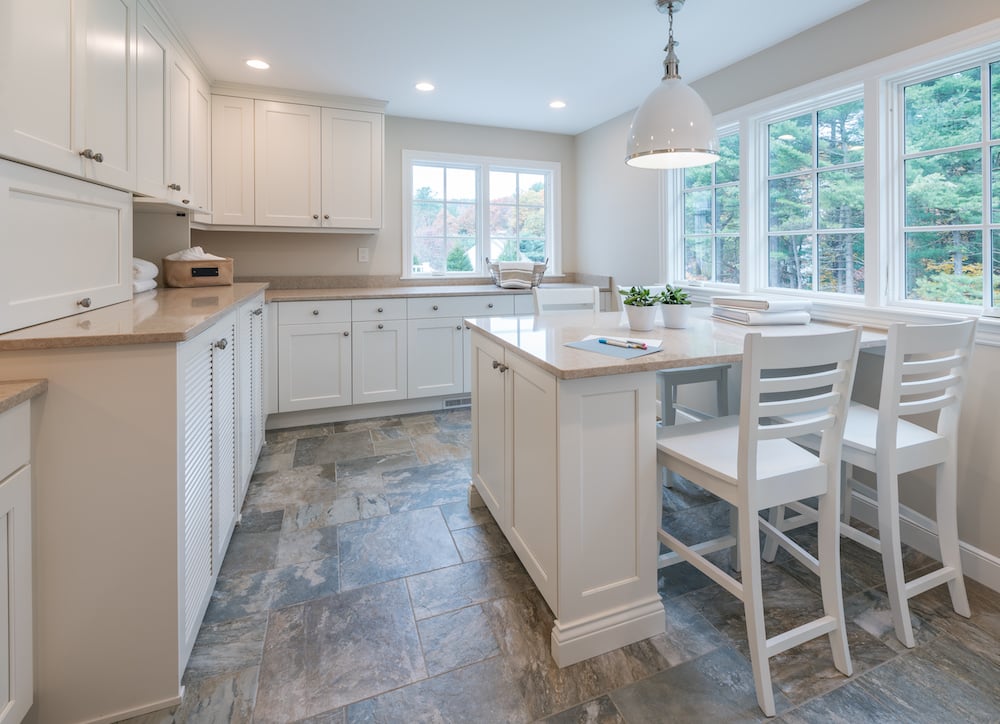 What had been an old screened porch was turned into a multi-purpose room for laundry, crafts, and a home office. Lots of storage and natural light makes this space inviting and a pleasure to work in.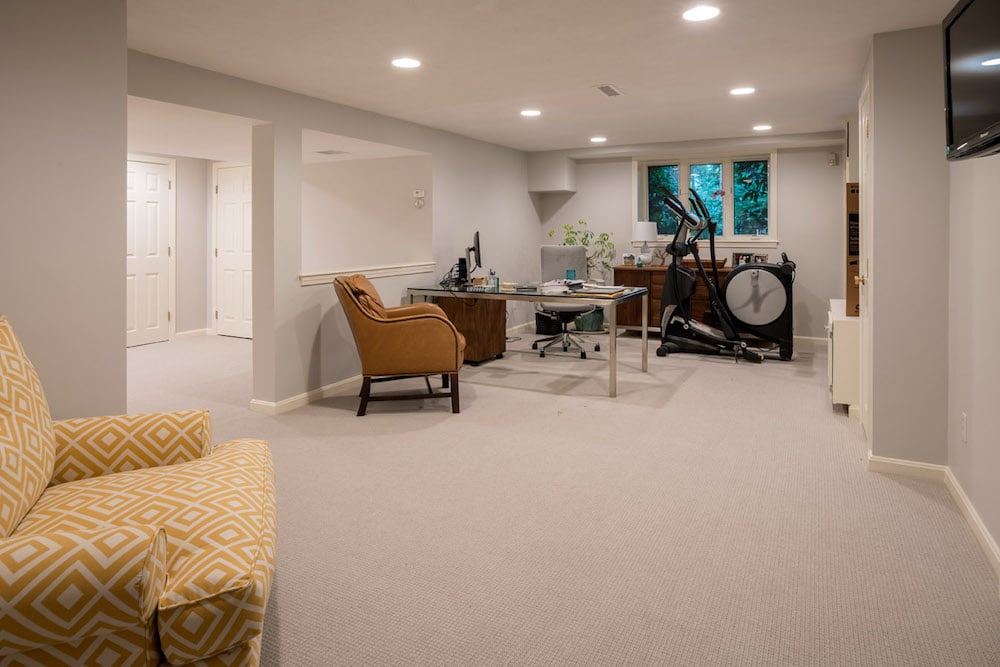 Make the most of your basement space. Here a corner was taken for the home office for a working parent. A large window provides natural light in a room away from the distractions of the main floor.
The Home Office Evolution
Office space is no longer on the list of "would be nice to have" but a necessity as you work from home.
There are many ways to find the room and create the ideal space for your home office. You can renovate existing space or create an office as part of building an addition to your home. With the right ideas and a solid plan, working from home can be both productive and enjoyable.
Mitchell Construction has designers who are specialists at creating the unique and beautiful home office designs. Schedule a home renovation discovery session to learn how an office space, or other special new room can enable you and your family to enjoy your home for many years to come.
To learn more about the home renovation design process, please read our ebook, "Expert Design Tips to Improve Your Home's Form and Function."