The most exciting part of a home renovation or new home construction for many people is to put on those finishing touches. When you are choosing the interior paint colors, you are near the final stretch. The challenge — you are faced with so many choices. How will you determine the best paint colors for the interior of your home? Tiny paint swatches are a start, but it's hard to extrapolate from there to know whether you will love a whole wall or room in that color.
To choose the best interior paint colors for your home, you'll want to understand some basic principles of color. This will give you the tools to work with as you partner with a designer or paint expert on planning the colors that best suit you and your home.
Where to find inspiration for interior paint colors
Your first step should be just to explore. What colors are you drawn to? Maybe you remember the color of a friend's dining room at that dinner party last year. Or maybe it's a color that reminds you of how the sun hit the water on that walk along Crane Beach in Ipswich.
Where do you go to match your own memories and ideas with the colors paint companies produce? There are some great resources from Benjamin Moore and Sherman Williams that help you navigate color choices and start to imagine what they will look like in the space.
Using these online tools, you can search for a color and then virtually paint a room in that color. What will it look like covering an entire wall? While exploring colors online is a great first step, you will then want to explore them in real life. You can go from smaller swatches to larger peel and stick swatches. When you've narrowed things down to a handful of options, you could purchase small quantities of the color to experiment with.
The color wheel below is a start at exploring the colors and shades that speak to you. From there you have a near endless variety to choose from. With the right tools, you can narrow down those choices and begin to see the rooms as they will look with the colors you are considering.
Thinking of paint color in terms of style
What are some pathways beyond the color wheel? It's often easier to think of a color palette in terms of a style that you are going for. Here is a list of styles that evoke certain colors. You can probably think of other style categories as well.
Many paint company web sites are searchable by themes:
Tropical
Retro
Coastal casual
Cozy cabin
English traditional
Mediterranean
Nursery
Boho
Mid-century modern
You also want to consider things like how the color will interact with other furnishings in the room. If you have artwork you want to highlight, you might choose a more subtle paint color. If you want to have an accent wall, you would choose a more vibrant paint color.
The psychology of color
Beyond color being a matter of taste, there is the psychology of color. Colors can affect and even change the mood of people experiencing a space. Having a basic understanding of these concepts will help you set the right tone with the paint colors you choose for the rooms of your home.
Saturation, purity, and brightness of a color can affect mood. For instance, shades of blue can be good for restfulness and feelings of safety and calm. But a bright cobalt blue will not have the same effect as a soft, grayish ocean blue.
Bright warm colors in yellows, oranges, and pinks can brighten your mood, cheering you up like the sun's rays.
The mood color wheel below will give you a sense of what to expect from different hues and shades of color:
Other factors in choosing interior paint colors
There are other factors that make a difference in how you experience the paint colors in your home. Here are a few of them:
Sheen
The finish or sheen of the paint is an important consideration. Your designer or paint specialist can review sheens and proprietary formulas paint manufacturers develop to solve specific problems. For example, Benjamin Moore has Aura Bath & Spa, a special formula that helps control streaking and moisture in bathrooms. Here are a few tips on what sheen is right for specific surfaces in your home.
Flat/Matte: Dull sheen, good for ceilings where you don't want attention drawn.
Eggshell: Subtle sheen that is washable. Eggshell is a good sheen for walls.
Pearl: More sheen than eggshell, can be used on wall and trim.
Satin: This is a sheen between pearl and semi-gloss that is shiny, but not as reflective as semi-gloss.
Semi-gloss: This is the standard sheen for trim work. It gives a nice gloss that showcases millwork, but isn't on a large surface that would be too reflective.
Light
The way light interacts with color throughout the daylight hours and with artificial light is important to take note of. Lighting design around how a space is used — ambient lighting, task lighting, general lighting — will impact how paint color is experienced in the space.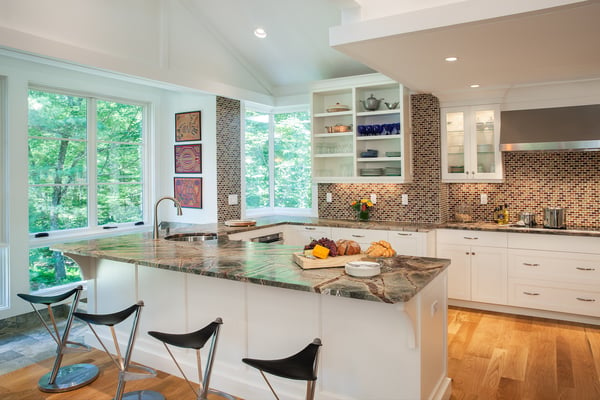 Light affects the room and reflects off of walls and objects. One needs to consider the layers of lighting used in the space along with the placement and the type of light fixture — clear shade , fabric shade, no shade. You also want to consider the type of bulbs used in the fixture, including the color rendition index, the lumens, and the brightness. Are dimmer switches installed? As much as possible, look at color in the different lighting that will be used in the space.
Here is a good example of what color can do: If you have a space where you use a dark paint color, lamp light will reflect, bouncing off the walls.
Paint trends
Colors inspired by a landscape, a season, or weather are always on trend. Bold bright colors, like a Tuscan sunset, are popular right now, as well as softer, soothing, spa-like palettes.
Sometimes homeowners are afraid to make a statement with color. Or maybe you don't want to go overboard making too many statements. There are ways to express yourself, like in smaller spaces like a bathroom, laundry, or basement. Dining rooms are another place where bolder choices can really pay off. Finding a designer or paint specialist can really make a difference in helping you navigate what spaces are best for, well, showing your true colors.
Interior paint color examples
Here are a few examples of how our designers have helped clients navigate interior color choices over the past several years.
Example 1
In this kitchen, neutral gray cabinets and walls allow the fire engine red of the range and chairs to really pop, lifting moods and adding whimsy to the space.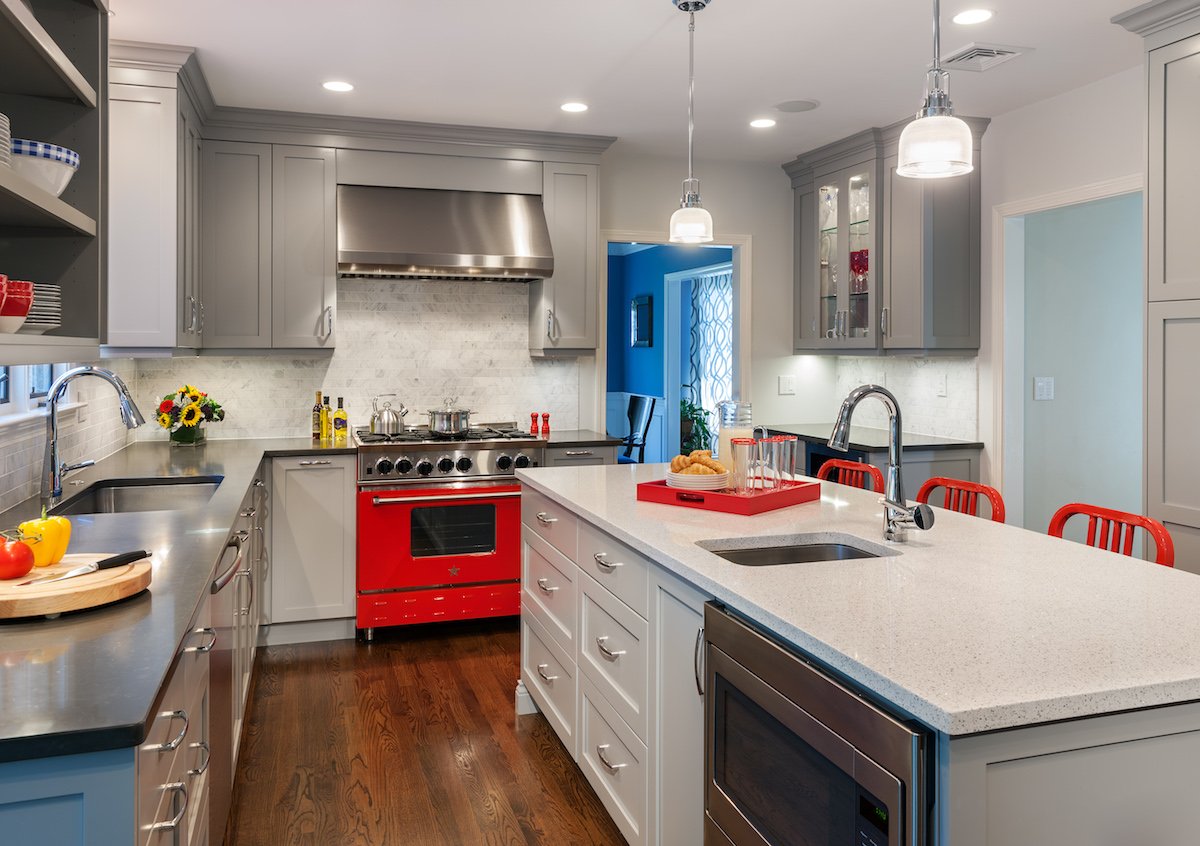 Example 2
Using navy blue on the cabinets provides a nice contrast to the gray walls and allows a nice compliment to the red accents in the room. The room has some color, yet the navy blue evokes calm and trust.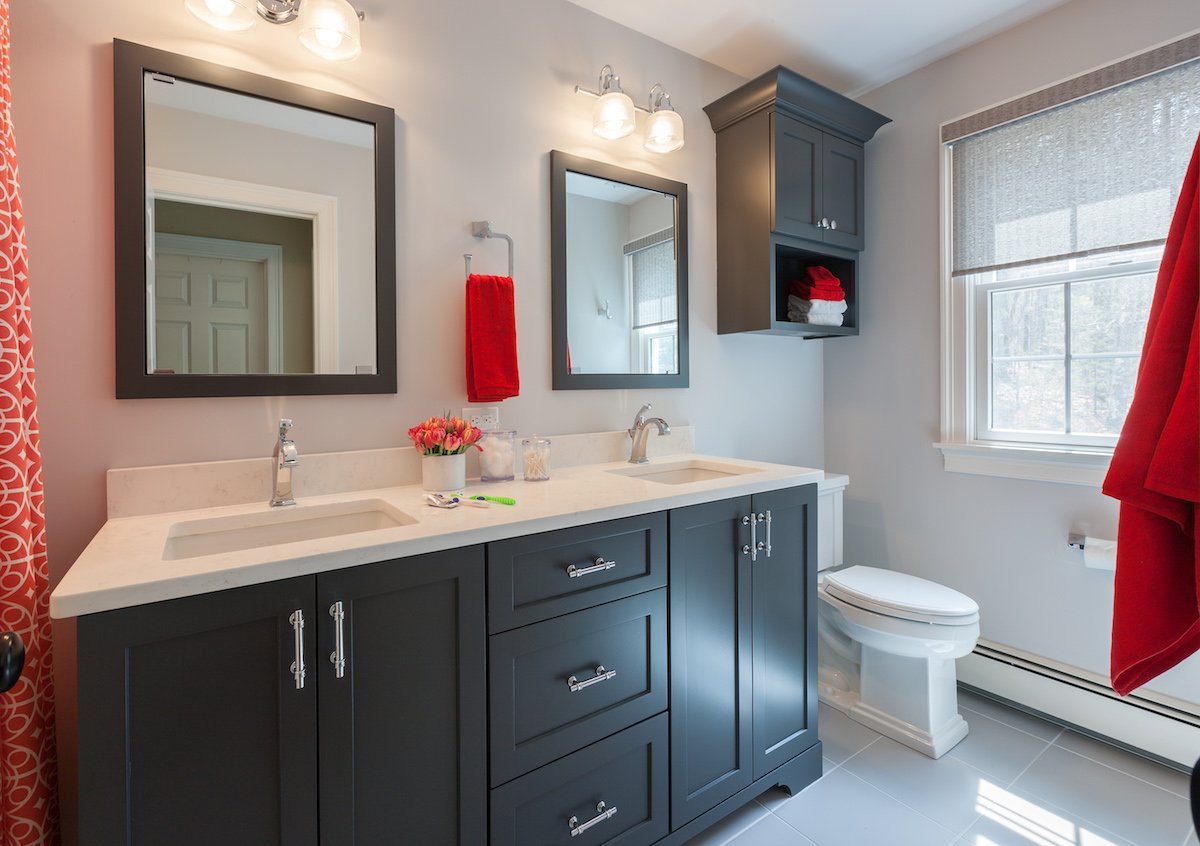 Example 3
Not anyone's favorite room in the house, this laundry room skylight surrounded by the sense of blue skies or ocean views makes it more inviting than most.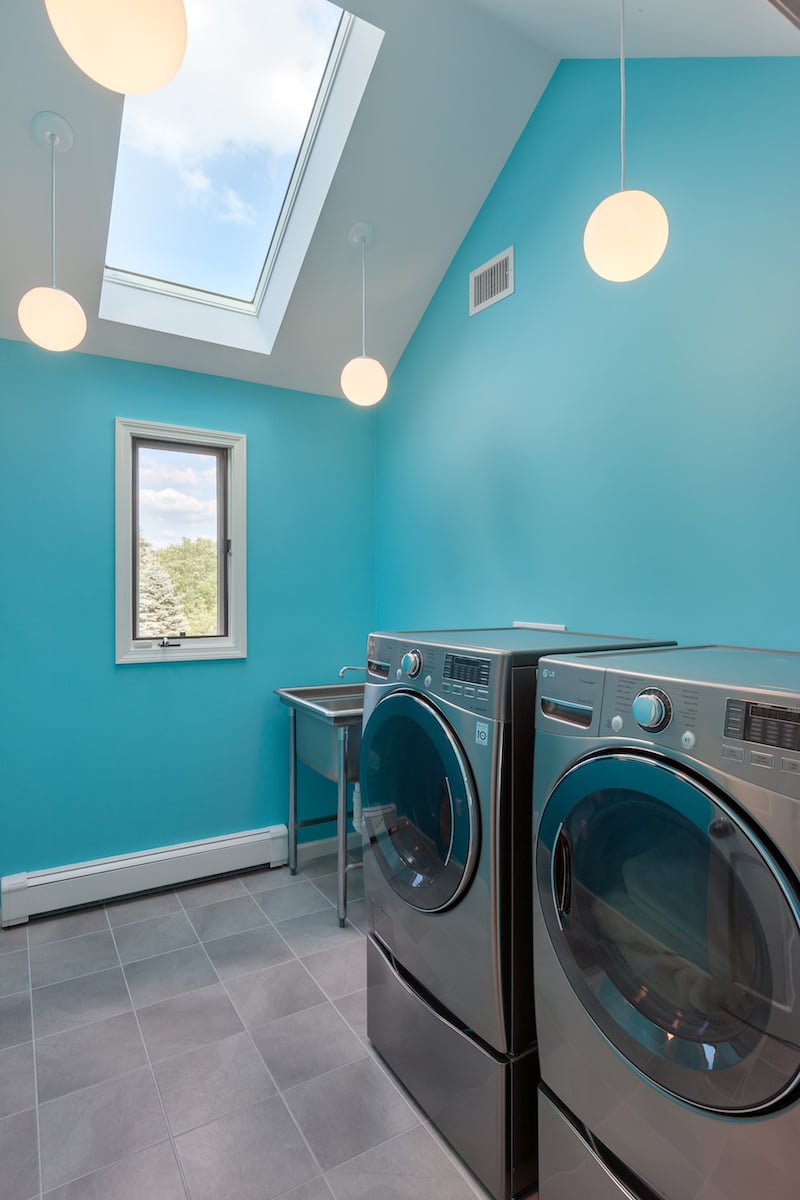 Example 4
The soft blue-green against pale grays and white in this bathroom provide a calm, spa-like experience.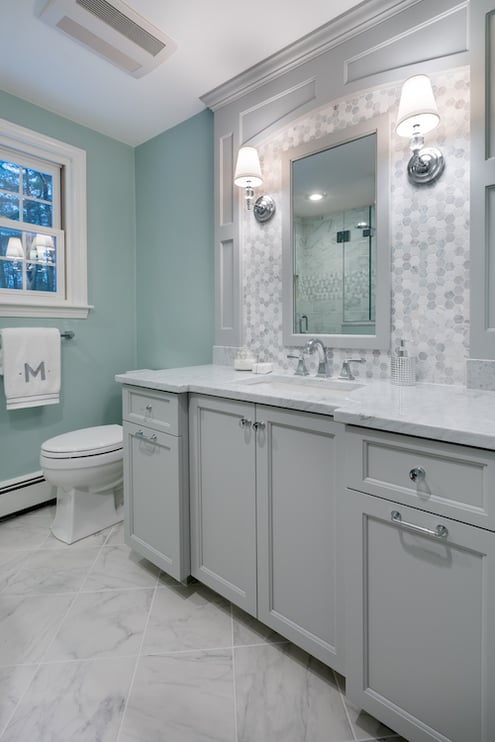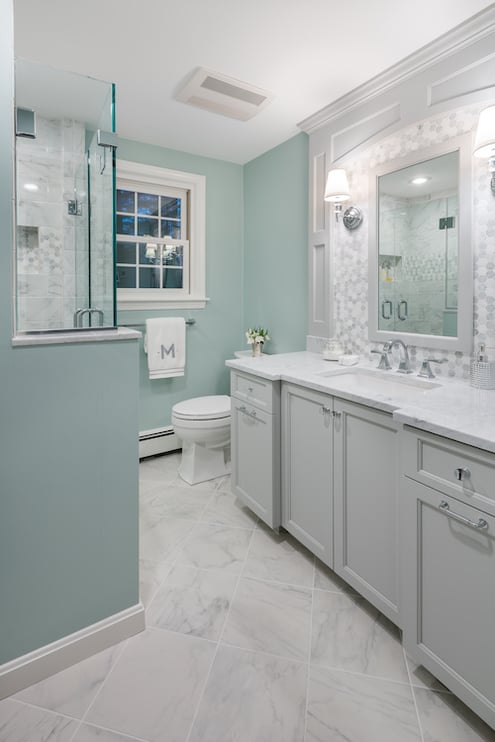 How to get the best interior paint color results
Hiring a designer who knows color can be a big help in navigating the vastness of choices you have. But the best advice anyone can give you is to select what makes you happy. You want to walk into a room in your home and be happy.
With the right tools in hand, from online color and palette searches, to understanding factors from the psychology of color to how sheen and light impact color, you can make informed decisions. This is your home. Making intelligent choices from the start will allow you to enjoy the space you have created for years to come.
To learn more about the home renovation design process, please read our eBook, "Expert Design Tips to Improve Your Home's Form and Function." And if you are ready to speak about your next renovation, please schedule a home renovation discovery session.