The kitchen is the central hub, the heart, of almost every home. Even people who aren't especially fond of cooking use their kitchens for a multitude of activities – whether it's having a morning coffee, making snacks, helping with homework – whatever it is, people love to hang out in kitchens.
Unfortunately, many kitchens are poorly designed, with inefficient and too little storage, disruptive traffic flows, awkwardly-placed appliances, and a host of other issues that make a kitchen less than optimal. This is why the kitchen is one of the most popular targets for remodeling in houses of every size and style. It's one of those projects that easily lends itself to creativity, thoughtful design, and the chance to make a statement about your home and lifestyle. Whether your kitchen is old and lacks modern functionality or just looks tired and dated, this is your chance to make it truly yours by adding the elements, colors, storage, and capabilities you really want and need.
In general, good kitchen design boils down to several core dynamics:
Storage and counter space: what kind of space do you really need and use and where is it located?
Traffic patterns: how do you move throughout the kitchen when you're doing different tasks?
Lighting: how well are things lit for working and entertaining in the kitchen?
Workflow: where do most activities take place and why?
Room relationships: what areas border the kitchen and how do those spaces interact?
In this post, we'll discuss these key dynamics and ways you can minimize any negatives and maximize the functionality and positive attributes of your dream kitchen.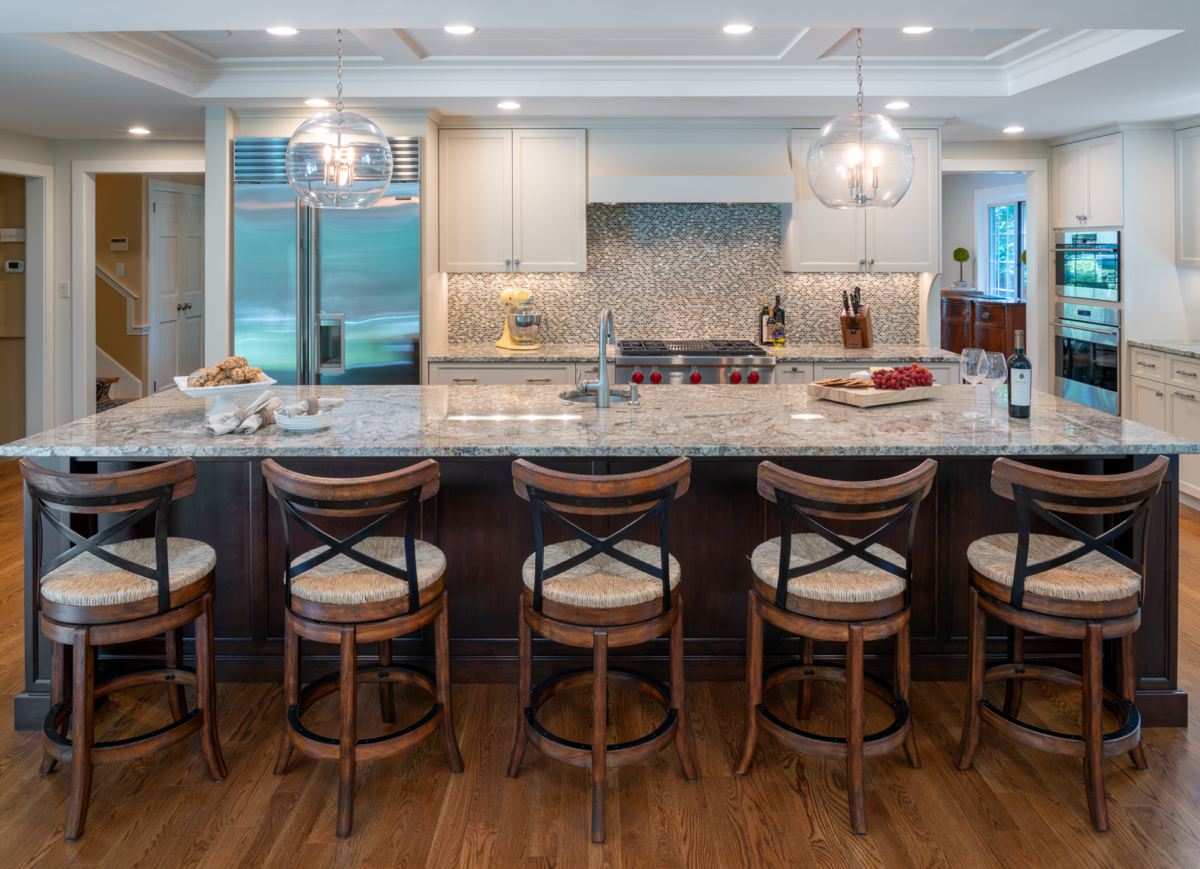 The 13 kitchen remodeling elements that improve flow, beauty and functionality:
1) Storage: Modern kitchens can take full advantage of new storage designs offering improved functionality that eliminate a lot of formerly dead space: roll-out shelves, better utensil drawers, pull-down storage, and fold-out spice racks, to name a few. By working with a professional designer you'll be exposed to a lot more options that will enable you to maximize your storage space and clear your countertops. Take this into consideration with your kitchen remodeling.
2) Counter space: Whoever heard of too much counter space? It seems there's never enough room for all the food prep and clean-up that needs to get done. It's important to consider how you like to do things and in what order – this will help in planning counter size and placement. For example, having space on both sides of the cooktop provides much greater flexibility for working with raw ingredients and finished dishes.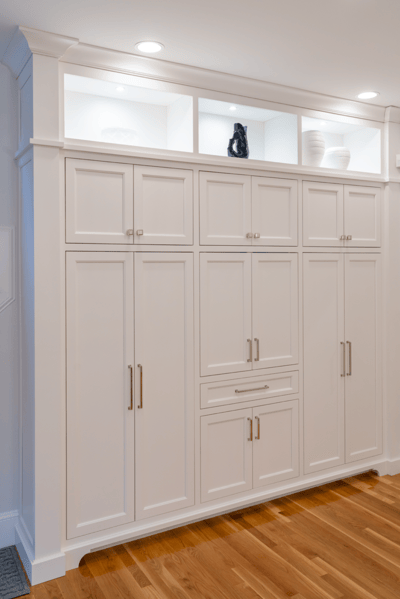 3) Workflow: Every kitchen – regardless of size, style, and layout – has what we call the "working triangle." That's the sink, refrigerator, and stove and they need to be within reasonable distance of each other with the most efficient path possible between them. This dynamic can be affected by a number of additional influences, such as multiple cooks or kitchen helpers and any tasks that need to be carried out simultaneously.
4) General flow: These are the various pathways that can affect kitchen efficiency as individuals move into, through, and out of the kitchen to various adjacent rooms and hallways. This kind of traffic can be very disruptive if it interferes with regular kitchen tasks. By reorienting counters, islands, and other work areas, this kind of interference can be minimized or even eliminated for a much more pleasant kitchen experience.
5) Beauty: Many, if not most, people aren't thrilled with their kitchens. They may have bought a home with a kitchen that really didn't meet their needs. Or perhaps they even had their kitchen built for them in a new home but didn't pay close attention to how it was designed – only to discover its shortcomings once they started to actually use it. Regardless of the reason for their discontent, remodeling provides an opportunity to right any wrongs. For example, updating cabinetry with a more timeless design can help avoid having it quickly look outdated. Close attention to details such as wood type, color, textures, hardware, and finishes will result in richer-looking, more attractive cabinetry. The same goes for countertops, which can be enhanced by colorful or contrasting backsplashes and other touches that can lend personality and a unique character to any kitchen.
A great designer can help you match your kitchen to your lifestyle and tastes while optimizing it for resale. Note that great craftsmanship can make most products look even better, but bad craftsmanship can make even the finest products look terrible.
6) Open floor plans: Even large kitchens can feel confining if the sight lines don't work or spaces are too broken up or walled off. You don't want space that is boxed in – think about seeing the family room TV from your kitchen work space, or your patio or deck from the cooktop. Older homes often closed off kitchens intentionally, putting them behind closed doors that only opened to bring food out, keeping distracting kitchen activities out of sight until everything was ready.
Today, kitchens are the center of activity, a showplace for socializing while dinner's being prepared. It helps to have spaces that integrate seamlessly, such as transitioning from kitchen space to sitting areas – whether it's for eating or entertainment, or both. To avoid creating a warehouse feel to your open spaces, consider visual boundaries, such as different flooring and wall colors or textures to define different areas without creating physical barriers.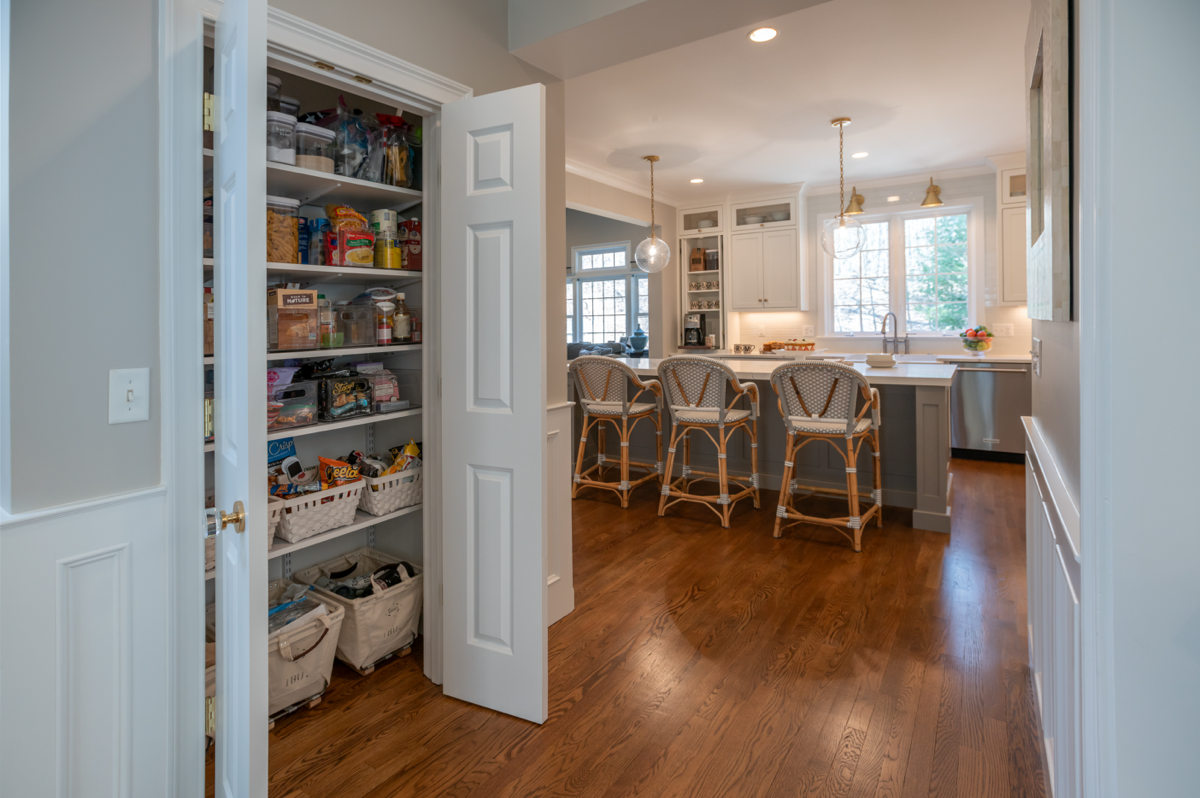 7) Specialty spaces: Today's kitchens offer more options for versatility and flexibility –
Pantries to keep staples and other supplies stored out of the way but easily accessible
wet bars to make entertaining more convenient and keep cocktail traffic out of the way of kitchen tasks
coffee stations with storage space for mugs and utensils, condiment drawers, perhaps built-in plumbing and connections for coffee machines and microwaves
islands with seating for homework and casual meals; islands can even be designed to house a lot of the main kitchen functions, such as sinks and cooking elements, even a dishwasher
communications centers with various ports and outlets for devices and space for working; storage for mail, homework, chargers, and other tools can help keep things organized and out of sight
Specialized storage such as a KitchenAid® mixer cabinet to hold your stand mixer and accessories, a baking cabinet with ingredient bins and storage for utensils, even "miracle" cabinets that seem to pull out of nowhere to provide even more useable storage
8) Seating: Until relatively recently nobody sat in the kitchen, except maybe for a quick breakfast or cup of coffee at a tiny kitchen table off to one side. Now everyone wants to sit in the kitchen and the options are almost endless: banquette (built-in) seating and breakfast nooks, island or peninsula countertop seating, high-top tables with bar-stool seating – many options that enable you to match the type of seating to the functionality of your kitchen.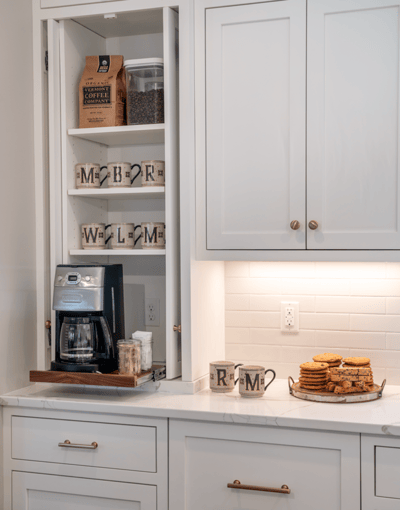 9) Multi-person functionality Do you and your significant other like to cook together? With a little creative designing the classic "working triangle" can be expanded to accommodate options such as two sinks, two stove tops, and access to countertops and workspaces that will enable two to work side-by-side or across the kitchen without cramping each other's style.
10) Upgraded appliances: Appliances are now available in a bewildering array of choices and multiple functions to provide previously-unavailable options. Stoves with convection steam ovens and built-in air fryers may enable you to replace several appliances with a single multi-purpose one. Smart refrigerators that track food expirations, under-counter coolers, combination beverage/wine refrigerators – so many choices. There are even more options in ranges – besides the usual gas or electric elements there are now induction cooking surfaces that utilize special cookware and magnetic conduction so you can heat food and accidently touch the surface without burning your hand.
11) Lighting: The kind of lighting and fixtures you choose for your kitchen is absolutely critical for how well it will function and enhance your experience. Natural lighting, task lighting, accent lighting, and general lighting all play a role in making your kitchen safer, more efficient, and more beautiful. Options to dim, focus, switch, and move your lighting provide you with all kinds of opportunities to improve the look and use of your kitchen.
12) Specialty-cooking stations Do you have a specialty you like to indulge? Perhaps you're a baker, or love to cook Asian dishes – whatever your style, you can have a kitchen that caters to your whims. If you love to bake, consider work and storage space to accommodate all your ingredients, pans, trays, mixers, and utensils. If you love to cook Chinese, think about a built-in wok, custom storage for cleavers and knives, and special chopping surfaces to prep all those stir-fry ingredients. Love southern-fried food? How about built-in fryers?
13) Kitchen location Yes, location – your kitchen doesn't necessarily have to be where it is right now. If you're considering a major renovation to upgrade your home, think about moving your kitchen. Some older homes gave kitchens secondary status and placed them where it was convenient, not where they were most useful. If you like to entertain outside, but your kitchen isn't near the deck or patio, consider swapping space with another room to locate it closer to where you want to be. The optimal location for your kitchen is where you want it to be. Is an in-law apartment in your future? Think about adding a kitchenette. Finishing your basement? Dedicate some space for a sink, microwave, and refrigerator for more entertainment options.
The Mitchell Kitchen: A proven approach to creating the kitchen of your dreams, regardless of style and size.
Over the years, we have come to understand what really makes the ideal kitchen, ideal. Experience has shown us the mistakes that other contractors and their clients often make over and over again.
Regardless of style and size, the kitchens that offer the most utility and value while maintaining their beauty and efficiency have three fundamental characteristics: they are clean, fresh, and functional. These are features that have become the trademark of the Mitchell Construction Group and something other contractors simply identify as a "Mitchell Kitchen."
It's no surprise that kitchens are the most popular home remodeling project. It's the first thing you see when you wake up in the morning and where you spend the most time. There are lots of choices in kitchen design and it can be overwhelming. With the right professional kitchen design/build team on your side, you'll get the most value and life out of a properly remodeled kitchen, done right the first time.
To learn more about the home renovation process, please read our eBook, "The Homeowner's Guide to Creating the Dream Home You'll Love." And if you are ready to speak about your next renovation, please schedule a home renovation discovery session.