Kitchen makeovers are, far and away, one of the most popular home remodeling projects because they are often the heart of any home, where family and friends gather for a wide range of activities and events. Kitchens are dynamic spaces that provide almost endless opportunities for rethinking how they can be used and the features they can have.
Perhaps the biggest complaint we hear about kitchens is that they are too small. That's often because general contractors tend to build cookie-cutter, one-size-fits-all kitchens without too much thought because they're just one of the rooms they need to complete in a standard residence. As a result, efficiency, versatility, and even visual appeal can take a back seat to utility.
But it doesn't have to be that way.
Kitchen transformation: How you can have the kitchen of your dreams
There are a number of ways to transform a kitchen, regardless of the space available. This includes clever ways to better utilize confined spaces and trick the eye into thinking the kitchen is larger and more spacious than it is.
11 tips for improving the design, efficiency, and versatility of your kitchen without having to make it bigger:
1. Bring cabinets up to the ceiling
Increasing the height of your cabinets creates the illusion of added height to the room while increasing your storage space. Add glass doors and interior lights to provide a greater sense of depth and spaciousness.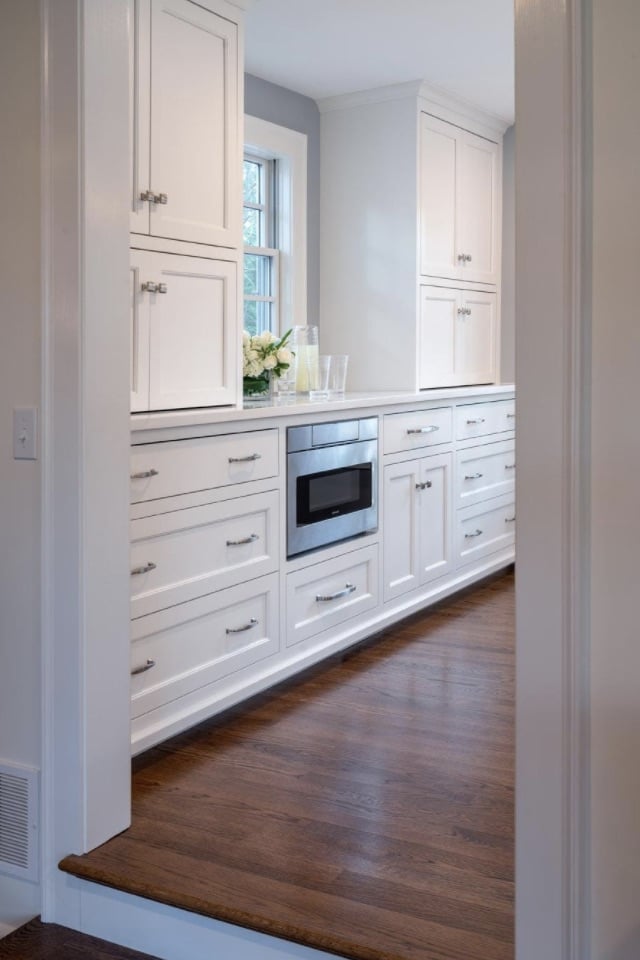 2. Create a more efficient layout
Move appliances to more useful locations and change their size, if necessary. Use advanced storage concept to make the most of available cabinet and drawer space. We take all aspects of daily kitchen life into our kitchen renovations.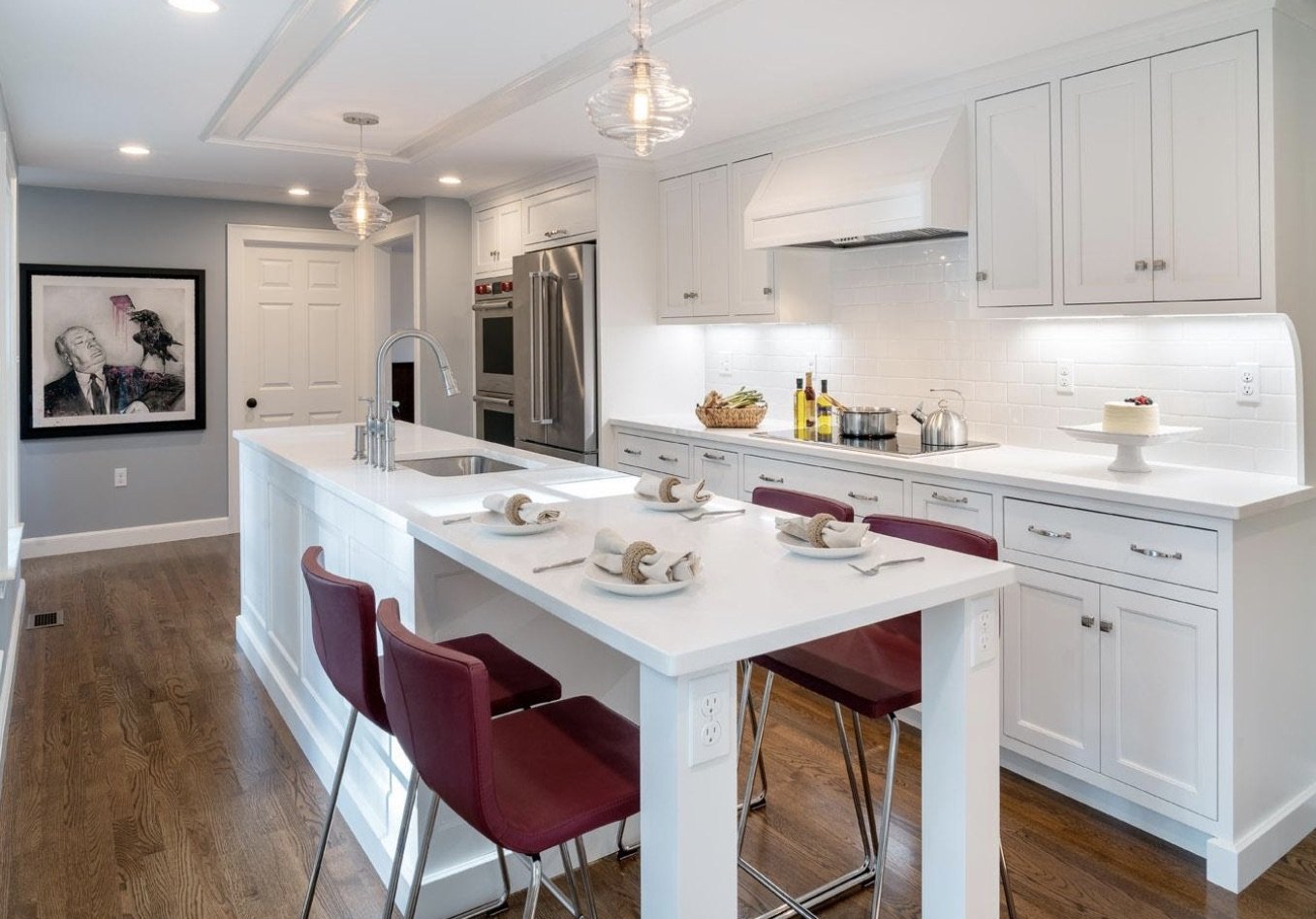 3. Bring in natural light
Enlarge or add windows, if possible, and change your window coverings to maximize the view and available light while providing for privacy and energy efficiency.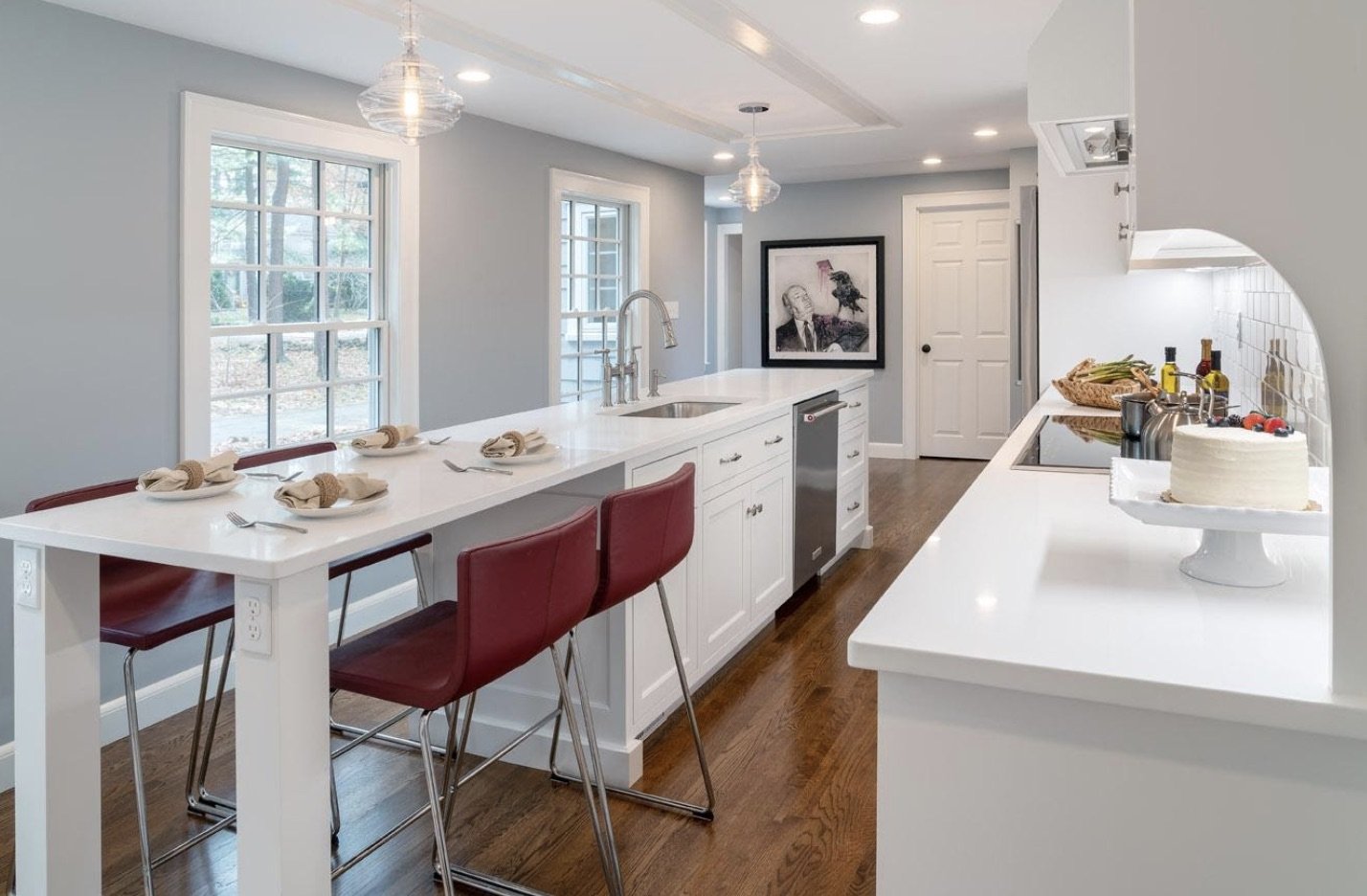 4. Switch to lighter, brighter colors
A brighter color scheme to make your kitchen feel larger and more airy.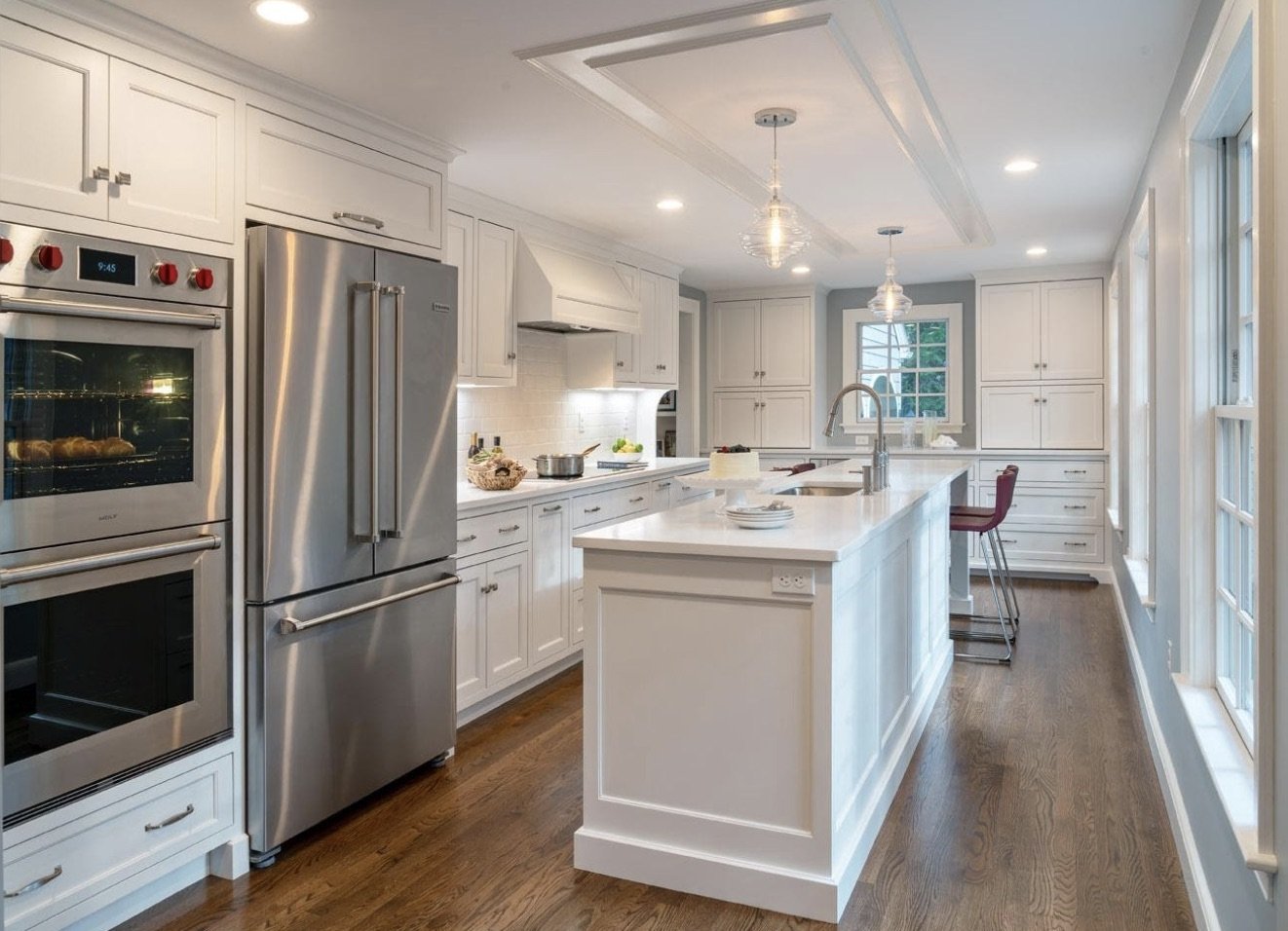 5. Add detail to the ceiling
If your kitchen ceiling is low, this can create visual interest and the appearance of a higher ceiling.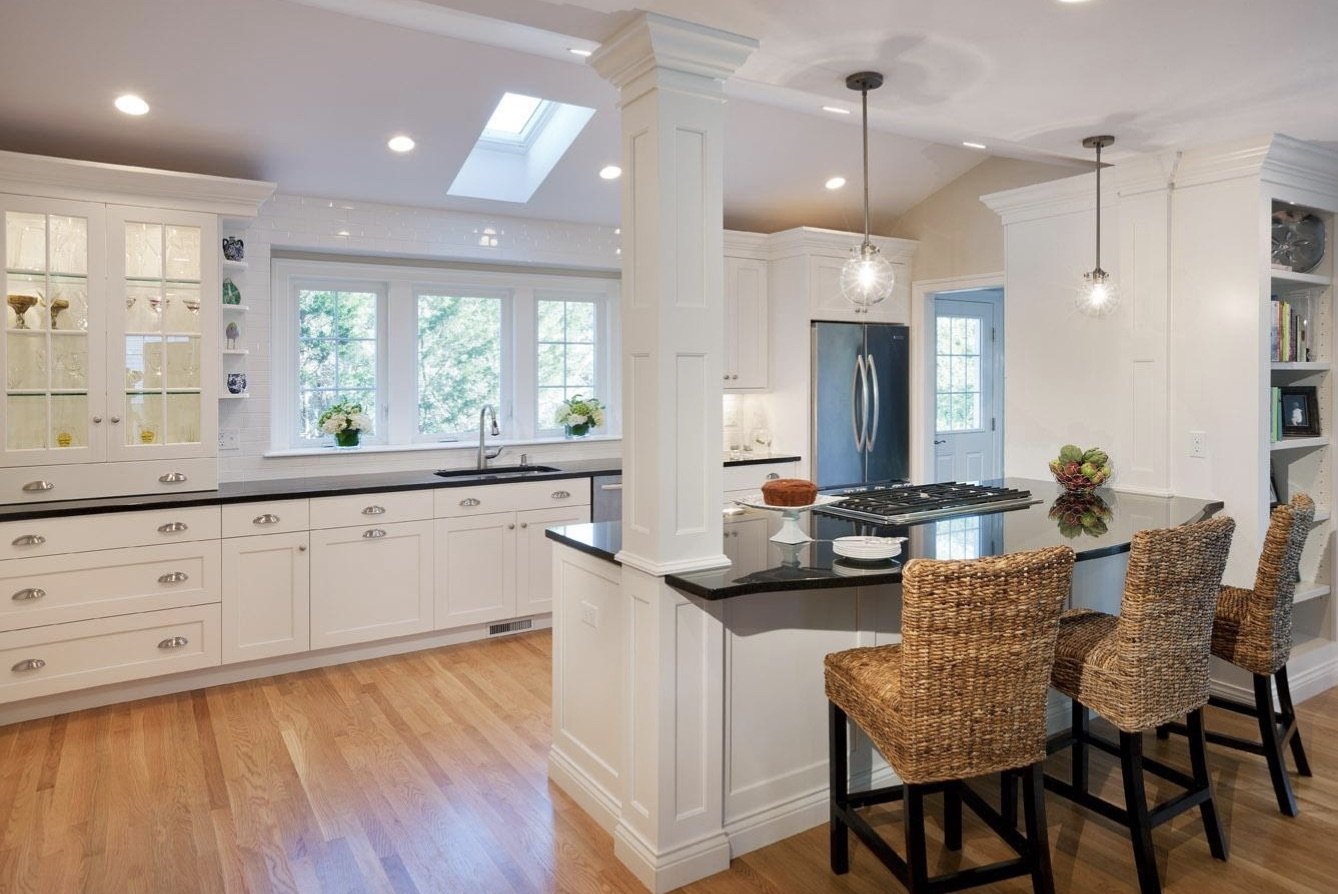 6. Add a square island
This can offer more efficient seating and storage. A square island accommodates more seats, eliminating the need for a kitchen table, while adding more under-island storage. Designing the island top to enable stools or chairs to be tucked away underneath saves more space.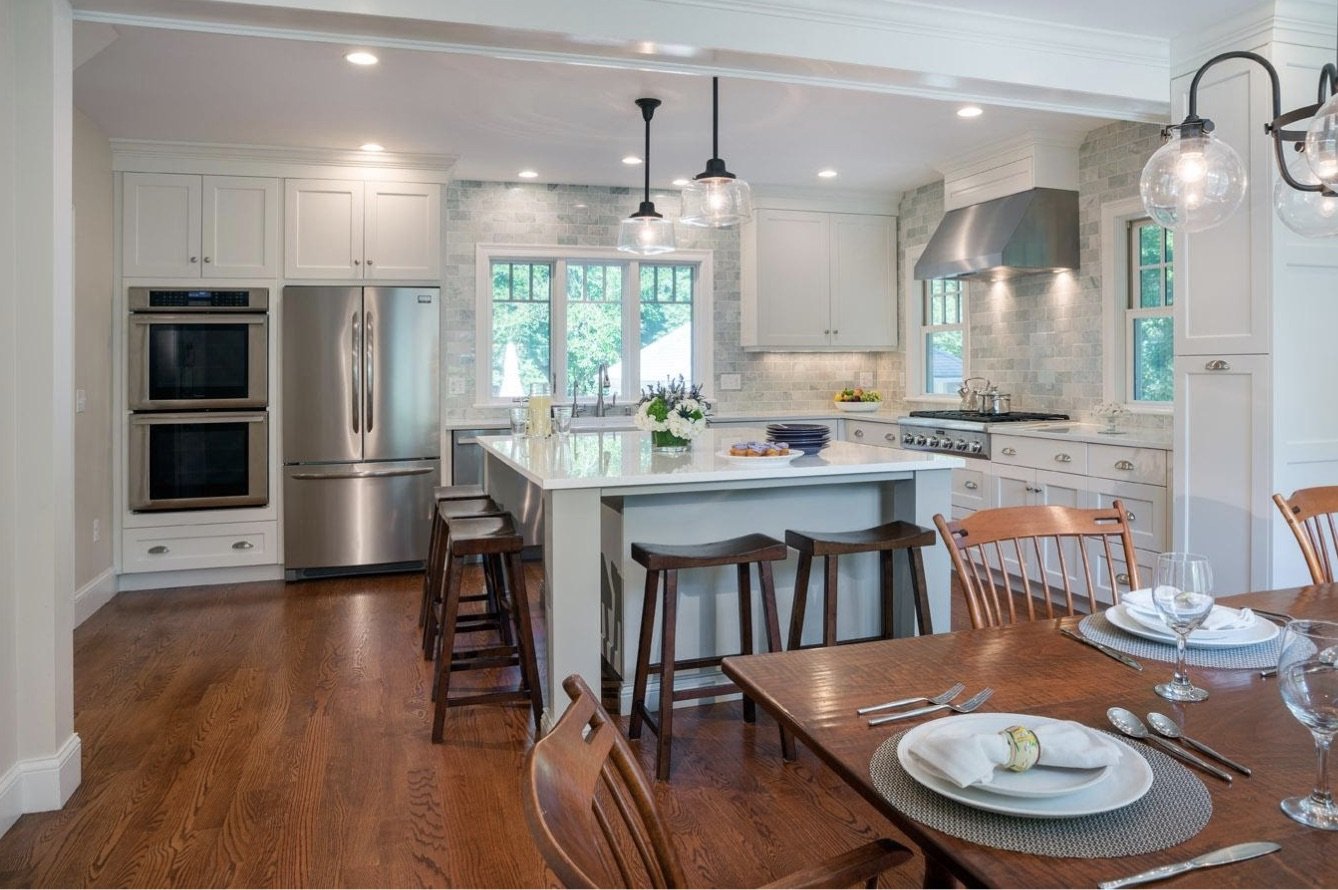 7. Convert to a cathedral ceiling
If architecturally possible, this can open the room up. Add a skylight to bring in more light and a view of the sky to create a sense of openness.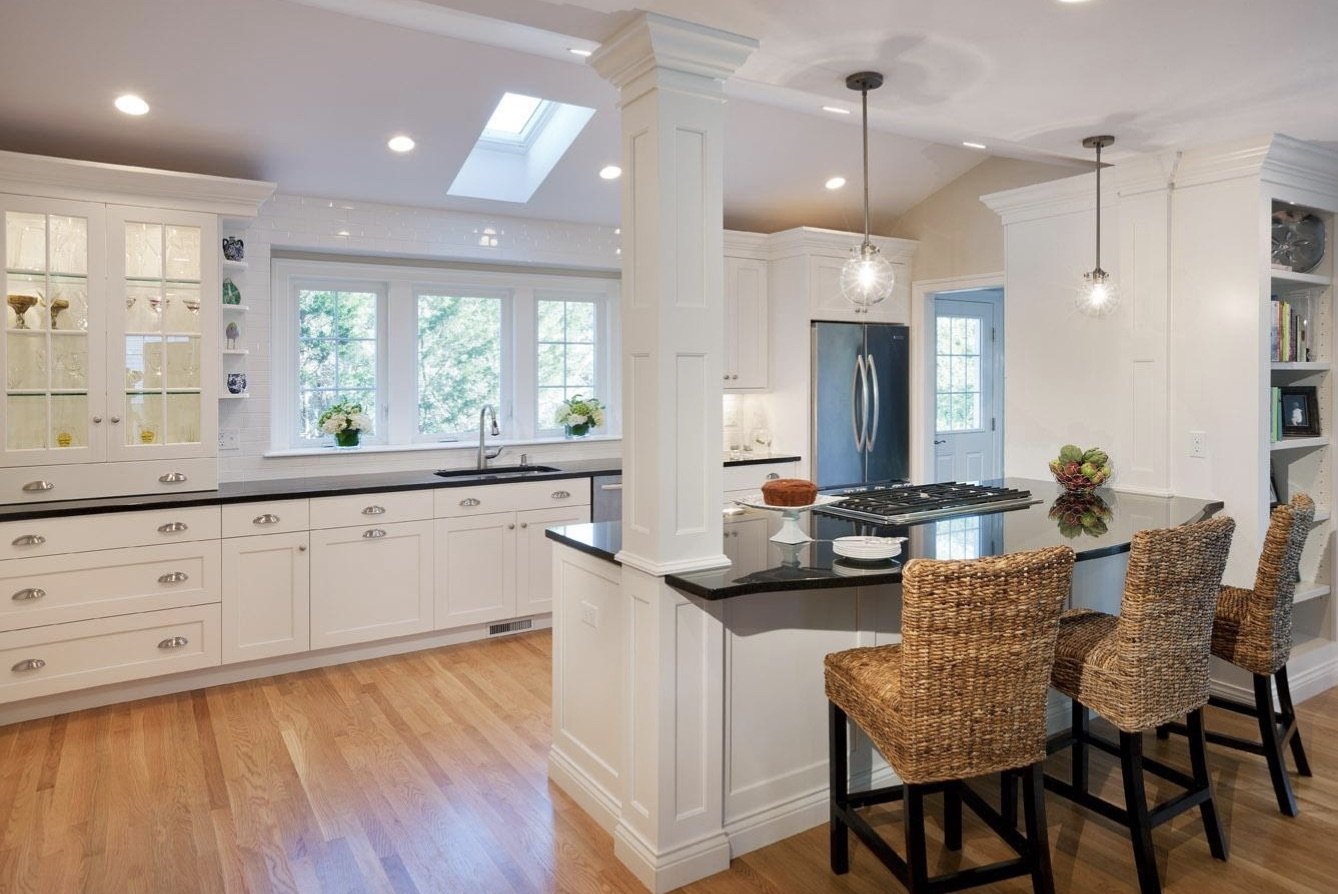 8. Use an extra-long island
This approach can create more under-counter storage if you lack wall space. Creating special island shapes enables more creative storage and other useful space to be added.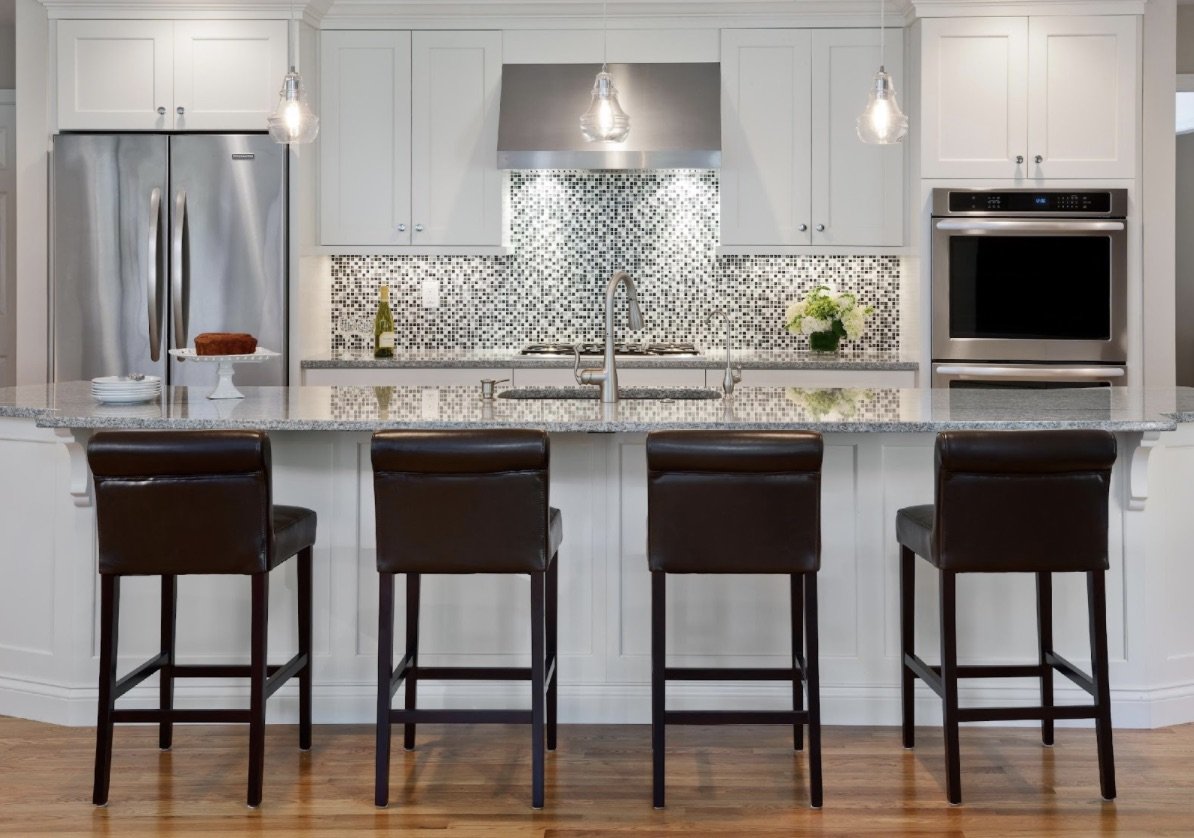 9. Employ ruthless efficiency
Take a hard look at your existing space and how it's used. Convert any unused or underused spaces or features into more effective storage or work areas.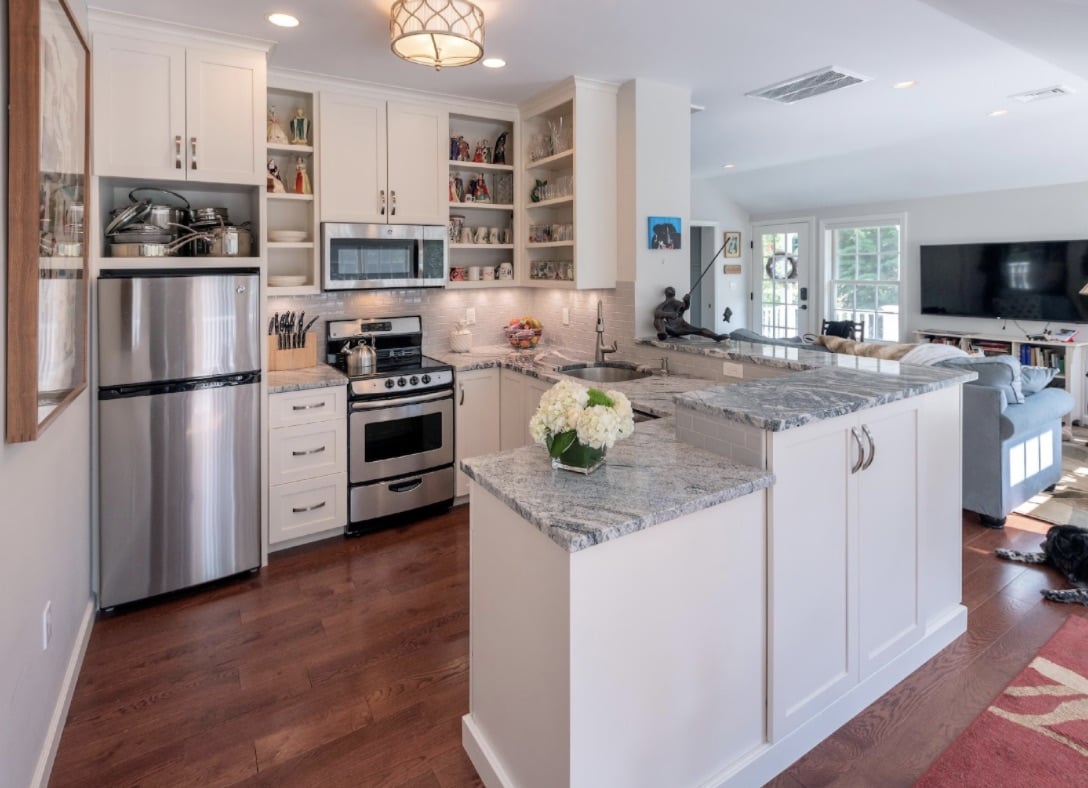 10. Move home office space elsewhere
Many well-intentioned tiny work areas with a seat, desktop, and office storage often go unused for that purpose and end up wasting valuable counter and kitchen storage space.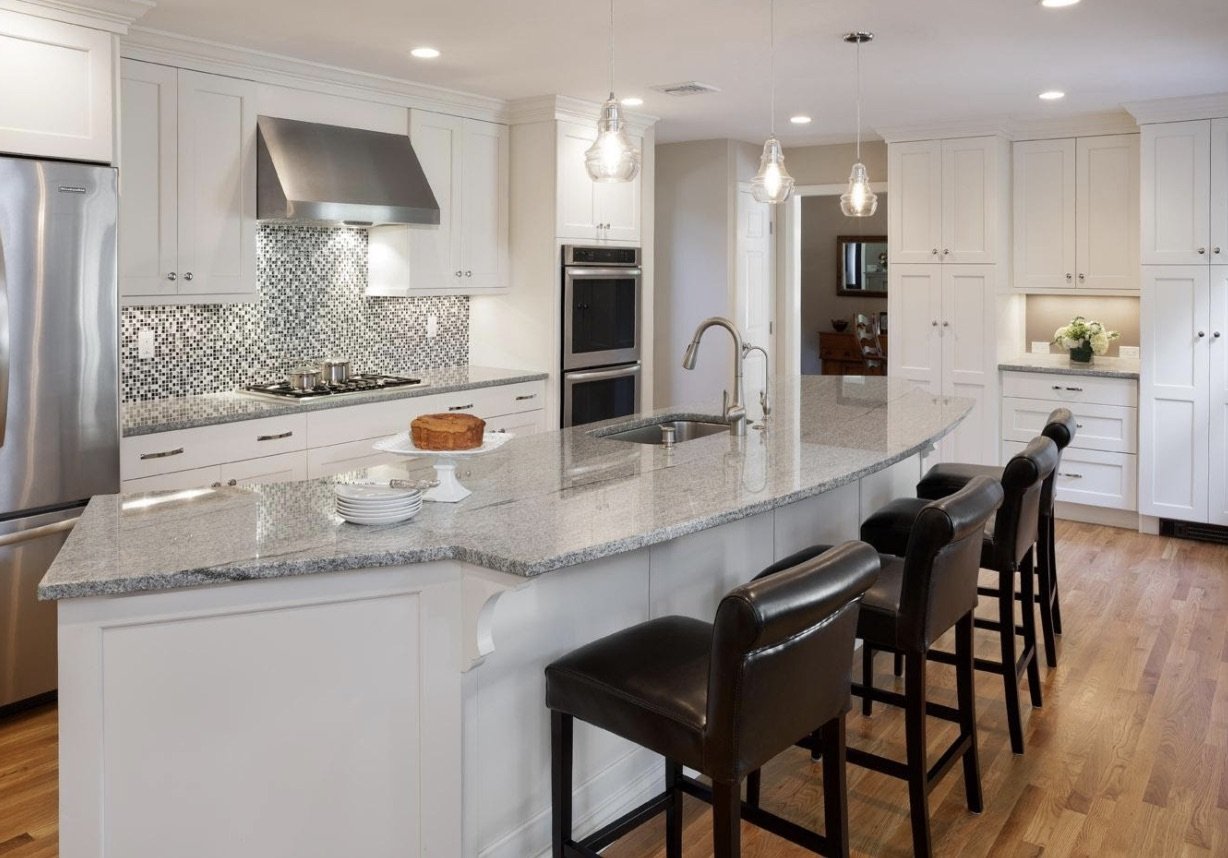 11. Clear off countertops
Nothing creates a sense of spaciousness like wide open counter tops. Create more efficient storage space such as a pantry closet and store all those plastic containers, occasionally-used small appliances, cookware, and bulk food items there.
The Kitchen Challenge: Making the most of your space
Chances are good that if you're considering a kitchen remodeling project, there's a specific problem or two that annoy you and need to be fixed. It may be that your kitchen is too small, too narrow, too inefficient, or too something. Whatever it is, we have ways to overcome those challenges and create a kitchen that is a joy to experience everyday.
Let's take a look at several relatively typical kitchen design problems and our solutions to them:
1. Narrow, restricted space
We reconfigured this narrow kitchen by add more length to it, removing a full bath and a large storage closet that chopped up the linear space. We took advantage of the now-longer kitchen by creating a skinny island with seating and storage underneath to augment the cabinets at the end of the kitchen and along one wall. We added molding to the ceiling to create visual interest and the illusion of a higher ceiling.
2. Separate, small kitchen and dining room
Tight kitchen space with a closed off dining room and center chimney made for two small, unfunctional spaces. We opened the rooms up, removed the chimney, added a large square island with seating for dining, added ceiling-high cabinets, and created a larger, more efficient space with a more natural, open flow.
3. Growing family needs more room
Lot restrictions required that this kitchen go up, not out. We put in a cathedral ceiling with skylight and triple windows to create an airier, more open space that lets in more light. A peninsula with cooktop and downdraft added seating and cooking space without losing area to an island. Glass front, lighted counter cabinets provide more storage and a sense of more space.
4. Open floor plan limits wall space
With limited wall and floor space available for cabinets, appliances and a table, we created an extra-long island with plenty of storage and seating, eliminating the need for a separate table. Cabinets go to the ceiling, adding additional storage and bringing the eye up to give the feeling of a much larger space.
5. Adding an in-law apartment
Creating an in-law apartment with a kitchen can be a real problem when there's not a lot of space available. Here we carved out the apartment from an old two-car garage and then down-sized everything for the kitchen to create a functional, comfortable kitchenette: mini refrigerator, dishwasher, sink, and range with combo hood and microwave. Tall wall cabinets added much-needed storage space while L-shaped counters defined the space, added privacy for kitchen chores, and created additional under-counter storage.
Summary: Making a Small Kitchen Feel Larger
Homeowners who have a small and dysfunctional kitchen often seek ways to make it bigger, more useful, and more enjoyable for their family. There are many options to increase the size of your kitchen but if zoning or budget constraints limit the available space, there are also many remodeling ideas that homeowners like you can implement – such as the ones presented here – that can significantly improve the functionality and efficiency of your kitchen without making it larger. Done right, your remodeling project will provide you with a kitchen you not only enjoy, but love, regardless of size.
To learn more about the home renovation design process, please read our eBook, "Expert Design Tips to Improve Your Home's Form and Function." And if you are ready to speak about your next renovation, please schedule a home renovation discovery session.