"What am I going to do with all this kitchen storage space?" said no one, ever. As a design/build construction firm with years of experience designing and building kitchens, one of the biggest concerns we've heard from homeowners is having enough usable kitchen storage space. But with a little thoughtful consideration, a new kitchen can be a marvel of modern efficiency and beauty, with just the right storage spaces in just the right places.
A place for everything, and everything in its place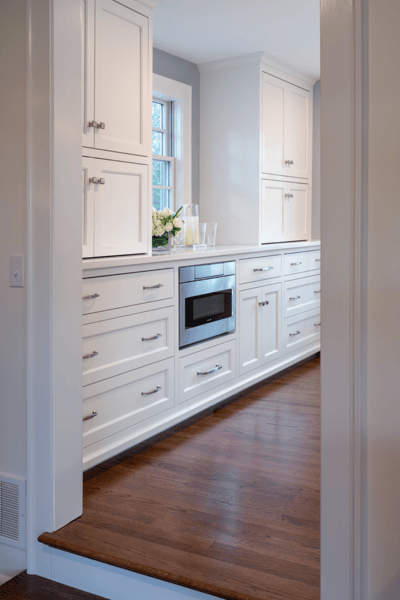 Today there are many more innovative storage options than was available just a few, short years ago. Roll-out shelves, improved corner cabinets (say goodbye to those inefficient "lazy susans"), pull-out oil-and-spice cabinets, hideaway slot storage, and much more.
The trick to figuring out what storage components to choose is to understand what you use in the kitchen and where. Spend some time thinking about the kitchen tools, devices, appliances, and utensils you use and where you most often use them. Once you determine that, you'll begin to understand where storage spaces need to be so that the items you use most will be close at hand when you need them, not across the kitchen.
It's important to resist falling prey to what was once considered the traditional kitchen design which offered a limited choice of cabinets, shelving, and sets of drawers that were installed in fairly inflexible locations: "if your sink and appliances are here and here, these cabinets and drawers should go there and there." As a result, many kitchens are a mess of inefficiency. There were no defined locations for the many items that are regularly used in most kitchens. Even professionally-designed kitchens were not designed for how they are actually used, so utensils and tools wound up cluttering countertops close to where they were typically needed while drawers and cabinets ended up holding the items that were used less frequently.
But it doesn't have to be this way.
Kitchen space can be divided up into a number of general areas based on the homeowner's available space, lifestyle, architectural taste, and cooking preferences. These typically include food prep/cooking, food storage, cleaning, command center, and general storage. Let's take a closer look at each space and some of the available options that can maximize their efficiency and provide the right storage in the right place to provide an optimal kitchen experience:
Food prep and cooking
There is nothing more frustrating than fumbling around, looking for a particular utensil or small appliance when you're in the middle of preparing a dish. Perhaps this is why when a recipe says it take ten minutes, in reality it's more like an hour. A kitchen's size has nothing to do with its efficiency – it's really all about effective design. The right storage space in the right place will help you stay organized under pressure and enhance your cooking experience. Convenient touches include dedicated food prep space such as a separate area to put together lunches for work and school or prepare single-portion, make-ahead meals for weekends or on-the-go eating.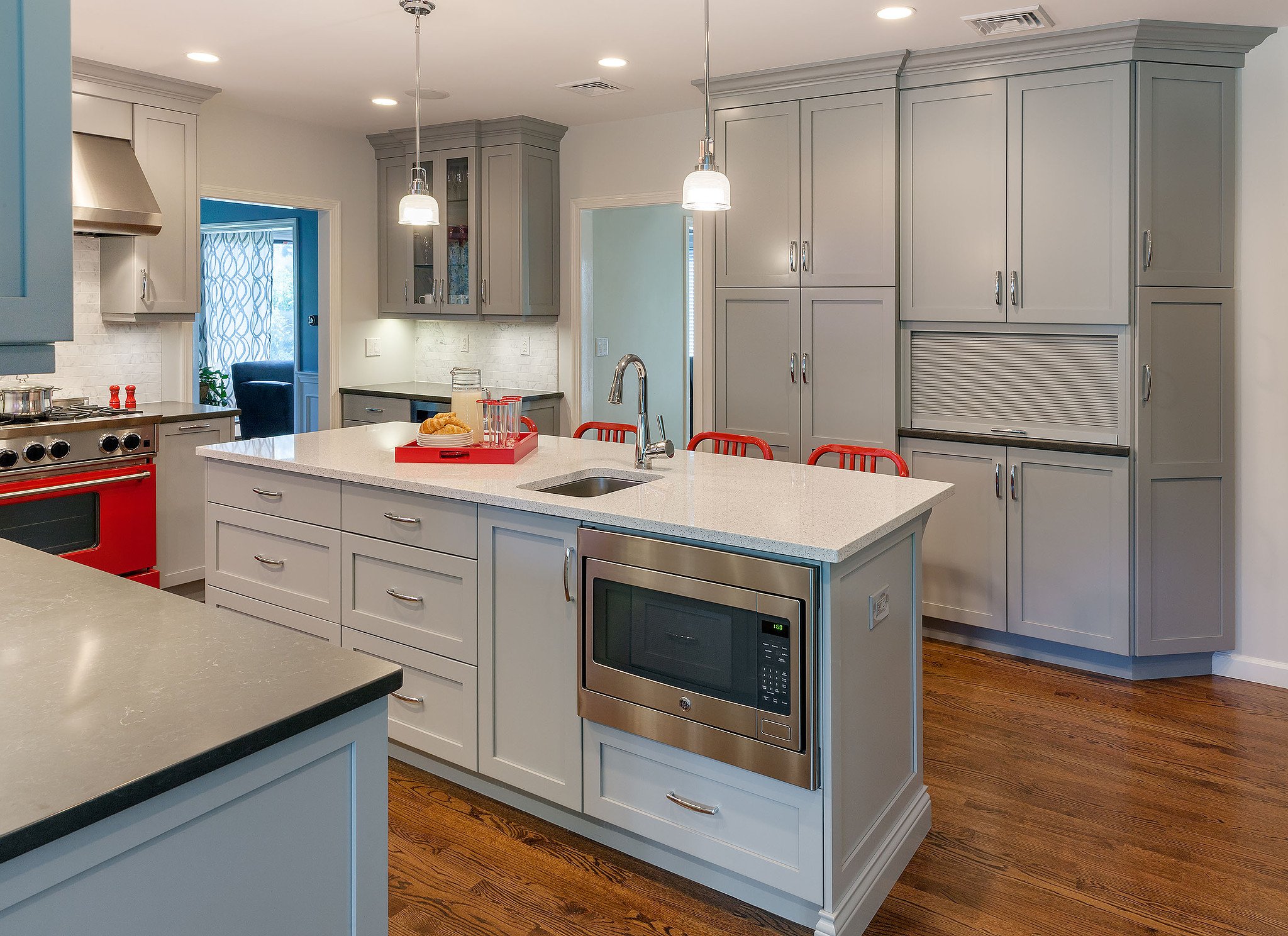 Some of the modern storage options that can be located near the stove and other primary cooking areas include:
Pull-out shelves for oils, spices, and utensils
Knife storage: pull-out base or wooden drawer dividers
Small spice inserts for drawers to help organize all those little containers
Pull-out pot & pan caddies for neater storage
Magnetic slide-outs for hanging utensils
Baking, in some ways, is its own subset of cooking – from ingredients to utensils, appliances, and cookware. With its precise measurements, timing, and order of ingredients, it's important to have everything you need, where you need it, when you need it. If you're a baker, having your kitchen organized to accommodate what and how you bake will make it even more enjoyable.
Not having to haul out heavy mixers from under the counter or crawl into the back of a cabinet to retrieve the flour can make things especially easier for older bakers. And having the proper amount of countertop space for mixing, kneading, and rolling out dough is something many bakers dream about. These are all reasons why bakers today often choose to incorporate islands into their kitchen layouts to get the optimized storage and counter space they need.
Modern storage makes baking more fun, with highly efficient storage options such as:
Electrified mixer pull-out/lift-up shelf that brings the mixer out and up to the user, ready to use
Baking cabinets designed specifically to hold baking ingredients
Organizers for large bowls
Tray base cabinets customized for cutting boards, cookie sheets, and serving trays
Appliance garages customized to hold your specific appliances
Food storage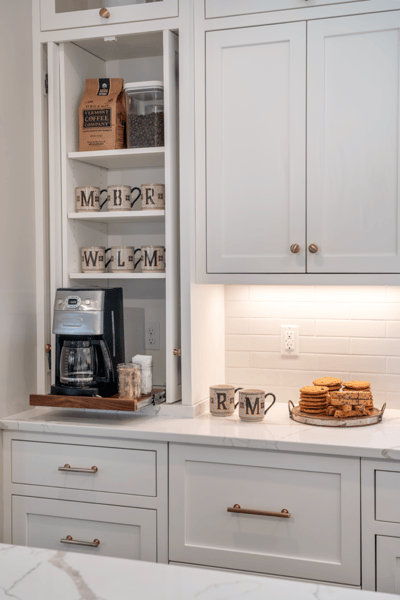 Traditional storage methods such as bread drawers and pantries have received modernized make-overs. Today they are much more effective at keeping foods fresher, longer. Tall pantry cabinets have adjustable shelves to accommodate cereal boxes and canned goods of all sizes. Roll-out shelves add greater convenience to spaces that otherwise might be awkward for reaching and removing various boxes, bags, bottles, and cans.
Modern appliances such as refrigerators are smarter and more efficient than previous models. Homeowners can now scan goods as they're placed in the refrigerator to create an organized food inventory to avoid over- or under-buying and wasting space.
Modern storage ideas to make your kitchen less hectic and more organized include:
Pull-out shelf organizers for oils and seasonings
Pull-out bins and baskets for potatoes, onions, and other vegetables
Bread drawers with inserts to keep breads fresh
Dedicated coffee and tea storage
Tall pantry cabinets with roll-out shelving
Candy cabinet for sweet-tooths
Cleaning
Keeping the kitchen clean and sanitized is vital for safe food preparation and storage. Cleaning supplies can be especially hazardous to children and pets, so storage units designed with an extra level of safety are a necessity in households with kids, cats, and dogs.
As with cooking supplies, having the appropriate location and space for cleaning supplies is key. What used to be a messy jumble under the sink can be transformed by easy-to-access cleaning caddies that neatly store cleaning supplies for quick clean-ups and weekly scrub-downs. Tilt-out shelving for items such as sponges, brushes, and scrubbers makes cleaning more manageable and efficient.
Even the classic kitchen sink has received a modern makeover with convenient features available such as water faucets and soap dispensers with built-in proximity or touch sensors to turn water on and off without sticky or dirty hands gumming them up.
Today's kitchen offers a variety of options for storing equipment and cleaning supplies, including:
Trash can pull-outs for one or more bins with inside or outside drawers or no drawer at all
Pull-out cabinets with dish towel rod base for storing and hanging towels
Under-sink or vanity-base storage caddies
Recycling cabinets with additional storage for trash bags and supplies
Hide-away step stools tucked into toe-kicks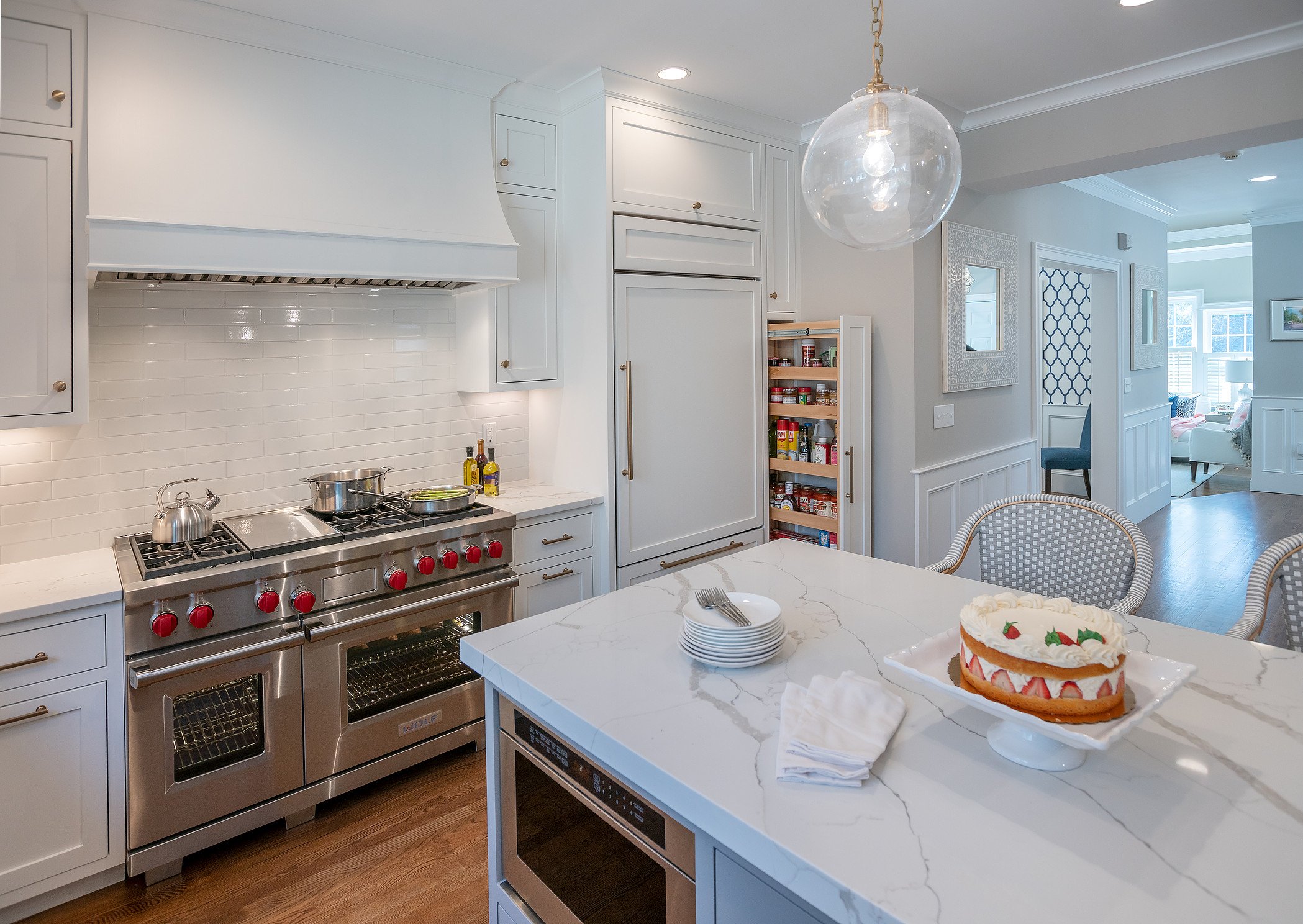 Command center
The kitchen is the hub of most homes. For many households, the kitchen has always been the family command center, with a calendar on the wall for noting appointments and events, messages stuck on a bulletin board or the refrigerator, and mail and keys kept on the countertop by the door.
But today's digitized, electronic world has changed all of that. In many cases, the paper calendar has been replaced by a family computer or laptop and smartphones are left to charge on the kitchen counter in a tangle of cables and chargers. The ubiquitous junk drawer now contains old batteries, memory cards, and adapters. It's time the command center got updated.
Today's command center can take advantage of cable organizers, multiple port outlets and charging stations, along with drawer organizers to neatly manage homework supplies, extra keys, various household tools and other items we all reach for on a regular basis. Dedicated work space can be provided for school and office work, out of the way of busy meal-time prep and other kitchen traffic. Cubby holes can be conveniently located to safely organize and store mail, household documents, and homework.
Thoughtful elements you can incorporate into your command center include:
Custom cabinets to organize and store devices, documents, power cords, household tools, and more
Built-in bookcases at island ends
Recessed pocket doors to hide storage spaces
Individual cabinets for kids, mom, and dad
Roll-out shelves for homework supplies
Built-in file dividers and drawers
Charging drawers for personal electronics
Bulletin boards, white boards, and chalk boards
General storage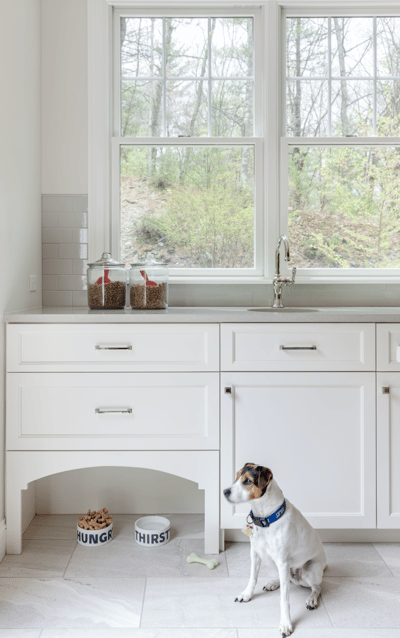 Most kitchens have a variety of products and items that aren't necessarily kitchen-related. Some might be general-purpose tools or products that need to go somewhere, such as equipment manuals, cookbooks, fasteners, and packaging materials. Others might be potentially hazardous products such as pesticides, medicines, or alcohol. Whatever they are, it's best to be able to store them safely and securely in an organized manner that provides convenient access to the appropriate people.
Some storage space options to consider include:
Pet supply cabinets
Lockable medicine and alcohol storage
Cookbook shelving
Additional pots and pans or small appliance storage
Root vegetable bins
Organized plastic container storage
Grilling equipment storage space
Kitchen storage space dilemma: So much to know and consider
There are many more storage options than most homeowners can even imagine. As a result, they often miss opportunities to truly maximize their storage space for convenience, accessibility, and efficiency because they simply don't know there's a perfect storage solution to fit their needs.
Because we'd hate to see you miss out on the opportunity to have the kitchen or bath of your dreams with all the right storage components to perfectly fit your lifestyle, the design/build team here at Mitchell Construction Group has put together a convenient storage solution list of some of the most popular storage units for kitchen and baths. Reach out to us for your copy and mention the storage solution list!
When you're ready to turn your kitchen or bath dream into reality, we're always here to help. Want to know more? Just give us a call or drop us an email.
To learn more about the storage in your kitchen, please read our eBook, "The Homeowner's Guide to Creating the Dream Home You'll Love." And if you are ready to speak about your next renovation, please schedule a home renovation discovery session.