The design/build team here at Mitchell Construction Group recently undertook a major renovation project that required imagination, attention to detail, and meticulous craftsmanship to complete an extensive upgrade that transformed a decades-old French Pavilion-style house and grounds into a breathtaking, modern home.
See the portfolio of this renovation.
The challenge
The project was initiated by a homeowner who wanted to be able to age in place in a house with four bedrooms, all of which were on the second floor. In addition, the house, built in 1979, had an outdated, compartmentalized floor plan featuring a variety of smaller rooms and multiple floor levels that were difficult to navigate and created a feeling of disconnectedness.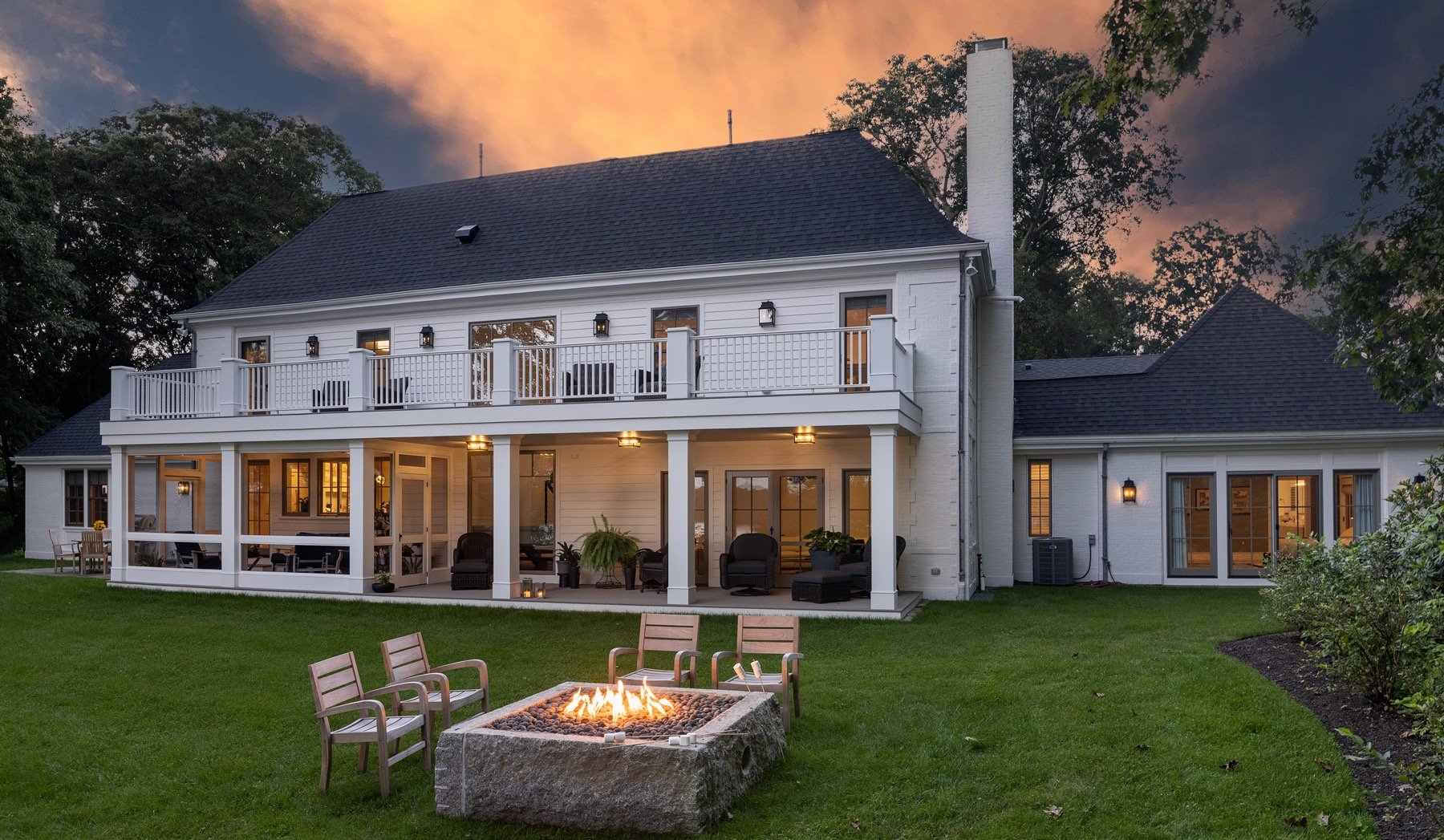 Over the years, the house had been remodeled and added on to several times, which added layers of complexity and created multiple issues throughout, including:
Disjointed layout lacking open space and versatility
Structural problems with first and second floors, requiring replacing undersized joists with 25' steel beams
Difficult-to-match exterior brick façade
Dark, uninviting entryway with multiple entries leading to a constricted, darkened hallway
Outdated, poorly-designed main staircase in need of complete redesign and replacement
A too-small garage requiring an addition with carefully integrated roof line to avoid an add-on look
The existing home presented the homeowners with many challenges — large and small, exterior and interior. What they needed was a bold, comprehensive renovation that would not only enable them to age safely and comfortably in place, but give the entire family their dream home for years to come.
Listen to Mike and Ruth Gorman describe the renovation process and the results.
The Exterior: Creating a blended, harmonious, unified structure
The outward appearance of this large home required careful consideration because of its size and unique history. The original home was over 75 years old, starting as a small cabin-like home which eventually had a large brick exterior built around it, undergoing many different updates through the years.
The full exterior of the home was updated, using an attractive shade of white paint to create a seamless appearance between old and new brickwork. All new windows and a new roof were installed and an expansive two-story back deck constructed with a screened-in porch. An addition was added onto the garage to turn it from a two-car into a more functional three-car garage that enabled an existing mudroom to be remodeled. The entire front entrance to the home was remodeled to be much brighter, lighter, and more inviting.
The rear brick façade and exterior CMU block wall stretching from the existing kitchen and staircase were removed from the back of the home and entirely reframed to accommodate the new design. New hardscaping was added and the landscaping was completely redone, transforming the back of their home into an inviting, beautiful outdoor space to be enjoyed with breathtaking views of the lake.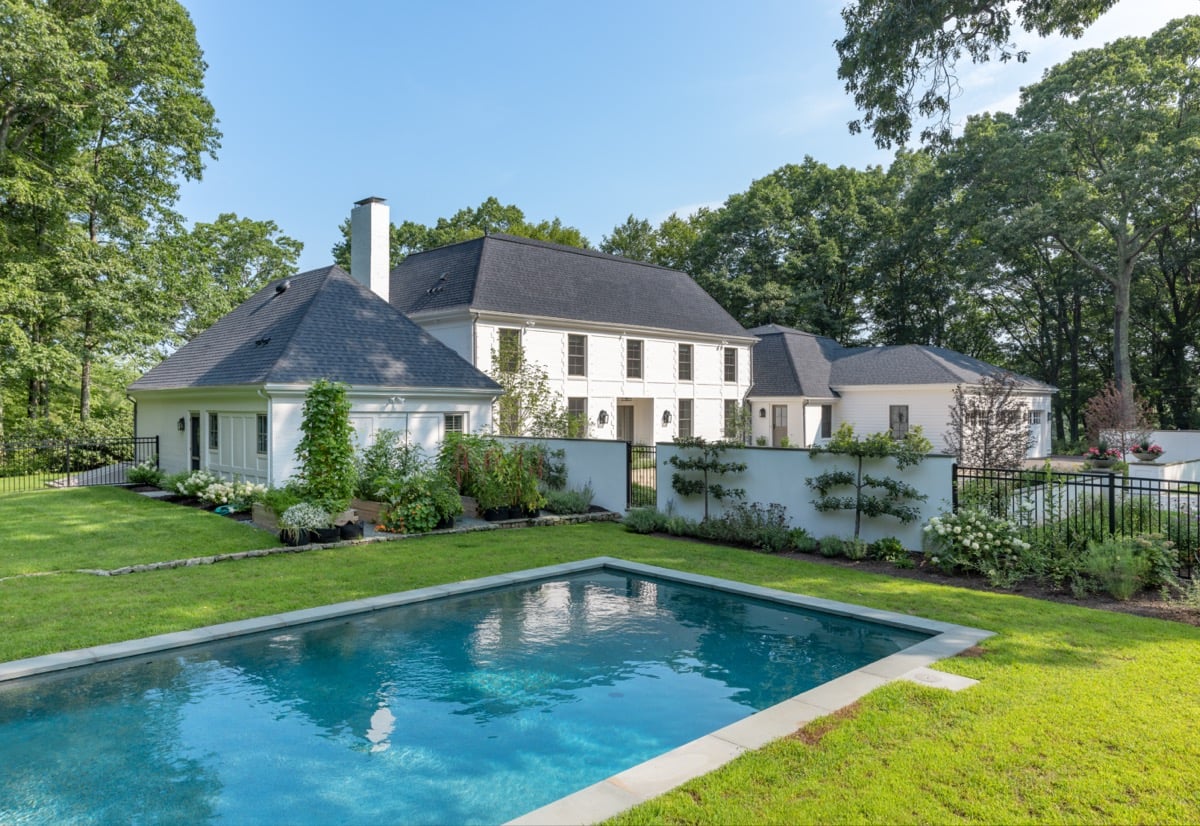 The Interior: Turning cramped and dark into open and airy
The home's history of multiple renovation projects created a hodgepodge of smaller spaces that lacked harmony and purpose. The homeowners were desperate to completely overhaul the interior design to create more open, flowing spaces that added seamless functionality and a greater sense of unified design.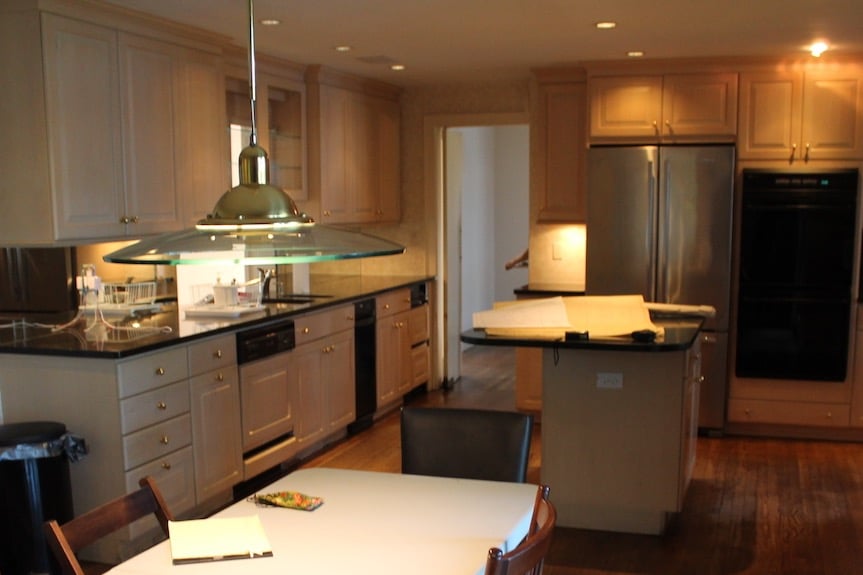 The kitchen was transformed into a two-cook meal preparation and entertainment space with double ovens, double dishwashers, warming drawers, two sinks, and a large refrigerator so that both homeowners could be in the space cooking or baking at the same time without getting into each other's way. A large island was installed with plenty of comfortable seating for the entire family and as well as guests. The owners also wished for an intimate breakfast area separate from the kitchen that would enable them to relax and dine comfortably alone.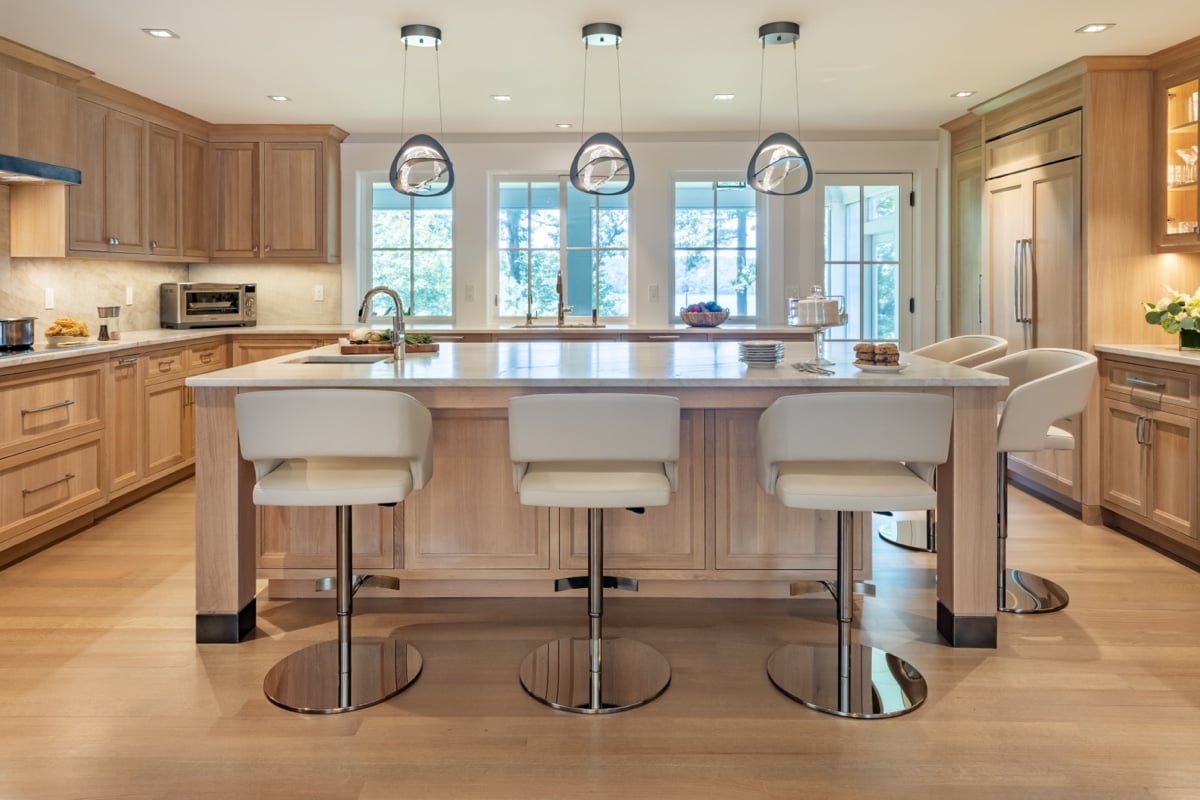 In addition to the remodeled mudroom, a first-floor laundry room and powder room were added to increase convenience and functionality. An old sunroom was remodeled into a full master-suite wing that included a new master bedroom, bathroom, and large walk-in closets, bringing the total number of bedrooms in the home to five. A first-floor home office was added off a remodeled living room near the breakfast area improving productivity for at-home work.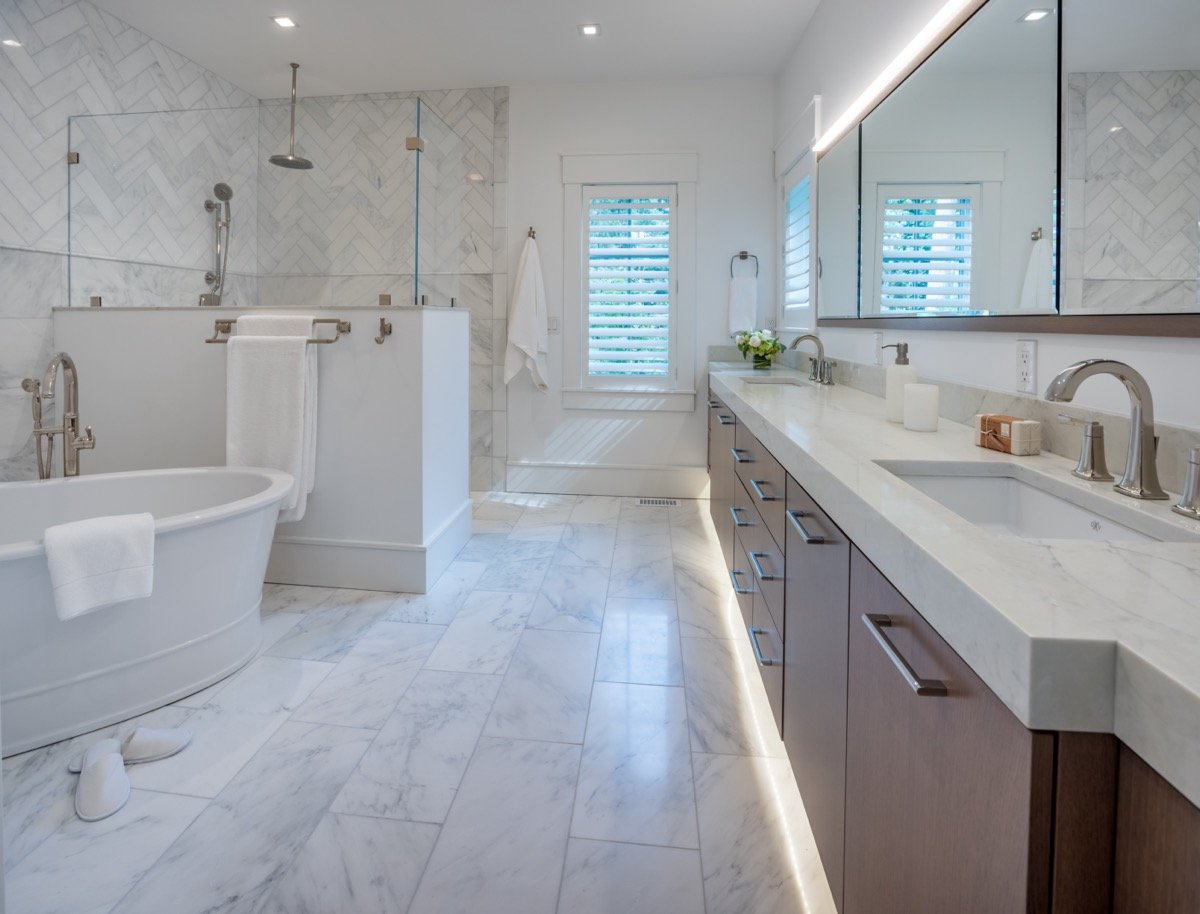 The Details: Unique features that added personalized form, function and fun
A closer look at this beautifully reimagined home reveals a number of features and personal touches unique to the home and its owners, including:
A floating staircase with a cable rail system up to the second floor enabled unrestricted views from the front entrance through to the backyard.
All custom cabinetry in the kitchen and bathrooms including an extra-large custom wall-hung vanity with under-cabinet lighting in the master bathroom
Heated floors
Warm and inviting gas fireplaces in the living and family rooms
Hardwood floors with a unique custom color finish
An extensive lighting plan throughout the home with many unique fixtures that made conversation pieces, including striking pendant lighting in the kitchen.
A second-floor laundry room
Four remodeled second-floor ensuite bathrooms
Improved waterfront access with new stairs from the backyard to the lake and a new shed to house water sports equipment
Completely updated mechanical, electrical and HVAC systems throughout the home
This extensive home renovation project left no corner of the house and property untouched. Every little detail was carefully planned and executed to create a thorough, thoughtful transformation. A house that was once simply the sum of multiple parts became a modern, beautiful, seamless architectural achievement that would enable the owners to stay in their home through their senior years and their family to enjoy it with them.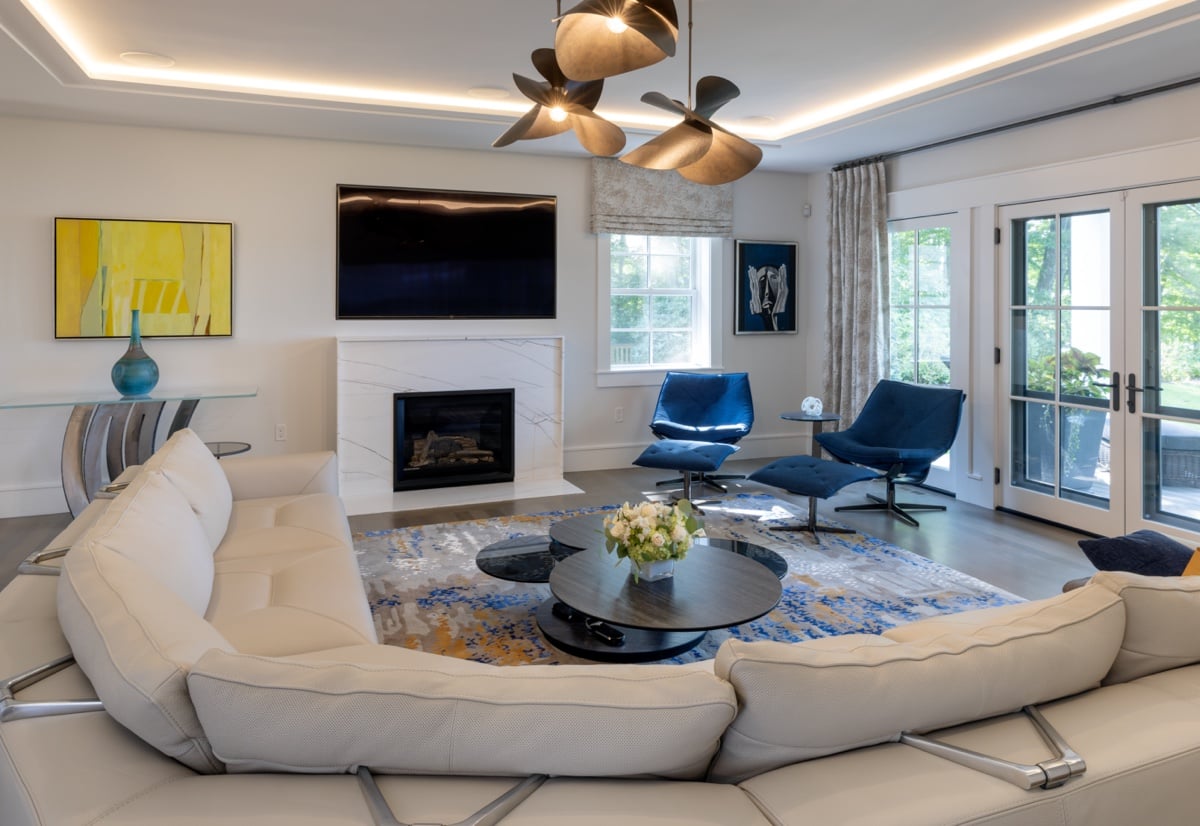 To learn more about the home renovation process, please read our eBook, "The Homeowner's Guide to Creating the Dream Home You'll Love." And if you are ready to speak about your next renovation, please schedule a home renovation discovery session.