You have lived in enough homes that were not built to your specifications to know what you don't like. It might be a poor layout on the main floor that leaves you feeling boxed in. Maybe the kitchen needs a pot filler at the stove or an extra oven. Perhaps the primary bedroom doesn't have enough closet space.
Whatever the shortcomings of your current home, in a custom home you can select all of the features and design ideas to enhance the home for you and your family. With all this in mind, we wanted to create a resource with custom house ideas for every section of your home.
What should be included in a custom home?
Heating System
Heated Flooring
Air Conditioning
Universal Design
High Ceilings
Guest suite
Media Room
Wine cellar
Game room
Home gym
golf simulator
If it is a walkout basement access to a backyard pool
Home Office
First Floor Primary Suite
Kitchen
Mudroom
Flow
Entrances
Here are the details for each of these custom home design ideas that make your new home special:
Modern Day Comforts
Heating System
What kind of heating system will be the best fit for your new custom home? You get to decide. You might choose a standard furnace or heat pump, or you might want to invest in a geothermal system. You could place mini splits in certain parts of the home. You can create a hybrid system that meets the heating needs of the harshest New England winters.
Heated Flooring
In a home remodel, it may or may not be practical to add heated flooring. But in a newly constructed custom home, there is little stopping you. Especially in spaces like bathrooms, a heated floor can be a welcome comfort.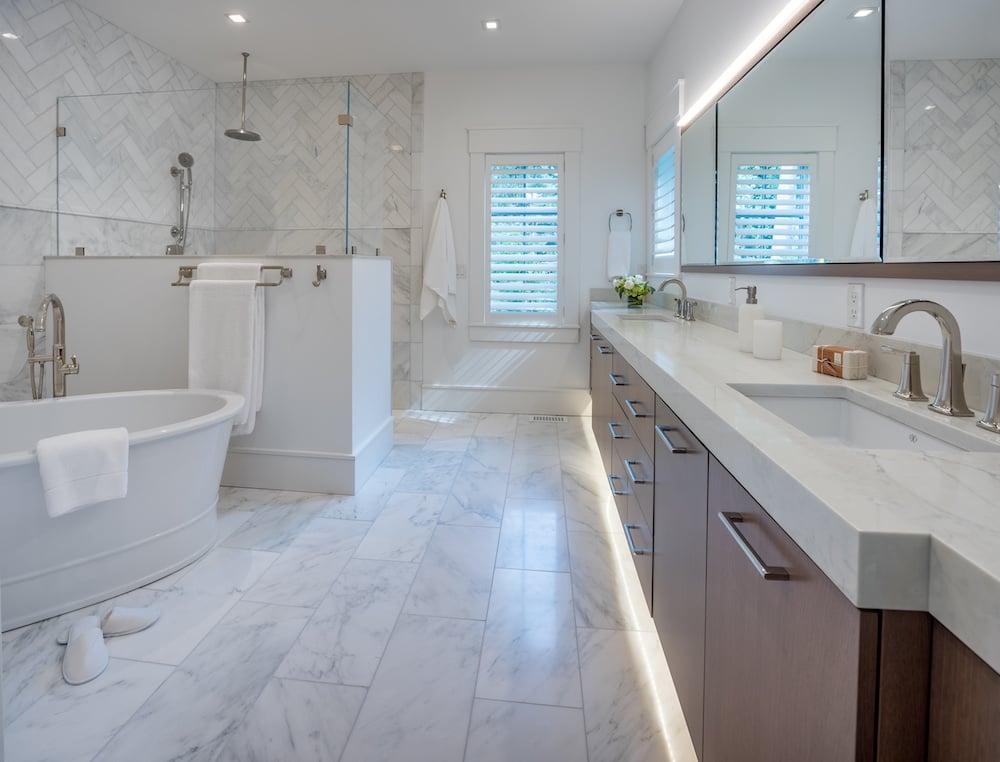 Air Conditioning
You may be living with an aging HVAC system that doesn't always take the hazy, hot, and humid out of your Boston-area summers. A new custom home design will include one or several air conditioning systems to create a comfortable environment, whatever part of the house you are in, and whatever the heat index outside.
Universal Design
Retrofitting universal design into a remodel project is certainly possible, but with a new custom home, you can build universal design concepts into every aspect of the home while maintaining a high aesthetic. This will make your new home livable and accessible to people in a wide age range and wide range of mobility. It can also be a smart way to plan for aging in place.
Basement Features
High Ceilings
If you live in an older home, or even a newer production home built in a large development, your basement ceiling height is probably limited. A custom home can have ceiling heights the same as the rest of your home. With high ceilings and lots of natural light, there is no reason the basement level can't have the look and feel of the rest of the home.
Guest Suite
A guest suite on the basement level gives visitors a sense of privacy, and if you've designed the basement to have the look and feel of the rest of the home, this won't feel like guests have been relegated to "forgotten space" like some basements.
Media Room
Basements are popular spaces to make room for a theater-quality media room. You can choose audio and video equipment, seating, and other amenities to make this room feel like a night at the movies.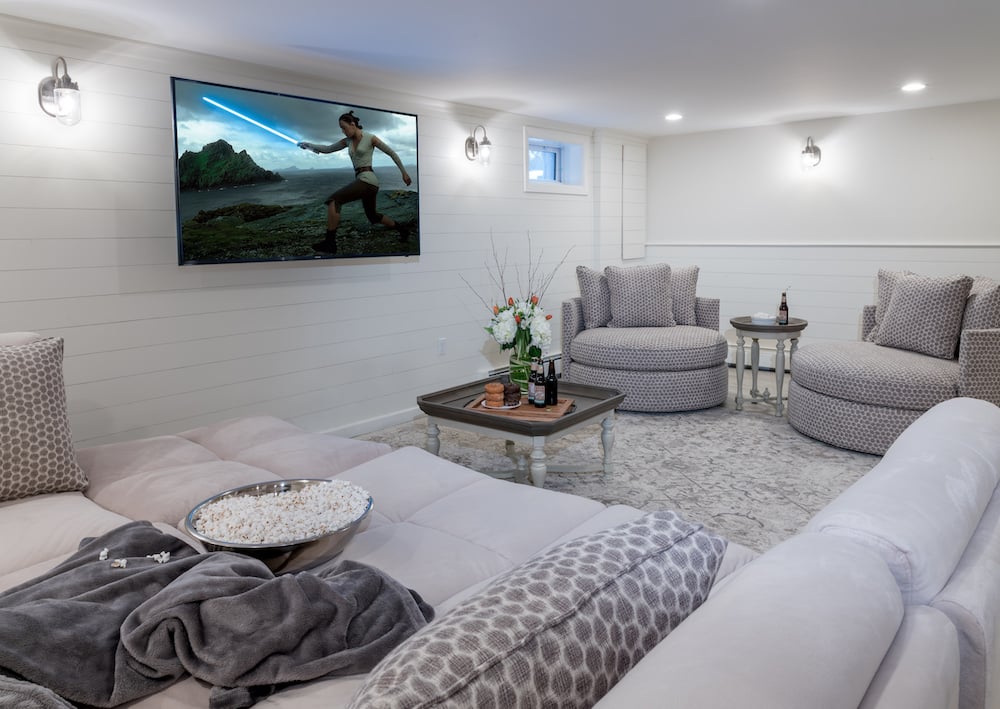 Wine Cellar
For the wine enthusiast, having a dedicated space for proper storage is a dream come true. It is great having a wine refrigerator upstairs, but a wine cellar will help expand your collection and keep it at the right temperature and humidity levels. Plus, a beautifully designed cellar can be a great place to host tastings as well as store your wine.
Game Room
Gone are the days when a ping pong table under a bare bulb serves as the family "game room." In a custom home, your basement game room can be filled with table tennis, billiards, board games and puzzles, a vintage Pac Man/Galaga arcade unit, or whatever other games bring your family together.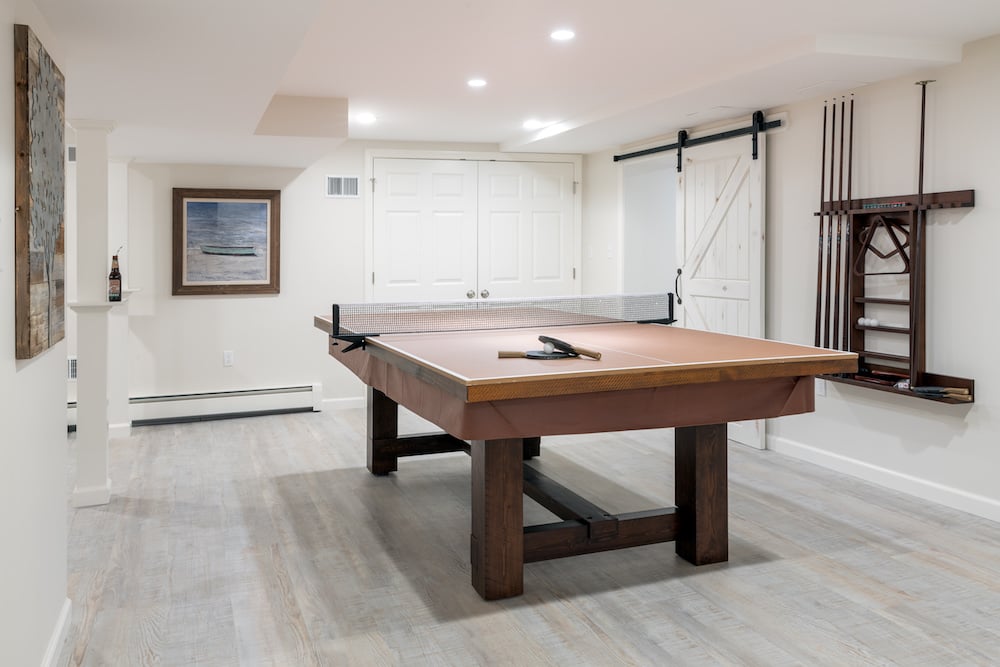 Home Gym
A gym membership can go unused for long stretches of time. A home gym can be the answer to creating space to lift weights, use an elliptical machine, practice yoga, or tai chi. What keeps your family members active? You can create a home gym that caters to those activities.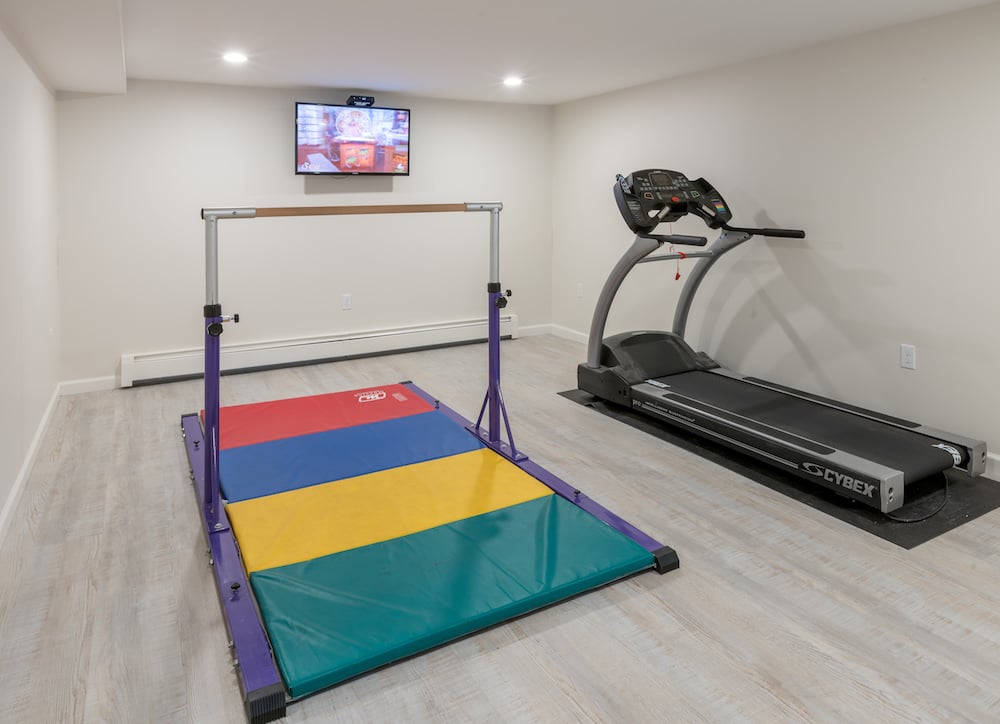 Golf Simulator
On a similar note, if your Peloton gathers dust in the corner of your basement like the Bowflex before it, and treadmill before that, maybe a golf simulator is a more practical use of basement space. You can work on your game whatever the weather outside, and enjoy an augmented reality experience of any golf course in the world.
Walk-Out Access
With a new property, you can often grade it so the basement has walk-out access. This can be a convenient way to get to the pool. Walk-out access also creates access to natural light, always a welcome feature in a basement design.
First Floor Features
Home Office
With more and more of us working from home, a dedicated space for our paid work is becoming essential. Designing an office in a custom home provides you the opportunity to create a space for the way you work.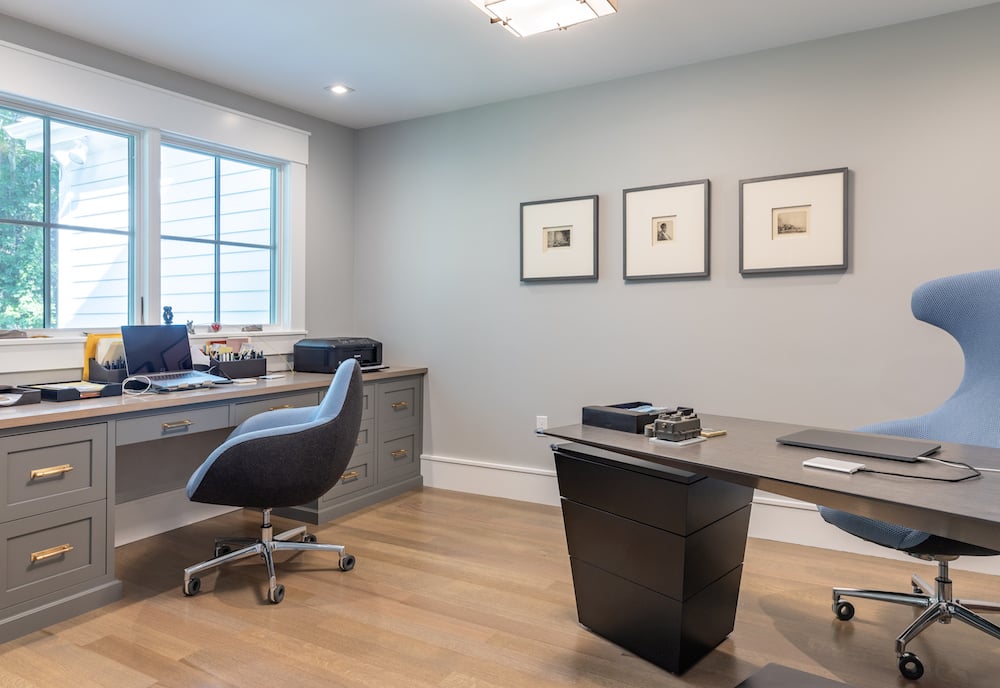 Primary Bedroom Suite
Who doesn't want a primary bedroom built to your needs and wishes? Whether your current ensuite bathroom is too small, or if there are elements like a giant jetted tub that doesn't get much use, this is your chance to build an oasis. Maybe your shoe collection deserves pride of place in a custom walk in closets. Maybe you'd like a sitting area with a fireplace. You want an ensuite with a freestanding tub, a shower built for two, with heated flooring and plenty of closet space.
Kitchen
If you had as much space as you wanted, and could place your kitchen wherever you wanted in your home, what would that look like? In a custom home, the kitchen of your dreams will be a custom fit for your family. For instance, a family of five wanted an island they could all sit around, so we designed their kitchen with this top of mind. With that same homeowner, a fireplace in the kitchen was a fond childhood memory, so we placed a fireplace between the kitchen and adjoining room. A kitchen should be a place where your family can gather, and new memories can be made.
Mudroom
Whether your family is two, five, or anywhere in between, a mudroom should have a storage cubby for everyone. Where is the best place for a mudroom entrance? If it's a beach house, you might want a station outside where people can wash the sand away, then a side entrance into the mudroom, with room for beach gear.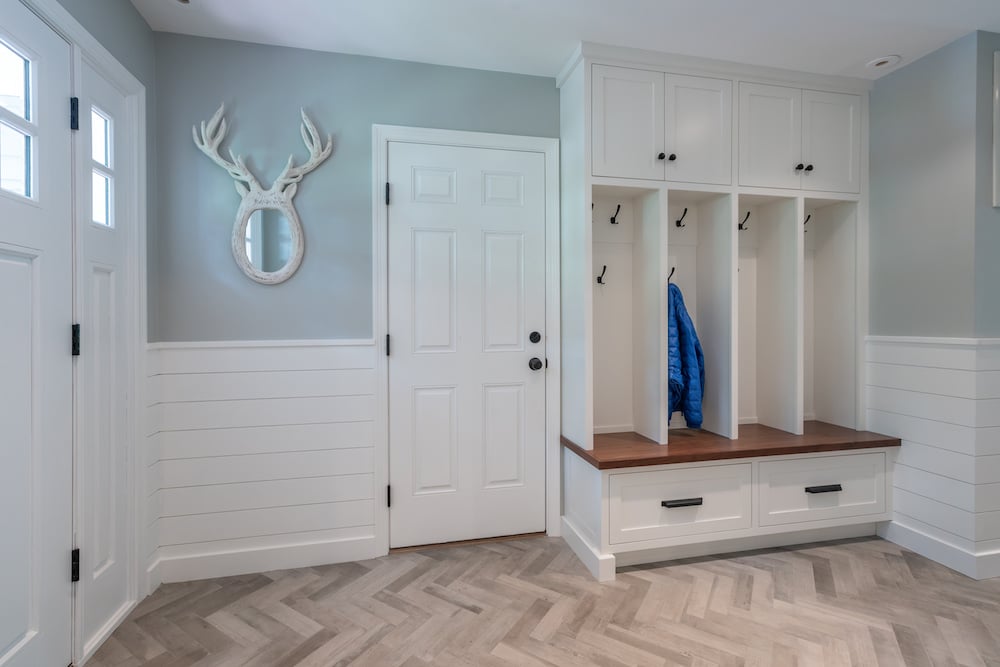 Flow
In the first floor main living area, you want to create a good sense of flow between the kitchen and other spaces. An open floor plan is about much more than clear site lines. It is about paying attention to how people move in and out of spaces, and planning accordingly. With a good design/build firm, you can build a custom home that pays attention to flow.
Craft Room
If you have an avid crafter in the family, or if the kids are at an age where activities that keep them off screens are important, a craft room is becoming a popular feature in custom homes we build.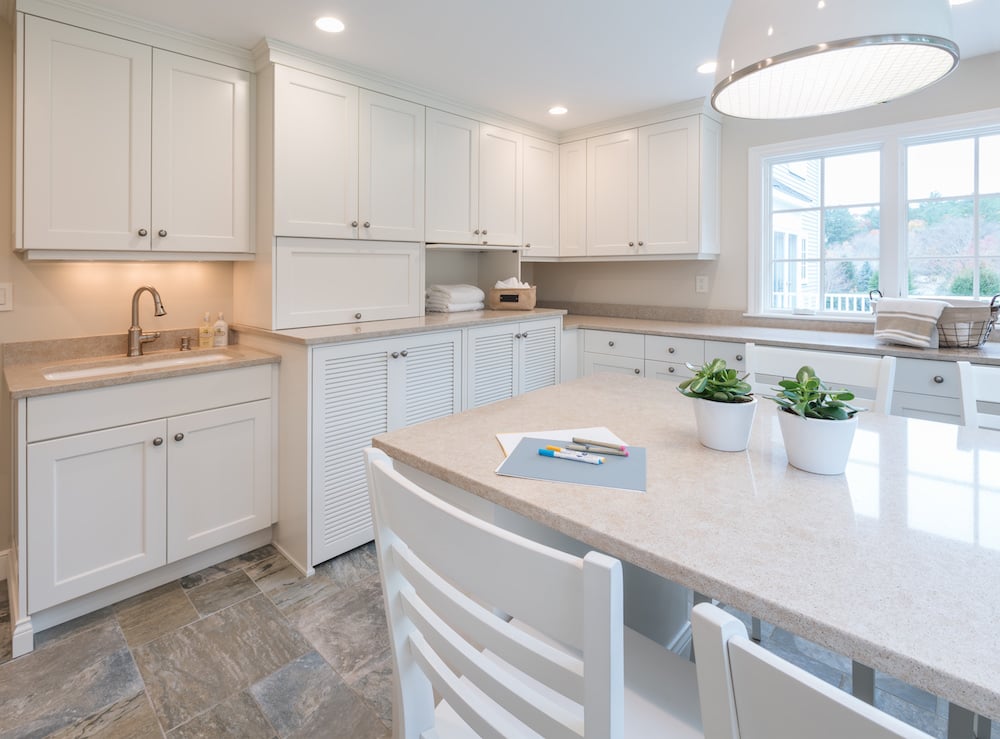 Entrances
There is the front door where mostly guests and delivery people will make their way. What other entrances should there be in your custom home? You might have one or a series of french doors in back, or even sliding panels to create indoor-outdoor flow when the weather allows. Do you want a side entrance to the garage or mud room? When designing a custom home, you get to decide.
Second Floor Features
Bedrooms
In a custom home, all bedrooms can have ensuite bathrooms, spacious closets, and features like built-ins for clothes, storage, and homework. What do your children complain the most about when talking about their current bedroom? This is your chance to make changes and maybe in the process let them know what it was like, "back when I was a kid!"
Laundry
If you haven't designed it yourself, the laundry room in your current home is probably on the wrong floor — nowhere near bedrooms — or too small, with too little storage and workspace, or all of the above. A second floor laundry in a custom home can solve all of those problems and give you the space you need for laundry and more.
What Is Most Important to You?
Not all of these elements and features will be important to you as you imagine your ideal custom home. That is exactly the point. Creating a custom home enables you to choose the features important to you, without the constraints of an existing structure.
You are working from a blank slate and can incorporate the needs of your family, the wants you have for day to day living and the possibilities to include elements you might not be able to in a remodel because of space or financial constraints. The right design/build custom home company can help you incorporate as many of your ideas as possible and get the most out of your budget.
To learn more about custom home construction, please read our ebook, "The Essential Custom Home Construction Guide for the Best Results." And if you are ready to speak about your next renovation, or custom built home, please schedule a custom home construction discovery session.