Building a custom home will not only reflect your style and tastes, but will be designed and constructed to your specifications. What size should living, dining, and kitchen spaces be? Where should the bedrooms be located? How much would geothermal heating and cooling cost? It will mean more decisions on your part, but the end result will be the home you've always wanted.
But how do you know you are working with someone who will build you a truly custom home? To understand the process, the right questions to ask, and the benefits of a truly custom built home, here is what you need to know.
What is a custom-built home?
Building a custom home means more than choosing cabinet styles and paint colors. It's more than a choice between brass or brushed nickel bath fixtures.
With a truly custom build, a design-build firm will help you find the right building site, manage all the permits and improvements needed to make the site buildable, and build a structure to your exact specifications.
Will you connect to public water and sewer, or will a well and septic system need to be built on site?
What will the storm water management plan entail?
What is the best location for your home on the lot?
How long will the driveway need to be?
You will want someone with knowledge and expertise in the custom home building process from start to finish in order to have a building process that is as smooth as possible.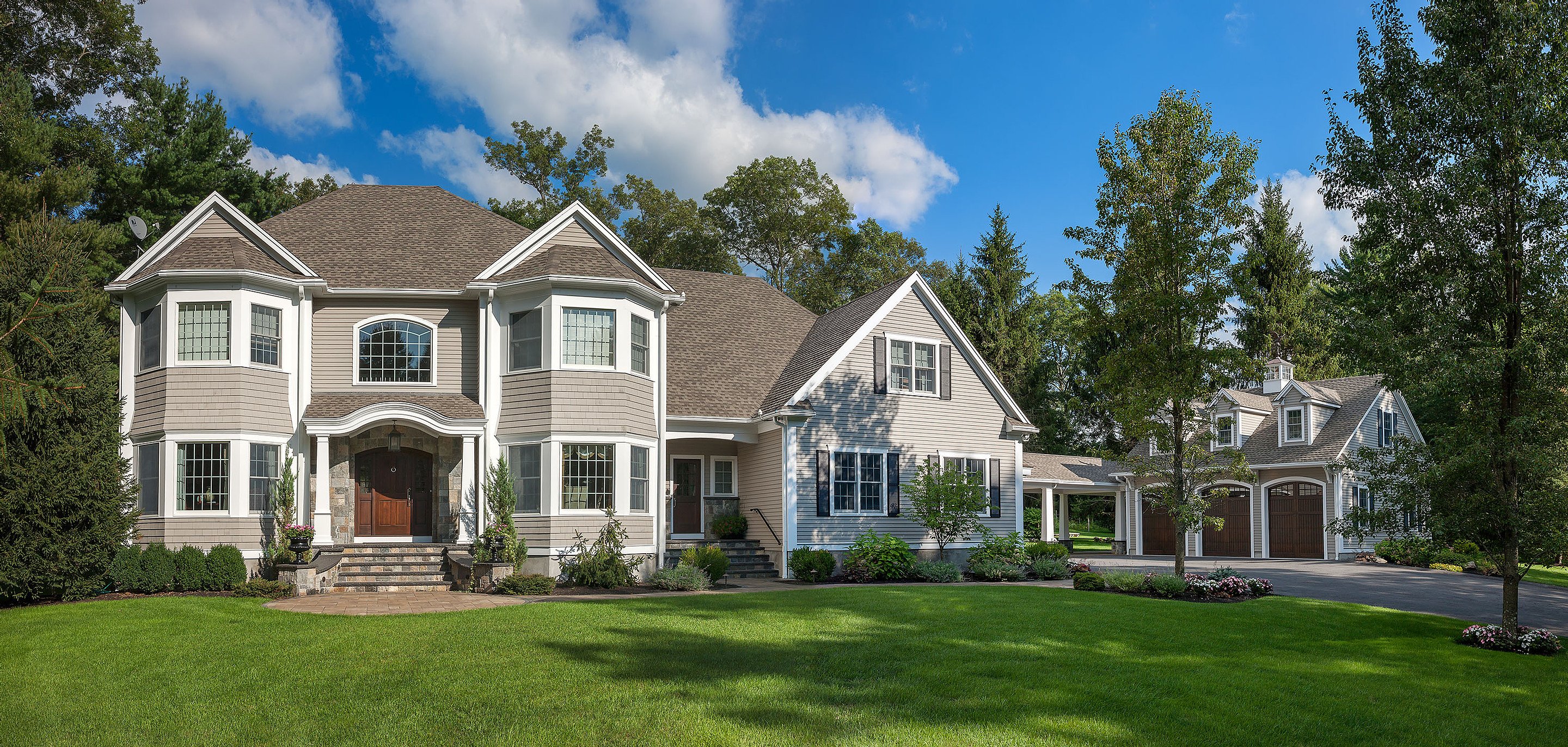 Selecting from a portfolio of homes is not truly custom building. Buying a spec home that has been finished before you have a chance to provide your input — that is not a custom home.
There is nothing wrong with having the ability to customize based on existing plans, but understand that this is not a from-the-ground-up built custom home experience.
What are the benefits of custom-built homes?
With a custom-built home, you have the flexibility to define all of the elements of the home. Do you need room for a growing family? Are you looking to scale down as empty nesters? How about room for short-term rental on the property?
With a fully custom home, you have the freedom to get whatever you want out of the project. Explore your own styles, plan for the future, create spaces that are specific to your wants and needs. Often when people are looking for a truly custom experience, they are building their forever dream home. A pre-planned home will just not offer the style, layout, and amenities you are looking for.
What is the process of building a custom home?
The process of building a custom home is similar to any major renovation, however there are steps in the beginning and throughout the planning phase that have more elements. Many towns are adopting new code requirements and they differ from town to town. With a remodel you are grandfathered into some requirements. With a new home you must conform to many new requirements like energy efficiency, drainage, and more.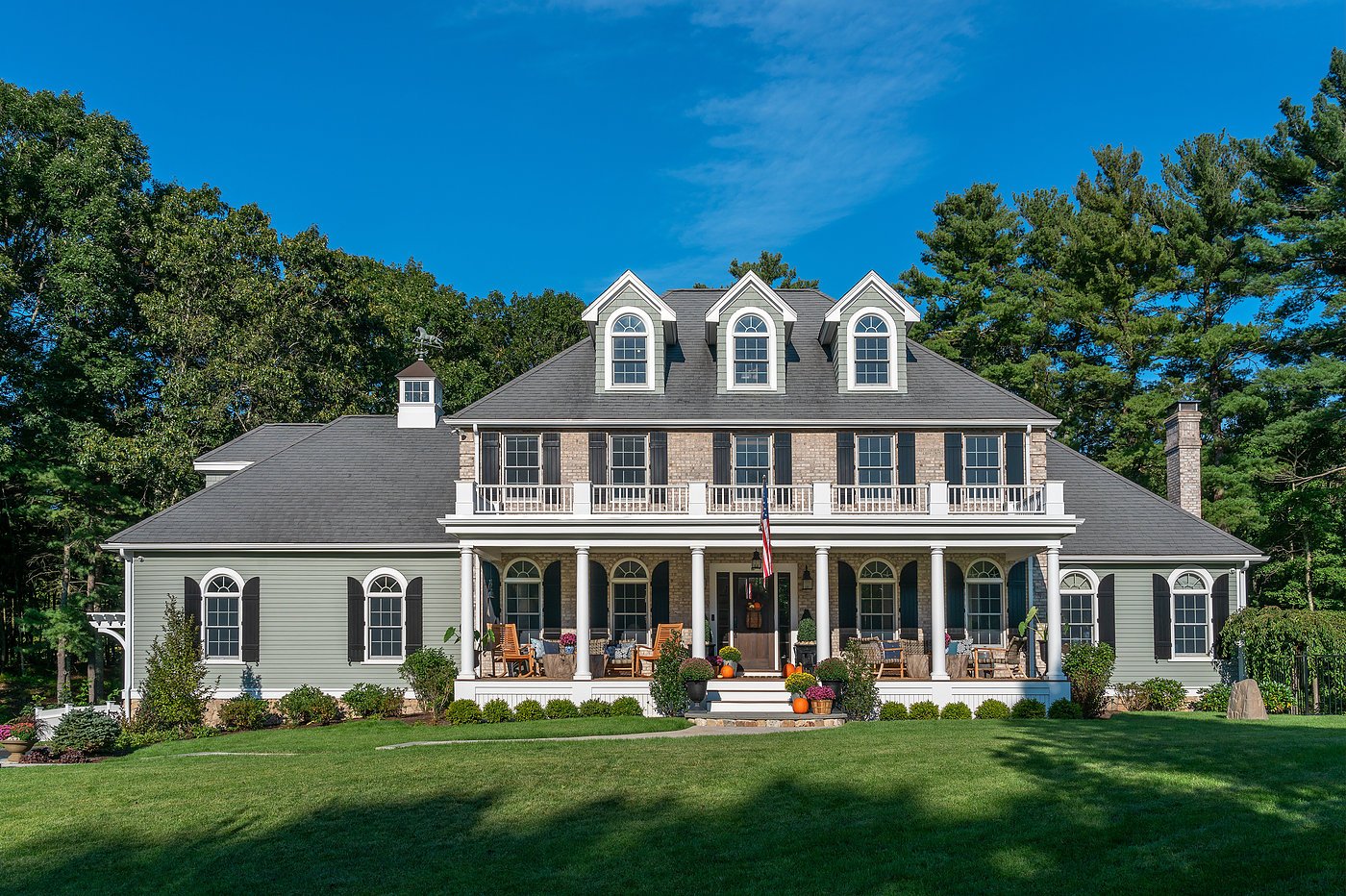 1. Purchase a usable lot
Buildable land in New England is an increasingly scarce commodity. You will want to work with someone who knows land real estate and can help you make the best decision possible. What are you hoping for as you create this new home? Are you an outdoor person looking for room to garden, create an area for sports, or just have room to breathe? Or maybe you don't want a lot of land to manage. How large of a home do you intend to build on the property? What are setback requirements in the township where you will be building?
There is a lot that goes into finding the right property. Understanding not just external requirements for things like building codes, but your own requirements for the land and the space. We recently finished a custom home for a person who uses a wheelchair. The land they chose had a significant grade from the street to the home site. We graded the property using ADA guidelines so simple tasks like getting the mail would not create undue hardships for the homeowner.
2. Permitting and land prep
It's one thing to manage permitting for a renovation and quite another to secure the ok for planning and permits on a custom home. So along with the process that is normally part of the standard home renovation, your builder will employ the services of a civil engineer to fully detail the site plan to enable permitting from the town. This goes hand in hand with the preliminary planning process in a normal home renovation.
3. Next steps
The rest of the process entails finalizing blueprint and design plans, setting the fixed-cost budget, and developing a construction timeline. For a truly custom-built home this will be an exciting experience, with many decisions to make. The end result will be a home that is truly built on your terms.
Examples of custom-built homes
What does your dream home look like? Below are three examples of custom-built homes to give you a sense of what makes them unique and what is possible.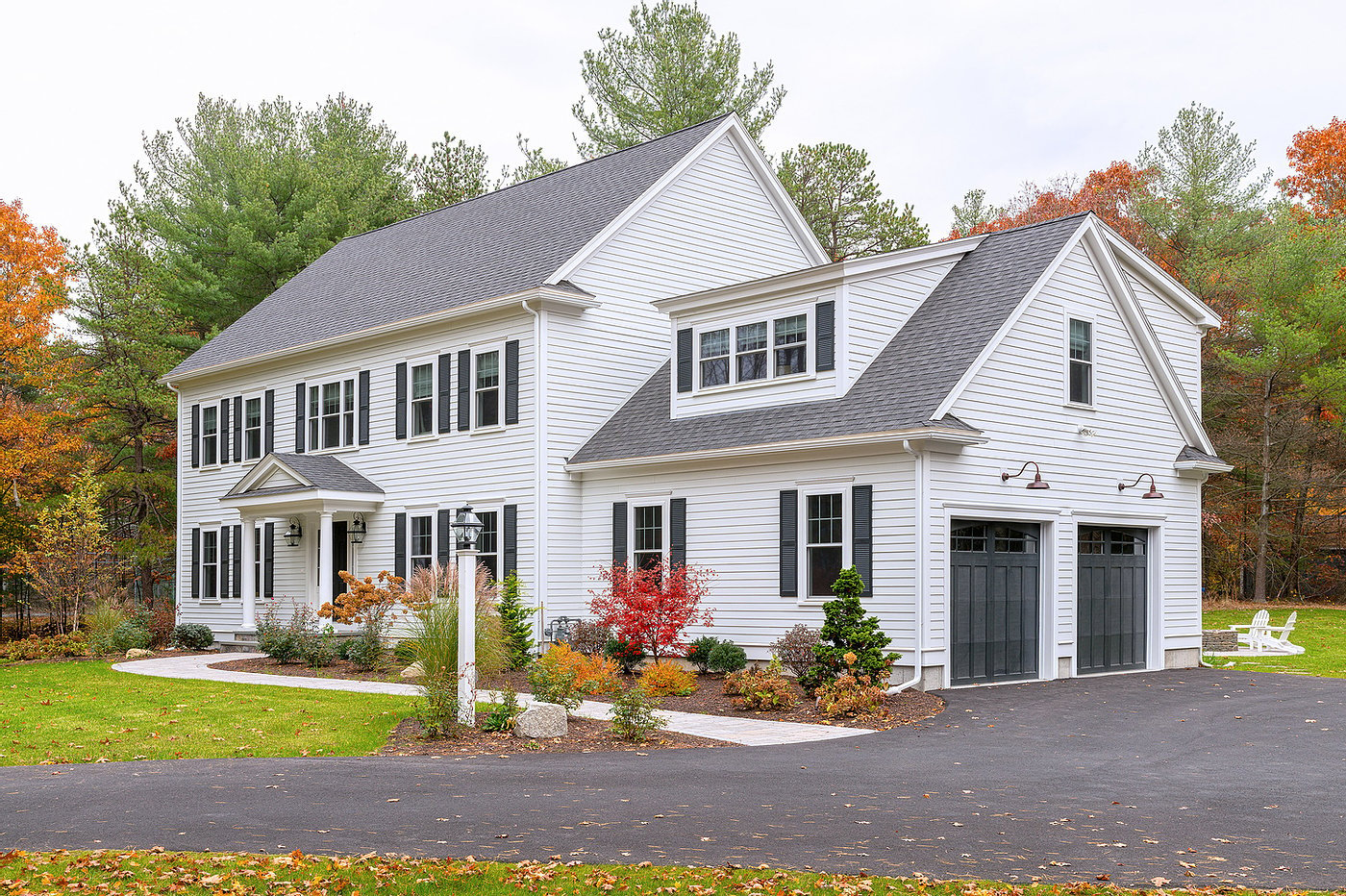 This home was custom built with custom bedroom layouts for each child and of course the owner's suite. Plans also called for a great room with ample living and entertainment space. The kitchen was designed for the family with a mudroom coming off the garage to help the family transition from the outdoors in any New England season.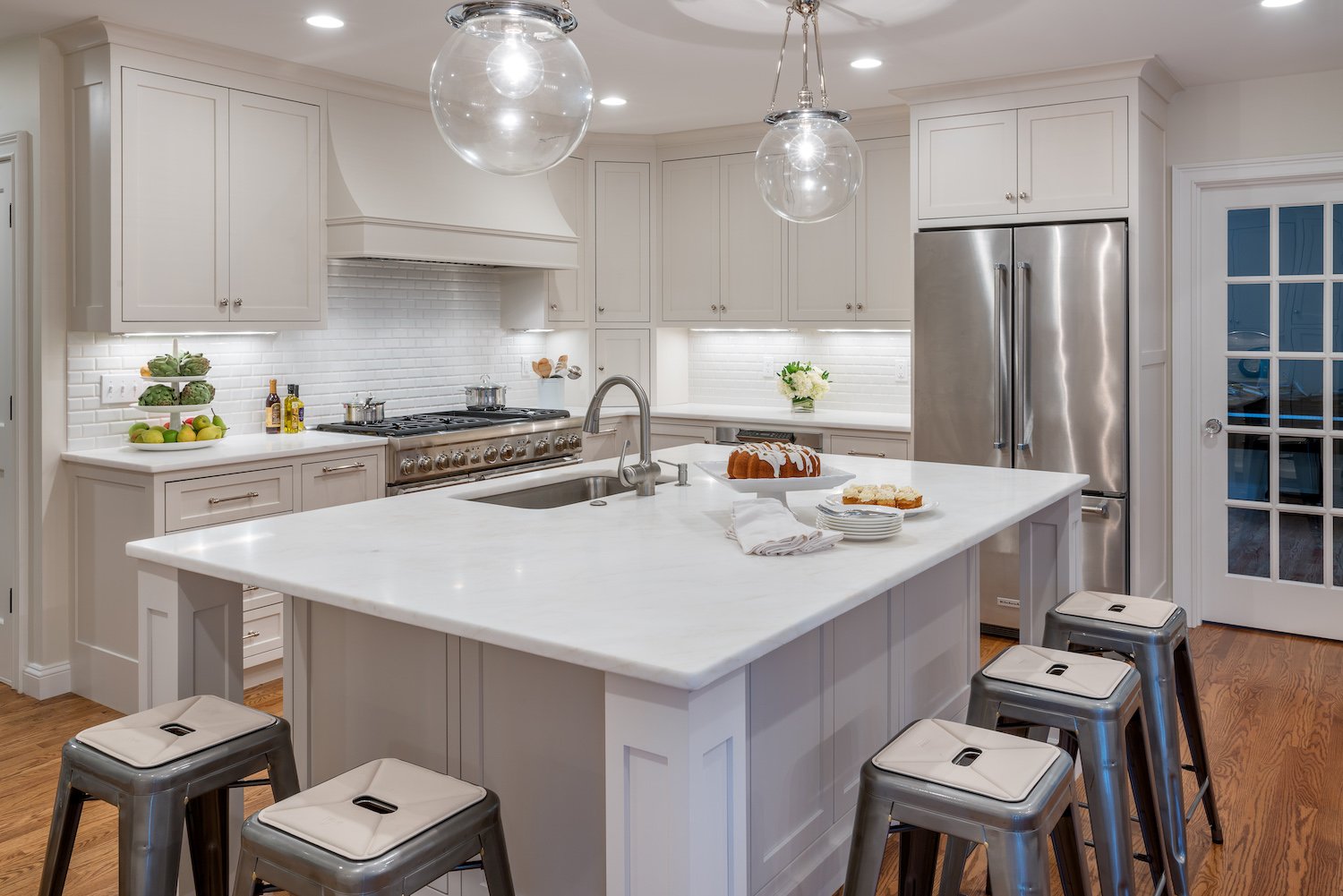 In a renovation, there might not be room for an island of this size. This custom home kitchen has room for an island, gourmet six burner gas stove, and beautiful pendant lighting to accent the space and create a warm glow.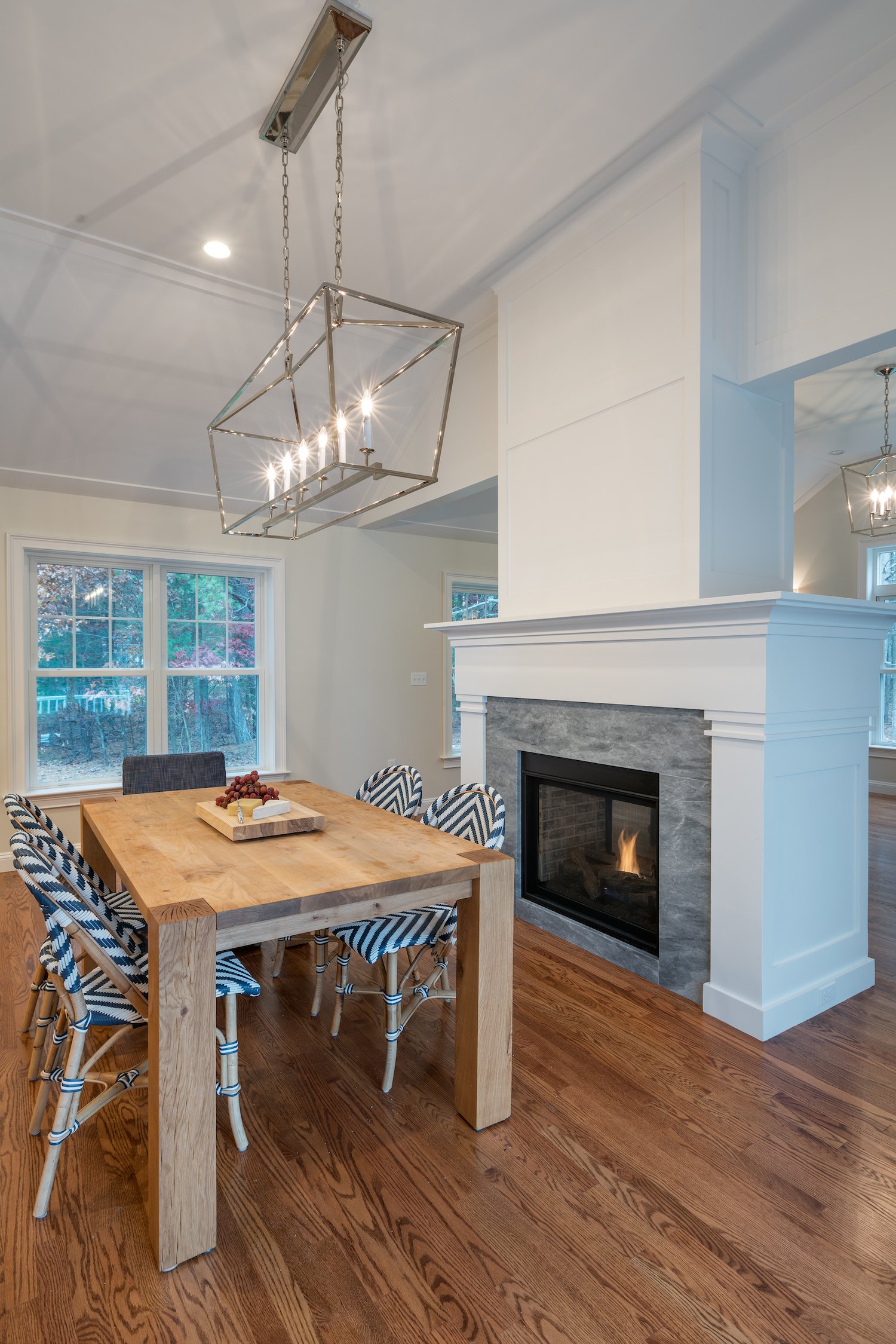 The great room is centered by a two-sided fireplace with the dining area and living room separated, yet very open.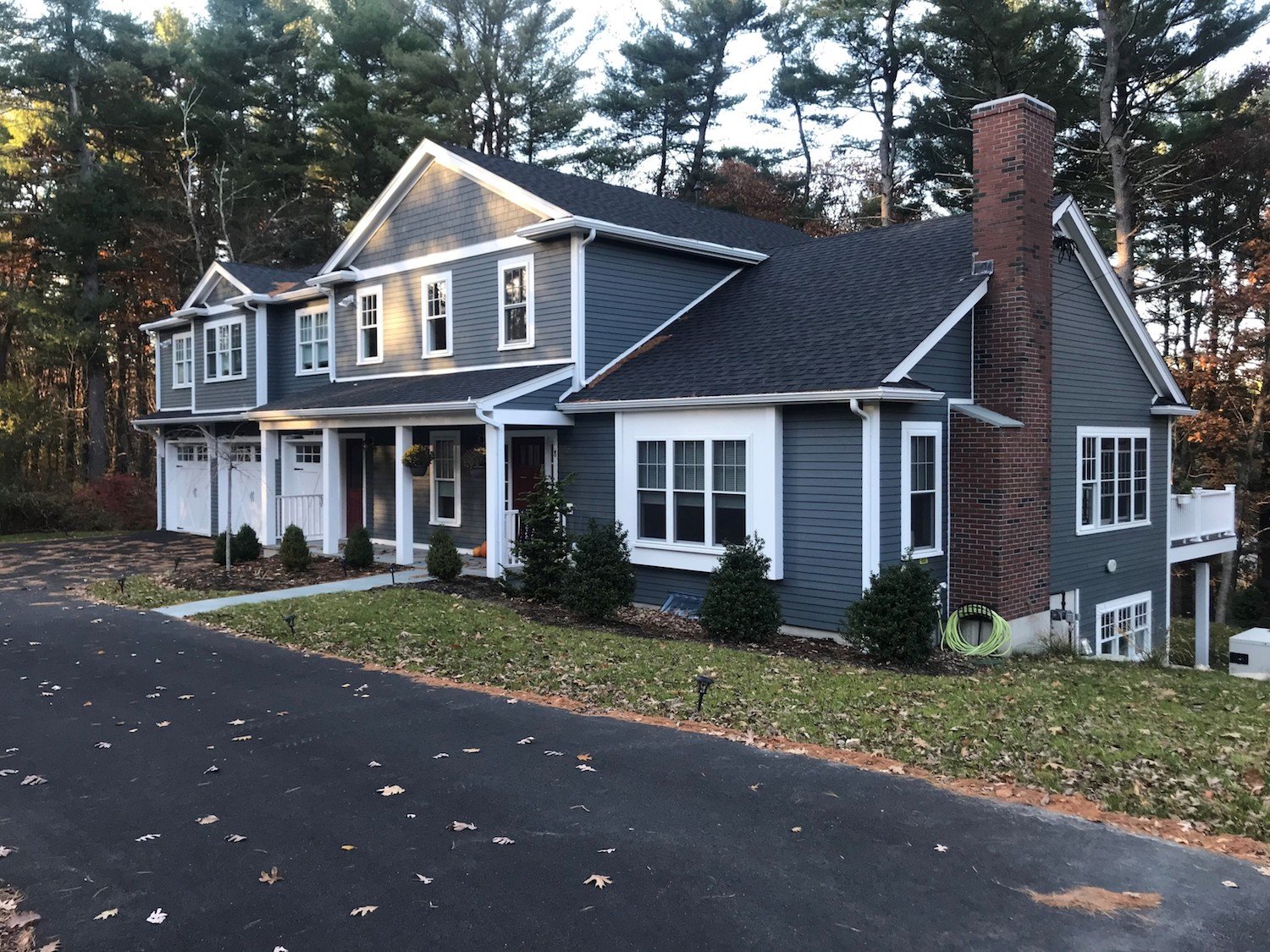 Every square inch of the home was designed to enable the homeowners to have accessibility both inside and outside the home. There is a zero clearance (no steps) front entry, along with wheelchair access into the home from the three-car garage.
The kitchen uses universal design to make all kitchen activities accessible from a sitting or standing position. The home was built with an elevator providing access from the basement to the second floor. The first floor has a living area with a wood burning fireplace in their great room. All the hallways are four feet wide. The owner's suite was built with ample room, and there are three extra bedrooms for a growing family, including a guest with an en suite in the basement.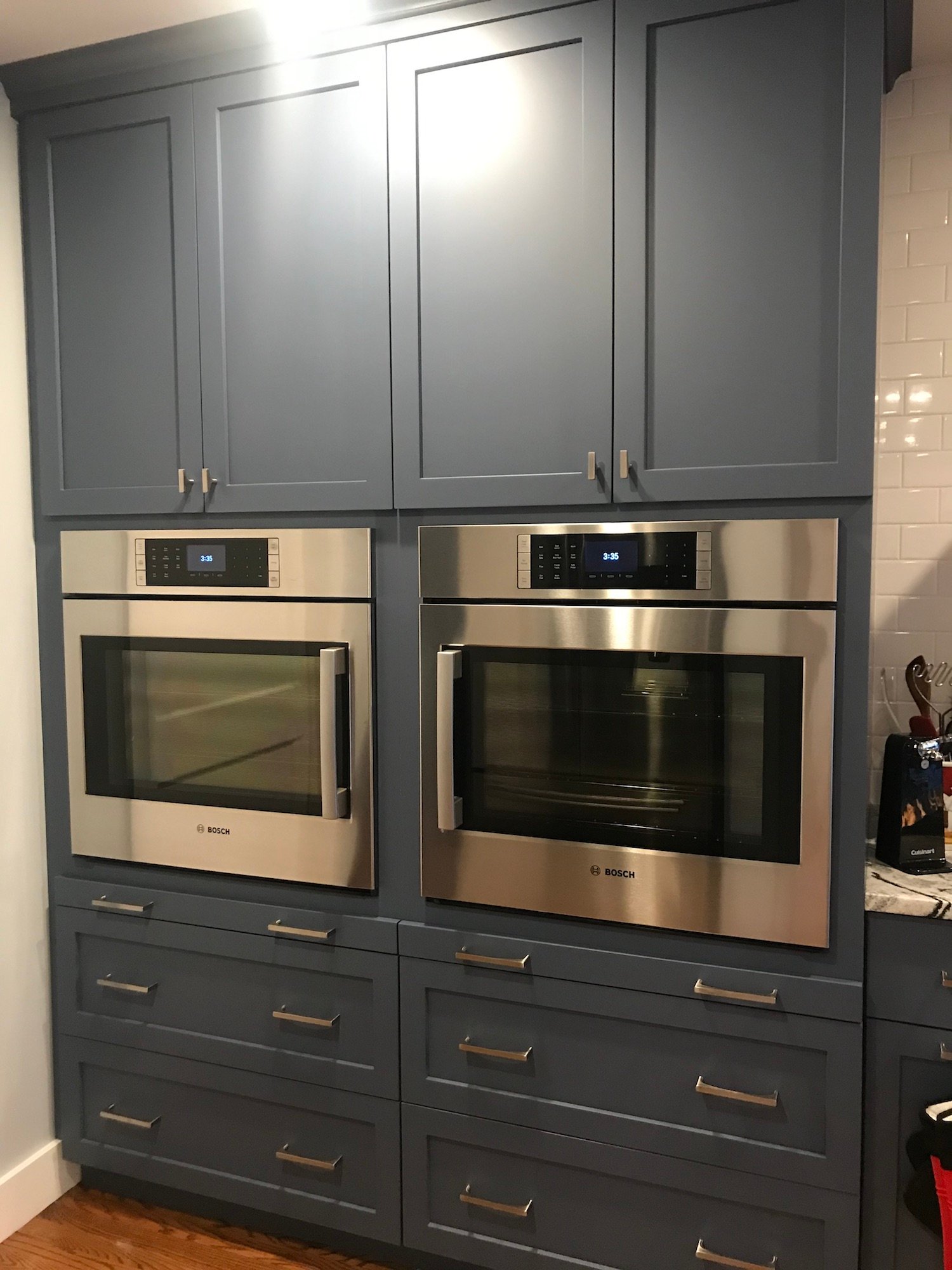 Instead of a top and bottom double wall oven, this design called for side-by-side ovens for easy access.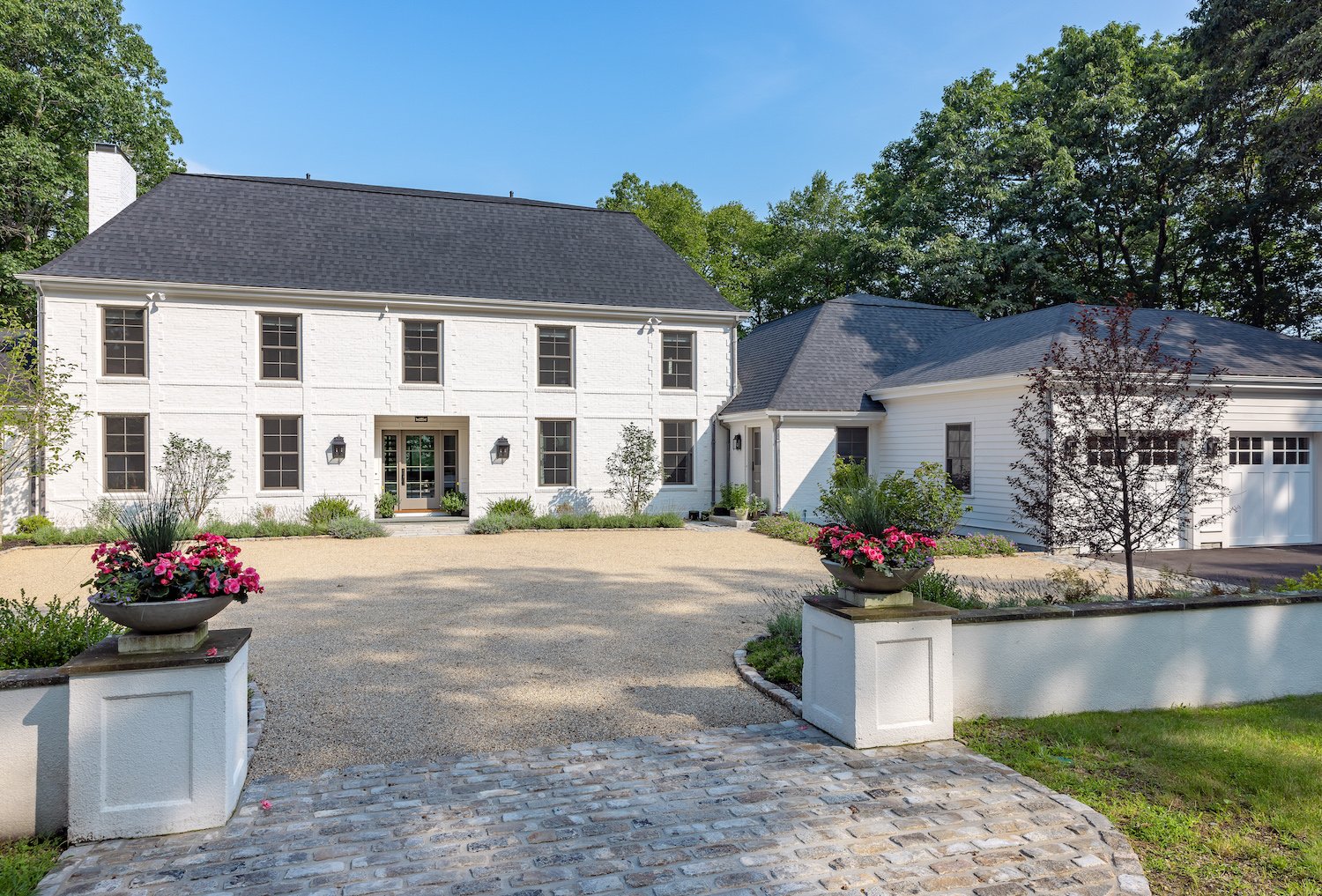 This project was technically a renovation, but the homeowner wanted to completely change every element of the property to match the modern French provincial aesthetic they were striving for. This required more than just taking the home down to the studs. There were major structural changes, additions, and a reconfiguring of the entire interior layout. The goal achieved was first floor living with a sense of elegance and modernity, while maintaining the essence of French provincial style.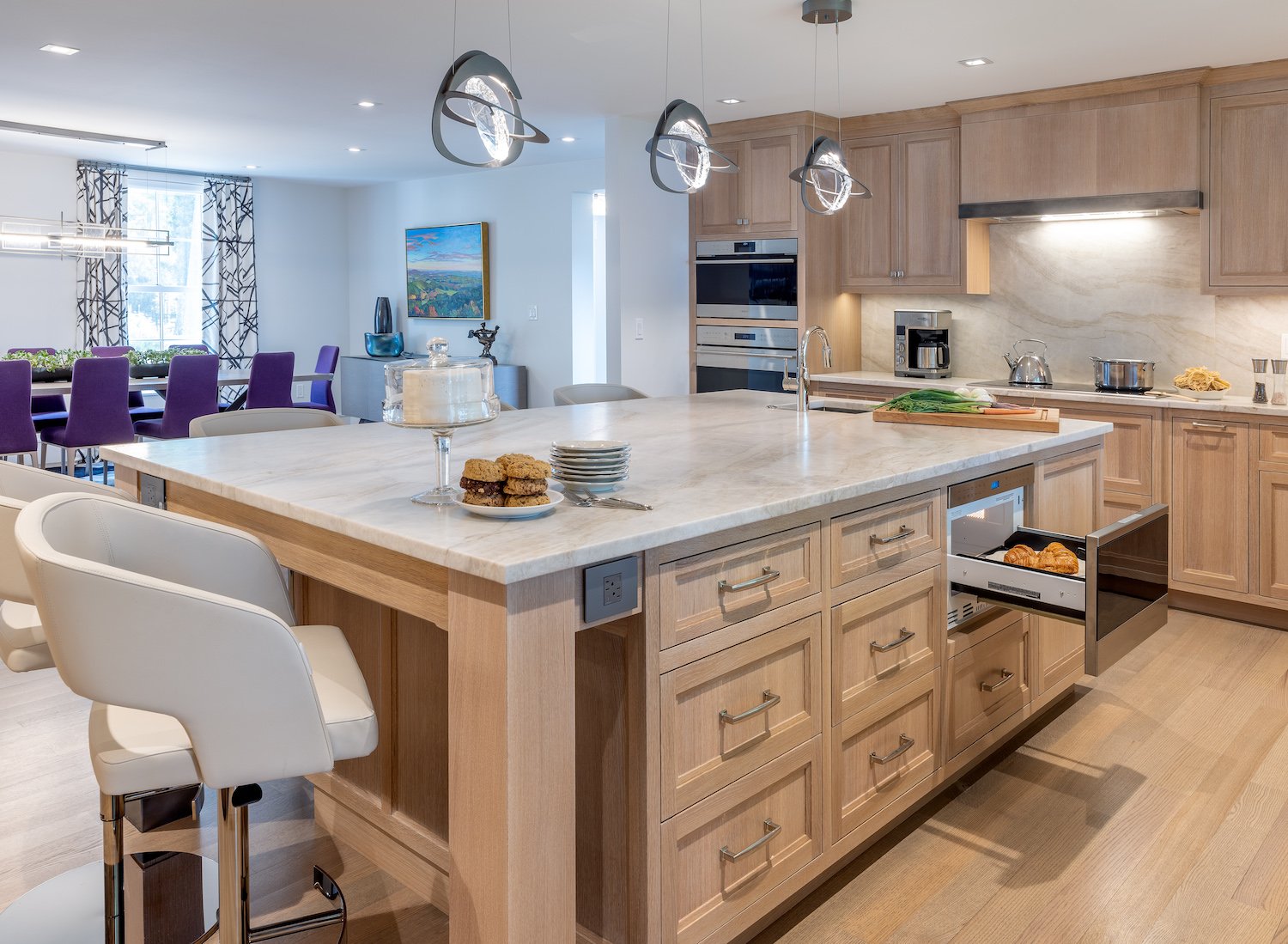 The kitchen was designed for a light and airy feel with modern touches like the in-island microwave oven.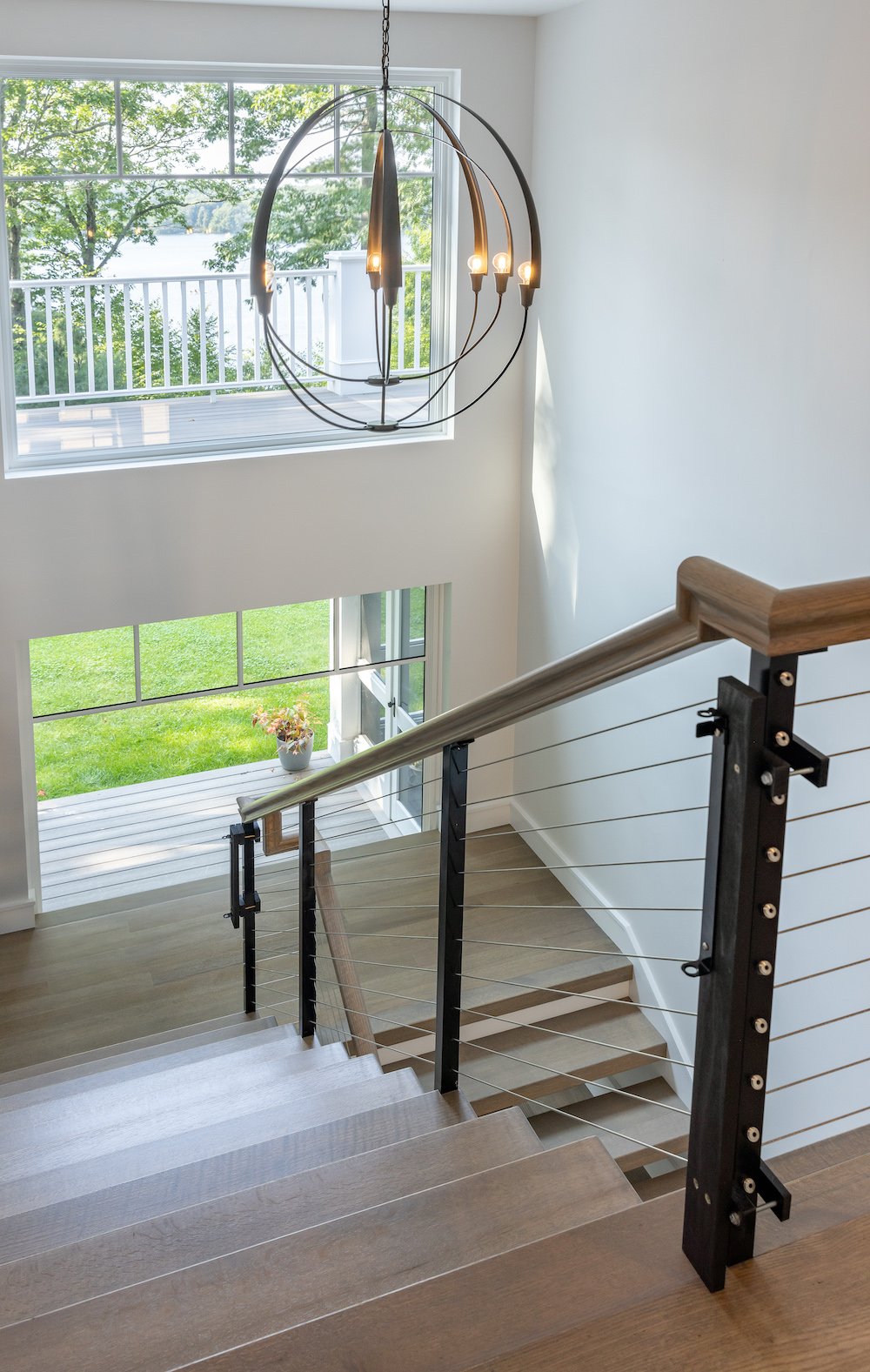 Adding modern elements like this cable railing shows that you can bring styles together while adhering to an overall aesthetic.
Is a custom home right for you?
If you are looking to have the creative license to completely design a home from property to roof line to your specifications and needs, then a custom-built home is the right choice. The most efficient way to do that is working with a proper architect/design/build company that has the experience to take your concepts to the next level and create the custom home of your dreams.
To learn more about custom home construction, please read our eBook titled "The Essential Custom Home Construction Guide for the Best Results." And if you are ready to speak about your next renovation, or custom built home, please schedule a custom home construction discovery session.