When you've got dinner guests and the kids are loudly playing video games in the next room, your main floor living space begins to show its limitations. Or maybe over the past few years, you've begun to use the living room as a home office, homework central, and whenever possible, a place to relax and unwind. Where do you find room for the family to enjoy all these activities and more?
A basement remodel can solve a lot of these problems, but you've got to think it through and do it right. Adding fun and functionality to a dingy, sometimes outright scary, seriously underused space makes perfect sense. Careful planning is the key to enjoying the benefits and overcoming the challenges in bringing new life to a place you normally only go to make sure the heater pilot is lit.
Realizing Basement Remodeling Benefits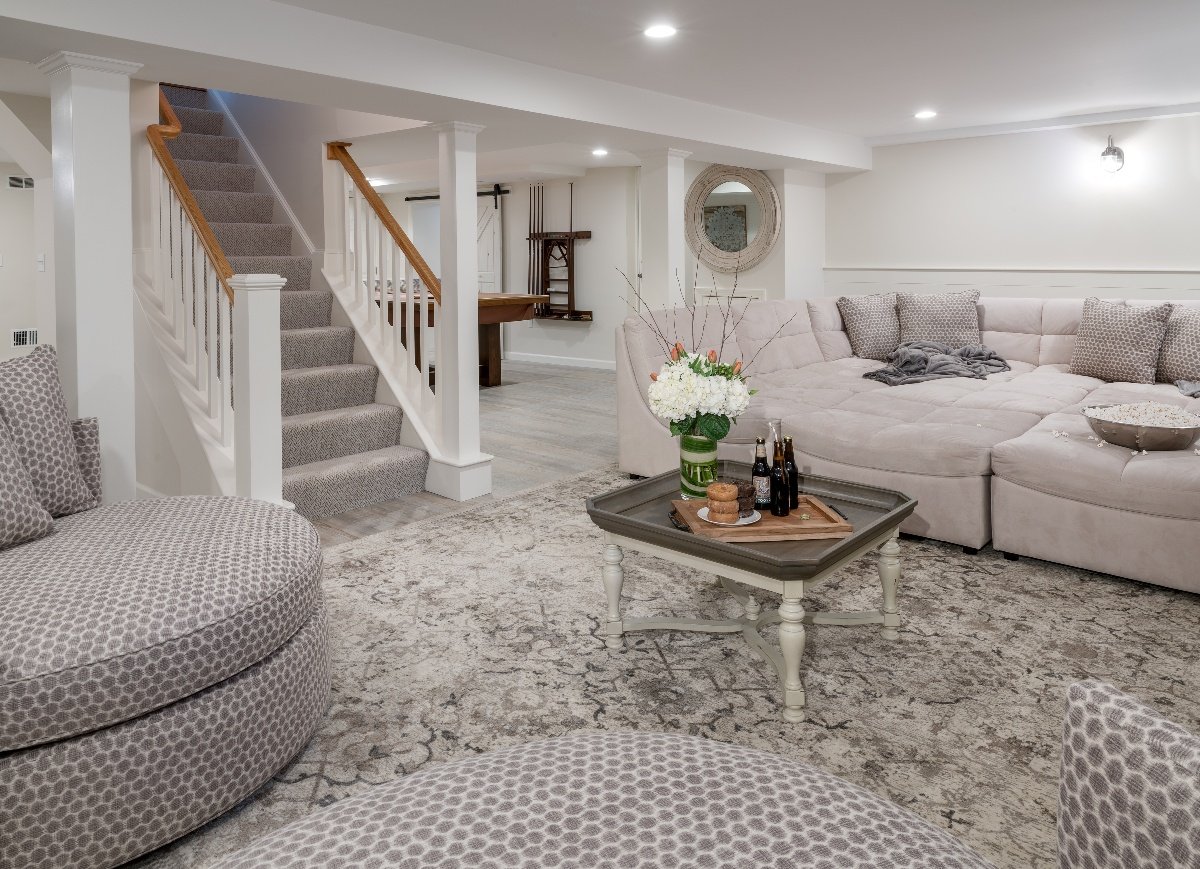 For excellent value for the dollar it is hard to beat a basement remodel. You're starting with the basic infrastructure you need - walls, a roof, and a floor - it is a blank canvas. The fact that it will add up to double your usable floor space makes the idea of repurposing and remodeling the basement a very attractive one.
For the price of a new kitchen or less, you can add much needed extra living space for lounging, a playroom, or even a home theater. From there, you can add literally whatever your home might be missing - an extra bedroom, home office, bathroom, or workout space. Once renovated, it will likely become a gathering spot and a real focal point for the family.
Basement remodels can provide a lot of value to the home. First there is the value realized as you gain all that newly usable space. Plus, with a well-planned renovation, you are adding significant resale value as potential new homeowners see the beautifully designed space and easily imagine their family enjoying it.
Bringing Your Basement Remodeling Ideas to Life
Think of your under-used basement space as a blank canvas – what you can create in that space is limited only by your imagination. Here are just some of the ways you can modify and remodel your basement to add functionality and enjoyment.
TV/entertainment room
Home office
Gym/dance studio
Laundry room
Kitchenette
Powder room or full bath
Bar
Game room
Here are some projects we recently completed that can give you some ideas as to what you can do with your basement: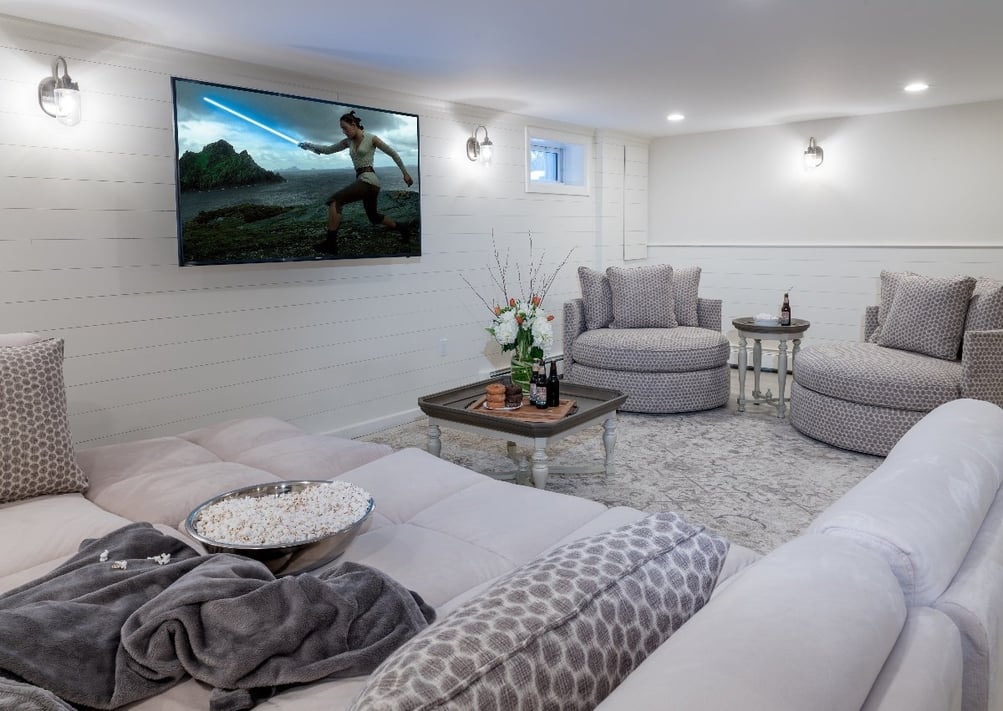 TV/Entertainment Room
One of the top three most popular basement remodeling projects is creating a flexible family room for watching TV and movies, having parties, playing games, and other activities involving family and friends. For families with young kids, it's a great space for a toy room and playdates.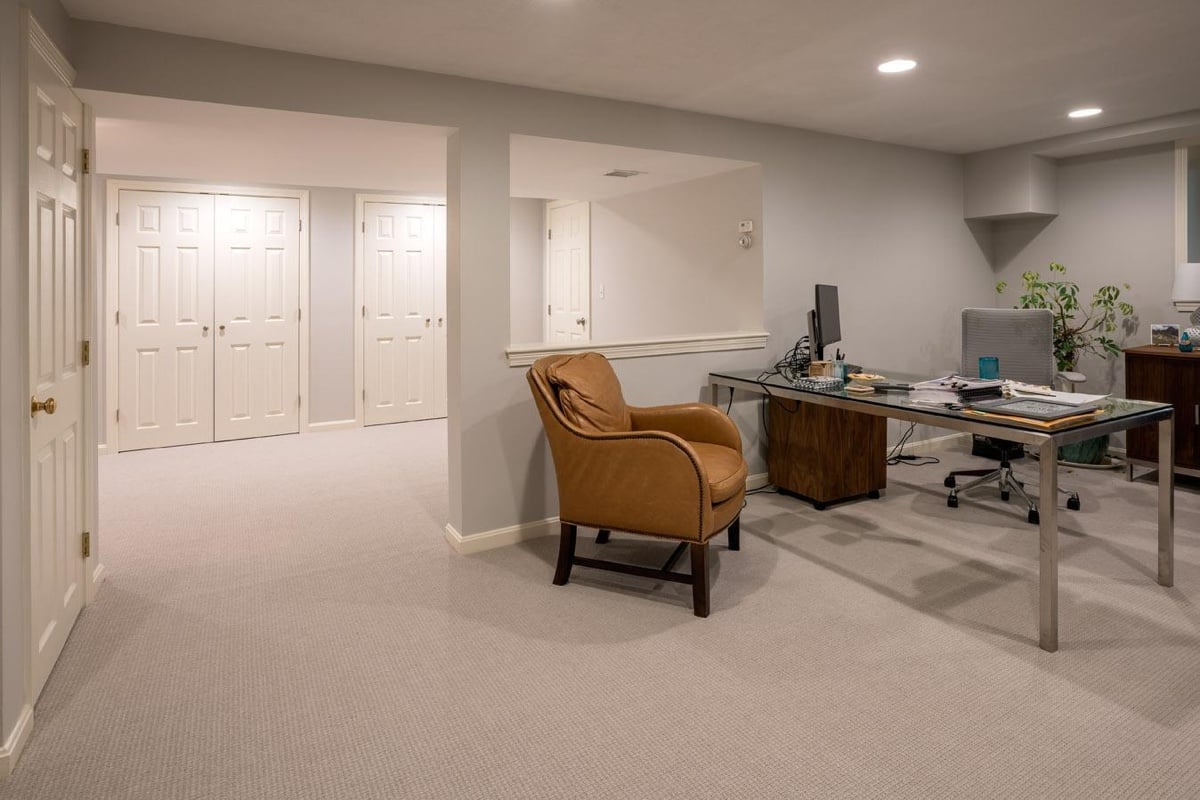 Home office
Highly popular in part because of the pandemic, home offices provide useful work space away from the daily hustle and bustle -- ideal for a home-based business, working from home, studying, maintaining household records and paying bills. Plenty of outlets and device ports add convenience and versatility.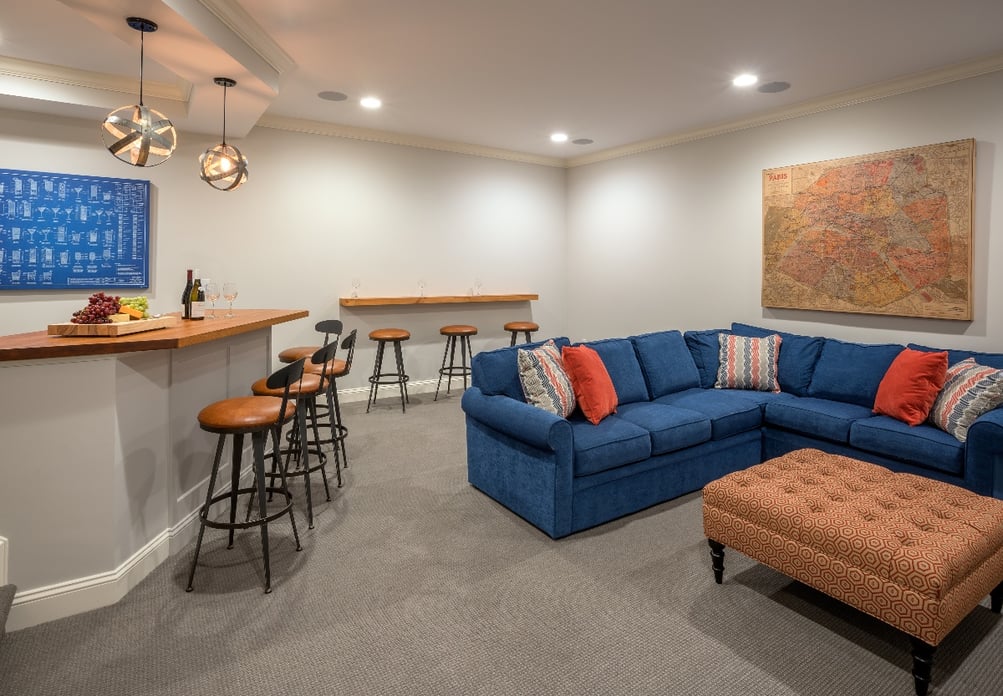 Bar
Create a cozy, friendly atmosphere with plenty of seating, a dry or wet bar for serving refreshments and preparing snacks, and maybe a big screen for watching the game.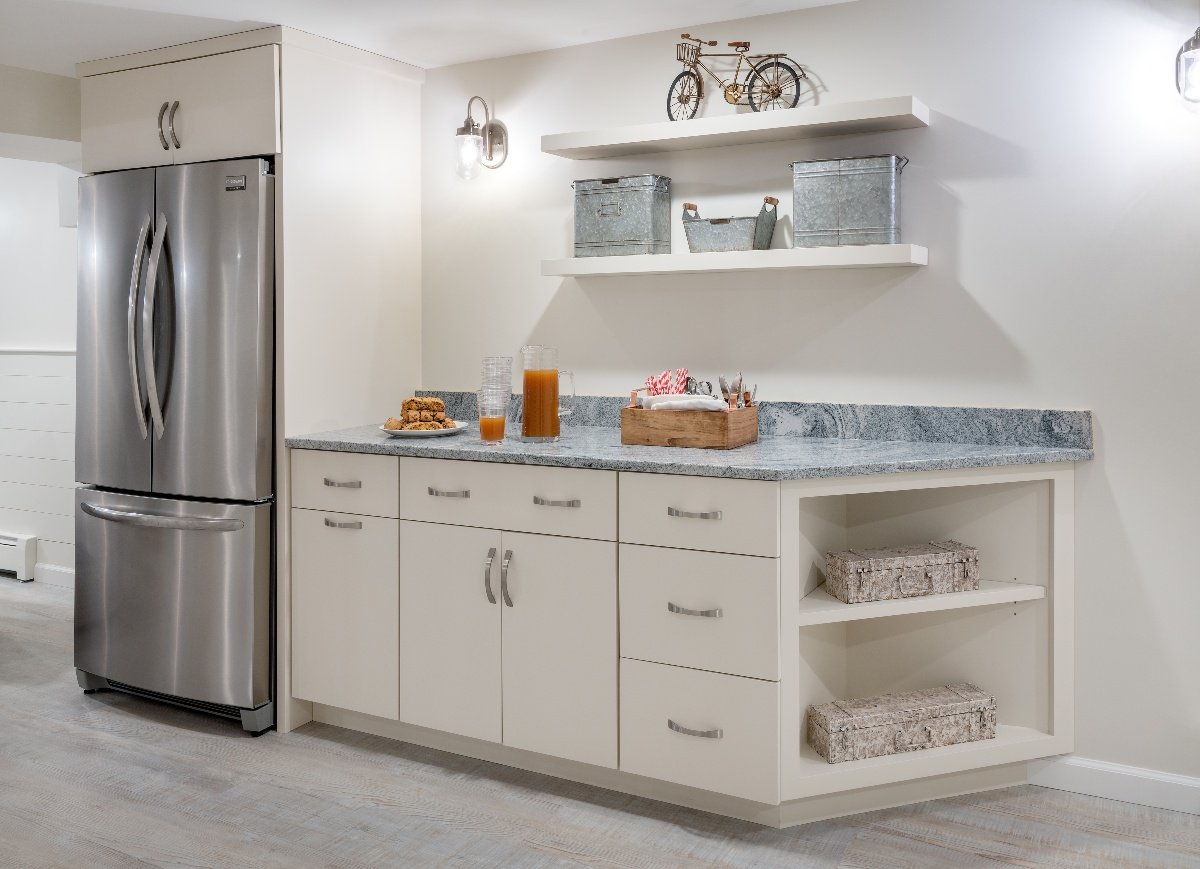 Kitchenette
Do you like to entertain but are always running out of kitchen space? A kitchenette provides spare counter and cabinet space for food storage and prep as well as optional refrigeration, cooking appliances, and a sink to add even more value and versatility. Add a bedroom and bath or powder room and you've got guest quarters for visiting friends and in-laws.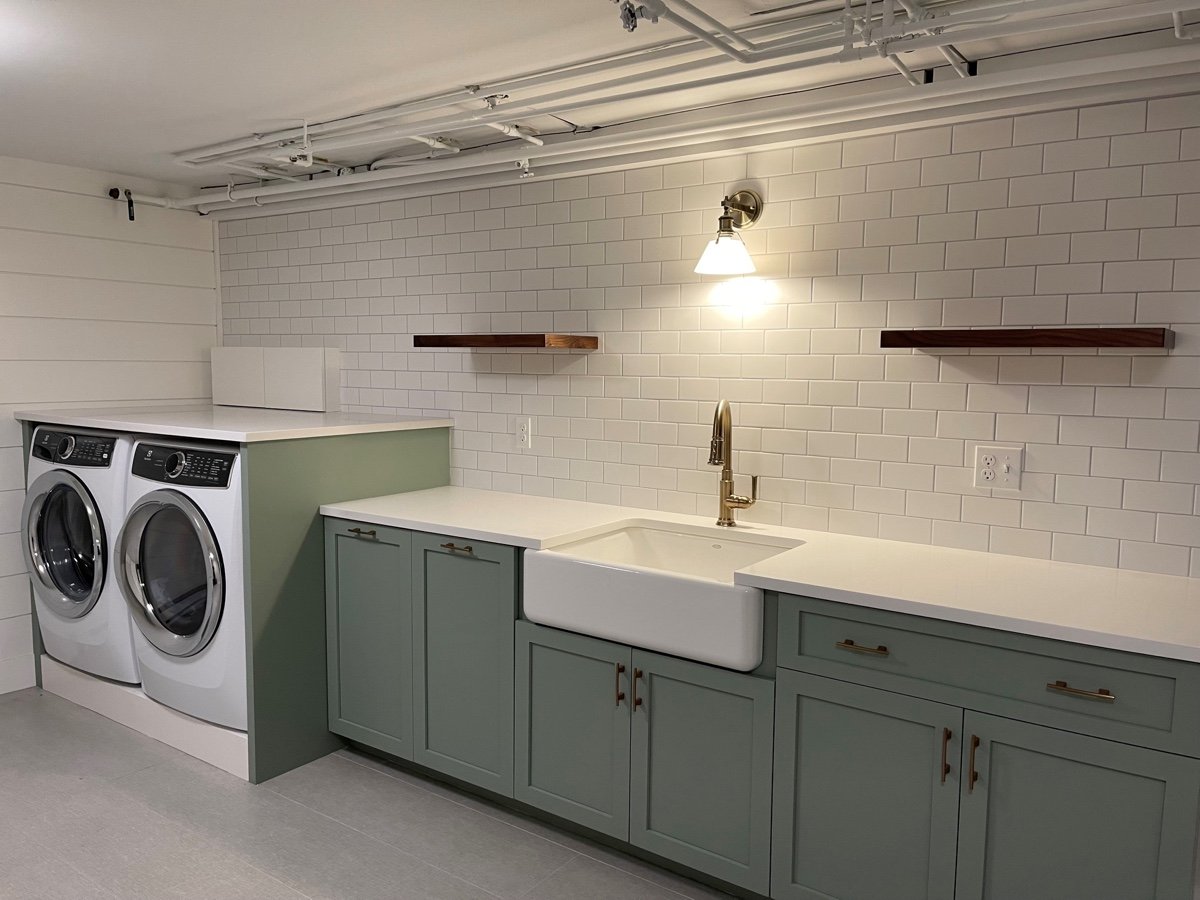 Laundry room
Tired of a cramped laundry area crammed into a mudroom or a closet-sized space off the kitchen? A basement can provide plenty of brightly-lit room to spread out, with counter space for folding towels and clothes, a big sink, lots of pull-out storage to hide dirty laundry, and cabinet space for detergents and other cleaning supplies.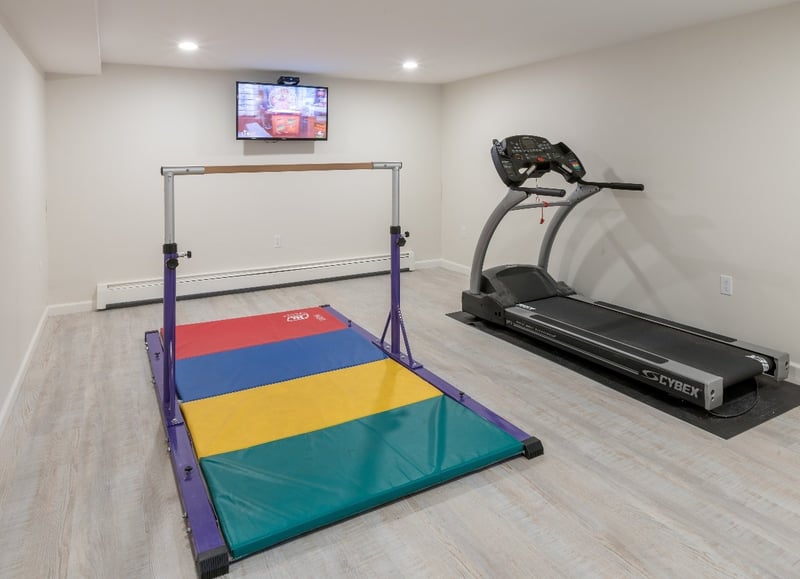 Exercise/yoga/dance studio
Everyone has a favorite way to stay in shape, relax, and reduce stress. A flexible work-out room can provide space for exercise machines, weights, mats, even a barre and wall-sized mirror for the dancers in your family.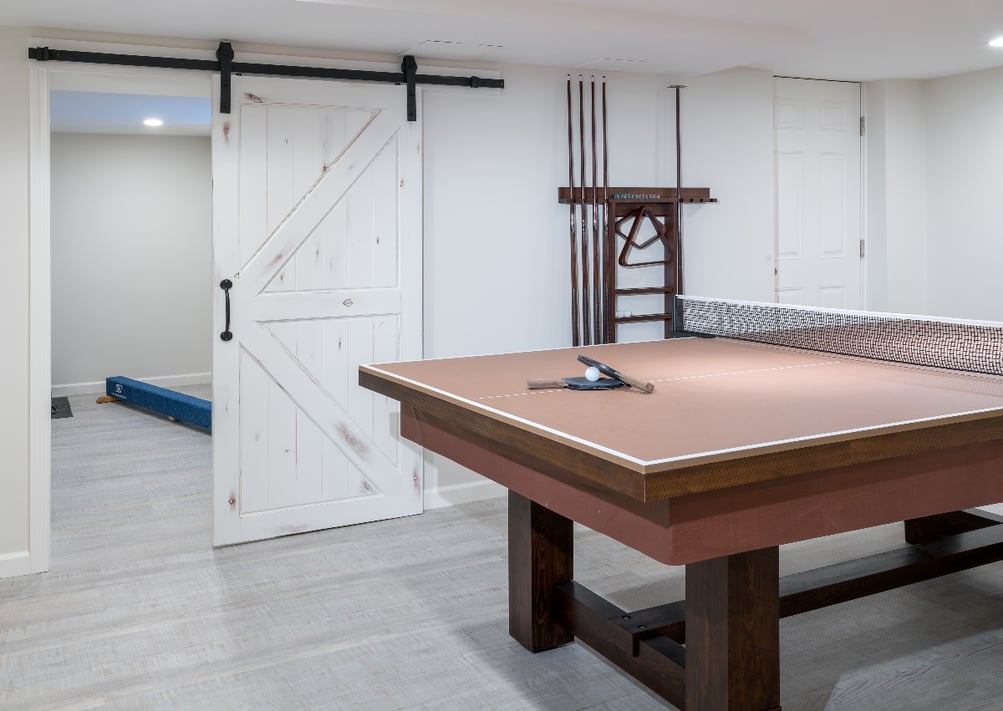 Game room
Games rooms are popular with both kids and adults. Pool, foosball, ping pong, video game consoles, and other devices can provide plenty of competitive fun.
Weighing Basement Remodeling Challenges Ahead of Time
The benefits and possibilities for this space are exciting to think about. But don't forget to consider the potential challenges you could face, so you can manage them and move on to the fun part - designing and building your new family entertainment space. Here are some common challenges facing homeowners looking to renovate their basement.
Moisture - One of the major issues basements face in our often-damp climate is how to manage moisture. You'll want an upgrade from that dusty dehumidifier you are always forgetting to empty. One component we often add is a mini split, which can be used to control the air and humidity in a basement. Our standard practice is to use closed cell spray foam insulation on exterior basement walls which also acts as a vapor barrier. Another big fix for moisture is fresh air. As part of your renovation, you can install ERVs (energy recovery ventilator) and other heat recovery units that bring fresh air into the basement.
Flood prevention - There is moisture, and then there is moisture! If your basement has had water flooding issues, you will want to plan for updated drainage and rainwater mitigation, so those problems don't persist after the renovation is complete.
Ceiling heights - Newer homes in southeastern Massachusetts may have 8 or even 9 foot basement ceilings in an unfinished basement, anticipating that you as the homeowner will eventually want to finish this space. But what if you are living in a colonial-era farmhouse or 1960's center hall colonial? Around here, more often than not, high basement ceilings are not par for the course. Plus, there is ductwork and low hanging pipes to work around. And it seems the load bearing support beams and lally columns are always right in the middle of your future entertainment space. All these issues need to be managed and kept at or brought up to local code.
With a good design build team working with you, often you can replace a structural beam in the basement with a steel beam. What is left will be a flush ceiling - no columns in the way of your home theater or game room.
Lack of natural lighting can be another challenge. Your basement probably has a few small windows near grade, but during renovation you can install much larger windows and window wells. This will add light plus added egress, which is often another code issue when refinishing a basement.
Design is a big factor here too. The use of lighter and brighter wall colors, along with good lighting design, will create a cheerful space for family fun.
Bathroom installation - A half-bath or ideally a full bath is often high on the list of a homeowner's priorities for a basement remodel. Of course, basement floors are most often below gravity for where the waste needs to flow out. The solution - easy to use and very reliable - is an ejector pump for basement plumbing.
Working around home utilities - If the home is not built with the intention of finishing the basement you may find no consideration for the location of the plumbing, HVAC and electrical work. In many cases, these utilities may need to be relocated to make the most out of your new basement floor plan.
Here again, knowledge of building codes is important as you move vital utilities from their original location. Wiring, pipes, and ductwork will likely have to be moved, and especially in older homes, floors may need to be leveled in order to relocate utilities and meet code.
Furnishing the basement - Before getting too far into planning, be sure you know how you plan to get that massive billiard table - or whatever furnishings you have your heart set on - into the space.
Beyond that, your design specialist will be able to help you create a space that is functional, beautiful, and will meet your family's needs for years to come.
A basement renovation is an excellent way to increase space in the home for family fun and entertainment while also building resale value. Your needs, your budget, and your imagination are the only limits for how this space can be used. While there are challenges to consider, a remodeled basement is the perfect place to get creative and showcase your own style.
A well-qualified design/build company can work with you to go through the proper planning, ensure challenges are overcome, the renovation exceeds your expectations, and is everything you want it to be.
To learn more about the home renovation design process, please read our eBook, "Expert Design Tips to Improve Your Home's Form and Function." And if you are ready to speak about your next renovation, please schedule a home renovation discovery session.